ROAD TRIP ITINERARY – HIGHLIGHTS OF THE NORTH & SOUTH COMBINED
Below you will find the exact route and itinerary we followed when traveling through NEW ZEALAND. It was a fantastic and unforgettable 4-week road trip including all the major highlights which you simply can't miss. We hope this tour suggestion will give you some ideas and inspiration when you are planning your own epic New Zealand road trip adventure! 😊
Tip: You can select a specific day to head straight to our detailed New Zealand road trip diary with aaaaall the information and stories from our life on road and the fun things we experienced along the way.
If you are pressed for time than just get the "quick-fix-New-Zealand-road-trip-Inspiration-Kick" by checking out or post about the "ultimate Top 10 Highlights of things to see and do during your 1 month New Zealand Road Trip". 😊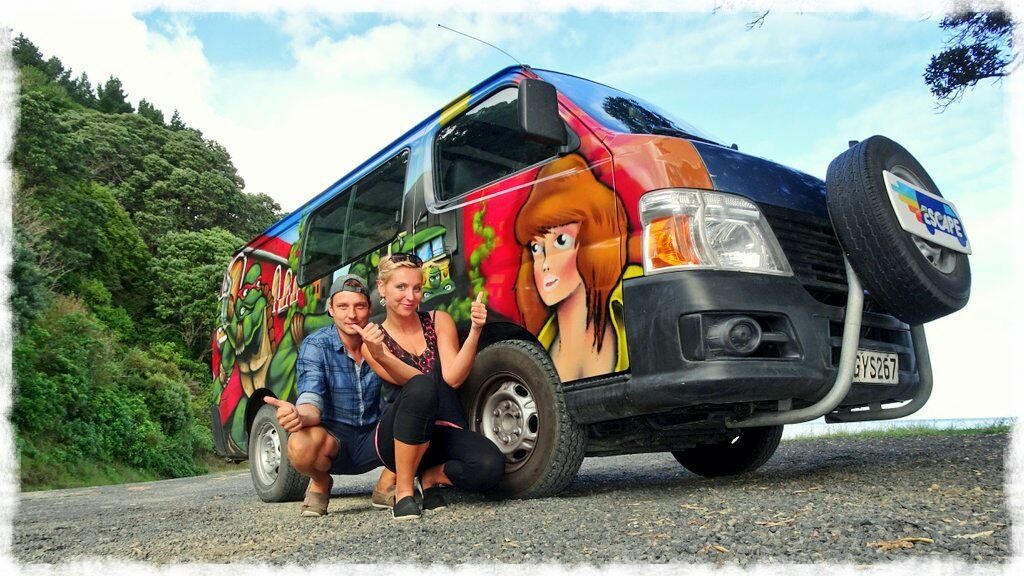 MAPS & ITINERARY OF OUR 4-WEEK NEW ZEALAND ROAD TRIP ADVENTURE
Let's get started with a little overview about the exact route we took through New Zealand. We started our Campervan adventure in Christchurch on the South Island which ended 4 weeks later in Auckland at the very top of the North Island.
If you start in Auckland and end your trip in Christchurch than you can easily reverse the below itinerary. Note however, that should you want to include all the major highlights of both islands then you will need at least 4 weeks.
If you have less time we highly recommend just focusing on one island (depending on your preferences) and rather spend some proper quality time there rather than rushing through both islands and hardly having the chance to actually see and experience it. You can always come back for a 2nd road trip ! 😊
Short itinerary per day on New Zealands SOUTH island
DAY 1: CHRISTCHURCH – AKAROA
Finally! Our 4 week road trip through New Zealand has began and we are super excited and can't wait to see what this journey has in store for us. We leave Christchurch to head towards our first destination: Akaroa which is already a total hit and we start falling in love with the life on the road already.
DAY 2: AKAROA – RAKAIA GORGE – LAKE CAMP
A day of superlatives. After leaving the charming town of Akaroa via one of the most impressive scenic drives we've ever done we stumble upon the bluest water, we've ever seen which immediately called for a picturesque lunch break by the banks of the River Rakaia before we continued our journey just to find one of the most romantic freedom camp spots you'll ever seen. Good, better…well this day was just…THE BEST!
DAY 3: LAKE CAMP – TIMARU
After watching the sunrise at Lake Camp, winner of our most romantic road trip spot in New Zealand, we continue to Timaru in the hope for some city fun and even more exciting – the prospect of seeing some penguins! Building up all our hopes for…well let's find out! 😊
DAY 4: TIMARU – LAKE TEKAPO – LAKE PUKAKI
From a disappointing city-experience to one of the most exciting lake duo we've ever seen. Join us as we explore Lake Tekapo and Lake Pukaki Wonderland.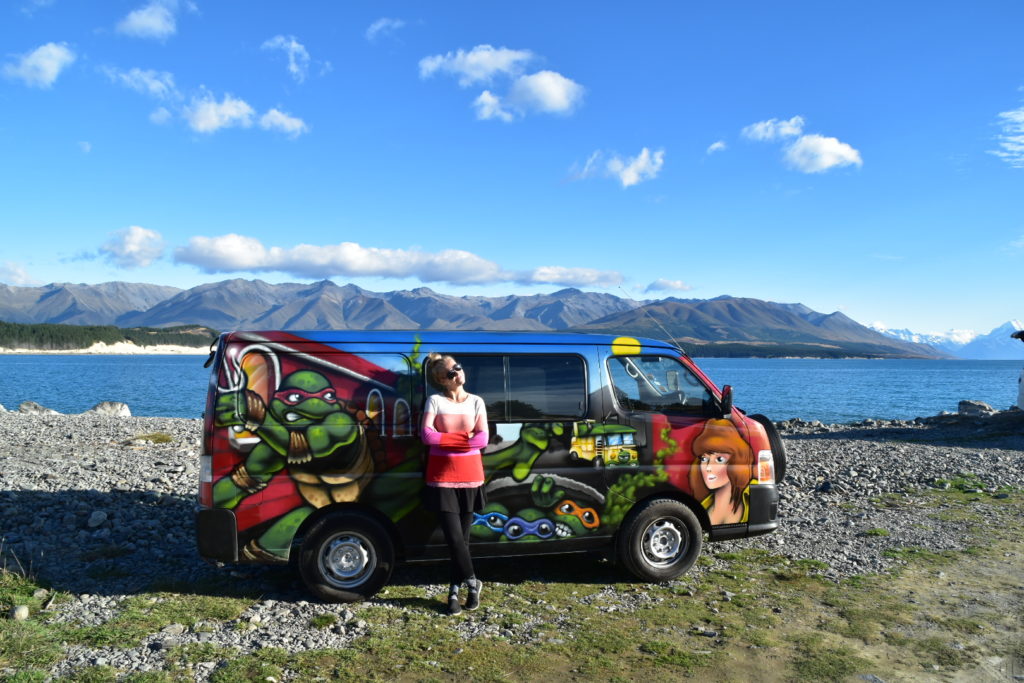 DAY 5: LAKE PUKAKI – CLAY CLIFFS – ARROWTOWN
Waking up at Lake Pukaki was one of our best experiences of road tripping through New Zealand – what a freedom camping gem. We could have enjoyed our breakfast with a million dollar view for hours – and we did! 😊 We found another highlight our way to Queenstown when we stumbled across some bizarre land formations – the "Clay Cliffs"!
DAY 6: ARROWTOWN – QUEENSTOWN – TE ANAU (HENRY CREEK)
Getting to know not one but two beauties today, little Arrowtown with it's gold rush charm and the adventure capital of the world: Queenstown. We take it slow and stroll through the streets, browse through the shops, eat ice-cream and fish & chips by the lake and simply have a damn good time. That's what NZ summers are all about!
DAY 7: TE ANAU (HENRY CREEK) – MILFORD SOUND & FIORDLAND NP – LUMSDEN
Today we are exploring the "8th wonder of the world" – MILFORD SOUND – during our beautiful 2-hour morning cruise. Best road trip highlight and detour-decision EVER! 😊 We also stop at some other Fiordland National Park highlights before driving back to Lumsden for a luxurious freedom camping experience.
DAY 8: LUMSDEN – CARDRONA – WANAKA
After enjoying the facilities in one of the best equipped freedom camping spot in New Zealand we head back to Queenstown. After a little lunch break by a nearby lake with some uninvited – and really hungry – guests we continue our journey to Cardrona where we pass by a fence full of women's underwear (say what?? Yes! A fence full of thousands of BRAS!) until we eventually arrive at our next destination and our road trip crush: WANAKA.
DAY 9/10: WANAKA – DIAMOND LAKE – CAMERON FLAT
We have an absolute blast exploring "little Queenstown" during our 2 full days in this area! We take little morning hikes around lake Wanaka to enjoy it's breath-taking scenery and treat ourselves to some delicious local favourites! Of course we also visit a Wanaka must-see and Instagram Darling – can you guess what it is? Despite being very sad to leave Wanaka behind the road further up North gets our hearts jumping for joy again and we happily "waste" hours pulling over at every possible #loveWanaka lookout before finally arriving at our next campground: Cameron Flat.
DAY 11: CAMERON FLAT – BLUE POOLS – FRANZ JOSEF GLACIER
Waking up at our campground was like waking up in a postcard. However, soon some uninvited guests joined the party so went to explore the nearby Blue Pools – will we dare to jump into the ice-cold water? Afterwards we are taking the Scenic Haast Highway heading to the glacier wonderland of Fox and Franz Josef while trying to squeeze in a play date with some local penguins along the way.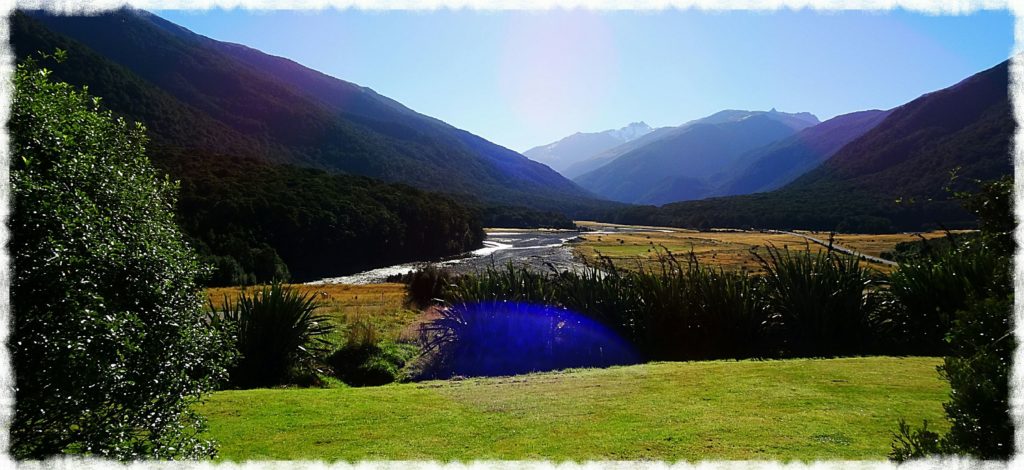 DAY 12: FRANZ JOSEF – PANCAKE ROCKS – WESTPORT
Despite the rain we still have fun on our trip from Franz Josef Glacier to Westport while visiting the famous Pancake Rocks – a million years old rock formation that looks like a big stack of delicious, grey pancakes. Definitely a treat, if only for the eyes!
DAY 13/14: WESTPORT – MARUIA FALLS – NELSON
On our way further up North we visit the Maruia Falls – a "must-see New Zealand Waterfall" before exploring the beautiful little habour town of Nelson.
DAY 15: NELSON – PICTON – WELLINGTON
After two amazing weeks it's time to leave the South Island and take the ferry from Picton to cross over to Wellington on the North Island to start our second chapter of this road trip. We are excited to find out whether the North can still wow us after days of jaw-dropping scenery and our fun adventures in the South. Let's bring it on!
---
Short itinerary per day on New Zealands North island
DAY 16: WELLINGTON
Checking out the top 10 things to do in Wellington when you are pressed for time and only have one day to explore the smallest, coolest capital of the world. We show you where you can indulge in some delicious brunch, where to admire the stunning scenic views, where to get some exercise and fresh air as well as where to best park your van for the night – for FREE! 😊
DAY 17/18: WELLINGTON – EKETAHUNA – NAPIER
Leaving the bustling city of Wellington behind to find one of the most idyllic campgrounds New Zealand has to offer in Eketahuna (at a bargain!!) before heading to Napier with it's art-deco charm, delicious pies and unlimited Wi-Fi at the local library – a blogger's dream! 😊
DAY 19/20: NAPIER – TAUPO
Spending a beautiful day around Lake Taupo exploring the Taupo Marina and the natural hot springs at the Spa Thermal Park, having a discounted SPA session at the Wairakei Terraces, admiring the power of the famous Huka Falls and enjoying some relaxing time at Reid's Farm in the company of some lovely ducks. Definitely one of our favourite places on the North Island!
DAY 21: TAUPO – WAI-O-TAPU THERMAL PARK – ROTURUA
Exploring the geo-thermal wonderland of Wai-O-Tapu National Park with all its smelly but weirdly beautiful attractions such as the green lake also known as Devils Bath, the steaming hot springs, the bubbling mud wholes, the Champagne Pool and the exploding geysers before we continue our journey to Rotorua – not leaving the smell nor the thermal activities behind.

DAY 22: TAURANGA & MOUNT MAUNGANUI
We explore the beautiful seaside town of Tauranga, eat fish & chips by the beach and get our hiking groove on when climbing the inactive volcano of Mount Maunganui, offering the most stunning panoramic views of the North Island.
DAY 23/24: TAURANGA – CATHEDRAL COVE – COROMANDEL – AUCKLAND
Our last leg heading further up North from Tauranga to Auckland with planned sightseeing stops to explore Cathedral Cove and Coromandel did not exactly go as planned and yet, still worked out perfectly. Actually even better than we could have ever planned it! Guess good things really come to those who wait ! 😊
DAY 25/26: AUCKLAND
After 4 extremely fun, adventurous, exciting and unforgettable weeks on the roads of New Zealand cruisin' all over the South and North Island we have arrived at our final destination: AUCKLAND. Join us as we explore the top things to see in Auckland, how we say goodbye to our van and home of the last weeks and our secret weapon to quickly try our tears away!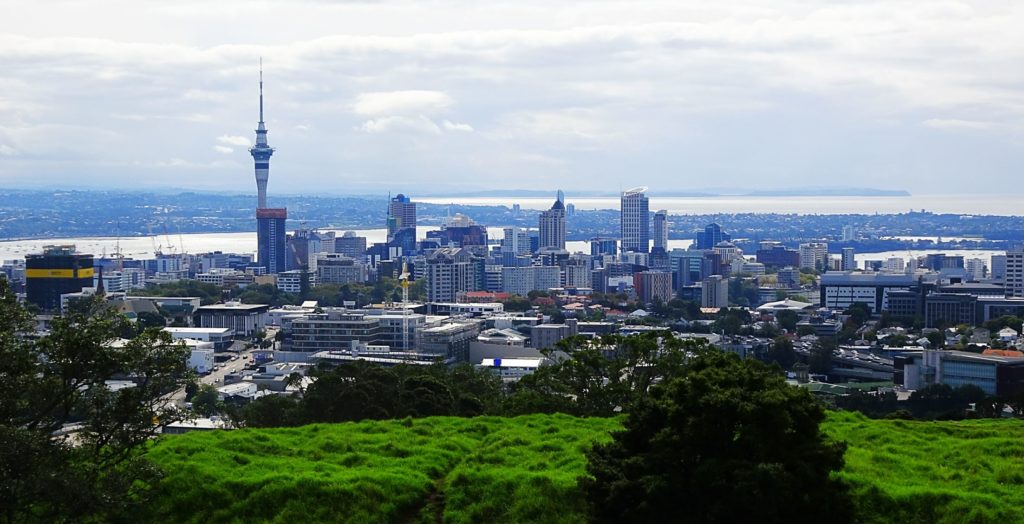 ---
This route was the best way to get to see most of the highlights New Zealand is famous for, from snow-topped mountains, a spectacular fiordland and crystal clear lakes in the South to white sandy beaches, geo-thermal activities and lively cities in the North – this route is packed with goodies and we can highly recommend it.