NZ ROAD TRIP HIGHLIGHT – CRUISIN' MILFORD SOUND!
Today was the day! We were off to see Milford Sound which is often referred to as the 8th wonder of the world. Best road trip highlight and detour-decision EVER! 😊 We also stop at some other Fiordland National Park highlights before driving back to Lumsden for a luxurious freedom camping experience. Can it get any better?
If you browse through the web you can read it over and over again: Milford Sound is THE MOST beautiful place in New Zealand and in 2008 it has even been judged the world's top travel destination by Tripadvisor.
All this hype eventually got to us and we decided to take this 2 day detour ( 290km / 4-5 hour drive one way) from Queenstown and include Milford Sound in our itinerary.

Originally Queenstown would have been as far south we would have gotten due to a lack of time and money (after all the cruises don't come cheap) – that was BEFORE we read all these comments.
Apparently, you haven't been to New Zealand if you haven't been to Milford Sound – what kind of travel bloggers are we if we missed the number one tourist magnet a country has to offer?
Additionally our Escape Campervan Rental came with a 50% discount on one of the cruises dropping the price to 49 NZD p.P. – that wasn't too bad to see the 8th wonder of the world, right?
We left from Queenstown the day before, going a bit past Te Anau to make it to our cruise in time the next day. We enjoyed exploring Queenstown A LOT and thought it was definitely our favourite city in New Zealand so far. (Click here for more about our Queenstown experience)
So obviously we were bummed that we didn't even have a full day here however, with the weather suddenly turning and clouds and rain coming our way, we probably wouldn't have done much more walking anyway. 😊
The scenic road right after leaving Queenstown behind passing lake Wakatipu is a REALLY spectacular one. Normally, it would take you about 2 hours to get from Queenstown to Te Anau. We however, took MUCH longer as we had to make quite a few photo stops. I just couldn't help it! 🙂 Around every turn was another amazing view, despite the rain and grey skies. Actually it even added a bit of drama to the scenery and the cherry on top: a rainbow! It was spectacular!
FINDING A PLACE TO STAY OVERNIGHT BETWEEN QUEENSTOWN AND MILFORD SOUND
There is a great freedom camping area at the end of the lake Wakatipu for self-contained vehicles however if you want to catch the 9am or 11am cruise the next day than you better get going a bit further.
ATTENTION FREEDOM CAMPERS: After Te Anau freedom camping is strictly prohibited as it's all National Park. So either you find somewhere before (we tried and failed!) or use one of the 10 DOC Campgrounds between Te Anau and Milford Sound. They are usually all priced at 13 NZD per Person per night in this area and only come with basic facilities such as a few benches and a drop toilet.
We took the Henry Creek Campground which is the first one after Te Anau. It was already getting dark and we didn't want to miss anything of the spectacular scenic drive to Milford Sound. Of course when we got to the campground we realized we didn't have the exact change on us – only a 50 NZD bill! Very smart…! Luckily we found some fellow campers who helped us out so that we could pay our fee and go to bed.
Turns out the next morning that there was no need we should have bothered at all. We got woken up by a ranger asking whether we had heard or seen anything unusual during the night. Apparently someone had stolen ALL THE MONEY from the campground fee box. So much for that…
THE FINAL DRIVE FROM HENRY CREEK TO MILFORD SOUND
WAKY WAKYYYY!!! Time for an early breakfast as we had to leave Henry Creek campground at around 8:00am. It was still a 2 hour drive to Milford Sound and we surely didn't want to miss the highlight of the day – cruising through Milford Sound. We were super excited and ready for some "8th wonder of the world action" but when we looked through the front screen we got a bit disappointed that maybe the forecast had been wrong. Instead of blue skies which we were promised, we saw THIS.
Not surprising actually. With a mean annual rainfall of over 6 meters each year Milford Sound is known as the wettest inhabited place in New Zealand and one of the wettest in the world. So visiting the Fiordland on a day without any rain, yet alone a sunny day is a bit like winning the lottery.
However, after driving for around 30 minutes the fog slowly lifted and once we past "THE DIVIDE" it suddenly looked like THIS (guess we were lottery winners after all! 🙂 )
Although the weather was getting better by the minute offering spectacular views of the mountains we decided not to stop at all the lookouts but rather do this on our way back. We were already behind schedule and didn't want to risk missing our cruise.
When buying our tickets they told us we should be at Milford Sound at least an hour before our scheduled cruise to allow for enough time for check-in but most of all for finding a parking space. They weren't kidding. When we got there at 10:15am it was absolute MADNESS and it took us ages to secure a little spot to park our turtle van. (maybe check out the park & ride options before Milford sound to safe you this hassle)
Milford Sound itself is actually a very small town with no more than 120 inhabitants. At night-time, it's probably one of the most quiet and peaceful places you can imagine however during the day this little village gets overrun by visitors . To be precise, between 1500 and 3000 people per day arrive at Milford Sound who want to hop on one of the many cruises through the spectacular Fiordland. We were thinking, was Milford Sound just another overpriced tourist trap or the real deal?
IS MILFORD SOUND LIVING UP TO THE HYPE???
We usually try to avoid these tourist hot spots and try to get off the beaten track as often as possible but when the 8th wonder of the world is at your doorstep, can you really afford to miss that???
Short answer: NO! You cannot and should not miss a cruise through Milford Sound – PERIOD!
The whole check-in process was well organised. All the different companies have their own check-in desk and somehow once the boats arrive and it is time for boarding all the masses of tourists quickly disappear. I was surprised that our boat was not even half full when we left the harbour with most of our fellow Asian tour group friends sitting under deck enjoying their buffet lunch. So for at least 30 minutes we had the whole upper deck and views to ourselves.
The tour is about 1h 40min and on a sunny day like this, it is best enjoyed from the upper deck viewing platform. You'll see tall mountains on either side, spectacular waterfalls, native plant life and with a bit of luck even some seals. (Unfortunately no seals for us that day ☹) Once you reach the Tasman Sea the boats turn around heading straight for the biggest Waterfall – The Stirling Falls!
We found all the waterfalls especially impressive and if you come here on a rainy day (let's be honest, you most likely will 😊) you are actually in for a special treat as the waterfalls will be even more spectacular!!! The cruise boats get super close to the Stirling Falls which even got the last Asian tourist away from the buffet. You are in for some jaw-dropping views but make sure to better have your waterproof camera/phone with you to capture this spectacle – YOU WILL GET WET!
All in all a fantastic tour!!! Especially if you haven't been to Norway yet then a cruise through Milford Sound will completely blow your mind! So don't overthink it – do it! 😊
Once we returned to the harbour we were in no rush to leave. We went to check out the information centre which by the way serves a damn delicious steak pie! They also had the most comfortable chill out area I have ever seen in a tourist information centre so we got us one of those super comfy chairs in the sun and had a little nap before it was time to leave.
The drive back to Te Anau was almost as spectacular as the cruise and this time we stopped whenever possible to soak up the views. It's just a stunning place.
If you have more time to spare and are a true hiking fanatic, we highly recommend to stay another night in one of the campgrounds between Te Anau and Milford Sound to have more time for exploring and getting your hiking boots dirty. There are tons of walking tracks all offering spectacular views – what an outdoor lovers paradise!! 😊
There are even multi-day hikes starting from here such as the famous Keppler Track from Te Anau and the stunning Routeburn Track starting from the car park of "The Divide" that takes trampers through some of New Zealand's most spectacular scenery.
You can however also find many shorter ones such as the Key Summit Hike which is only a 3 hour hike where you complete parts of the Routeburn track and eventually climb up to the summit point that rewards you with absolutely amazing views.
Unfortunately we were in a hurry and still had 200km to go until Lumsden – another (highly rated) freedom camping spot between Queenstown and Te Anau. So we only squeezed in as many lookouts as possible to get at least a little taste of what this area had on offer.
Once we got to the Lumsden Freedom Camping it was already dark and we were exhausted. Nevertheless this has been one of the greatest days in New Zealand so far and urge you to also check out Milford Sound and enjoy one of New Zealand's finest and most beautiful areas.
---
Next Day: DAY EIGHT – Lumsden – Cardrona – Wanaka
Previous Day: DAY SIX – Arrowtown – Queenstown
Start at the beginning: DAY ONE – Christchurch to Akaroa
---
Your might be also interested in: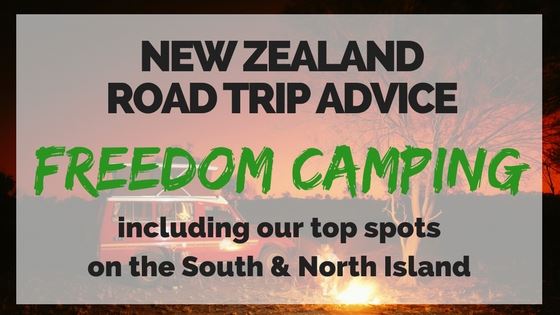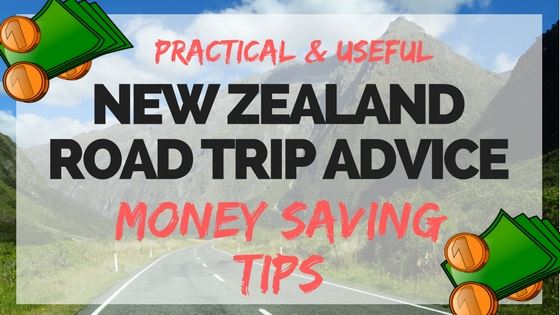 ---
If you like it, pin it!