A ROCKING FREEDOM CAMP WITH WIFI, A FENCE FULL OF BRA'S AND OUR FIRST FULL-ON CRUSH…
Travelling from Lumsden to Wanaka is what road trip dreams are made of! 🙂

After enjoying the facilities in one of the best equipped freedom camping spot in New Zealand we head back to Queenstown. After a little lunch break by a nearby lake with some uninvited – and really hungry – guests we continue our journey to Cardrona where we pass by a fence full of women's underwear (say what?? Yes! A fence full of thousands of BRAS!) until we eventually arrive at our next destination and our road trip crush: WANAKA.
LUMSDEN FREDOM CAMPING – BLOGGER HEAVEN
When we woke up at our freedom camping spot in Lumsden the next day, we decided to take it slow and don't rush to our next destination: WANAKA. We still had to process all the experiences from our rocking tour to Milford Sound the day before. 😊 Also the weather totally sucked so instead of walking around in the rain, we rather wanted to make use of the fabulous amenities this place comes with – free WI-FI! 😊
What a DREAM! This allowed us to finish some blog posts and plan out the next days right from our cosy "Van-office" as well as going through all our e-mails that had piled up over the last days, until our batteries eventually ran out of juice.
SCENIC ROAD ALONG LAKE WAKATIPU
We left Lumsden around noon and went back the same spectacular coastal road along Lake Wakatipu which we took the first time – unfortunately with big clouds accompanying us all the way so that we didn't take many photos. We also quickly stopped by another free campsite (The Kingston Lake Campground) right by the shores of lake Wakatipu and can highly recommend it if you have a self-contained van, the views were just stunning! Imagine waking up here on a sunny day!!!
Originally, we were thinking of doing a little detour to Queenstown again as we loved the vibe of this city so much. However, as the weather took a turn for the worse we only stopped briefly at the PAK'n'Save to stock up on food again before continuing our journey towards Wanaka.
LUNCH BREAK WITH UNINVITED GUESTS
You'll also pass Arrowtown again so if you haven't stopped here before make sure to include it on your way to Wanaka. Click here for our blog post day six – Arrowtown and Queenstown on what to see in this historic gold rush village.
There is also a great free campground in this area for self-contained vehicles where we stopped for a quick lunch by the lake.
Unfortunately we couldn't enjoy our picnic as much as we hoped as some very hungry ducks joined us – can you eat in peace when about 20 pairs of eyes stare at you???? It's IMPOSSIBLE!!!
Check out those ducks!!! Hilarious 🙂
Funny ducks at Lake Hayes, New Zealand
We eventually had to go back to the van to finish our lunch. After sharing the remaining toast crumbs with our hungry friends we kept going and continued along the Alpine Scenic Route – (didn't know they had Alps here as well 😊) towards Wanaka.
MOUNTAINS AND BRA'S IN CARDRONA
If you take this winding pass road you'll might feel sick but you'll also be rewarded with amazing views from the various lookouts.
However not only the scenery caught our eye! When we reached Cardrona we passed a place with a fence full of HUNDREDS of women's bras! (which is also why Cardrona got his nickname: BRA-DRONA! 😊) We had to make a u-turn to go back to check what was happening here! 😊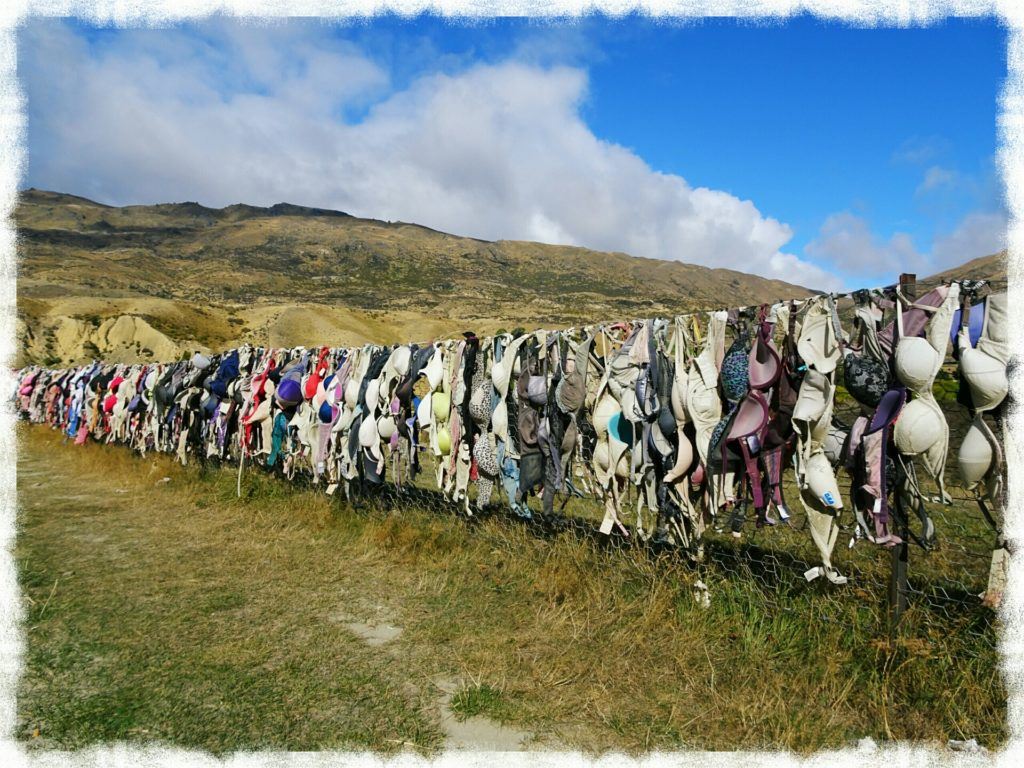 Apparently the purpose of the fence with it's precious load is there to raise awareness and money for the breast cancer foundation. There is a sign as well as a donation box. The "Bra-fence" used to be directly next to the main road. However, as it got targeted more than once by unknown scissor-wielding fence objectors who apparently preferred a bare fence, it got moved to a little driveway about 100m down the road where it stayed ever since.
The controversial became super popular among the local attractions over the last years and has even made it to over 2000 Facebook page fans! Such a Social Media VIP! 😊 https://www.facebook.com/brafence/
After seeing enough BRA's for the day and with the weather getting better by the minute it was time to get going and we eventually reached beautiful Wanaka at around 4pm.
FINDING OUR HOME FOR THE NIGHT – WHAT A GEM!!!!
We decided to look for a Holiday Park with a powered site for the night as all our devices where down to 0% after our little excessive Lumsden internet session and we found a true gem among the Wanaka campground scene (and the cheapest in the area): THE LAKE OUTLET HOLIDAY PARK – http://www.lakeoutlet.co.nz/

This traditional kiwi campground is only located 6km from Wanaka town centre offering stunning mountain and lake views. The hosts are super friendly and gave us a site with one of the most spectacular panoramic views we ever had. There are also a lot of walking and mountain biking trails starting from here. So, if you are and outdoor lover you'll definitely enjoy this campground.
We only had a little bit of daylight left so just went for a short walk along the shores of Lake Outlet and watched a beautiful sunset before it was time to hit the hay. We were already excited for the next day to see what Wanaka had in store for us.
Sunset time-lapse lake outlet Wanaka, New Zealand
---
Next Day: DAY NINE & TEN – Wanaka – Diamond Lake
Previous Day: DAY SEVEN – Milford Sound
Start at the beginning: DAY ONE – Christchurch to Akaroa
---
Your might be also interested in: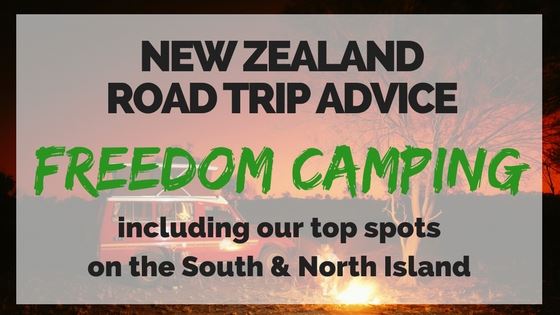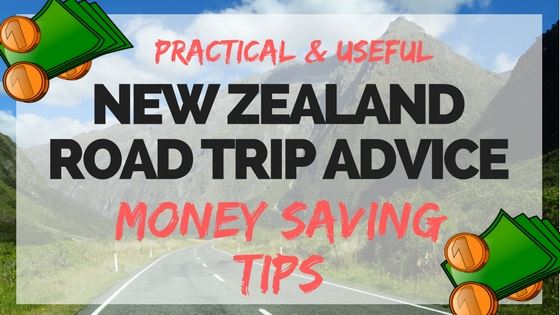 ---
If you like it – pin it! 🙂