EXPLORING WANAKAS HIGHLIGHTS AND BEST KEPT SECRETS
We have an absolute blast exploring "little Queenstown" during our 2 full days in this area! We take little morning hikes around lake Wanaka to enjoy it's breath-taking scenery and treat ourselves to some delicious local favourites!😊 Of course we also visit a Wanaka must-see and Instagram Darling – can you guess what it is?
Despite being very sad to leave Wanaka behind the road further up North gets our hearts jumping for joy again and we happily "waste" hours pulling over at every possible #loveWanaka lookout before finally arriving at our next campground: Cameron Flat.
WANAKA ROCKS!
We decided to spend 2 full days in the Wanaka area as this place simply and totally: ROCKS! It was actually no surprise after loving Queenstown so much that we'd also fall for "little Queenstown": WANAKA (if not even more 😉 ).
If you check New Zealand's official website for Wanaka https://www.lakewanaka.co.nz/ it states at the top:
"It begins with the landscape…it breathes, there's an energy, a feeling, that sets Wanaka apart."
And that's absolutely true.
First off, the divine location! Wanaka is nestled amongst breath-taking scenery on the southern shores of the crystal clear Lake Wanaka with the Mt Aspiring National Park directly at its doorsteps offering endless activities for outdoor lovers and adventure enthusiasts!

However, it doesn't stop there. The town itself has tons to offer from galleries, cute shops, water sport activities on lake Wanaka as well as so many great cafes and restaurants that you don't know where to start. So, after having our breakfast while enjoying the breath-taking scenery around the Lake Outlet Holiday Park we started our day by checking out a bit of the surroundings before heading into town.
We went down to the "outlet" of Lake Wanaka for a little walk along the river banks of the Hawea River. It was such a beautiful autumn day that you couldn't help but feel happy, alive and grateful for being here.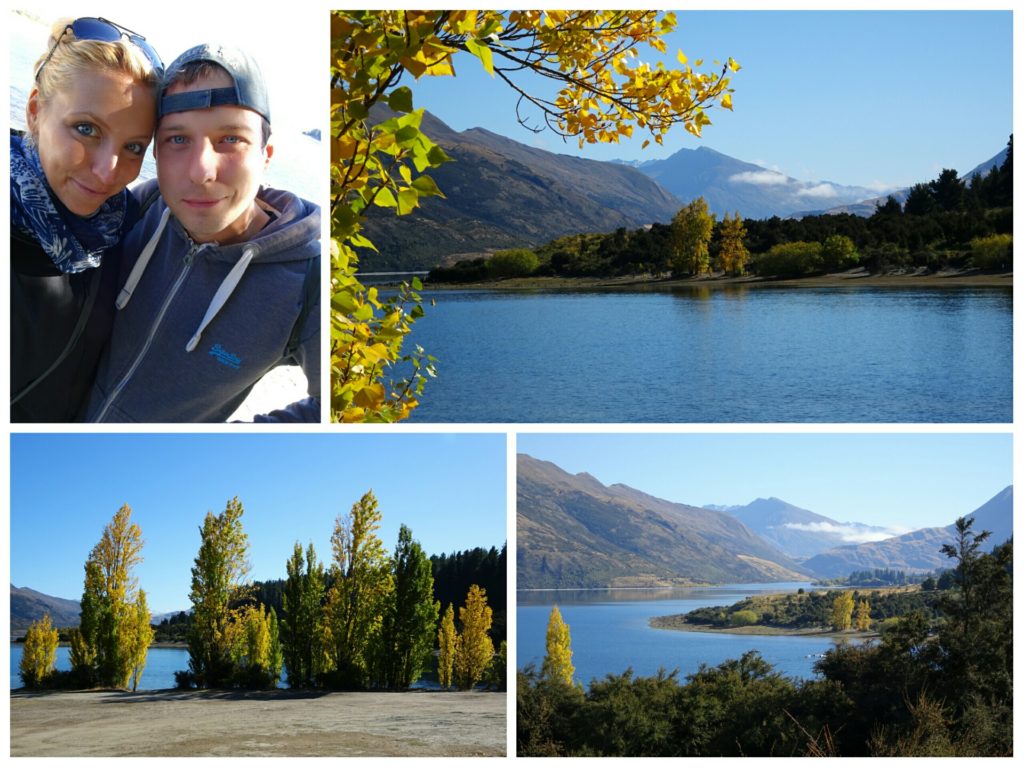 After that we went into town, parked our car (it's free for 2 hours by the lake) and all pumped up from our first walk we decided to do another little stroll to Eely Point. It's just a short 25 minute walk from the town centre along the shores of the lake Wanaka offering great views of the bay and its beautiful surroundings.
That however my friends, was pretty much the "sporty" part for the day! 😊 Despite endless opportunities for walks and hikes we took a slightly different road.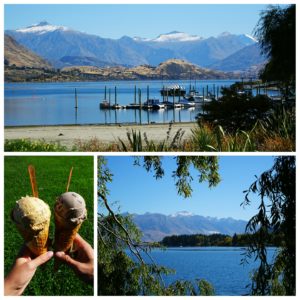 What followed were activities of the more relaxing and indulging kind. Sun-bathing at the beach, celebrating a carb-feast for lunch with a SUPER DELICIOUS calzone pocket from FastFatChef – Pizza for just 9.00 NZD followed by a scoop of New Zealand's BEST ice-cream.
We are talking about the Ice-cream from Patagonia Chocolates which we've already tried in Queenstown and totally got addicted to! At 6.00 NZD a scoop of creamy awesomeness doesn't come cheap but it's soooo freaking good. And hey, it also comes with an hour of free Wi-Fi 😊
Have a look at our short little video we created from our fun day exploring Wanaka:
Video Postcard from Wanaka, New Zealand
And so the time just fly by and we decided to extend our time here for one more night. Having however exceeded our daily food/overnight budget by miiiiiles we couldn't afford another night at our lovely Lake Outlet Holiday Park and had to look for a free camping spot close by. After consulting our App we decided to head the other way towards the Rob Roy Glacier. Apparently, there were some free camping options for self-contained vehicles which we wanted to check out.
This side of Lake Wanaka is just as stunning as the other – if not even more spectacular. With the sun about to set the whole scenery looked super dramatic and so beautiful. You'll pass the famous Roys Peak Track which you should definitely consider to check out for a slightly more sweaty experience as the little strolls we did. It's about 16km long and will take you 5-6h to get there and back.
Of course for the real outdoor enthusiast there is the Rob Roy Glacier in all its glory awaiting you 50km from Wanaka. The walk is just 10km long and will take you 4-5h to return to the glacier viewpoint. It leads into Mt Aspiring National Park with spectacular Alpine scenery.
We didn't make it that far. We stayed at the Diamond Lake Reserve car park for the night and decided to do at least a little bit of excercise when we woke up the next day by checking out the Diamond Lake Trail 😊
Starting from the Diamond Lake car park you have actually several options for your morning exercise.
Diamond Lake Circuit Track: 45 min return, 2.5 km
Diamond Lake Lookout: 1 hr return, 2 km
Lake Wanaka Lookout: 2 hr return, 5 km
Rocky Mountain Summit Track: 3 hr return, 7 km
From short and sweet to long and sweaty, whatever your fitness level, you'll be rewarded with great views either way.
After that we went back to Wanaka to see an attraction we had missed the day before. Well actually we didn't find it as we thought it wouldn't be on the map – BIG MISTAKE!!! We were looking for a tree…but not just ANY tree…the super famous WANAKA TREE!!!

And OF COURSE it can be found on google maps, what were we thinking?! After all, it's the tree of all trees which has conquered Instagram by storm!
Instead of wondering where it COULD be we should have just followed all the crowds daily flocking to this Instagram darling!!! So unless you are super lucky, chances are you'll have to wait in line to get your picture. (I wonder when they'll start charging a fee for it!)
You might want to "quickly" take a picture similar to the one on the left in below illustration, but forget "quickly". Bring A LOT OF PATIENCE instead, as you'll most likely end up dealing with the kinds of scenarios to the right.
Before we finally continued our journey up North towards the Glaciers we stopped briefly at the local Wanaka Library which offers free Wi-Fi for half an hour but most of all; PLUGS to charge our devices. So once we had charged all our devices and by this had once again successfully avoided the horror scenario of me having to deal with a red blinking battery icon on my camera screen – NIGHTMARE! we were ready to get going.
You should definitely make sure there is still enough daylight to reach your next campground from Wanaka because once again, the scenery along the way will BLOW YOUR FREAKING MIND. Luckily, there are tons of lookouts where you can stop to take it all in.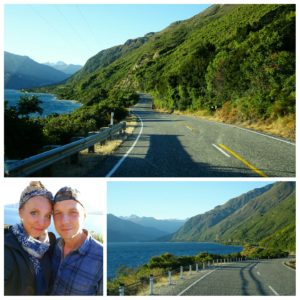 But even the road winding along the shores of the lake was already THAT spectacular that I had to really control myself not to cause red blinking battery symbols within a matter of minutes again.
We arrived at the Cameron Flat DOC Campground (8NZD per person) shortly before it got dark, ready to explore the nearby Blue Pools first thing tomorrow morning.
---
Next Day: DAY ELEVEN – Blue Pools – Haast Highway – Franz Josef
Previous Day: DAY EIGHT – Lumsden – Cardrona – Wanaka
Start at the beginning: DAY ONE – Christchurch to Akaroa
---
Your might be also interested in: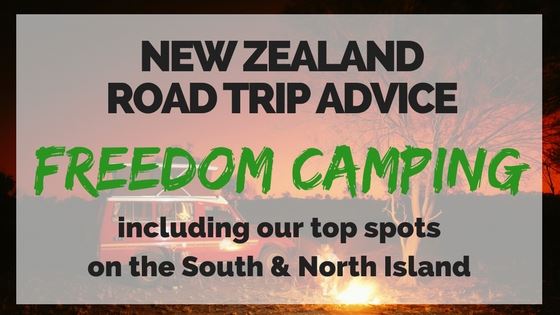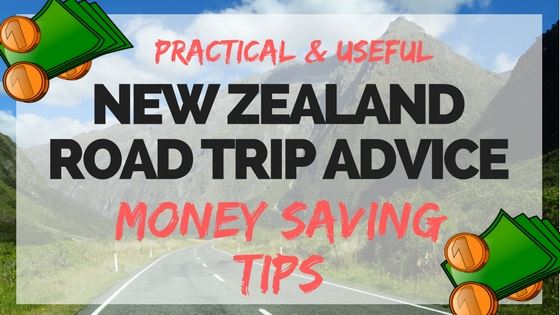 ---
If you like it – pin it! 🙂