GOODBYE LAKES AND HELLO MOUTAINS!!!
Waking up at our campground was like waking up in a postcard. However soon some uninvited guests joined the party so we went to explore the nearby Blue Pools – will we dare to jump into the ice-cold water? 🙂 Following this morning spectacle we are taking the scenic haast highway heading to the glacier wonderland of Fox and Franz Josef while trying to squeeze in a play date with some local penguins along the way.

After our perfect weekend stay in Wanaka exploring all the highlights of this stunning area we didn't believe it could get much better than this but New Zealand once again kept suprising us! 🙂 Waking up at our campground at Cameron Flat the next morning was like waking up in a post card!!! Like seriously! We had already some amazing camp spots experiences here on the South Island of New Zealand (some free, some paid) such as Lake Camp, Lake Pukaki or in the Lake Outlet Holiday Park nearby Wanaka. But they all got our thumbs up because of the – you might have guessed it already – gorgeous LAKE views.
This morning however it was the spectacular MOUTAIN views that made our hearts jump for joy when we opened our van doors! (coming from someone who would prefer the beach over a mountain on any day of the year, it's kind of a BIG deal 😊 )
Let us introduce you to CAMERON FLAT!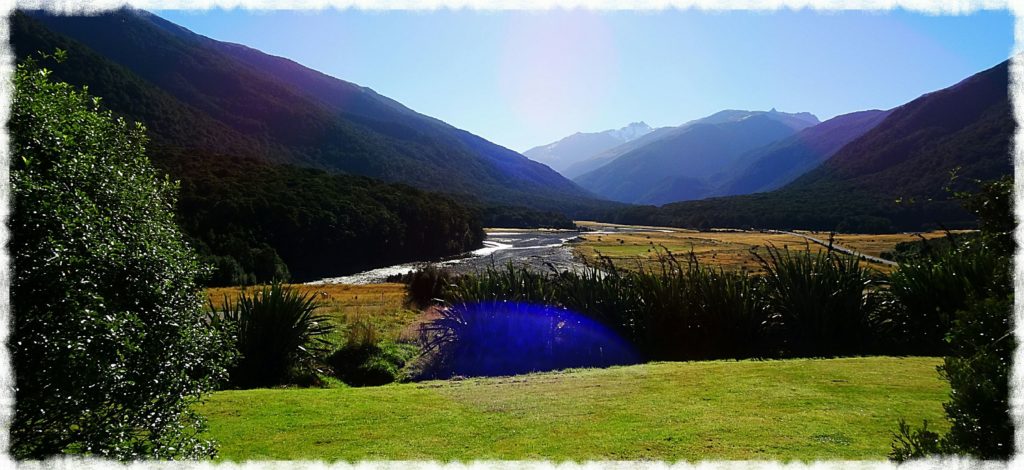 The scenic Cameron Flat Campground is also a DOC campground however just costs a fraction compared to the Henry Creek Campground where we stayed before heading to Milford Sound. At 8.00 NZD per night you'll get some picnic tables a flush toilet and spectacular scenic views that go absolutely great with your morning coffee. 🙂
SCENIC BREAKFAST WITH SOME UNINVITED VISITORS
But what was that? While enjoying these stunning views and eating our porridge we felt like as if constantly something was biting us. We instantly blamed the mosquitos but couldn't really see any. Eventually we noticed these tiny little black flies (SANDFLIES as we later found out) that started disturbing our beautiful, quiet morning. Guess we were not the only ones in the mood for some delicious breakfast and in their eyes we had just opened a huge buffet breakfast and it was time to load up the plate. As soon as you exposed a tiny little piece of skin they started attacking – our hands, our ankles, even our face and ears become a target.
We stuffed whatever was left of our porridge quickly in our mouth, flushed it down with our coffee, quickly packed everything up and got the hell out of there.
Only that there was no escaping. These little vampires, or also called "Draculas of the west coast" live everywhere in this area – who would have thought that sandflies are mountain lovers?
But it wouldn't be fair to colour all the sandflies with the same brush. There are differences which Martin was very determined to have me share with you. We found out that it's apparently NOT the male sandflies that do the harm, as these veggie lovers are happy with just eating plants. It's the FAMALE ones, that, according to an info sign we found, are the annoying ones. Guess nature is making a point there. 😊
BLUE POOLS – INCLUSIVE ENTERTAINMENT
So after accepting that there was not much we could do about it we started exploring the famous BLUE POOLS. The car park was just a 2 minute drive back from our campground and the walk to the Blue Pools is only about 45 minute return so definitely a MUST-DO on your way from Wanaka to the Glaciers.
You start off by walking through the rain forest which already looks pretty impressive followed by crossing the river on a swing bridge. While I was focused just to cross this thing as quickly as possible Martin was…well swinging the hell out of it! 😊
Only a few minutes further and you arrive at a second bridge leading over the crystal clear "Blue Pools" which derive their name from the distinctive blue of the water. The blue colour is a result of light refraction on the clear, snow-fed, icy-cold water.
You got a bridge, you got ice-cold but super blue water…so naturally there were some youngsters with rastas who had to proof a point by jumping of the bridge into the freezing cold water. It was quite a show. The testing of how deep it was, the waiting and calculating, the putting on of the wetsuit and eventually a well performed back flip through the air and down into the pool – obviously feeling super special. And boy, we were impressed!
That was until a group of even younger backpackers arrived who did the same thing – but without all the fluff! No testing, no calculating, no waiting and NO WETSUITS. They just hopped off the bridge one of the other in their shorts and bikinis. You can imagine that Rasta-Gang was not happy about these backpackers stealing all their thunder and quickly left the scene! 😊
SCENIC DRIVE UP NORTH – WATERFALLS, MOUNTAINS AND MAYBE A PENGUIN????
After watching few more crazy freaks jumping into the pools (all while sitting in the sunshine nicely wrapped in our warm jacket) it was time for us to leave as well. We headed back to our van and continued our route along the scenic Haast Pass up North.
Our next stop were the spectacular THUNDER CREEK FALLS which is a 28m high waterfall that tumbles into the Haast River. We could already spot it from the car and just had to stop to get closer and take some pics. It's very close to the street so even if you are in a rush you can easily squeeze some chasing waterfalls action into your itinerary. 😊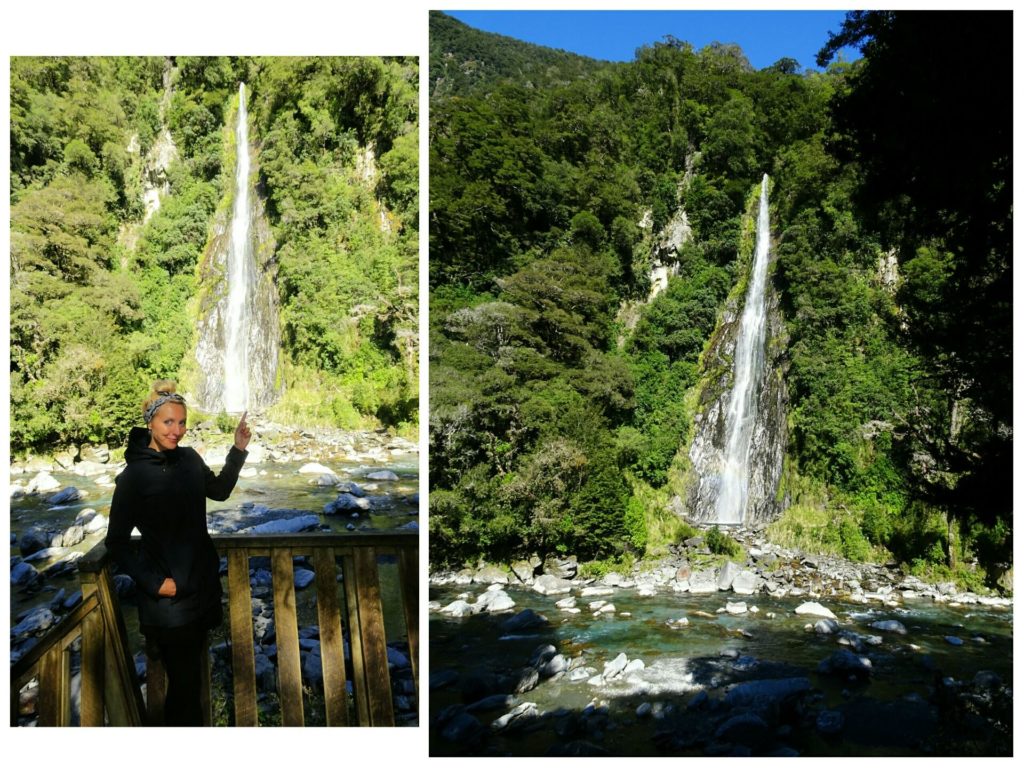 More Waterfalls will come your way but this one was the closest and still – super impressive.
We were amazed by actually how much you can see simply by looking out your window! So even if you don't have the time to stop anywhere to explore the area on foot you still gonna see a lot. Blue waters of the ocean, green forests, mountains, waterfalls – The Haast Highway is definitely one of the most scenic drives we've ever done.
But there was one walk in particular we did not want to skip as it offered the chance to see something that you definitely cannot see by simply looking out of your window. PENGUINS! We had read about a beach full of Penguins shortly past the Knights Point Lookout which you can reach after a 45 minute walk. We were definitely ready for some penguin action – especially after our disappointing experience in Timaru. Seeing one of these cuties in the wild was on top of our list!!!
Too bad that we had to find out that meeting the Tawaki (Fiordland Crested Penguins) of Monro beach wasn't meant to be either. Apparently they only can be seen between July and early December. Damn it! We missed them again ☹
So we kept going along the scenic Highway and although not seeing a Penguin was a bit of a mood buster the scenery tried it's very best to make up for it and eventually succeeded.
The Haast Highway eventually becomes this winding Glacier Highway – Welcome to the Mountains! 😊 And after a lot of steep curves and ups and downs we finally reached the glacier towns: FOX GLACIER and FRANZ JOSEF in the late afternoon. As all our batteries were dangerously close to dying after a day like this we decided to treat us to a powered site and checked in to the "Franz Josef Top 10 Holiday Park" which was located perfectly for exploring the glaciers and surroundings the next day.
---
Next Day: DAY TWELVE – Franz Josef – Pancake Rocks – Westport
Previous Day: DAY NINE & TEN – Wanaka
Start at the beginning: DAY ONE – Christchurch to Akaroa
---
Your might be also interested in: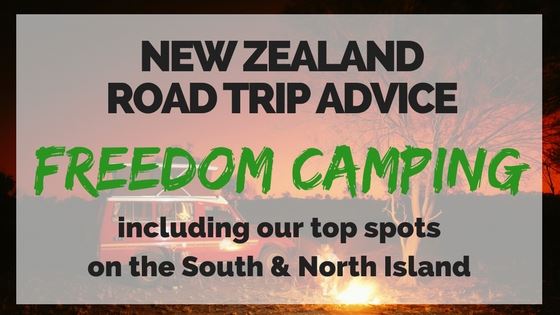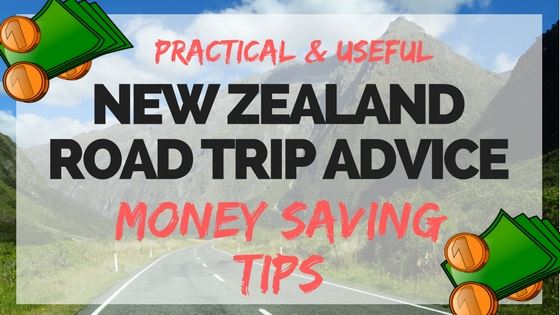 ---
If you like it – pin it! 🙂