FINDING THE BEST FREEDOM CAMPING SPOTS IN NEW ZEALAND
Price-range: 0 $$$
So you've secured your Car/Campervan/Motorhome which is basically your new home on 4 wheels for the duration of your road trip through New Zealand, why pay for anything else, right? Why not just stay wherever you feel like it a la #homeiswhereyouparkit?
Well, if you heard the rumour that you can basically camp anywhere you want in New Zealand than sorry buddy, that's a myth! However, there are still plenty of assigned freedom camping spots which won't charge you a dime. On top some of them come with freaking spectacular view and some even with FREE WI-FI!
Sounds good, right? So planning your route heading from one awesome freedom camping spot to the next seems like the obvious solution? Well, think again. Although hopping from freedom camp to freedom camp might sound awesome in theory and freedom camping surely CAN be super fun for 1 or 2 nights, it does get a little challenging after doing that for more than 3 nights in a row. Well at least it got challenging for us. 🙂 Biggest issues: well, it get's VERY BASIC! No hot showers, no electricity and no flush toilets and internet connection (most times)…..all those tiny little things flashpackers like us DO MISS DEEPLY after staying too long in remote areas.
On the other hand some of our most spectacular places where we stayed overnight have been freedom camping spots (for different reasons though) and thinking back, these were the ones we still dream about…
Here are our top 3 freedom camping spots for the South & North Island:
THE BEST FREEDOM CAMPING ON THE SOUTH ISLAND
1) LAKE CAMP – CAMPING ROMANCING DE LUXE

Lake Camp was probably the most romantic freedom camping place we had on our entire trip through New Zealand. Think: total tranquillity, campfires by the lake, amazing sunsets and spectacular sunrises!!!
Although getting there is a bit of a challenge, as you'll have to take a bumpy gravel road for about 10km, it was still surprising that there were no other cars when we got there at 5pm despite it's super idyllic location right on the lake. So you'll have plenty of choice to select the perfect spot for the night – most of which come with unobstructed lake and mountain views. Special bonus, you can light a campfire and with tons of dead wood lying around there is no reason NOT to get some campfire action going. IT WAS SIMPLY AMAZING!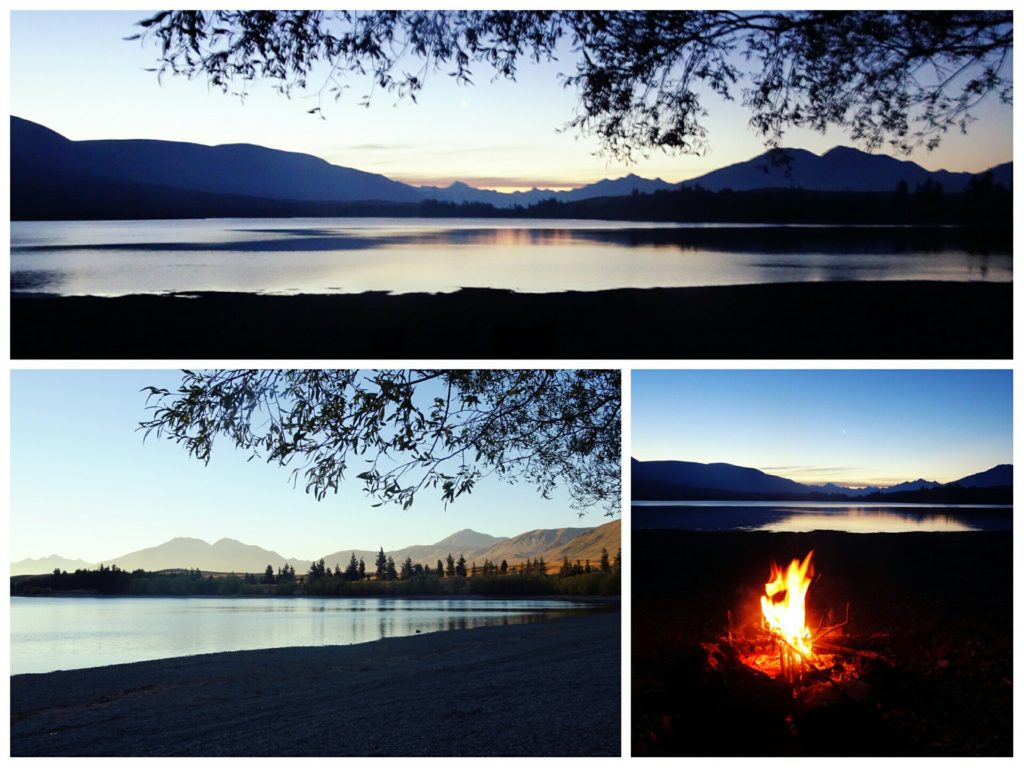 ---
2) LAKE PUKAKI – VIEWS VIEWS AND AGAIN VIEWS
Similar to Lake Camp the freedom camping area at Lake Pukaki also comes with spectacular lake and mountain views however seems much more popular than lake camp. It get's very busy here but with TONS of space you sure will fit your home somewhere.
It is also the perfect starting point to explore Lake Tekapo or the Mt. Cook area so chances are you might end up staying here for more than one night.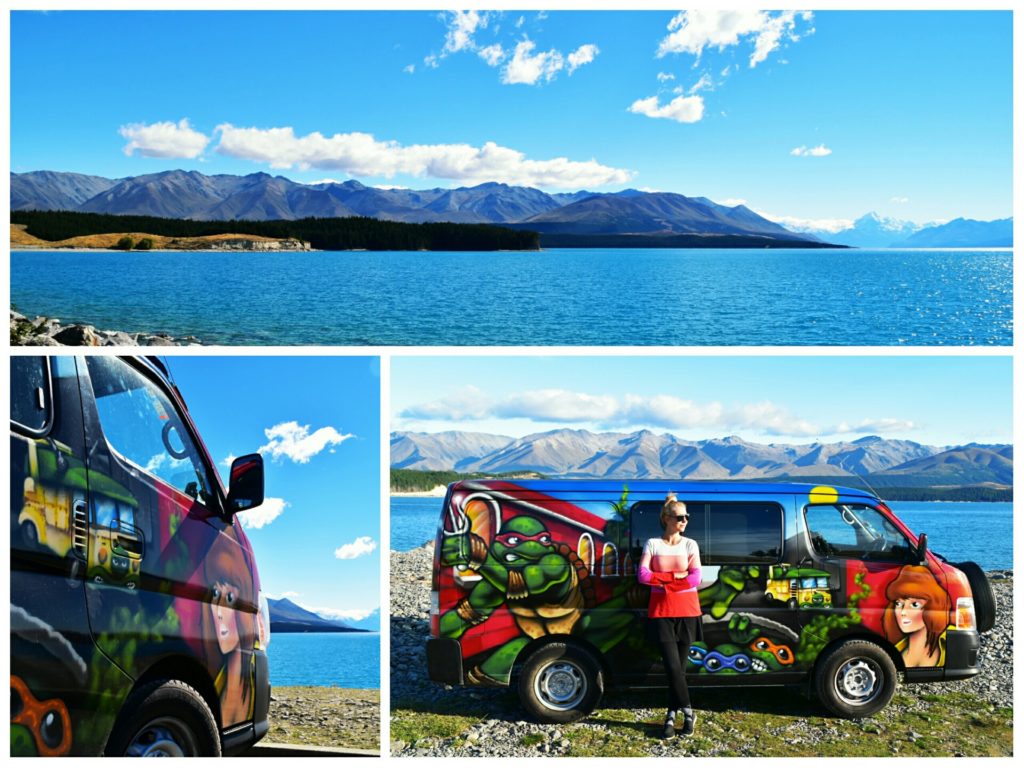 ---
3) LUMSDEN – ALL ABOUT THE FACILITIES!
The Lumsden freedom camping site is directly in the small town of Lumsden with no views, no lake nearby, no scenery. So why is it anything special and worth mentioning here? Because of the awesome facilities this places comes with! Three clean, flush toilets, free WI-FI from the library across the street and a shop and a café just a short walk from your camper van doors. You'll basically get all the comfort (AND MORE) as on a paid campground but without paying! 😊
No wonder this place is packed and filled to the last spot every night with happy freedom campers so make sure to get there as early as possible.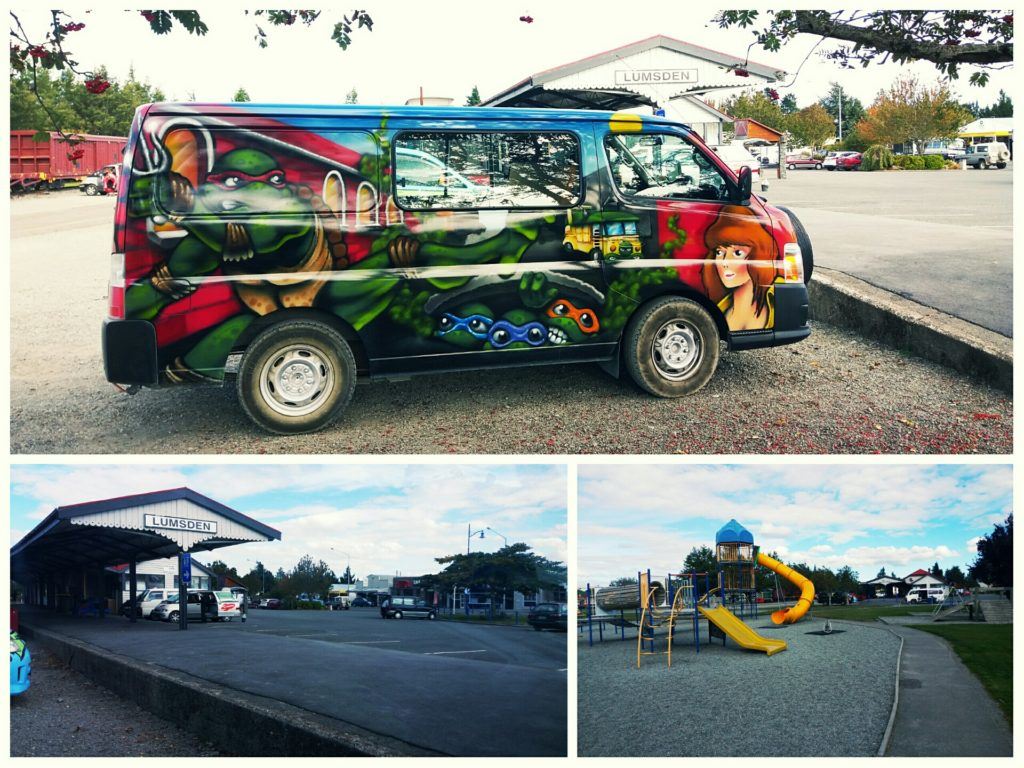 ---
THE BEST FREEDOM CAMPING ON THE NORTH ISLAND
1) NGATITOA DOMAIN – SEA VIEWS ON A BUDGET

No Internet connection and quiet a long walk to the next flush toilet doesn't sound like the ideal place to park your car for the night however once again, it's all about the location and the STUNNING VIEWS! Ngatitoa Domain definitely wowed us with its' stunning sea views and as it is not too far from Wellington (about a 25 min. drive) it's the ideal place to combine city sightseeing in the capital without paying a fortune on city-centre accommodation.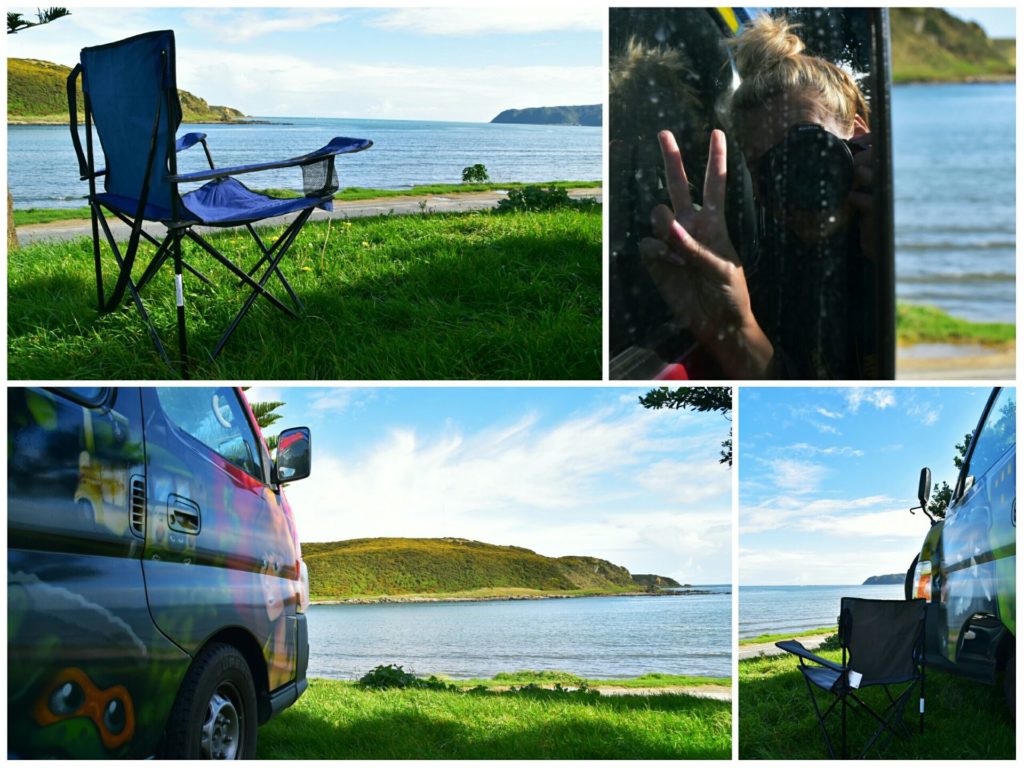 And come on, views like these are the reason you came to New Zealand in the first place, right? 😊
Also, there is a New World Supermarket right across the field as well as a BP gas station with free Wi-Fi. So we are sure you can make this work, right?! 😊 However, make sure you read the sign carefully – only self-contained vehicles are allowed to stay overnight and only in the designated area!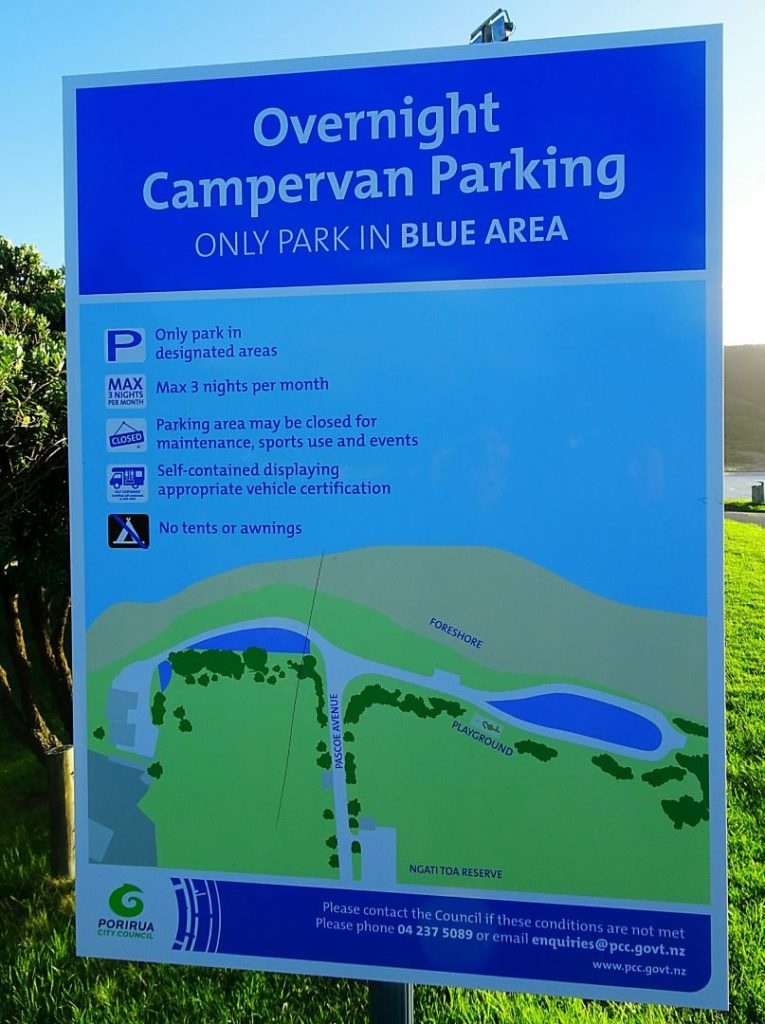 ---
2) TAUPO MARINA – WHAT CAMPING DREAMS ARE MADE OF

The Taupo Marina Freedom Camping Spot ticks A LOT of boxes. It is right by the shores of the lake, you get free Wi-Fi, there are serval clean flush toilets right across the street as well as a fantastic little place for your morning caffeine fix – what else do you expect from a FREE campground? Exactly!
It's hard to beat waking up here! You can go for a nice little morning stroll around the Taupo Marina, take a swim in the lake, have a picnic (there are some picnic tables with lake views) or simply watch the cute little ducks walking around…it's so idyllic!
However, there are some rules and things to note if you want to stay here overnight:
Staying overnight at Taupo Marina is only possible for self-contained vehicles (although nobody came to check and on both nights we stayed there we saw many NSC vehicles park here as well)
Toilets are locked during the night
As per a sign overnight campers have to leave at 9am however once again, nobody really seems to enforce it as we saw campers staying there the whole day.
EXTRA BONUS: There is a cute little café stall right across the street from the Marina where you can get your morning caffeine cravings fixed! 🙂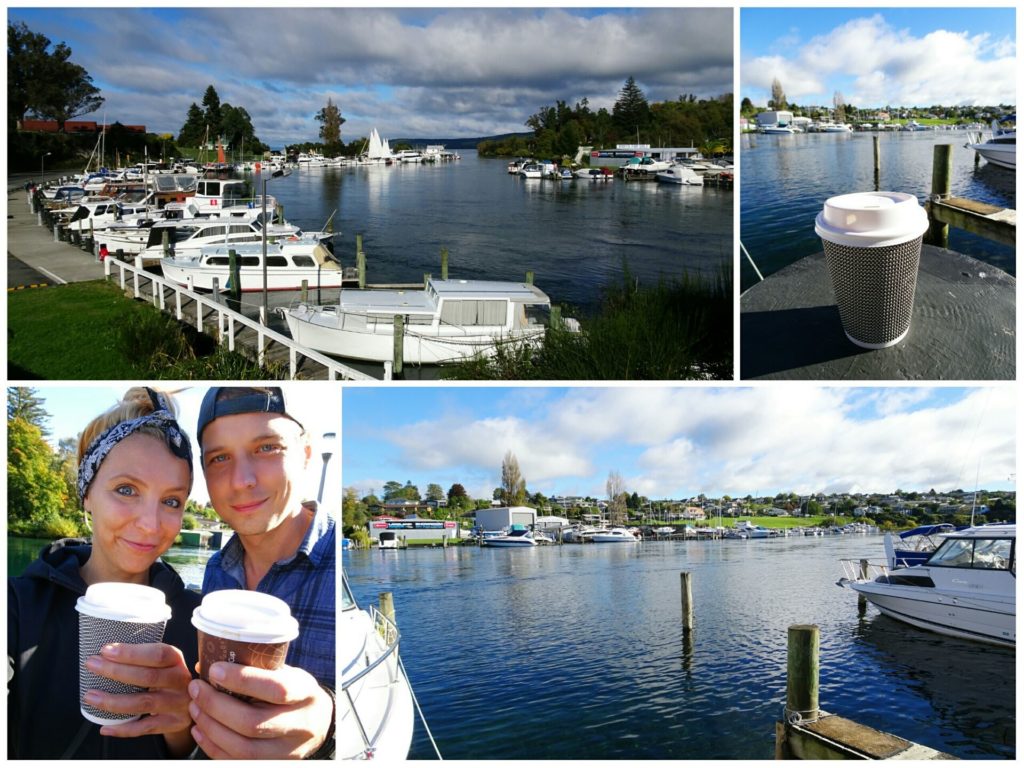 ---
3) CATHEDRAL COVE PARKING LOT – ALL ABOUT CATHEDRAL COVE
No spectacular views (at least not directly from your car), no Wi-Fi and the drop toilet is pretty disgusting. However, it was still one of the best freedom camping experiences on the North Island of New Zealand as staying here overnight allowed us to be one of the first ones down at Cathedral Cove before the tour buses and boats arrived!
So if you want to visit this must-see highlight of New Zealand and take some pictures without all the tourist than staying at the Cathedral Cove parking lot is your best bet!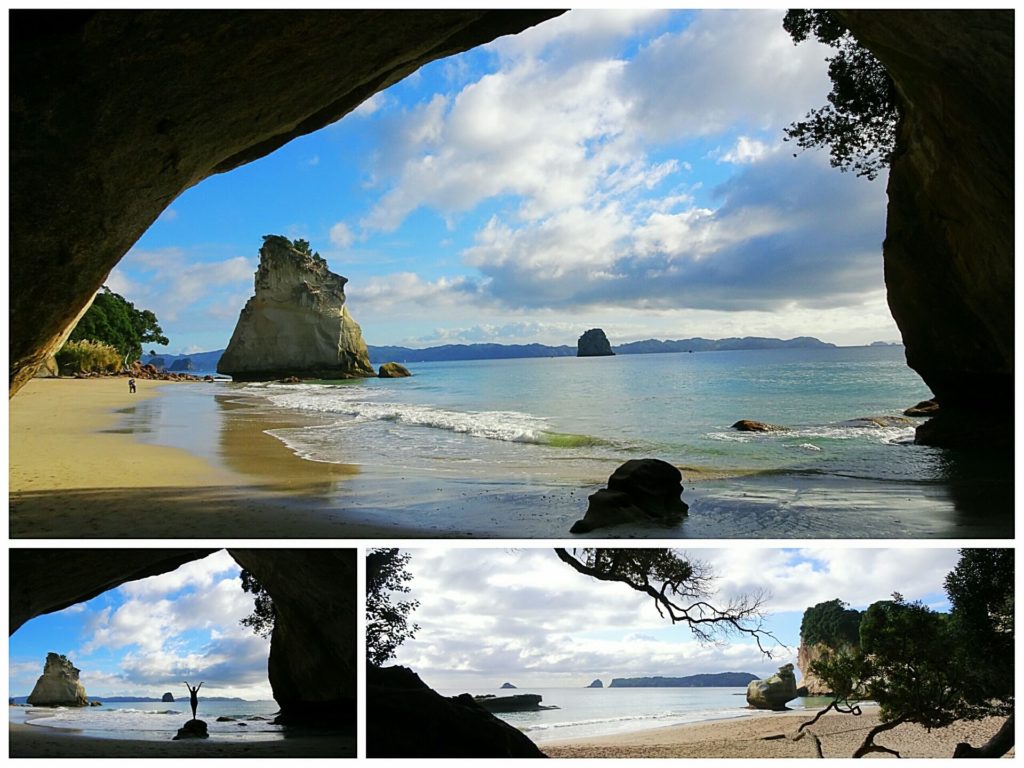 Also when we left the parking lot at around 10am it was already/still full with campers and tourists with not a single parking space left. That meant that all the cars we met on our way back down (and we saw A LOT) had to either go back down to the city and walk up the long, steep hill (in addition to the 45 min. walk to Cathedral Cove from the parking lot!!!), find a private parking space at one of the houses on the way up (on the signs we saw most wanted 10.00 NZD) or park somewhere in the city and take a taxi boat to Cathedral Cove.
You see, nothing beats staying there overnight, securing your parking space and walking to Cathedral Cove first thing in the morning.
Another highlight awaited us when we returned from our walk. A coffee truck had parked RIGHT NEXT TO OUR VAN! How cool was that? So we could enjoy some delicious warm muffins and coffee before leaving. Absolutely perfect!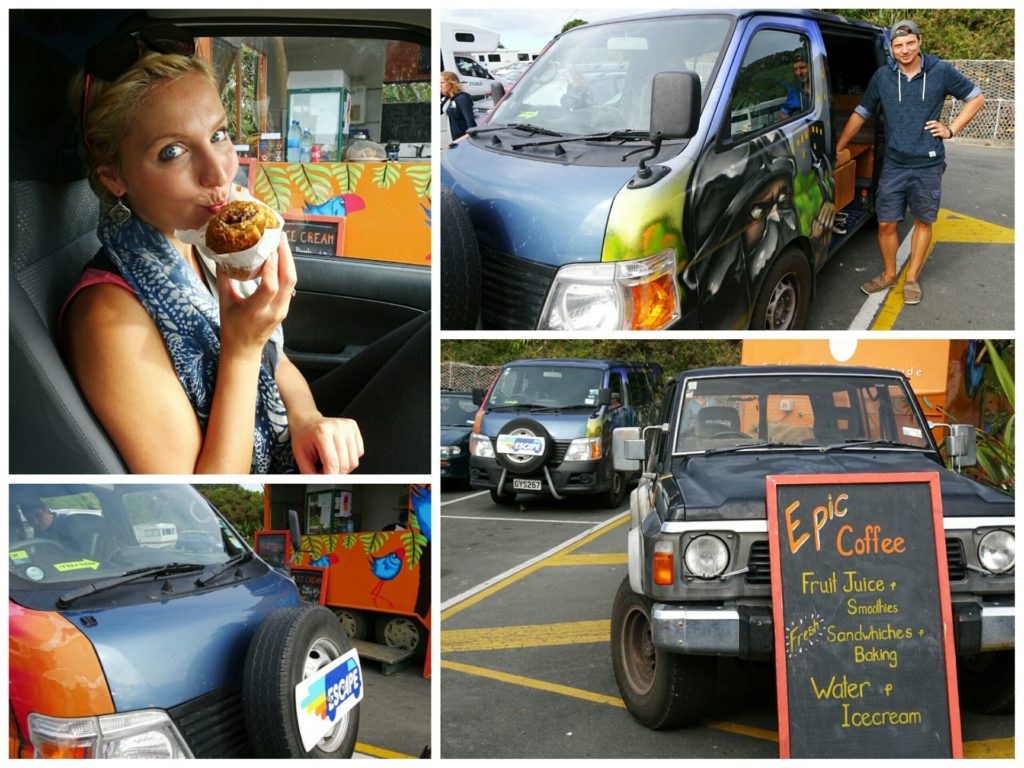 ---
If you prefer a little bit more luxury than check out our other two options for getting a good night's rest during your road trip through New Zealand: Campgrounds and Holiday Parks or having a proper bed and checking in to a hostel / hotel.
---
Your might be also interested in: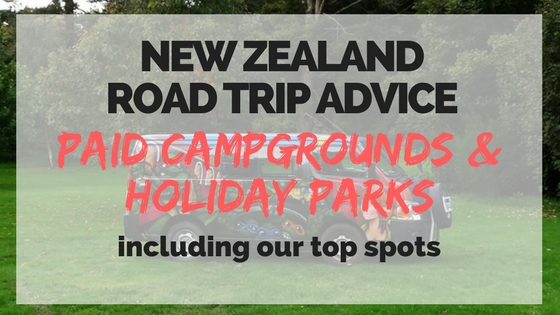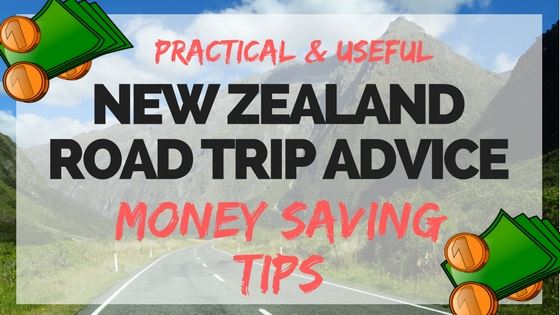 ---