HOW TO SAFE A LOT OF MONEY ON ACCOMMODATION, TOURS, FUEL, FOOD AND WI-FI DURING YOUR ROAD TRIP THROUGH NEW ZEALAND
New Zealand is not cheap. NOT AT ALL. After 3 months travelling through Asia it hit us really hard. We spend as much on our first night in Christchurch as we had budgeted for a whole week in Thailand. ….OOUUUUCH!!!
Additionally, we realized that it's not just the rental fees we would be paying but also quite a lot on other things such as campground fees, tours and trips, food, Wi-Fi and fuel which would all mount up. OH – OH! Panic started to kick in.
Wondering how much this 1 month road trip through New Zealand (check out our itinerary here) would actually cost us we got to the point where we asked ourselves – could we actually afford this trip at all? We wished we had been more prepared knowing what we know now AFTER already spending 3 weeks on the road and learning every day something new about how we could actually save some big bucks during a New Zealand road trip adventure!
So if you are heading to New Zealand anytime soon and are on a budget please, my friend, learn from our mistakes and take our advice on how to save money on accommodation, tours, fuel, wi-fi and food during your time on the road. IT WILL HELP YOU A LOT!
Using our saving tips below will make your travel budget stretch much longer. A road trip through New Zealand doesn't have to be THAT expensive after all 😊 So fasten your seat belt – here it comes:
HOW TO SAVE ON ACCOMMODATION IN NEW ZEALAND
Why pay at all if you can do freedom camping? 😊 Although this is not possible everywhere (check out our road trip advice on how to find accommodation in New Zealand) there are still quite a few rocking freedom camping spots that offer you everything you need without costing a cent!
If you want a hot shower, electricity or desperately need to wash your clothes than don't worry, there is still no need to pay expensive hotel bills…there are tons of different options between freedom camping and checking in to a hotel such as using private campgrounds or holiday parks which will work just fine.
Also think about getting a membership card as mentioned in our post about holiday parks and campgrounds in New Zealand if you plan on using a certain brand (e.g. Top 10 Holiday Park) on several occasions, you will save some $$$ down the road!
HOW TO SAVE ON TOURS IN NEW ZEALAND
If you came all the way to New Zealand – the "adventure playground of the world" – most likely you want to do at least on or two of the thrilling activities on offer. Speed boat riding, bungy jumping, sky diving…the list is E-N-D-L-E-S-S 🙂 . However, most of these near-death-experiences come with a hefty price tag. But don't worry!
We found a great website: Bookme.nz where you can get HUGE savings on a lot of tours and activities in New Zealand. You can browse by area and see whether any of the activities you planned on doing comes up – chances are they will! 😊
We wished we had known about bookme.nz sooner. Unfortunately, we only found out about this deal website three weeks into our road trip when we were in Taupo. We immediately made use of it and managed to secure us a lovely spa pool session at the Wairakei Terraces near Taupo for 50% off. YAY!
It's also worth checking with your rental car provider whether they have any co-operations. We rented our van from Escape Campervans and one of their partners was Discovery Cruises who offered a 50% discount on a cruise on Milford Sound. As this cruise was an absolute must-do we were thrilled about these savings. Check out our blog post about cruising Milford Sound here.
Last but not least think about getting a membership card for a Holiday Park such as the Top 10 Holiday Parks. You do not only save on accommodation but they also usually offer some great discounts for local attractions.
HOW TO SAVE ON FUEL IN NEW ZEALAND
We were surprised how much more expensive the fuel was in New Zealand compared with Australia. On average we had to pay between 1.80 – 2.20 per litre (as of May 2017) and as our camper van for 2007 was VERY thirsty it sometimes felt like throwing money out of the window.
Luckily we had picked up a AA SMART FUEL CARD. You can get the AA Smart card at BP or Caltex and start saving 6 cent per litre anytime you fill up on fuel there.
PRO TIP: You can also get fuel for 40$ and decide to accumulate the 6 cent until you reach 18 cents and have a much larger saving the 4th time you fill up your tank. Of course this only makes sense when you get more than 40$ fuel on the 4th time as you'll be saving a whooping 18 cent on every litre!
One final note, think about WHEN and WHERE to get fuel and plan accordingly. We noticed that getting fuel on the North Island was quite a bit cheaper than on the South Island and on the South Island the most expensive areas to fill up your tank where the National Parks or cities that were not as easily accessible, such as Fox Glacier. Here they wanted 2.40 per litre!
HOW TO SAVE ON FOOD IN NEW ZEALAND
If you decided not to dine in fancy restaurants all the time and rather prepare your own meals you are already winning big time! Luckily our van had a little kitchen so we could cook most of our meals. Alternatively most Holiday Parks do come with a proper Kitchen.
We have also some suggestions for you to save on food shopping in New Zealand which we wished we had known sooner.
First of all, do your food shopping at one of these 3 big brands in New Zealand: New World, Pak'n Save or Countdown. They're generally much cheaper than small local stores. We've seen some campground shops charging almost 3 times the price for basic things such as bread, fruit & veg.
Also it makes sense to familiarize yourself which products you need and to compare which of these 3 supermarket chains offer you the best price as they differ quiet a lot from each other. We mainly used New World Supermarket or PaK'n Save. Whereas New World offers great savings, these promotions (products on offer) usually change weekly meaning you'll need to be flexible. Pak'n Save on the other hand has not that many weekly promotions however offers in general pretty attractive prices already.
We got the basic stuff such as can food, cereal, drinks and fruits from Pak'n Save however preferred shopping at New World supermarket for specific items. You find them basically in any bigger city and their product range was slightly better. Also when you go for the deals specifically you can save more than at Pak'n Save. Make sure to get their New World Membership Card though (they have one specifically for tourists!) which allows you to get the "Club Deal"-Discounts as well. Note: most of their promotions apply to club deal card holders only.
HOW TO SAVE ON WI-FI IN NEW ZEALAND
Last but not least, here are some tips on how to save on WiFi while road-tripping through the country!
Having Wi-Fi was essential for us but we surely did not (and could not!) spend a lot of money on it. You can for example get Wi-Fi deals at some campgrounds and Holiday Parks but these don't come cheap. So what are your other options? Well dear fellow internet junkies – there are actually quite a few! 😊
If you just need to quickly check your e-mails, browse through Facebook or send a What's App to your friends bragging about your epic time in New Zealand than the public city Wi-Fi will do. Some cities such as Nelson or Christchurch offer free public Wi-Fi in the city centre. Although a bit slow, it does the job.
In addition, the bigger supermarkets such as Pak'n Save or New World supermarket usually offer free (limited) Wi-Fi to their shoppers and so do most BP gas station. Their Wi-Fi is usually sufficient for sending a quick text, e-mail or to check the weather forecast! 😊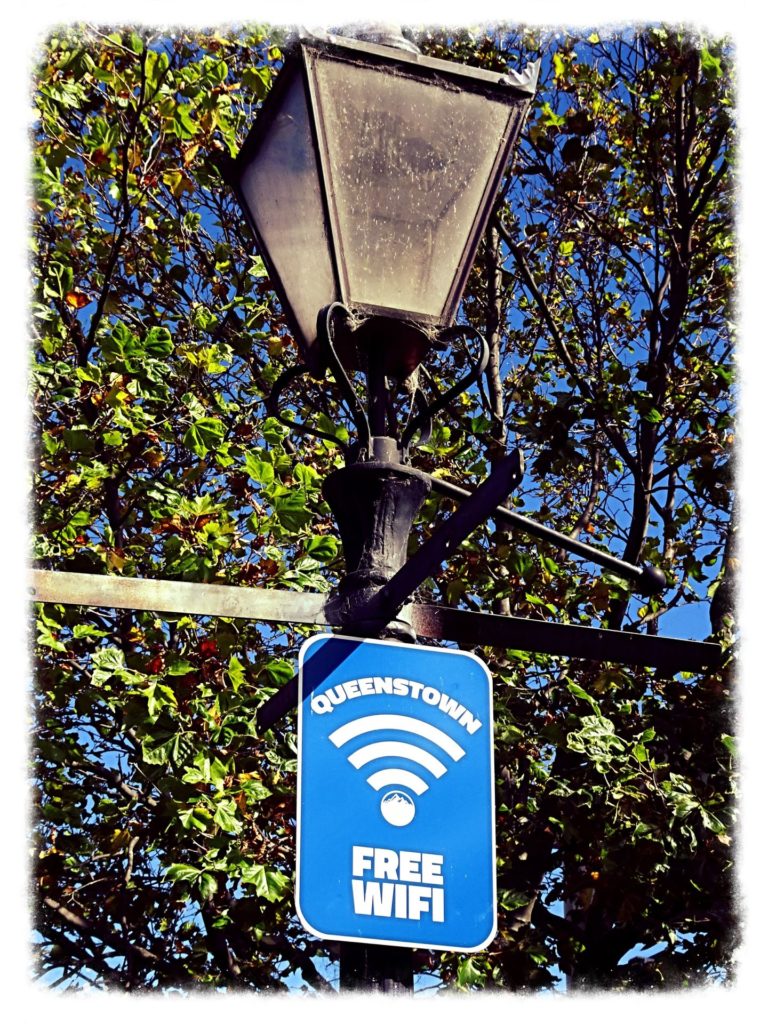 However, if you need a proper internet session than public libraries will be the best place for you. There is usually one in every bigger city however every library is different in terms of the Wi-Fi service they provide so make sure to look this up before. Some, like the public library in Wanaka, only lets you browse the web for 30 minutes per day whereas the one in Napier is a bit more generous and allows you to use the internet as long as you need.
Last but not least some restaurants, cafes and fast food chains (Mc Donalds!) also offer free Wi-Fi as well. So usually we would prepare whatever we had to (blog post, e-mail…) before and only went for a "WI-FI – COFFEE" to upload or send it out. EASY! 😊
I hope these tips help you stretch your New Zealand road trip budget a bit further so that you can enjoy your time to the fullest.
---
Your might be also interested in: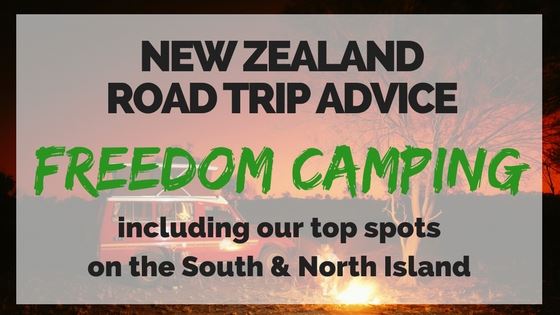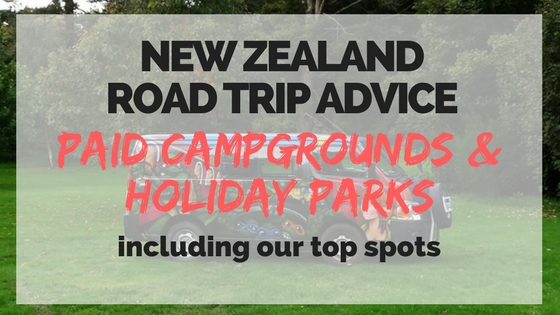 ---
IF YOU LIKE IT, PIN IT! 🙂