A month in the Philippines
Although we have to admit that the Philippines were not really on our "travel bucket list radar" before we certainly did not regret our spontanous decision to include it after finding a great flight deal from Hong Kong. In fact we ended up staying a whole month there and had THE BEST time!
It is such a paradise if you love diving & snorkeling, island hopping, chilling on white sandy beaches and singing karaoke 🙂
We spend most of our time on the beautiful island of Palawan which was just voted (for the second time actually) 'best island in the world' by the readers of Travel and Leisure Magazine. So why go anywhere else, right??? 🙂
We arrived in Puerto Princesa where we spend a few days and then went to EL Nido by minivan. The 5 hour bumpy ride was totally worth it!! What a paradise!!!
Click here for our CHECKLIST of our favourite spots in EL NIDO!
We also stopped in Port Barton for 3 nights – a Backpackers dream! Despite the minivan that will drop you off, you won't see any other cars. Most of the hotels and guest houses are right on the beach and you can easily walk everywhere.
Of course there are also various Island hopping tours which you have to try. Swimming with turtles, relaxing on deserted beaches and fresh grilled fish prepared for lunch – what a life!!!! Just check with your accommodation what tours they offer or take a short walk on the beach and surely someone will ask you whether you have booked your island hopping tour already for the next day 🙂
We then headed back to Puerto Princesa where we spend our final night on Palawan before flying out to Cebu from where where we took the ferry to Bohol. (check out our blog post for more details on the ferry ride from Cebu to Tagbilaran, Bohol).
We decided to include Bohol in our Philippine adventure as I was just DYING to see the cute little Tarsiers. I had read that Bohol is the ideal place as there are two places on the island to see the Tarsiers, one is the Tarsier Conservation area near Loboc and the other one is the Tarsier and Wildlife Sanctuary  near Corella.
For more details on my romantic first date with the tarsiers and other Bohol highlights check out our blog posts on our DIY scooter Countryside tour of Bohol.
Originally we planned on staying 3 nights near Alona Beach on Panglao however ended up staying 9 nights, changing accommodation 3 times as we liked the place the longer we stayed. The area around Alona Beach is very well developed with lots of Expats living there which comes in handy foodwise if you feel like having a german sausage for dinner the one day and fancy a nice italian Pizza the next as you sure will find a restaurant serving it. French croissants for Breakfast, Belgian fries for lunch….yes, we finally found a place in the Philippines that offered a lot of variety for our taste buds – YAY! 🙂
Click here for our CHECKLIST of our best spots in Panglao, Bohol.
As you see, we had an awesome time in the Philippines and will back for sure as there is just so much more to discover and explore!!!
---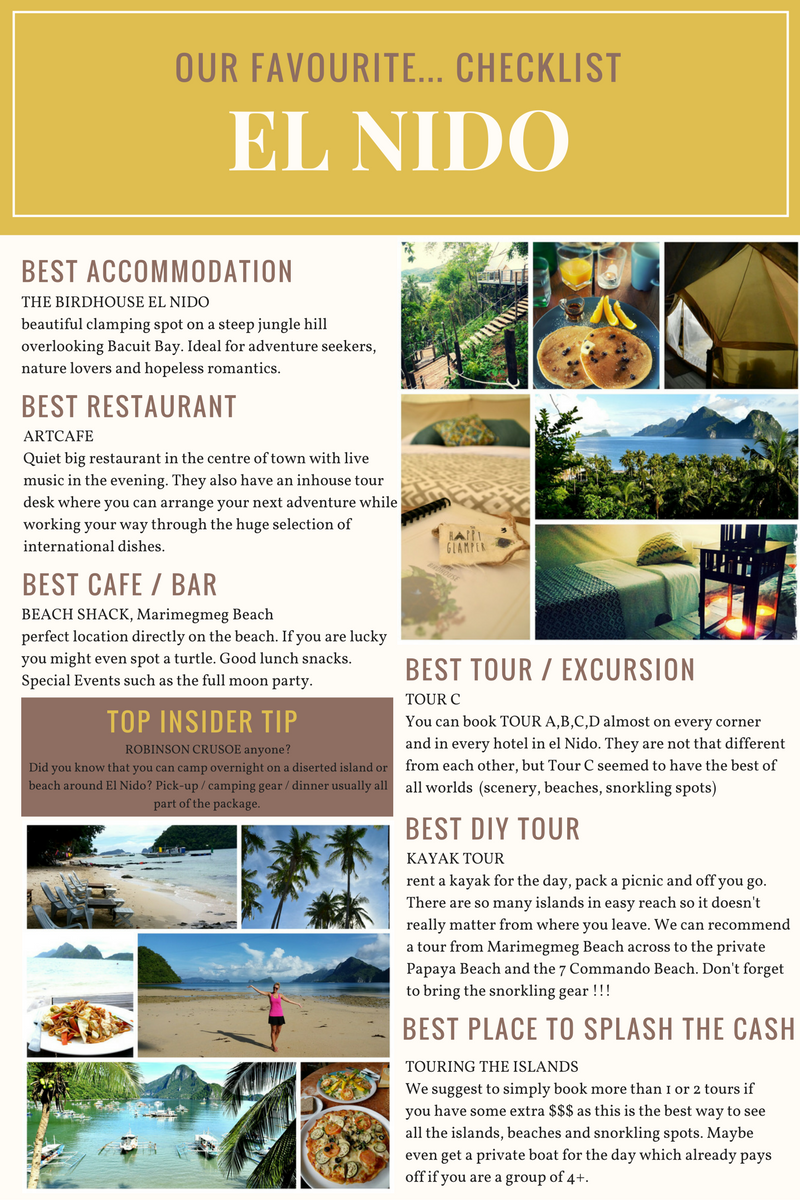 ---