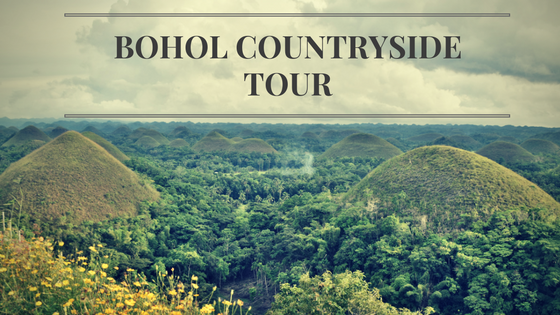 Once you get to Panglao you will see big signs everywhere advertising the famous COUNTRYSIDE TOUR which apparently is the number 1 tour to do when you are in Bohol. In fact it already started with the taxi driver who picked us up at the ferry who talked about nothing else during our ride to the hotel (of course he had a tour business on the side like every taxi driver in the Philippines it seems 🙂 ). So if you weren't aware of this tour before coming to Bohol/Panglao, as soon as your plane lands or your ferry docks you will know about it! 🙂
So of courrse we wanted to do this tour as well – obviously 🙂 However at the beginning we really weren't sure whether to get a driver for the day, book a seat on a tour bus or rent a scooter to do the famous 'COUNTRYSIDE TOUR' of Bohol which usually consists of the following stops (this can change slightly depending on the operator you book with):
Blood Compact Site / Baclayon Church / Python / Tarsier Sanctuary / Loboc river cruise & floating restaurant / Hanging Bridge / Man-made Forest / Butterfly Garden / Chocolate Hills / Gift Shop
We were not really keen on joining the organised packaged tour despite the low prices (tours started from 400 PHP excl. entrance fees).
First of all, I had NO INTEREST whatsoever to see any snakes (UGH!!!)  nor the gift shop 🙂  Also I like to take my time to take picture and have a proper look around so we knew we would need to skip a few of the attractions in order to allow more time for the ones we really wanted to see.
In addition, I was really keen on seeing the Tarsiers which you can find on Bohol island ( I have to admit this was actually the number 1 reason of coming here in the first place!) however despite all packaged tours including Tarsier watching in their programme, most of them (if not all of them) only go to the Tarsier Conservation Area near Loboc as it is closest to the main tourist attractions of Bohol (Loboc River Cruise and Chocolate Hills).  However this is NOT a Tarsier Sanctuary and you will find a lot of info online why you should avoid it at all costs!
There is another one which is less touristy and where the tarsiers, in contrast to the one in Loboc, actually do live in the wild and are free to do whatever they want – even leave the sanctuary. That's the Tarsier and Wildlife Sanctuary in Corella.  We heard many, many good things about this place and really wanted to go there, even if there was a chance of not seeing any tarsiers at all.
So a packaged tour was definitely a NO-NO.
Of course with a private driver you could also have the itinerary as you please however we decided against it as this would have been definitely the most expensive option and obviously being on a budget we picked the option that allowed us the most flexibility and the least costs – A DIY SCOOTER COUNTRYSIDE TOUR! 🙂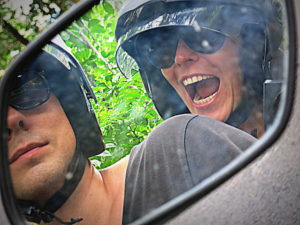 Sooooo we rented a scooter from the tourist information in Alona Beach however you can get them on almost every corner, often even at your accommodation so it might be good to compare prices as they vary quite a bit. (300 – 700 PHP per day).
We had saved all the attractions we wanted to do prior on google maps and checked every now and then whether we were still on the right track however it was really not that hard to find our way as most attractions are located close by the main road that is leading to the Chocolate Hills (despite the little detour for the Tarsier Sanctuary in Corella)
These were the attractions we picked for our DIY countryside tour:
Tarsier Sanctuary in Corella
Loboc river cruise & floating restaurant
Hanging Bridge
Man-made Forest
Chocolate Hills
Stay tuned for our feedback on each of these places – some totally rocked, others disappointed but overall it was a great tour and we would always do it again like this!!!!