PUKAKI AND TEKAPO – ROAD TRIP DREAMS DO COME TRUE
From a disappointing city-experience to one of the most exciting lake duo we've ever seen. Join us as we explore Lake Tekapo and Lake Pukaki Wonderland.
Timaru – not our favourite place but we make it work
As soon as the alarm clock rang I was ready to leave Timaru…well once I had my breakfast of course! So at 10am we left the campground and were ready for adventure but….well…we didn't even make it out of town. Our still tired and half-closed eyes spotted a McDonalds just across the road and decided to stop here, adventure can wait! 😊 With a McDonalds comes not only a delicious Chai Latte but also free Wi-Fi which is a winning combo on basically ANY given day!
So we parked our Ninja Van right in front of the golden M and got lost in McCafe for the next 2 hours! Yes my friend you heard correctly – 2 hours! We actually stayed there for so long that it was time for having lunch again, luckily we were at the right spot! 😊 We thought with all those grey clouds what else was there to do than to catch up on all the e-mails and social media things that had we had neglected the last days. And let's be honest, catching up on work is sooo much easier when having a "Cadbury Cream Egg McFlurry" by your side.
But everything has to end eventually – even our time at McDonalds and Timaru! 😊 So after having made the most of our (almost) free internet session we were finally ready to leave this city. This time for real! 🙂 Funny thing was that as soon we left Timuru taking Highway 8 the sky cleared and the sun came out. It was suddenly summer again.
LAKE TEKAPO – SUMMER DAY TURNS DARK AND GREY
We arrived at the crystal clear Lake Tekapo early afternoon and decided this beautiful spot called for a second lunch break (those MC Burgers just don't last for long…). So we went down to the lake, unpacked our chairs and prepared us a little picnic while enjoying the sunny weather. Sitting there right at the shore, feasting on snacks and baking in the afternoon sun…it was the perfect summer day!
We were even thinking of having a quick dip in the water when we spotted big grey clouds coming in…guess they must have followed us from Timaru.
Within minutes they had covered the whole sky and the wind picked up…summer was over! Already freezing cold we quickly hopped back into the van, turned on the heat and decided we better get going to our overnight camp spot at lake Pukaki.
Just when we were about to reach the main road again it happened…a car coming at high speed straight towards us…on OUR! side of the road. Guess someone must have missed the memo that you should drive on the LEFT side when visiting NZ. (I mean not that there are arrows basically every 10 meters reminding you where to position you car…guess they must have missed those as well)
Even when they saw us they kept going and didn't change their course. What do you do in such a situation? Going to the other side of the road but risking that the other drive might realise that he's wrong and also changes to the other side? Stopping? Driving down into the bushes or whatever is on the side? Honestly it all happens so fast that you probably also just keep going hoping for the best! At least that's what we did! 😊
Eventually the other car realised something must be wrong and turned right at the last minute (yes, they rather went into the bushes then changing to THEIR side of the road). When they realized what just happened you could see the wife screaming furiously at her husband in the car – she was clearly not impressed by his chauffeur performance today. 😊
After our little dose of action we took it slow going to lake Pukaki and only stopped once at the Church of the Good Shepherd. This little tiny church is a tourist magnet for whatever reason. I mean it is cute and nestled quiet beautifully right at the lake overlooking the mountain ranges in the distance but nothing compared to a proper church or cathedral you know from Europe. Nevertheless, tons of tour busses stop here and unload their precious cargo – huge groups of Asian tourists who seemed to be extremely thrilled about posing in front of this little stone house (because that's pretty much all there is to it – add a bell and you got your church) so that it took me ages to get just one shot without them. I waited patiently and got my picture in the end. 🙂
LAKE PUKAKI – SCENIC FREEDOM CAMPING WITH A SMELLY CHALLENGE
So after getting at least one decent shot of the church we continued to lake Pukaki. If you come here on a nice day then you'll be treated to some amazing scenic views shortly before reaching lake Pukaki, the scenery around the lake is just stunning. When we arrived however it was proper autumn weather with gusty winds, clouds and a little drizzle of rain…just a little reminder of our time in London! 😊
We arrived at our campsite around 6pm and took another 30 minutes to find us the perfect spot to park our van for the night. It is a huge area so unless it is absolute peak season you shouldn't have any problems finding a spot to park your car. If you arrive early enough you might even be lucky and secure yourself an overnight spot right down at the lake with premium views! You could even watch the sunset (well that is if the sun is out!) right from your van, how awesome is that? Lucky for us the sun showed up again right on time to catch some amazing views – check them out.
So we can definitely agree with most freedom campers that lake Pukaki has one of the nicest free camp spots in all of New Zealand if you base your ranking on views alone. If you add general amenities to the mix it might be a different story. There are no stores closeby, no mobile reception, no bins…nothing at all accept a drop toilet up on a little hill surrounded by forest. However if the only toilet around already comes with a sign "OUT OF ORDER" you know you are in trouble – big trouble! This one was so smelly and run down that you can pretty much cross off the toilet as well from the list of amenities so make sure you use every chance you get before reaching lake Pukaki for a toilet break. (There is a paid one across the bridge from the Church of the Good Shepherd – it will be a well-invested 1 NZD, trust me!!)
However we would not hesitate to sacrifice a clean toilet for views like these when waking up the next day (but maybe 1 night is really enough 😊 )
---
Next Day: DAY FIVE – Lake Pukaki – Clay Cliffs – Queenstown
Previous Day: DAY THREE – Lake Camp – Timaru
Start at the beginning: DAY ONE – Christchurch to Akaroa
---
If you like it – Pin it! 🙂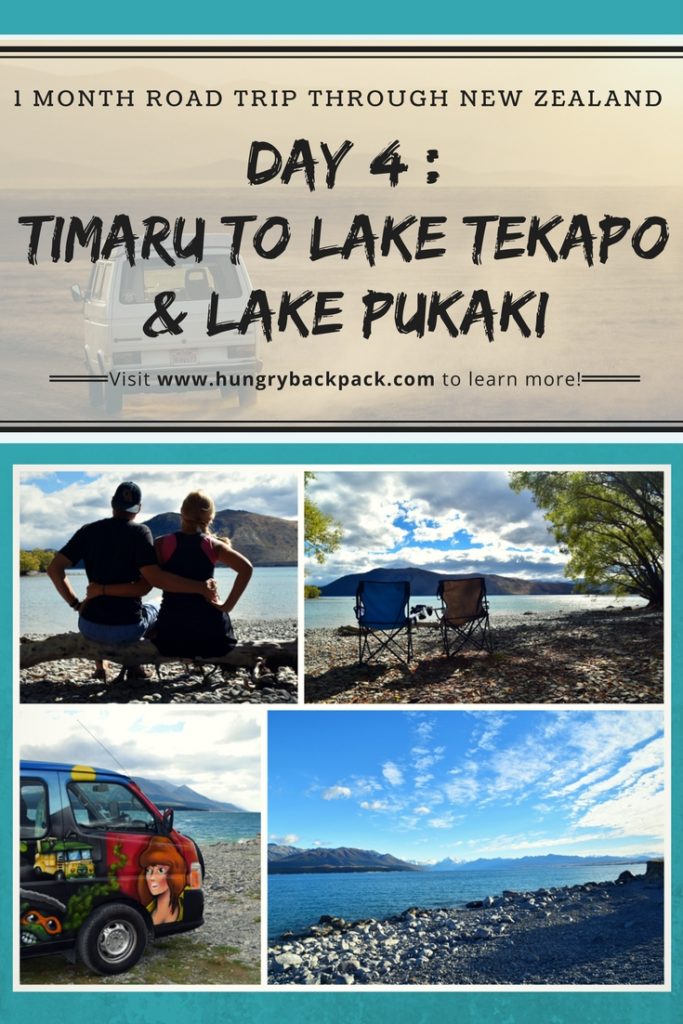 p>