SPRAEDING THE LOVE AT LAKE CAMP AND SEARCHING FOR CUDDLY PENGUINS IN TIMARU
After watching the sunrise at Lake Camp, definitely the winner of our most romantic road trip experience in New Zealand, we continue to Timaru in the hope for some city fun and even more exciting – the prospect of seeing some penguins! Building up all our hopes for…well let's find out! 😊
It's the early bird that catches the worm
I was still fully asleep and hiding below several layers of blankets when I felt something punching me. Trying to ignore it didn't help. It only got more persistent! Eventually I gave up…LUCKILY! Just in time to see the spectacular sunrise that Martin was so eager to show me.
What a spectacle right in front of our van window! The mountains surrounding Lake Camp were red while the lake was still dark. In the distance you could see the snow covered mountain ranges…just stunningly beautiful!!! Unbelievable that a camping spot like this one was for free and even more surprising that nobody else was here!!!
Views like these really make your day and help sleepy heads like transform to early birds. 🙂 So although this was not our usual time to get up (not even close! 🙂 ) we were eager to get this day going – which started with having breakfast with a view! So after warming up with some porridge and hot coffee while enjoying our unobstructed lake views we were ready to hit the road again.
Checking out Lake Clearwater and getting back on the bumpy road to Timaru
First we went to Lake Clearwater which is just a bit further down the road…basically to see whether we had missed out on anything (we were still wondering why all the cars had passed Lake Camp heading to Lake Clearwater yesterday evening)
Turns out we made the right choice! Once you get to the lake there is a small village however it seems most of the houses here are just holiday homes and with the winter coming up they had already been abandoned. This place was dead!
Driving through the narrow streets down to the lake passing all those empty bungalows felt like a being in a ghost town. Also the campground was far from being anything special. So after seeing both we definitely recommend Lake Camp for your overnight stay in this area! WAY BETTER! 😊
You can continue the gravel road even further and will eventually get to Mt. Sunday which we heard is a great place for having a little hike and explore the area. However we decided to turn around as big, fat grey clouds had arrived. So we headed back the bumpy gravel road to the main street and continued our journey to Timaru.
Change of plans…that's our story 🙂
Our original plan to go all the way to Lake Tekapo and Lake Pukaki soon had to be adjusted. Although we didn't do any major stops along the way it was already around 3pm when we got to Timaru. The only reason why we decided to include Timaru in our itinerary was that we had heard of another massive supermarket: PAK'nSAVE which offers the lowest food prices in all New Zealand (at least if you believe their policy!)
We however thought that it was not significantly cheaper than e.g. New World Supermarket (especially not if you shop smart and buy what is on offer) however they do have quiet a big selection of…well…everything…at reasonable prices! This was enough to convince us to better stock up on enough food that should last for the next weeks (it looked more like months but hey, winter was approaching so it's just natural to built up some belly fat to keep us warm, right?! It's called natural habit 😊 )
Once we left this food temple it was already past 4pm so we decided to just look for the nearest camping ground, do some washing, charge all our devices and get a good nights rest before heading to the lakes. Turns out there was a Top 10 Holiday Park (the same brand we already used in Akaroa) right behind PAK'nSAVE…well, if this was not a sign! 😊
Did anyone say PENGUINS???
It is not as idyllic as the one in Akaroa (we kinda figured as it was right behind Pak'n Save and the main street) but we thought it was still good value for money. Very clean facilities, well equipped kitchen and you couldn't hear any of the noise from the road – we were sold and checked in.
The receptionist gave us a map of Timaru and recommended to have a little walk into town where we could find many cafes and shops as well as to check out the beach where we could – with a bit of luck – see seals and penguins. PENGUINS??? Did she just say PENGUINS???? Enough with the chit chat, camera in hand I rushed out of the door – "Martin, I said cheerfully, let's go and find us some penguins!!!!"
Of course once we got to the beach there was not a single penguin. No seal either…not even a damn pigeon. We were the only ones on the beach, probably because as it was FREAKING windy and cold. I was disappointed in Timaru and felt betrayed.
Frozen and defeated I gave up my search – especially after Martins promise to get us a hot chocolate in town in "one of the many cafes"…PAH! once we got to town there were no cafes! At least none that were still open (It was 2 minutes past 6pm!), ooohh Timaru…
So we trotted all the way back to the campground and by the time we arrived it was already getting dark – so much for a relaxing night in! At least the hot shower made up for it as well as our delicious steaks that we got us at Pak'n Save today, guess it was not all that bad after all! 😊
---
Next Day: DAY FOUR – Timaru – Lake Tekapo – Lake Pukaki
Previous Day: DAY TWO – Akaroa – Rakaia Gorge – Lake Clearwater
Start at the beginning: DAY ONE – Christchurch to Akaroa
---
If you like it – pin it! 🙂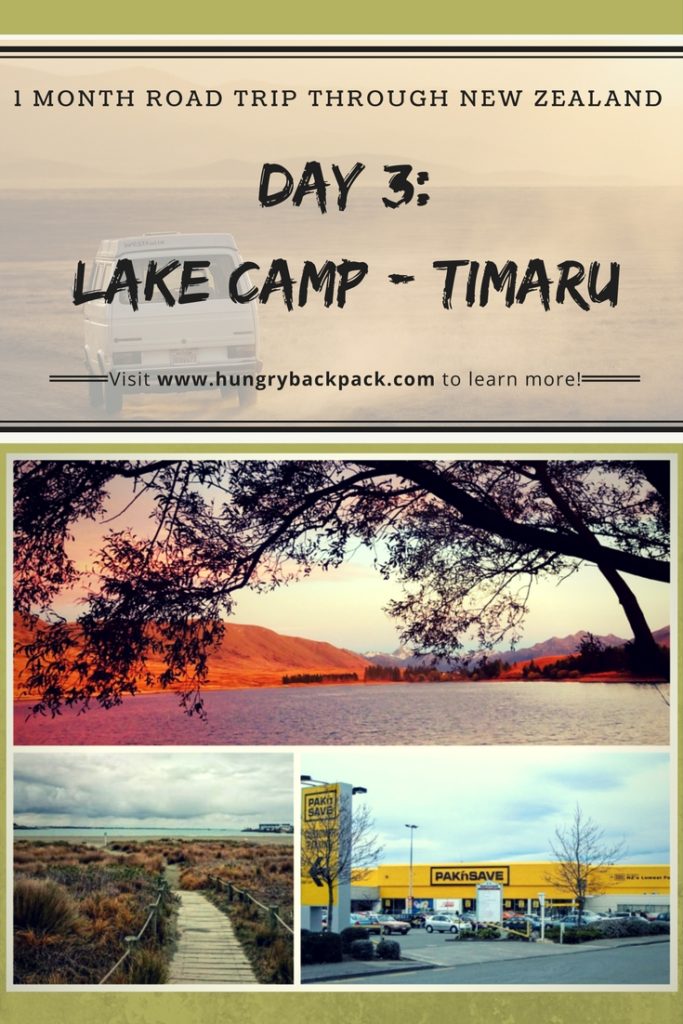 p>