OUR TOP 10 HIGHLIGHTS OF OUR 1 MONTH NEW ZEALAND ROAD TRIP ADVENTURE
New Zealand has so much to offer and so many amazing things to see and do that selecting our top 10 Highlights was no easy task but here you go! 😊 Below is a list of our absolute top 10 New Zealand Road Trip HIGHLIGHTS which you simply CANNOT miss when doing a road trip through this amazing country.
---
1st – Go FREEDOM CAMPING IN THE MIDDLE OF NOWHERE for a real road trip experience
Freedom camping does not only save you tons of $$, it's also the most romantic and coolest way to experience "the real" New Zealand. Is there anything better than to lite a campfire in the middle of nowhere while watching the sun as it's slowly setting behind the snow topped mountain ranges? Counting the stars at night and waking up to the most stunning views in the morning? NO WAY!!!! This is exactly what you've came for!
No matter if you've camped a million times before or only ever stayed in 5* hotels – there is simply no way to pass on a freedom camping experience during your road trip through New Zealand. Try it at least once – it will blow your mind!
Of course we also stayed in Holiday Parks and on paid campgrounds as you simply cannot freedom camp 30 days straight. However, all the spectacular overnight stays which we still dream and fantasize about have been freedom camping places.
We especially enjoyed the views of our first freedom camping spot at Lake Camp as well as Lake Pukaki.
---
2nd – Be Amazed by the thermal wonders from Taupo to Rotorua
I don't know what it is about colourful little ponds and lakes, hot and steaming geysers and bubbling mud holes but it surely looks freaking awesome! 😊 You get the most thermal action in the areas around Taupo and Rotorua which are famous for their natural hot springs.
For the biggest geo-thermal playground New Zealand has to offer head to the stunning Wai-O-Tapu National Park where you can easily spend hours exploring the various loop walks that take you around this massive area of bubbling, stinking, exploding and steaming wonders.

For more information check out our full article on Wai-O-Tapu National Park.
---
3rd – Enjoy the most scenic views during your drive from Wanaka to the Blue Pools
Imagine winding roads that pass by crystal clear lakes and mountain peaks scraping the sky – that's what you get to see when taking highway 6 from the beautiful town of Wanaka to the wonderful Glacier National Parks further up North.
It was one of the most scenic roads we've ever been one and the views were simply spectecular.
---
4th – Go for a hike on the South Island to explore the stunning scenery
Even if you hate it as much as we used to, HIKING is THE THING TO DO here in New Zealand. The spectacular sceneries are every outdoor lover's dream and there is so much more to be explored once get out of your car and put on your hiking boots!
The most stunning (but also the most challenging trails) can be found on the South Island with it's many mountain peaks and icy glaciers.
We especially enjoyed the landscapes around Queenstown and Wanaka where we did a couple of little hikes such as the walk to the Blue Pools on our way from Wanaka to the Franz Josef National Park as well as exploring the beautiful Diamond Lake area close to where we had our freedom camp for the night.
But if you really enjoy hiking or trekking than there are even multi-day tracks such as the famous Kepler track or the Milford Track with stunning alpine and fiord sceneries and glacier shaped valleys guaranteed to impress.

Photo by Nigel Wilson from London – Kepler Track Hut 1 Wide Copyright CC BY 2.0
---
5th – Taste the delicious New Zealand coffee
New Zealand is well-known as a coffee lover's paradise and therefore it was just ideal for little coffee snobs like us. We would hardly start a day before picking us up a warm cup of caffeine heaven – even the ones from a gas station usually tasted delicious! 😊
---
6th – Explore the sights in New Zealand's Capital Wellington
It's no surprise they call it the smallest coolest capital of the world – because IT IS!!! Check out our posts about the top 10 things to do and see in Wellington – you'll be surprised how much awesomeness you can pack in one day if you follow our guide! 😊
---
7th – HAVE A Scenic PICNIC BY THE LAKE OR RIVER
To avoid expensive restaurant bills we would just pick up some snacks at the major supermarkets such as New World Supermarket or Pac'n'Save and have little picnic session on the way to our next destination.
There are tons of amazing resting areas so you'll be spoiled for choice when it comes to finding your ideal lunch spot with a view. And we must admit, simply sitting at your place of choice overlooking the water topped every restaurant experience by far!!!
For example picture this – you are sitting by the shores of a lake, your toes dip into the water, sun shines on your face while having a freshly prepared sandwich in one hand and a refreshing drink in the other…it's just LUNCH-BREAK-HEAVEN! 😊
Our favourite picnic spots with some water around were at the shores of Lake Tekapo, Lake Pukaki, Rakaia Gorge & Reid's Farm putting any fancy city restaurant far into the shade. 😊
---
8th – Go Chasing Waterfalls
New Zealand's boasts plenty of mesmerizing waterfalls spread across the country with the most spectacular and highest ones being situated in the Fiordland National Park. However, depending on the weather and the time of the year you can find quite a few right by the side of the street making your road trip even more memorable.
Our top 3 New Zealand waterfalls we've visited during our road trip were the following:
1. Huka Falls
The impressive, turquoise-coloured Huka Falls are a set of waterfalls on the Waikato River near Taupo which are one of the most visited and photographed natural attractions in New Zealand. Although not high (only 6 metre at the final drop), these waterfalls are extremely powerful as the river abruptly narrows from approximately 100 metres wide to only 15 meters when passing through a gorge. The volume of water flowing through often approaches up to 220,000 litres per second.
There are many viewing platforms from where you can take in these impressive waterfalls from every angle.
2. Bowen Falls
These gorgeous and wild 162 metre waterfall is the highest and most powerful waterfall in the stunningly beautiful Milford Sound. You can easily admire this beauty from the deck of your Milford Sound Cruise boat!
3. Thunder Creek Falls
This extremely tall 96-metre waterfall is located along the Haast Highway in the Mt. Aspiring National Park. You can already spot it from the distance coming from the South and it is easily accessible by foot from the parking lot.
For all information on New Zealands waterfalls check out this website: http://waterfalls.co.nz/
---
9th – Soak in the relaxing thermal water of some natural hot Springs
Especially on the North Island of New Zealand you'll find tons of places where you can soak in the warm waters of some natural hot springs, it's absolutely fantastic! There are several hot springs around Taupo ranging from free ones such as the ones situated in the Spa Thermal Park where you can simply show up and hop in to beautifully designed (Spa-)centres such as the Wairakei Terraces where you'll have to pay an entrance fee but can relax in various gorgeous pools with different temperatures. We gave Wairakei Terraces a go and it was a wonderful experience!
Check out our full Taupo article for more information on our hot spring experience!
We also stopped at the Hot Water Beach on the east coast of the Coromandel peninsula when we were on our way to visit famous Cathedral Cove. This popular beach gets its name from the underground hot springs which filter up through the sand.
Within two hours either side of low tide you can simply dig into the sand which will allow hot water to escape to the surface and ta-daaaa you got your own little spa pool where you can relax in the warm thermal water while enjoying the superb ocean views. A truly unique Kiwi experience and must-do when visiting New Zealand.
---
10th – Experience the magic of Milford Sound during a scenic cruise
Already the spectacular drive from Te Anau to Milford Sound will leave you speechless. If you love nature and being outdoors – this is the place to be. You'll pass by waterfalls, mountain ranges and lakes and there are various hiking trails just waiting to be explored.
Of course the highlight, and the reason you came here in the first place, is Milford Sound – a fiord in the southwest of the South Island and one of New Zealand's most spectacular natural attraction.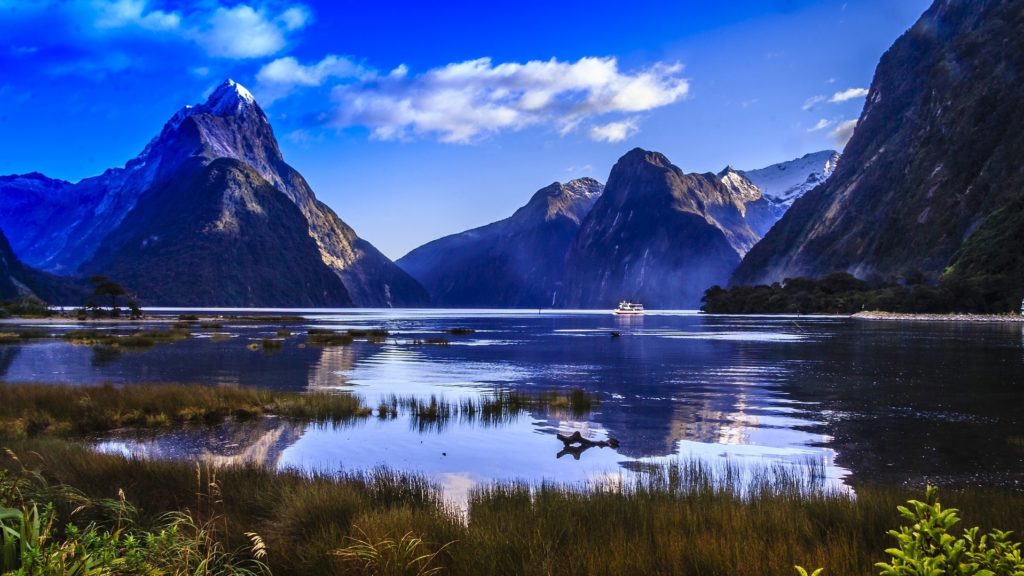 Boat cruises are an excellent way to experience Milford Sound in all its glory. You can feel the spray of the many waterfalls, spot seal colonies and penguins (if you're lucky) and enjoy the breath-taking views no matter where you look. An absolute must-do when visiting New Zealand!
Check out our full article on our Milford Sound experience.
---
We hope you enjoyed this list of our top 10 favourite moments and highlights of our 1 month road-trip through New Zealand! Let us know, what's your favourite and do you have any other ideas that will make a road trip through beautiful New Zealand even more memorable? We look forward to hearing your stories and suggestions! 😊
If you like it, PIN IT! 🙂