AUCKLAND – FINISHING OUR ROADTRIP IN STYLE
After 4 extremely fun, adventurous, exciting and unforgettable weeks on the roads of New Zealand cruisin' all over the South and North Island we have arrived at our final destination: AUCKLAND. Join us as we visit the top things to see in Auckland, how we say goodbye to our van and home of the last weeks and our secret weapon to quickly try our tears! 🙂
ARRIVING IN AUCKLAND – THE DOWNSIDE OF A CENTRALLY LOCATED APARTMENT
For our last 2 nights in New Zealand we had booked a lovely AirBnB right in the heart of Auckland. We were super excited to be right in the centre of all the action – especially since we wouldn't have a car anymore from tomorrow onwards. However, TODAY we still had our van which came with one major downside to our central AirBnB place – The parking situation!!!
Finding a good parking spot without paying a fortune is pretty much a mission impossible here in Auckland.
We had a parking garage right next to our apartment complex. However, when checking the ticket machine, we couldn't believe our eyes – 6.00 NDZ PER HOUR!!!!! NO FREAKING WAY!!
So we took a gamble and well, didn't pay! 🙂 We were already late to the meeting with our hosts so we just left our Turtle Van in the garage and went over to quickly meet our hosts and get the keys.
Once that was sorted we moved all our stuff from our van to the apartment (man, where did all these extra bags come from????) and then went on a mission to find a parking space – after all it was Saturday 6pm which translates to FREE PARKING! (well, that is if you actually FIND a free parking space! 😊) We tried to stay optimistic and prayed to the Auckland parking gods to be kind to us and our van…
As expected, it was TOTAL MADNESS! But after going in circles and circles for what seems like hours we got lucky – super lucky!! We spotted one free parking space just a few meters walk from our apartment! YES!!! Thank you parking gods of Auckland!!!! 😊
OUR FINAL ADVENTURE – PANORAMIC VIEWS FROM MT. EDEN LOOKOUT
The next day was the day to return our Campervan and say good bye to our home of the past 4 weeks…what a dark, dark day…we felt miserable…
So we decided to take it for a final spin…one last adventure! Maybe we could find a stunning viewpoint closeby? However, after visiting hundreds of viewpoints and lookouts across New Zealand together we had to make sure the final one was extra special!
The popular MT. EDEN LOOKOUT, an inactive volcano overlooking the city, seemed just perfect for the job.
You can access Mt. Eden either by foot which is approximately a 4km walk from the city center or you have a ROCKING VAN and just drive up there – up to you! 😊
We were lucky NOT TO WALK as the road leading up the highest non-manmade point in Auckland gets pretty steep. After our experience climbing Mt. Maunganuni in Tauranga I wanted to save myself from another embarrassment – I knew about my fitness levels and I knew that they had not improved in the last few days 😊
Once again the parking gods where with us and we managed to secure a parking space almost at the top. From here it was just a short walk up and once we got to the top we could see this massive crater. This really IS A VOLCANO! Wow! It was super impressive!
But it didn't stop there. Nooooooo! You also get to see stunning 360 degree view of the city – that's what we call a lookout par excellence my friends!!!
We walked around the whole crater soaking up the stunning panoramic views before it was time to return to our Van and insert our final destination in our sat-nav: ESCAPE CAMPERVAN OFFICE, AUCKLAND.
GOODBYE ESCAPE CAMPERVAN – AKA HOME – AKA BEST ROADTRIP BUDDY FOR LIFE!!
We quickly found the Escape Campervan Office but we still weren't ready to go separate ways…we got so attached to it that it felt weird to say goodbye. We were a family! We belonged together!
We were sad…REALLY SAD.
But this was it! We had to leave our Ninja Van behind but we took something: A whole bag of amazing memories! (well that AND several full SD cards! 😊)
PARNELL ROAD – DROWNING OUR PAIN IN ICE-CREAM
To ease our pain only one thing could help us now – ICE CREAM! Luckily, we were close to Parnell Road with tons of cute cafes, shops and restaurants.
I had already a specific café in mind when shooting up the street. I was aiming for Casa del Gelato – a place that is selling these amazing "FREAKSHAKES"! You know, these million-calorie-ice-cream-shakes that look like you have packed a whole children's birthday party in one glass jar? Slightly messy, but so damn good!
Stuffing myself with chocolate ice-cream actually did help! With THIS MUCH intake of sugar you just cannot stay sad, it's impossible! 😊 But you might feel terribly sick afterwards from overeating…but hey, worth the try, right?
LET'S GET MOVING! EXPLORING AUCKLAND ON FOOT
Since we hadn't done much activities today except driving up a volcano and walking a few meters to a café stuffing ourselves with bucket loads of ice-cream it was time to move our bodies and actually get active.
So for the rest of the day it was us, our feet and a whole city to explore! LET'S DO IT!
From Parnell Street we decided to walk back to the city centre via a park – Auckland Domain. When you are from Europe and you hear park you think duck ponds, grass and elderly people sitting on benches…well, THIS was different! It was basically a forest, more a jungle in some parts and we had a hard time finding the exit…we got totally lost. 😊
But eventually we just left "the marked path" (it was hardly anything and looked like nobody had been here in years) and just ran straight out of the bush and tataaaa, we found the exit! 😊
From here we passed by the University of Auckland and Auckland Park – btw a much smaller and friendlier park 😉 – and were back in the city centre!
We strolled along the popular Queen street where you'll find everything from souvenir shops to high end brands and arrived back at Sky City and our apartment just when it got dark.
Definitely a great final day in Auckland. (Okay well, minus the super sad part when we had to return our campervan)
Soon we would be returning to our beloved Asia (first BALI then THAILAND) and we were looking forward to the white sandy beaches, scooter adventures, palmtrees, cheap and delicious food and of course the warm and sunny weather.
However, our month-long road trip through New Zealand has been very special for us. And thinking about it now we can honestly say that it was one of the most stunning places we have ever been to!
So long New Zealand, stay beautiful and fascinating until we return someday!! We love you! Xx
---
Previous Day: DAYS 23&24 – Cathedral Cove and Coromandel
Start at the beginning: DAY ONE – Christchurch to Akaroa
---
Your might be also interested in: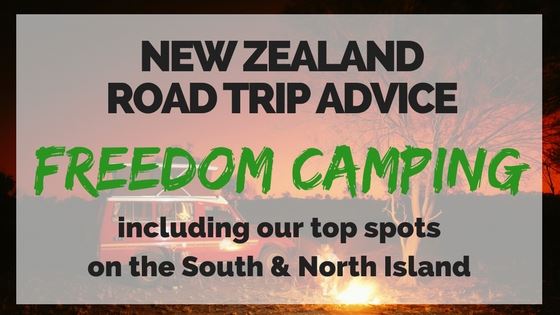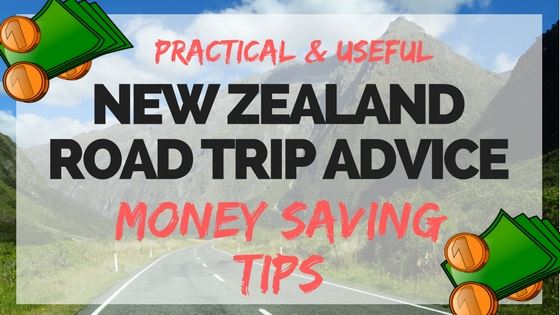 ---
If you like it – pin it! 🙂