A Backpacker's dream!
Our tour to Krabi - Phuket - Bangkok - Chiang Mai - Koh Chang
Our 2 months in Thailand surely did not disappoint. From beautiful white sandy beaches and tropical islands in the South of Thailand to a dash of craziness and temple overload in Bangkok City to stunning Waterfalls, National Parks and the most delicious food this country has on offer in the North – Thailand was a true Backpacker's dream! 🙂

KRABI - island hopping fun in the sun
We flew with Air Asia from wonderful Bali via Kuala Lumpur to Krabi which is one of our favourite destinations in Thailand due to it's stunning limestone formations as well as its many beaches and deserted islands for the true Robinson Crusoe feel 🙂
Our arrival and immigration process went super smooth, click here forhow we got from Krabi Airport to our first hotel in Ao Nang.
Once we arrived at our hotel it was already super late but this did not stop us to go on a quick night tour exploring Ao Nang and the food on offer – after all we just LOVE Thai food and couldn't wait to get our first bite! 🙂
Our senses guided us to a fantastic (and super cheap) restaurant where we happily filled up on some delicious spicy chicken, green curry and my favourite soup: Tom Ga Gai! Of course accompanied by an ice cold Chang. Awwww, good to be back!!
The next days we were pretty lazy only taking short walks around town, enjoying the pool and the sun and feasting on more delicious Thai food – #simplepleasures 🙂 However we did not want to leave without doing at least one of the island-hopping tours on offer – after all Krabi is a true island-hopping paradise with tons of different tours to choose from.
But when it came to actually booking the tour we really screwed up. Have a look at our post: How to NOT book and Island Hopping Tour in Krabi and you know why. Worst preparation EVER!
Although not our best tour experience ever we still had a great time cruising around the islands, saying hello to the underwater world while snorkelling and enjoying yet another delicious Thai dinner prepared and served on Railey Beach – life could be worse. 🙂 So we ended up using our filming material to create our first short YouTube video clip which you can check out here!
PHUKET - a beach paradise that disappointed
We then continued to Phuket where we first stayed in Patong Beach. Again, BIG MISTAKE because of not doing enough research. It was a very spontaneous decision to go to Phuket and as we love our beaches we simply checked for THE BEACH TO BE in Phuket and Patong Beach came up. So we booked 3 nights with the option to maybe extend our stay if we really liked it there, …well we didn't! In fact we hated it!
Patong Beach is this typical super touristy spot with one souvenir shop next to the other and tons of white (or red) bellied foreigners only looking for beach & party rather than to actually getting to know Thailand, it's people and culture. You'll find them lying on the beach one white belly next to the other like sardines and of course there is a Starbucks or a McDonalds every 150m. A true Thai experience? We don't think so. It very much reminded us of Mallorca. To be more precise: The famous "Ballermann" for our German readers or the hotspot Magaluf for our British ones, you get the picture. 😉 We never really understand why anybody would come aaaall the way (we are talking about at least a 12 hour flight from Europe) just for THAT!
KHAO LAK - a beach paradise that DID NOT disappoint
So we quickly decided that this here was not for us and after doing a bit more research about the area we decided to head to Khao Lak, one hour north from Phuket Airport. BEST DECISION EVER! We just loved Khao Lak and it was exactly how we like it. Beautiful (and empty!!!) beaches, lots of national parks to go hiking as well as tons of other outdoor activities on offer. Well and of course lots of options to get your delicious Thai food fix (with sea view included).
To get to know the area around Khao Lak better we wanted to join an organised tour. However, turns out that most of the tours on offer were waaaay out of our price range so we decided to rent a scooter for a day and do our own tour – including everything we like. From bamboo rafting on a river through a tropical jungle forest, to playing with turtles, chasing waterfalls and working on our tan at a white sandy beach away from the crowds. This was by far our best scooter experience!!!!
Check here for our full report on our independent DIY Scooter Tour around Khao Lak – We highly recommend to copy this detailed itinerary packed with fun activities and adventure if you are in this area – We are sure you'll love it just as much as we did.
Of course we also used the opportunity to produce another little video clip to give you a taste of this super fun scooter tour – have a look here.
We could have easily stayed in Khao Lak for weeks however Bangkok was calling where we wanted to meet up with some friends of ours.
BANGKOK - buzzing vibe of the capital
Being a bit more organised this time and booking like a month in advance we secured a super cheap deal from Phuket to Bangkok with Air Asia. We booked our hotel through booking.com, as most of our accommodation, which was located very central in the Silom area.
However, if you plan on staying longer in BKK and are a bit flexible with the location than definitely have a browse through AirBnB also as there were some awesome deals on offer when we checked. We are talking apartments in a complex with a rooftop infinity pools offering amazing views over the city for a BARGAIN 🙂
If you want to read the report about how we travelled form Khao Lak to Bangkok have a look here. As always, we loved Bangkok – What a crazy but super cool city!!!! No matter what you are looking for, you'll find it here!! 🙂
CHIANG MAI - sheer tranquillity
But after all the madness of the city we were very much looking forward to taking the overnight train to Chiang Mai which is well known for having a super relaxed vibe as well as a lot of outdoor activities on offer. So no matter if you like to explore the outdoors on foot, on a kayak or with an elephant by your side – Chiang Mai is the place for you!
If you want to read more about Chiang Mai and our adventures there check out our posts about our fantastic scooter tour to Doi Suthep as well as our super fun scooter adventure to Mon Cham and Mae Sa Waterfalls!

Both blog posts also include a short video of our tour – make sure you'll check them out! 🙂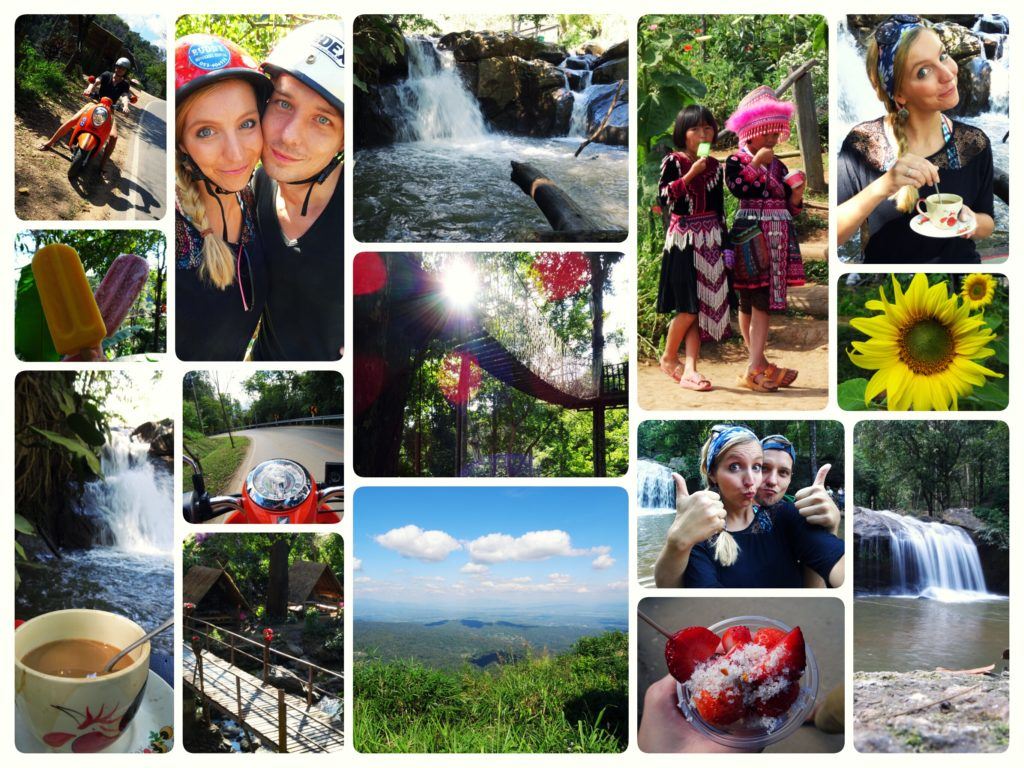 We've also written a review about our super fun Thai cooking course as well as a blog post for all beach bums missing the sea in Chiang Mai.
We found this amazing lake just a short drive from Chiang Mai which is called HUAY TUNG TAO RESERVOIR – where you can easily spend a lazy sunday afternoon enjoying the water & the sunshine just like you would do on the beach…well almost! 🙂
We also decided to spend our Christmas in Chiang Mai which at first, was a terrifying idea for myself as I'm just one of the biggest Christmas lovers ever and felt a bit lost to be in a country that does not even offer (or know about) egg nogg.
However, we made the best of it and ended up having an awesome Christmas here. Read our CHRISTMAS LOVER'S GUIDE ON HOW TO SURVICE CHRISTMAS IN A NON-CHRISTMASSY PLACE for more details on what we did on our first Christmas away from home.
KOH CHANG – Beaches & Jungles – the perfect farewell getaway
After spending almost 4 weeks in Chiang Mai our hearts were craving the beach so we decided to spend our last and final week in Thailand on an island before heading to AUSTRALIA We just had to feel the sand between our toes once more before leaving this beautiful country.
As we didn't want to go all the way to the islands in the South again we checked what other islands were closer to Bangkok and decided to go with KOH CHANG. So we travelled 24 hours from Chiang Mai to Koh Chang and couldn't have been happier with our decision. Those 6 days on the island were pure bliss, we spend the days relaxing and baking in the sun, exploring the beaches nearby during a fun scooter trip and feasting on our favourite street food snacks´….it was HEAVEN!
---
To sum it up, we had a FANTASTIC time here in Thailand. In fact we loved it so much that we kept extending our stay and even had to apply for an extension of our tourist visa in Chiang Mai. 🙂 There was simply so much more to explore and I guess we have to come back soon for even more Thailand travel adventures. 🙂