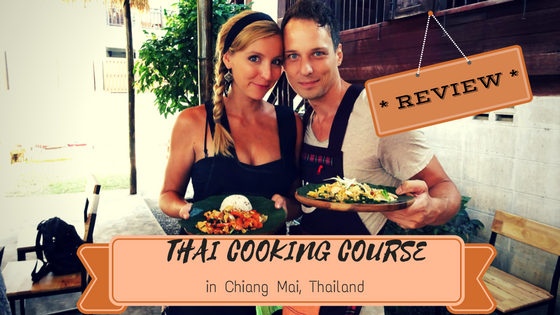 Review of our Thai cooking course with Zabb-E-Lee cooking school in Chiang Mai, Thailand
As part of our own Hungry Backpacks Christmas agenda here in Thailand we booked a Thai cooking course for Christmas day. 🙂 We simply knew that one of the things we would miss the most about being away from home this year for Christmas was the great home-cooked food so we thought it was a great idea to cook our own (Thai) Christmas feast this year. Turns out: BEST IDEA EVER! 🙂
There are tons of cooking schools here in Chiang Mai so it's hard to pick one. We ended up booking our cooking course with the ZABB-E-LEE COOKING SCHOOL as we read a lot of good reviews online on Tripadvisor about this one. Also on the plus side, they allowed you to pick the dishes you wanted to cook and not giving you a fixed menu. Perfect for picky eaters like us! 😉
We got picked up at 8:30 am from our accommodation (no worries sleepy heads, there are also courses in the afternoon/evening 🙂 )
We were together in a group with an American family (that lives in China), a Chinese woman (that lives in Boston) as well as Columbian/British couple – what a nice mixed (and super fun as it turns out) bunch of cooking enthusiasts. From the moment we hopped into the pick-up van it was all laughs and good times which just made the whole experience so much better.
Our first stop was the local market where you'll learn a bit more about the ingredients they use and what to pay attention to. They showed us the various spices as well as the different fruits, vegetables and herbs – turns out that we almost had NONE of these in the UK or Germany or at least I had never seen it in any supermarket.
So I guess the pre-packed spices packages that they sell everywhere might be a good souvenir if you have some space left in your suitcase and intend to do a bit of thai cooking back home.
Before they actually get the ingredients for todays cooking you are asked to choose between 3 or 4 options what you want to cook which I thought was awesome. We always picked something different from another so that we could try as many dishes as possible.
After the shopping we went to the cooking school of Zabb-E-Lee which was located in the old town of Chiang Mai in a lovely open air space. Looked a bit like a little farm if they had some chickens running around 🙂
After a quick coffee we then started cooking our first 2 dishes from the list. For me that was a yummy Cashew Nut Chicken and my absolute favourite Thai soup: Tom gah gai (Coconut Chicken Soup) whereas Martin did some lovely traditional Pad Thai and a spicy tomato soup with shrimp (Tom Yum Kung ).
After we finished eating our first super delicious dishes we then learned how to make a curry paste from scratch followed by cooking our favourite type of curry. For me that was the Paneng Curry whereas Martin opted for the traditional Green Curry. Again, both turned out super delicious I must say. 😉
We also did some typical Thai appetizers to go with this. A spicy Papaya Salad as well as some fresh Spring Rolls.
We also got taught how to prepare one of my favourite meals of all times: Mango stick rice!!!! As we all were still fighting to finish dish number 4 they wisely packed up the mango sticky rice for us to take home (we enjoyed it later that evening while watching our christmas movie – awesome TV snack!!!)
Time flew by so quickly and suddenly it was 2pm and time to say goodbye. We hardly managed to get up from our chairs!!
We seriously had a great time at Zabb-E-Lee cooking school that day and enjoyed our Thai Christmas cooking feast A LOT. We certainly learned a lot, laughed a lot and – you guessed it – ATE a lot. 🙂
Along with our box filled with mango sticky rice we also got a cooking book (with pictures! 🙂 ) to take home that had all the recipes in it. Really great!
We can highly recommend doing a cooking course while in Chiang Mai. You might never cook Thai again (mainly because you won't find half the incredients in your home country 🙂 ) but it's great fun and was by far the freshest and BEST Thai food we had in Thailand so far.