Mountain tops, jungle views and waterfalls – exploring the surroundings of Chiang Mai by scooter
After getting our first taste of the beautiful countryside around Chiang Mai during our first scooter tour to DOI SUTHEP we were hungry for more!!! So we had a look what other highlights there were within easy reach for another Chiang Mai getaway and spotted MON CHAM on the map.
MON CHAM is perfectly situated on top of a small mountain which promised spectacular panoramic views! Also as it is only about an hour's drive from Chiang Mai it's absolutely perfect for a day trip when you want to get away from the hustle and bustle of the city, breath some fresh air and relax on top of a hill while soaking in the stunning views. We were sold immediately – who else is with us??? 🙂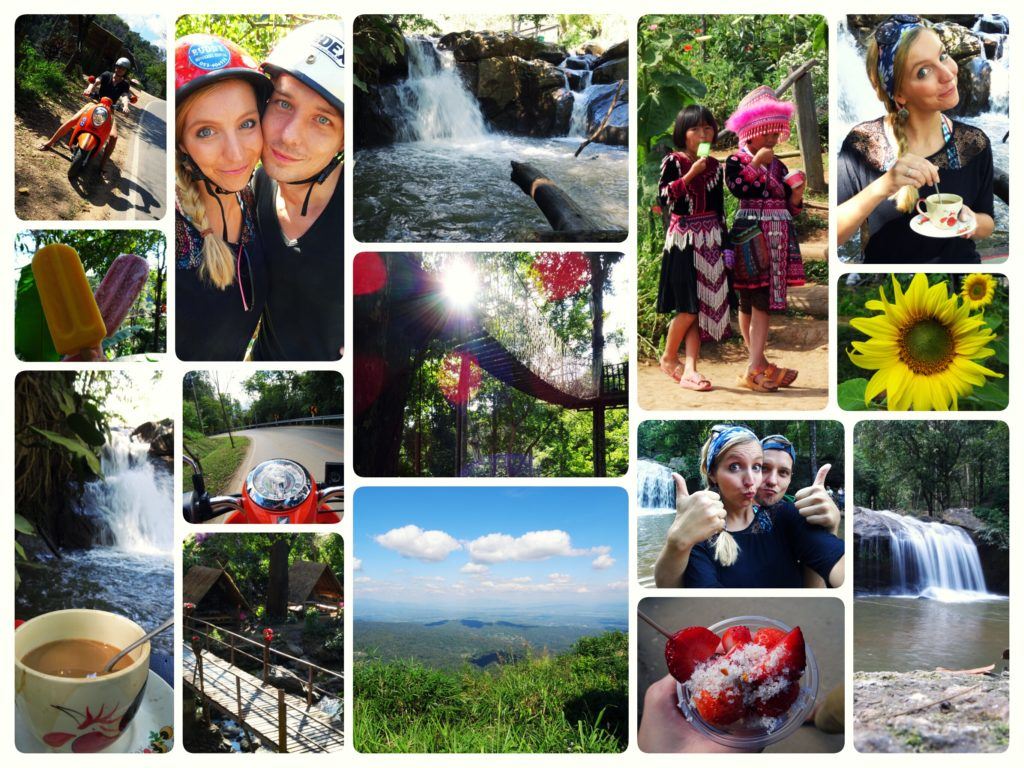 Preparation for our tour to Mon Cham and the surroundings
As we like to combine a few things to make the most of our adventures we checked what else there was along the way to MON CHAM and circled MAE SA WATERFALL for a refreshing dip when we needed to cool off, THE JUNGLE COASTER & ZIPLINE to get our adrenaline pumping as well as HUAY TUNG TAO Reservoir – the perfect place to relax and enjoy a nice meal after an exciting day exploring the surroundings.
Enough with the planning – we were ready to hit the road.
We rented our scooters with our accommodation for 250THB (alternatively there are scooter rentals at every corner in Chiang Mai all within the 200 – 300THB price range) and left without breakfast with Martin promising me we would stop somewhere along the way.
Apparently there were some spectacular spots by the river offering food and drinks – a meal with a view? Good enough to convince me! A bit hungry but excited we started our adventure to explore MON CHAM.
Directions from Chiang Mai to Mon Cham
Here are some driving directions of how to get from Chiang Mai to Mon Cham however even without these you could easily find it as there were a lot of signs with MON CHAM (or sometimes you will read Mon Jam) pointing you in the right direction!
Take Route 107 towards San Pong for about 15 to 20 minutes. This is a very busy road and not really enjoyable however there is unfortunately no alternative.

Turn left into route 1096 towards Mae Sa Waterfall. You will pass the Waterfall, Elephant Camps, the Botanical Garden, the riverside restaurants and other activities. Keep going for about 15km until you reach the Nong Hoi Rojal Project where you make a right turn.

From here a steep, concrete road leads you up the mountain passing through the Hmong village for about 5km.

Keep following the signs to Mon Cham until you pass the souvenir stalls where you'll have to make a sharp left turn at the end to reach the big parking area.
Note that it's much cooler the further up you drive so better pack some warm clothes! Even when the sun is burning in Chiang Mai, Mon Cham is much higher and might be covered in clouds so we were really happy that we brought our hoodies.
Breakfast with a view – Omelettes & Waterfalls
The first part of the tour is actually not that fun. You need to drive along 107 – a very busy road. After breathing exhaust gases for 40 minutes we were even more desperate for some fresh mountain air. So we were super happy when we finally got off the highway turned into 1096.
We were now getting really hungry but luckily, after passing some elephant camps, you will see the first of many restaurants right next to the street that are perfectly situated next to the river – super picturesque.
I assume they are all more or less the same in terms of what they serve (mostly traditional Thai dishes such as basil chicken, omelette, fried prawns & rice), the prices they charge (CHEAP! Mains start at 40/50THB) and the layout – either they have some wooden huts that overlook the river or the have little wooden platforms right next to the river – all of them looked really inviting.
However, there is one restaurant in particular which caught our eye as it was situated right next to a little waterfall!! So you could actually either sit in your treetop house above the waterfall our you could sit right next to the waterfall!! So cool!!
We spotted one free platform down at the waterfall and fell in love with this place right away. We quickly climbed down to secure our spot with the million-dollar view and ordered our breakfast / lunch 🙂 – some yummy omelette and some basil chicken with rice accompanied with – of course – some much needed COFFEE!
While waiting for our food we took – well, probably hundreds of pictures of this place. It was just so beautiful. It was quite busy but mainly with local thai people who seemed to have their Sunday family gatherings here. Everyone was super happy, smiling and laughing.
The food was superb – very fresh but I especially loved the coffee! Full of sweet cream with a chocolaty flavour – I was in heaven!! Martin however, the dark-coffee-no-milk-no-sugar type switched straight to coke instead.
Heading to the mountain top – Strawberry fields, scenic views and winding roads
After this fantastic riverside-breakfast break we were ready to conquer the mountain…well WE were, our scooter not so much 🙁 having only 115cc the poor thing had to work extremely hard carrying us up the steep, winding but extremely scenic mountainside road but we made it without having to get up once – yay!!!
You will soon notice the drop in temperature the higher up you go. This "mountain climate" is actually perfect for growing vegetables and fruits such as strawberries. Hence why on your way up you will pass numerous strawberry fields and of course you can also buy freshly picked ones if you like – they won't get any fresher than here!
You will also pass some more restaurants offering some awesome scenic views over the valley so in case you missed the opportunity to stop at the river or waterfall you have some other fantastic lunch options with a view further up.
Soon you'll also pass the ZIPLINE AND JUNGLE COASTER on your right which looked really awesome but we decided to check it out on our way back as we heard that it can get super packed with tourists at Mon Cham – especially on weekends so if you want to avoid the big crowds better hurry to get up there!
The last 5 km leading up the mountain through the HMONG MOUNTAIN VILLAGE the road will get very narrow and steep but shortly after passing several souvenir and food stalls on your right you'll reach the dirt parking lot on your left where you can park your scooter (no fees) and go and enjoy the absolutely incredible views! We can promise, you won't be disappointed!
On top of the mountain – Panoramic views, flower gardens and hill tribe children
It is worth getting up here for the incredible panoramic views alone but there is much more going on at Mon Cham.
You can stroll through the flower garden, enjoy a coffee with a view from the café situated right in the middle of the viewpoint overlooking the terraces and fields or you can enjoy a traditional thai meal at the Mon Cham restaurant offering spectacular panoramic views over the Mae Sa valley which you can enjoy from the comfort of your private little bamboo hut perched on the mountain's edge – open air dining par excellence! No surprise why Mon Cham is also a popular weekend trip for the Thai locals.
We even spotted quite a few young children dressed in traditional Hmong hill tribe clothes at the view point who were also enjoying the weekend. It was such a pleasure watching them how they were playing and running through the flower garden, chatting, smiling and happily indulging in some ice cream.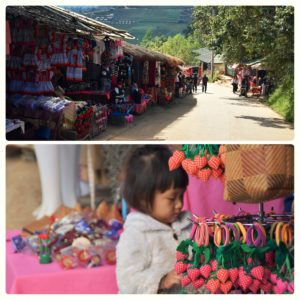 But the action doesn't stop here.
If you head to the other side of the parking lot you'll find tons of stalls selling souvenirs, clothes, fresh vegetables and of course strawberries.
The fruits looked so tempting that we couldn't resist it! 🙂 So we treated ourselves to the snack size for 20THB which they top with some chilli sugar – sooo GOOD!!
You could easily spend hours up here at Mon Cham – such a relaxing spot to enjoy the post-card views however we had some more things to cross of our list so it was time to head back down the mountain for some jungle action.
Get your adrenaline pumping at the zip line and jungle coaster
As already mentioned you cannot miss this attraction as it's right next to the street leading up to Mon Cham! The offer Ziplining as well as the "Jungle Coaster". Well, driving through the lush Mae Rim mountainside on a coaster sounded like lot of fun so we just had to go for it!
It costs 300THB per Person and luckily there were not queues so we got tickets and minutes later we were sitting in our coaster, full of adrenaline and ready to cruise down the mountain – yeeaa-haw
It is not a very long ride (less than 10 minutes) but it was still super fun and for less than 10 USD you actually cannot complain and once we were back up we had a little rest and enjoyed some ice cream from the observation deck offering great jungle views.
Mae Sa Waterfall – Relax, refresh & unwind
Our last stop of the day was at MAE SA WATERFALL.
As the waterfall is located within the Doi Suthep National Park you will need to pay a 100THB entrance fee per person (plus 20THB for parking your scooter).
You could also stop here at the beginning of your tour heading up to Mon Cham however risk that you'll be joined by quite a lot of tourists later when driving up the mountain. Disadvantage to do it on your way back however is that the sun will be gone. We arrived here at 4pm (I think they let you in until 4:30pm and it closes at 6pm) and despite having the place almost to ourselves it was too cold for our liking for any swim in the water.
But even without getting the perfect holiday shot while striking a model pose under the waterfall it was still worth a stop. The waterfall is spread over 10 levels so better pack your hiking shoes if you plan to go all the way up to level 10 🙂
Because of the time (and also because we were only wearing flip flops) we only made it to level 5 which offered a huge open area to sit and relax and just enjoy the views. It is perfect for having a picnic or even a dip in the water if you dare!
Huay Tung Tao Reservoir
On your way back to town you could also stop at the HUAY TUNG TAO RESERVOIR – a huge lake that is just a short detour from 121 and only located 40 minutes from Chiang Mai Old Town.
The lake is perfect for a little swim (although the water looks a bid muddy), to go on a walk or even a longer loop hike to a nearby waterfall or simply to relax in one of the many bamboo huts that belong to restaurants surrounding the lake (I think there are more than 20 restaurants to choose from). It is also the perfect spot to watch the sunset!
As we however were running very late that day due to the many activities we've done before we decided to check out the lake another time. Check out our blog post about our lazy sunday afternoon at Huay Tung Tao Reservoir.
All in all we can highly recommend this day tour to all you scooter lovers that are up for a little adventure without going too far away from Chiang Mai. We even preferred it over our scooter tour to Doi Suthep as we thought the views were even better and there were also more activities to do and things to see along the way.
Check out our short video of our trip including all the highlights! 🙂
Who has already been to Mon Cham? Do you also prefer it over Doi Suthep?
---
YOU MIGHT ALSO BE INTERESTED IN: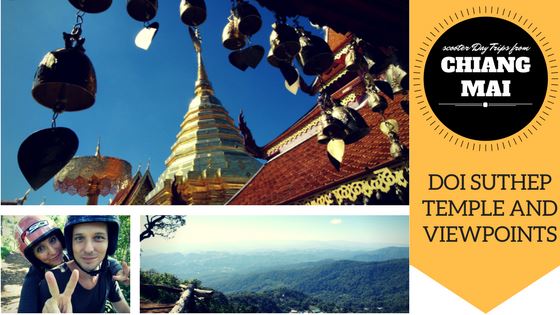 ---