As we had such fun times on our scooter adventures in Khao Lak it was a given that we just had to go on another scooter tour here in Chiang Mai. 🙂 This area here is just perfect for a motorbike tour as the scenery around Chiang Mai is insanely beautiful. You have waterfalls, mountains, National Parks – so this is THE place to go if you are a little explorer and love the great outdoors.
Growing up in a little village town we certainly love some "away-time" from the hustle & bustle of the big cities but we are way too lazy to explore it all on foot which is why we love renting a scooter for our trips "into the wild"! HA! 🙂
Here in Asia renting a scooter usually only costs a few dollars and you can see so much more in a day than by going on a hiking tour. However the option is there in case this is your thing – there are tons and tons of tour agencies offering day (or even multi-day) hiking tours around the Chiang Mai area. So go for it!
However in case you can be tempted to rent a scooter as we did then here is a suggestion for an awesome day tour exploring the stunning Doi Suthep mountain with the beautiful Doi Suthep Buddhist temple, several lookouts with spectacular views over Chiang Mai and the surroundings, ruins of an overgrown ancient temple by the name of San Ku as well as the Huay Keaw Waterfall. This really is a super fun & exciting tour which we can highly recommend!
ATTENTION LAZY READERS 🙂 – this is a rather long blog post. However we have included a short video of our tour at the end of it so just scroll down and let moving pictures inspire you :-)!
Worried about leaving foodie heaven Chiang Mai with nothing to eat in the woods?? Don't be! 🙂 We were feasting the whole day on yummy local delicacies – anybody keen on some hot dog waffles or for the more adventurous hungry souls – a load of crispy, fried insects?? Then keep on reading and we'll let you know where to park your scooter for those delicious treats! 🙂
PREPARING FOR OUR SCOOTER TOUR – RENTAL PRICES & ROUTING
Once you get to Chiang Mai you'll notice that you can rent scooters basically EVERYWHERE. Seems like opening a restaurant or a scooter shop is THE thing to do here in Chiang Mai 🙂 So you'll never starve and you'll always have a scooter at your fingertips – Chiang Mai, we loved you right from the start!
However, when doing a bit of research we read some negative feedback on scooter rentals in Chiang Mai. According to some travelers it could happen that the people from the rental shop would look for your rented bike in busy places and "steal" them (they do have keys so they only need to drive away) and then charge you for the loss of the bike. Although those reviews where from quite some time ago and only rumors it was still something that made us worry. Could we really trust the rental shops?
We decided that if we were to rent a scooter than to ask first for recommended rental shops in Chiang Mai at our accommodation and to check their online reviews before we went there.
You can of course also rent directly from your accommodation but this might be more expensive. (When we checked they were usually between 50 – 100 THB more expensive than from renting directly from the rental shop)
Also we read that there are often police controls in Chiang Mai targeting specifically foreign tourists on scooters. Now legally speaking, you are required to have an international drivers licence as well as a helmet on your pretty head when operating your scooter. We however only had our German license with us with not a single word in English so again, were slightly worried that this could get us into trouble. But no risk – no fun right? 🙂 It's so much cheaper and so much more fun to explore the area on a scooter than from your seat on a tour bus.
So we asked at our accommodation for a recommended rental shop and we got our scooter for 200 THB for a day there. They asked us for our passport as a deposit or 3000 THB in cash which seems to be the general procedure here. The choice is yours. 🙂
They also gave us a map and some directions to Doi Suthep temple but once you leave the old town it's actually pretty straight forward and easy to find.
DOI SUTHEP – HERE WE COME! AT LEAST WE THOUGHT SO…
We were just about to leave the old town to head straight to Doi Suthep when we saw them waving at us from the side of the street. POLICE CONTROL! Aaaargh!!!!! This is it, we thought! Preparing ourselves to dutifully pay whatever figure the serious looking Thai policeman would throw at us.
However, putting on a big smile and being super nice and friendly apparently does help in situations like this and after only having a quick look at our all-german-you-don't-even-know-what-I'm-showing-you-license they said we could keep going. FOR REAL??? Without actually asking him that we quickly hopped back on our scooter and off we were to DOI SUTHEP. 🙂
As mentioned getting to Doi Suthep is super easy. Leaving Chiang Mai old town via the 1004 (Huaykaew Road) towards the Chiang Mai Zoo and passing Maya Mall on your way. This is actually the worst part of your trip as this road is very busy. However, once you passed the Zoo it'll become a lot quieter, greener and with much fresher air so take a deep breath. 🙂
There are quite some viewpoints along the serpentine road from where you have unobstructed views of Chiang Mai. However, as we read that the temple gets very crowded we wanted to be there as early as possible. So we decided to drive straight all the way up to Doi Suthep joined by many other scooters and red sangthaews.
VISITING WAT PHRA THAT DOI SUTHEP TEMPLE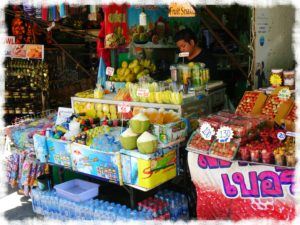 Most people just call it Doi Suthep or Doi Suthep temple but actually the full name of this sacred buddhist temple is slightly longer: WAT PHRA THAT DOI SUTHEP TEMPLE – just fyi 🙂
You cannot miss the stop for the temple on your ride up – it seems everyone going up the hill stops HERE! There are tons of little stalls on the side of the road selling fruits, drinks, snacks and souvenirs. So once you see the stalls you can just park your scooter and head up to the entrance of the temple.
If you're really lazy you can also take the cable car which only costs 20THB however we were in the mood for climbing some stairs 🙂 Also the staircase itself is really pretty with the sides of the stairs designed in the shape of giant dragons or a serpent or something like that, but it looked really cool! So who can say no to that?? 🙂
But, despite being there early in the day this place was PACKED!!! It was one of the busiest temples I've ever seen. So we started climbing the 290 stairs to reach the entrance to the temple together with hundreds of other visitors – not so much the romantic peaceful picture I had in mind.
Once you are up you will need to pay the entrance fee (only 30 THB) to enter the temple (unless you are a Thai National). Make sure you bring appropriate clothes to be allowed into the courtyard (long pants or skirts, no bare shoulders).
Although it was overcrowded with tourists we really enjoyed visiting the inner courtyard, walking around the golden stupa looking at all the golden statues and shrines and watching the locals lighting candles and praying. It was quite impressive.
There are also hundreds of small golden bells hanging around. Apparently if you choose to donate a bell to the temple, you are believed to be earning merit and good karma for yourself and your family.
Overall we can really recommend a visit of Doi Suthep Temple but try to beat the crowds by getting here really early or late in the day. If you don't feel like taking the scooter you can still easily reach the temple with a red sangthaews from Chiang Mai for around 100 THB per person. (However a word of warning, this is NOT recommended if you get sick easily as driving up the winding roads in a packed sangthaews will NOT work out well for you)
HEADING FURTHER UP THE MOUNTAIN FOR SOME SPECTACULAR VIEWS
Most tourists will only go up the mountain to see the temple so there are not many tourists going further. This is when your scooter tour will become really fun! 🙂
So after visiting the temple and tasting the delicious hot dog and chocolate banana waffles which they sell at the beginning of the stairs we were ready to hop back on our scooters and drive further up the mountain. You can also grab a bite or something to drink outside at one of those many stalls. We can especially recommend the 100% Passion fruit juice for only 20 THB! So yummy and refreshing!!!
The road will soon get much more narrow and the traffic will definitely get less the further you go. Our next stop was the town of PHUPING (yes, it is in fact called like that 🙂 🙂 🙂 )
Here you can also find Phuping Palace – the winter residence of the Royal Thai family. (Of course the official name is again a bit more complicated: Phra Tamnak Phu Phing :-)).
You cannot visit the palace itself as it is closed to the public but you can visit the palace grounds and gardens. We heard that the gardens are especially worth a visit in the winter months when most flowers are at full blossom. So for all the gardeners among you, this is the place!
We however opted for visiting the viewpoint instead as gardens are not so much our thing. To get to the viewpoint just park your scooter on the side of the main road past the little roundabout and head down the little road that has souvenir and food stalls to the left and right until you reach a small forest. Keep walking and you'll soon see the viewpoint that offers spectacular views.
When we were at the viewpoint there were people with drones – I can only imagine the amazing shots they must have gotten by letting their drone fly out from here!!!
On our way back we grabbed some more snacks (of course we had to pick up some more waffles which seem to be the thing here 🙂 ) and continued up the forested mountain.
If you keep going you will eventually get to DOI PUI VIEW POINT. The road is a bit tricky and not in the best condition so be careful when driving up here! However the views are stunning, especially on a clear day. Many say that this is the best place to watch the sunset however thinking about the road and having to drive back in the dark is maybe not the best idea.
STUMBLED UPON THE RUINS OF THE ANCIENT SAN KU TEMPLE
We decided to keep going however after this viewpoint there is not much more to see. In fact don't bother going all the way to the summit of Doi Pui as it doesn't offer any good views. Also the road is getting even worse once you've passed the viewpoint, super narrow and lots of potholes.
We stopped when we saw a sign pointing to a temple on the right by the name of SAN KU. A small path will lead you there after about 50m. The San ku ruins turned out to be some kind of a hidden ancient temple with tons of weird looking chicken statues. It was a bit spooky around here, I mean imagine, you are in the middle of the forest with an overgrown ruin of an ancient temple (a pyramid maybe or a thomb?) and tons of chicken statues "protecting" it. SUPER WEIRD!!! But if horror movies like Blairwitch Project are your thing, you should DEFINITELY come here 🙂
After checking out all the rooster statues (which are probably related to the bet of prince Naresuan) we decided to drive back down and stop at one of the many waterfalls.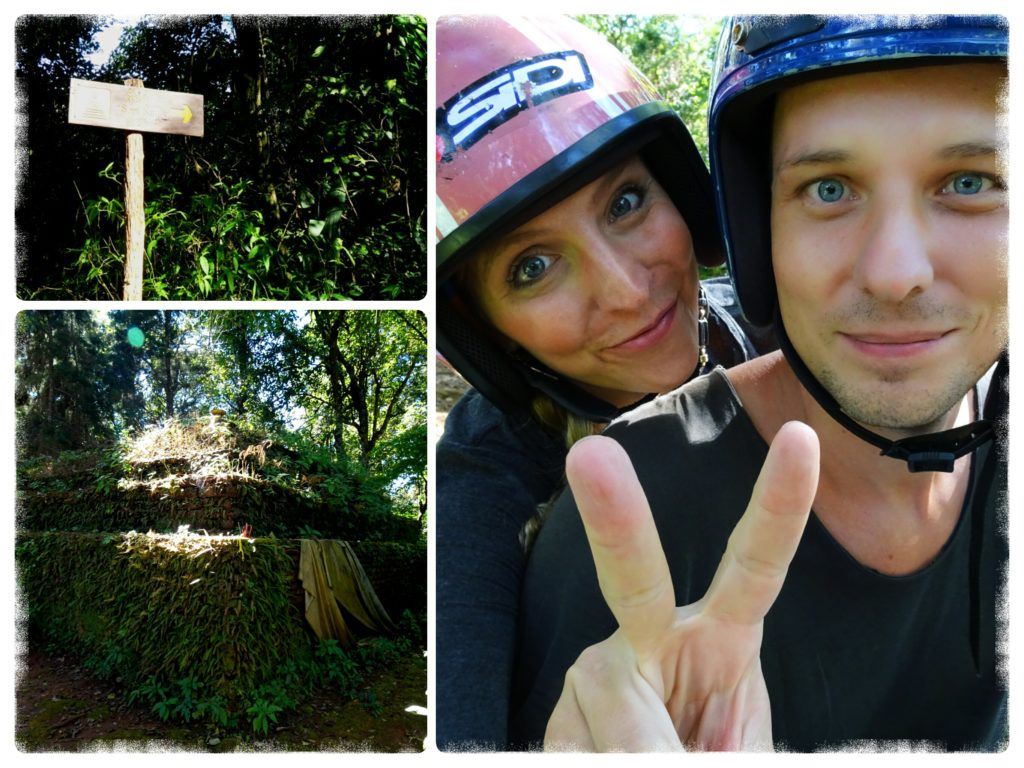 CHASING WATERFALLS ON DOI SUTHEP
Along the serpentine road there are many waterfalls, some you can see right from the street, others are in a National Park (and therefore a fee of 200 THB applies) and others are just off the street and for free. We picked the Huay Keaw Waterfall (you guessed it – the free one 🙂 ).
Well having seen quite some waterfalls here in Thailand already I wouldn't really say that Huay Keaw Waterfall is one of the most impressive ones but it's still worth a stop. It has several levels and you can walk around here for quite a bit as well as having a dip in the cold, refreshing water. As we were there in the late afternoon, still frozen from our ride to the top we passed on the bathing option and just walked around a bit.
We were also getting hungry as it was about time for some dinner. However looking at the offering of Huay Keaw Waterfalls of experiemental snacks like fried insects, bugs and worms we decided we better get back to Chiang Mai and look for something….well, less creepy 🙂
So with the sun setting we went back home, returned our scooter (no issues here) and finished the day with a nice thai dinner in the Old Town. What a PERFECT day – YAY!!!
Watch our short video below of this amazing scooter trip to Doi Suthep:
---
YOU MIGHT ALSO BE INTERESTED IN: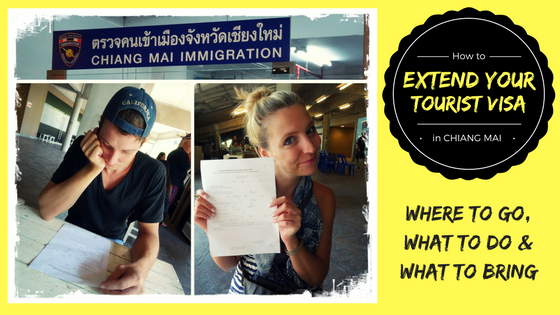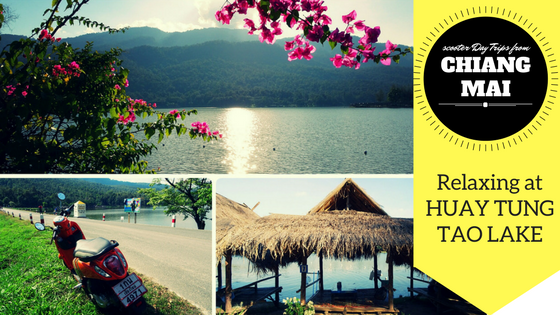 ---