Independent self-guided 1 day tour including Bamboo rafting, turtle conservation centre, waterfalls and white sandy beaches
Okay let us start by saying that we actually wanted to go the easy way and simply book an organised tour through an agency. However when we sat down at the travel agency and went through all the different tours available we noticed that first of all, these were crazy expensive compared to other areas we've been in Asia and specifically Thailand (we're talking minimum 2800 TBH per Person) and secondly – and even more important – none of the tours actually included everything we wanted to do.
Our wish list included the following: Bamboo rafting, exploring the beautiful nature around Khao Lak as well as a bit of beach time.
However, all the tours that had bamboo rafting included also came with riding on the elephants which was a big NO GO for us, mainly because of ethical reasons. The other tours without elephant trekking included long drives and only a few minutes on the bamboo raft for an even higher price (3200 THB+).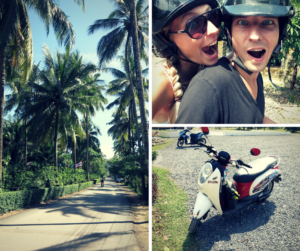 Therefore we decided to just do it ourselves and make it the BEST TOUR EVER!!! With scooter rentals starting at 200 THB you have quite a bit extra cash left for entrance fees etc. So we took out the map and marked everything we wanted to see and came up with a good itinerary for the day.
Turns out there was a Bamboo rafting opportunity just 15 minutes down the road from our hotel. When asking a local whether this tour can be recommended she did not only confirm but also mentioned a turtle conservation centre close by within the Royal Thai Navy Base – TURTLES????? I LOVE TURTLES! So this one got a BIG CIRCLE on the map.
We also spotted several waterfalls on the map and decided to include at least one of them before heading to the beautiful beaches in the north for the perfect end to our scooter adventure. If this all sounds as much fun to you as to us then here is the detailed guide on how to do a DIY Scooter Tour in Khao Lak area.
1. RISE AND SHINE EARLY BIRD
Although everything is close by it is still A LOT for 1 day considering that the sun sets at around 6pm already which means that's the end for your scooter tour.
So if you like to enjoy one or more of the stops a bit longer than just spread this programme to two days!! EASY! Less stress, even more fun! However if you only have 1 day than start as early as possible!
We started at around 8:30am from our hotel which was close to the beach of Bang Niang, Phang-nga. All the little resort towns are close together so it doesn't really matter where you are exactly, just head out to the main road (highway 4) and head southbound towards Lam Kaen. Our first stop was the bamboo rafting which we were super excited to do.
The company is called SUTIN GROUP BAMBOO RAFTING. So after around 15 min you'll have to make a left turn (Turn into the road between the Bangchak petrol station and a Lam Kaen post office) and continue for another 5 Minutes. You will see the bamboo rafting spot on your right and most likely someone will wave at you to make you stop anyway so you can't really miss it!
2. BAMBOO RAFTING – A WET BUT SUPER FUN EXPERIENCE NOT TO BE MISSED
They quoted us 400 THB per person for a private bamboo raft as no other group was there at that time which we happily accepted (maybe you can even negotiate this price but we thought it was a great price for what you get). You then hop on a 4wd and they'll transfer you to the spot from where you will "board" your raft.
You are then in for a spectacular 30 – 45 min ride through a lush tropical forest which can get quite speedy when you get into the water currents, but our raft driver did an excellent job navigating us safely down the river. It was SO MUCH FUN!! You might spot some exotic birds on your bamboo cruise or other animals and you'll even have the opportunity to hop in for a swim when the water gets deeper, seriously – SO COOL!
Super happy & refreshed after this rocking bamboo rafting experience we hoped back on our scooter and went to see some turtles!!!
3. SEA TURTLE CONSERVATION CENTRE – A DREAM CAME TRUE
The sea turtle conservation centre is just a short drive from the bamboo rafting. You basically just head back to highway 4 and continue for just a minute to take the first exit to the right! it's a super busy road so you might need to drive a little further until you have the chance to make a U-Turn. Just to be precise the number of the road you need to turn in is 4147.
Continue along this road for a few minutes until you see the Royal Thai Navy Base on your right. There probably will be men in uniforms at the gate. We were a bit hesitant going in but there was no need. Just tell them you are here to see the turtles and they will happily assist you and give you directions how to get to the turtle conservation centre.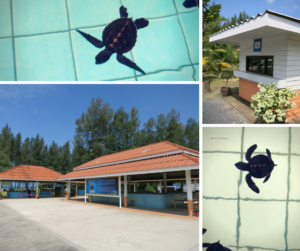 Once you arrived at your destination you'll have to pay a small fee of 30 THB per person and then you're free to roam around. There are tons of little pools with turtles of all ages. From 1 month old baby turtles to 6 year old gigantic turtles. I was in HEAVEN!! I could have simply watched the baby turtles swimming around for hours but it got even better. When we got at the pool for the 3 month old turtles I spotted a woman who was giving a ton of turtles a little scrub. When she saw me smiling from one ear to another she offered that I should have a try. Ha, no need to ask me twice. Getting up close with a baby turtle was a lifelong dream of mine! So I was sitting down in not time, turtle in one hand, sponge in the other and gave a gentle spa treatment to my new best friend. The little fella seemed to enjoy it and so did I.
After spending way too much time with the turtles Martin pointed nervously at his watch and the map (we were soooo behind schedule!) so I finally managed to say goodbye to those cuties and went back to Khao Lak for a quick lunch stop. We found a great place with amazing sea views right on Phang-nga beach that offered the same prices as the restaurants along the main road in Khao Lak.
Completely re-energized we hopped back on our scooters and continued to the TON CHONG FA WATERFALL.
4. TON CHONG FA WATERFALL WITH A LITTLE SURPRISE
To get to the waterfall you have to head back to highway 4 again, but this time head north. Turn right as if you wanted to go to Wat Phanat Nikhom. After approximately 5KM you will get to the entrance of a national park where you'll need to pay 200 THB per person. This does however not only include the waterfall, you could actually spend a whole day in the park hiking and enjoying the beautiful nature.
Note that even if you are not here for the hiking but just to see the waterfalls you still have to walk quite a bit to reach the waterfall. By this we mean not a casual stroll through the woods. The path gets really steep and hilly and I regretted not packing my sneakers. However we proved that it CAN be done in flip flops as well – It's just not that comfortable.
Once at the waterfall it was time to cool off so we jumped in the water but quickly realized that something was different…something was…BITING US!! We found out that the water was inhabited by nibble fish – These are the ones you also find in big fish tanks in front of spas just in a much bigger version. Oh were they happy to snack on our feet. Turns out the 200 THB included much more than expected.
After all this excitement it was really time for the beach so we went back to our scooter and hit the road. Go back to highway 4 and continue north where you will reach coconut beach and white sand beach. You can simply follow the signs from the main road pointing you towards these beaches. You should start seeing them after approximately 7KM on the main road.
5. BEACH DAYS ARE GOOD DAYS
If you have a bit of time left it's worth going a bit further past the Pullmann Hotel to see another waterfall – SAI RUNG WATERFALL which is just a short detour, doesn't cost you a penny and doesn't involve a long hike nor biting fishes, so definitely worth it!!!
Also the beach close by – Pak Weep Beach – is supposed to be one of the nicest beaches in the area. Unfortunately we did not have time to stop there so in case you ever make it there, let us know if you liked it!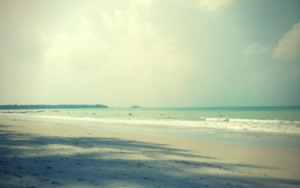 We decided to check out WHITE SAND BEACH instead which didn't disappoint either. Such a beautiful long stretch of indeed white sand beach! Again, you could easily spend hours here so if you have more time and love beaches then do this maybe on a separate scooter tour to really make the most of it and spend a couple of hours in this area. For us we had just enough time for a quick dip in the water and a short walk along this picture perfect postcard beach before it was time to get back.
6. THE PERFECT PLACE FOR A SUNDOWNER – CHEERS TO THIS PERFECT DAY
The perfect ending to the day was a stop at MEMORIES BAR on our way back to our hotel. This is a super cosy bar right at the beach with good cocktails and a very relaxed vibe. They also rent surfboards which makes sense as the waves here seem to be much better for surfing compared to other areas further down in Khao Lak.
While sipping our cocktails and going through all the pictures we took of our bamboo rafting experience, the super cute turtle babies, the amazing waterfalls as well as the gorgeous beaches we couldn't help but congratulate us to this awesome trip and can only recommend you do it the same way – you not gonna regret it!!!!
If you want to check out our short but sweet video of this super awesome tour then have a look at our YouTube channel: Click Here 🙂