HUAY TUENG TAO LAKE – Perfect scooter trip from Chiang Mai
Best Scooter day trips from Chiang Mai – Huay Tueng Tao Reservoir
Okay we get it, Chiang Mai is AMAZING and it surely got A LOT going for it such as the friendly people, the food, the mountains and temples but there is one major let-down – there is NO OCEAN!!!
And where there is no ocean, there is no beach. And well without a beach there are no beach bars, no beach parties, no sundowners on the beach and don't even get me started on how to keep our lovely tan going which we worked so hard for without our daily beach sessions. So clearly we were missing the beach and so will you.
But before you turn around, heading to the airport to fly straight down south to Thailands tropical islands we got an amazing tip for you.
Calling all Beach bums and water addicts – have you ever wondered where to spend your lazy Sunday afternoons here in Chiang Mai?
Normally we would find you on the beach relaxing, working on your tan, having some ice-cold drinks and enjoying the sweet, sweet life. But here? Climbing a mountain? Hiding in your apartment? Visiting yet another temple? Pah, who are you kidding??!!
What if I told you that there is a place only 30 minutes' drive away from Chiang Mai where you can have ALL OF THAT? Where you can put your feet up and have a cold beer, where you can bake in the sun or go for a swim? It's true, this place does really exist and it's called the HUAY TUNG TAO LAKE!!! you're welcome 🙂
How to get to Huay Tung Tao Lake from Chiang Mai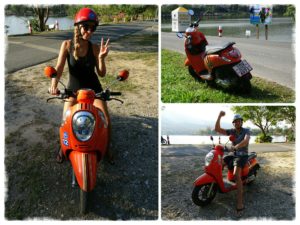 We went to Huay Tueng Tao last Sunday to see for ourselves what the fuss was all about and I can honestly say that this was one of the most relaxing Sundays we've spend here in Chiang Mai – aaand, *drumroll* we even got a good tan that day. 🙂
We rented a scooter in the city (you get them for around 200 – 300 THB per day, depending on the season) and left Chaing Mai around noon.
It's fairly easy to get to Huay Tung Tao Lake from Chiang Mai however watch out for traffic as you'll be using the busy highway route 121. The total trip shouldn't take longer than 20-30 minutes.
Directions:
Coming from Chiang Mai Old City exit via the northwest corner of the Old City Square Moat on Huaykaew Road (Route 1004) and drive for approx. 2 kilometres.
Once you get to the second major intersection, turn right onto Canal Road (Route 121)
(If you start your trip in the Nimman area, make your way towards Maya Mall, follow Route 1004 westbound and once you get to the next big intersection also make a right turn onto Canal Road (Route 121).
Drive for approx. 6km along Route 121 passing the 700 Year Sports Complex on the left.
Watch out for the blue signs pointing you to Huay Tung Tao Lake once see two white bridges on your left.
Once you get to the 2nd bridge turn left, cross the bridge and follow the road until you get to a checkpoint where you'll need to pay the entrance fee of 50 THB / person to enter the Huay Tueng Thao Lake area.
There is also the option to take a Grab Taxi, a Tuk-Tuk or one of the local Red Taxis. Especially on the weekend many locals come here and we saw several taxis parked at the lake waiting to take people back to town.
Tip: If you come by scooter, make sure to circle around the lake before stopping in one of the many restaurants. It's a very pleasant drive (4km / 10-15 minutes) around Huay Tueng Tao Lake with many photo opportunities along the way.
PICKING A RESTAURANT AT HUAY TUNG TAO LAKE
We recommend you have a good look at all the different restaurants before you decide on one. We counted a total of 11 restaurants and some of them are more in the shade, some more in the sun, some are louder and some quieter. Some offer a mountain view, some don't and some are near a bathroom and some are…well not so near. 🙂 So get a good look around and then pick the one you like the most.
The food they serve is mostly traditional Thai food. The staff hardly speaks any English but luckily most menus come with pictures so you simply point out the one you like 🙂 Prices start from around 50THB for some rice and vegetables and go all the way up to 200 THB for fresh grilled fish. Attention, the favourite meal here seems to be FROG! I guess they just catch them from the lake as almost every restaurant offered them and telling the difference can sometimes be a tricky thing.
To all "non-frog lovers": Despite us ordering chicken we still ended up with frog on our plate. Funny thing however was that as it was super deep fried Martin only realized that he was munching on frog parts after already eating most of his plate. 🙂 He just wondered, why there were so many greenish looking "vegetables" fried as well despite only ordering chicken which made me think and we suddenly realized, they did NOT put extra vegetables on our plate but rather an extra load of deep fried frog skin. URRGGH!!!!!
But otherwise everything was excellent and relaxing by the lake does really get you in a happy mood.
WHAT ELSE IS THERE TO DO AT HUAY TUNG TAO LAKE?
In case just sitting by the lake the whole day is not your cup of tea and you like to get more active (well, don't look at us, WE are perfectly fine chillaxing in our cute little bamboo hut till the sun sets!!) there are tons of fun (water) activities to do here.
So why don't you:
Go for a swim? But attention, the lake is a "no swim through lake", so this basically means you can just hop in from your hut to cool down and climb back out again.
Go for a hike. There is a 7km loop hiking trail leading to a nearby waterfall as well as several smaller ones.
Rent one of those funny pedal boats like a cute swan and cruise around the lake. There are also "normal" boats as well as canoes and motor boats for rent.
Go for a ride on the Zipline where you can swing in style across the lake.
Feed the sheep!! You can also visit the sheep family living on the other side of the lake and feed them some fresh gras.
Last but not least let us mention the newest tourist attraction at Huay Tueng Tao: the weird but wonderful "King Kong sculpture park" ! This IG hot spot is located on the other side of the lake and it's a great place to take some fun selfies.
This sculptures are portraying various animals (including some giant 8m high gorilla sculptures – hence the King-Kong-Theme) and they were made using straw that was left from rice harvesting.
You are allowed to interact and even climb on a few of these King Kong statues and although those straw sculptures generally looked a bit out of place and we didn't really get the point, they seemed to be a big hit with the asian tourists who simply couldn't get enough of taking their pictures here. So why not just join the fun and get some new shots for your instagram feed!
Also there are many stalls that sell snacks and drinks here, some cute little straw huts if you need to escape the sun while admiring King Kong as well as some small trails running through the rice fields if you want to go for a little walk.
What about you? Are you a beach lover stranded in Chiang Mai and missing the sea??
Have you found some more great places nearby Chiang Mai to spend your lazy Sunday afternoon away from the hustle and bustle of the city? If yes, please let us know!
If you want to do a more adventurous and longer day trip from Chiang Mai by scooter check out our two blog posts about our scooter tour to Doi Suthep where we got our first glimpse of the beautiful surrounding of Chiang Mai as well as our 2nd scooter tour to Mon Cham and the Mae Sa Waterfall. Both tours were super fun and offered spectacular panoramic views. So if you love a good old fashioned scooter adventure these two tours are absolutely worth it!!!
The following links are affiliate links as well, which means that if you book a stay through these links, we'll get a small commission. Don't worry–the price is still the same for you.
Where to stay in Chiang Mai?
Click here for all Chiang Mai Hotel deals*!
NIMMAN
For Nimman we can highly recommend the NORN NEE NOR* which not only offers affordable and boutique style accommodation and a chic design, but it's also in walking distance to some of our favourite digital nomad hot spots in Chiang Mai. It also comes with it's own work-friendly café – MUSE CAFÉ, the perfect workaction in Chiang Mai.
OLD TOWN
In Old Town we stayed at the super cute and cozy HUEN CHIANG MAN HOSTEL*! They have this lovely room with a balcony overlooking the neighborhood and offering good seating facilities in case you want to get some work done right there!