KOH CHANG SCOOTER TOUR – Exploring the Beaches along the west coast
Koh Chang by Scooter – Jungle roads, panoramic views and beaches to fall in love with
Follow us as we explore the tropical west coast of Koh Chang by scooter and enoy spectecular panoramic views, gorgeous beaches, jungle forest and the occasional cheeky monkey along the way.
After our 24 hour journey from Chiang Mai to Koh Chang we were super exhausted but happy and all smiles to be finally at the beach again. Chiang Mai was great with so many things to do and see and we loved our time there however after spending more than 4 weeks in the North we really, REALLY!!! missed the beach and the ocean.
I mean look at THIS gorgeous sunset at White Sand Beach just a stone's throw from our accommodation which we got to enjoy just an hour after setting foot on the island:
The next day we decided to rent a scooter and explore the island a bit. We simply got one from our accommodation directly for 200THB. However, there are many rental shops in town and prices vary between 150 – 300THB per day.
Driving on Koh Chang – rollercoaster jungle roads
We didn't do any research of what to do and see when on Koh Chang but a quick look at the map told us everything we needed to know. From our accommodation at White Sand Beach you could simply follow the road which takes you to many other different beaches along the West Coast of Koh Chang with the main ones being: Klong Prao Beach, Kai Bae Beach, Lonely Beach and Klong Kloi Beach.
And hey, after all, BEACH TIME was what we signed up for. 🙂 So a day exploring all the other beaches Koh Chang had to offer suited us PERFECTLY! And off we were on our first scooter adventure on this island. 🙂
If you've rented a motorcycle before in Thailand and are a fan of adventurous jungle roads than you will absolutely LOVE driving on Koh Chang. In fact Martin said after visiting several Thai islands (Ko Tao, Koh Phangan, Koh Lanta) and exploring all of them by scooter that Koh Changs roads were the most fun (but also the craziest!)
The main road running through town at White Sand Beach does not give you the impression that driving here is much of an adventure – it's this rather underwhelming wide road with no steep hills or anything worth mentioning but my friends, let me assure you it does get much – MUCH better. (or worse, depending on your driving skills 😉 )
As soon as you leave the White Sand Beach area behind you are in for a real treat! That is if you love driving narrow winding jungle roads up and down the steep hills of Koh Chang! It felt like being on a rollercoaster! 🙂 It was AMAZING!
What to see on your scooter tour along the west coast of Koh Chang
As if driving along Koh Changs adventurous roads wasn't already fun enough, there were so many cool things to see along the way and of course all those beautiful beaches – one better than the other. So make sure you have your camera charged and ready to snap away! 🙂
First off, there is a great viewpoint to your right at the end of Kai Bae Beach just before the road leads up into the jungle forest. From here you can overlook the whole Kai Bae Bay. It's especially nice in the late afternoon or at sunset so we decided to stop here on our way back home and continued our journey.
Then all of a sudden you'll find yourself on a road leading right into the jungle with super lush vegetation and it's not uncommon to spot whole monkey tribes sitting next to the street as if they were the welcome committee – One next to the other just watching us cruise by. It wouldn't have surprised us if they had started waiving to us! Seriously! So cool!
On your way along the west coast you'll also pass through those little beach villages that have a much more laid-back vibe than the busy (and crowded) White Sand Beach area. We decided to stop at Lonely Beach to have a little walk around town and to fuel up on a delicious smoothie – they had those giant smoothie cups for 50THB, complete vitamin C overload, what a power boost!
We also had a quick dip in the water at Lonely Beach but as it got cloudy around noon we decided to get going and find a proper place for lunch.
Next on the list was a spontaneous detour for some spectacular views (which we didn't know at that point 🙂 ). There is a small road leading to a beautiful peninsula if you make a right turn shortly before getting to Bang Bao Pier. This small road leads to some resorts e.g. "Nirwana" :-). We decided to check it out for fun but can highly recommend you do the same as you'll have some absolutely stunning views of the Bang Bao Pier and Lighthouse and the whole Bang Bao Bay with its crystal blue waters if you go all the way to the end (past Nirvana Resort). The road is a bit tricky to get there but the views totally make up for it!!!
We then continued all the way to Klong Kloi Beach which you can either access right from the main road (You might see some taxis parking there) or you keep going as we did following the signs to the "Tropical Beach". You will basically access the same stretch of beach however with a little detour through Klong Kloi Cottage (the village behind the beach) on a sandy and rocky road. Not really worth the hassle but it was all part of the fun and our Koh Chang Beach Tour adventure! 🙂
We parked our scooter at Klong Kloi Cottage and went to check out the beach and get some lunch. The beach was absolutely amazing – not too crowded, white sand and a few cool beach bars and restaurants that mainly belong to the smaller hotels and bungalow cottages along the beach but all with a super relaxed vibe.

You won't find any fancy resorts or beach clubs here (yet!), just some bamboo huts with hammocks to stay overnight only 10-20m from the beach and some colourful wooden beach chairs parked in the sand – this place was right down our alley! We LOVED it here! (Too bad we were only staying for a few days on Koh Chang, otherwise we would have moved here straight away).
After enjoying some fantastic Pad Thai and baking in the sun for another hour it was time to slowly head back to White Sand Beach. Of course not without stopping at the earlier mentioned Kai Bea viewpoint for some great shots of Kai Bae Bay and another final beach stop at Klong Prao Beach – it was picture-perfect!
EXTRA EXPLORER TIP! Since you came all the way to Klong Kloi Cottage, why not continue your trip even further and check out the old abandoned Galaxy cruise ship just around the corner? A must see for everyone into abandonded and bizarre places! We've written a separate post with all the info you need about a trip to the legendary "Koh Chang Ghost Ship"!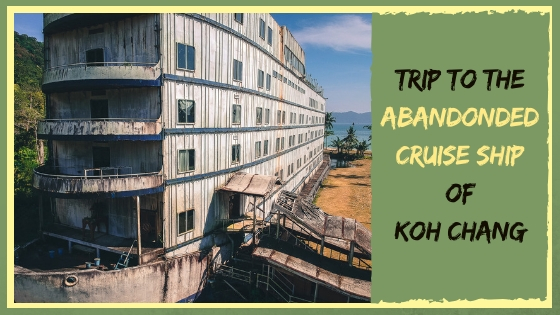 So my friends, even if you are visiting Koh Chang but are not into any tours (from island hopping to cooking classes to jungle trekking – Koh Chang got it all) and you really just want to relax and spend some time at the beach to recharge your batteries you should STILL consider getting a motorbike for a day to explore all the different beaches the west coast has to offer. You won't regret it!
If you don't feel like driving and rather want to enjoy some ice cold chang beers from the many beach bars and not worry about a thing (no judging, we totally understand 🙂 ) then you can just hop on one of the white island taxis that regularly run from the main road from one beach to the next – easy breezy!
Either way, you'll have a great time – guaranteed! Koh Chang: Our jungle – beach paradise!
Further Reading: Also visiting the neighbouring island of Koh Kood? Then check out our ultimate Koh Kood island guide.
Quick Guide –
Koh Chang
How much does it cost to travel from Bangkok to Koh Chang?
We paid 600 THB (= $20) per person for the Boonsiri Bus + Ferry package booking our tickets online with 12GoAsia. In total the journey took us 7 hours to get from Bangkok to Koh Chang.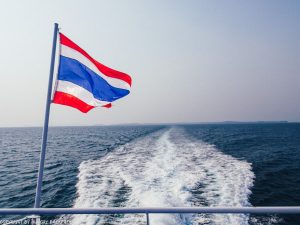 Best things to do on Koh Chang?
1) Relax and recharge
2) Rent a scooter and explore the island
3) Go Beach Hopping
4) Chase some waterfalls
5) See an abandoned cruise ship
6) Watch a sunset
Klong Kloi Beach

Klong Prao Beach

Kai Bae Beach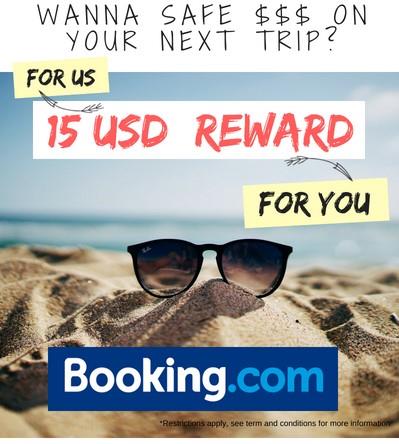 Where to stay on Koh Chang island
On our 2nd visit to Koh Chang we stayed at the Bang Bao Paradise Home Stay*.
This family run hotel offers a cozy water front atmosphere with rooms directly over the water on the Bang Bao Pier.
* = Affiliate links.