KOH CHANG'S ABANDONDED CRUISE SHIP AND LAGOON RESORT
Exploring Koh Chang: Trip to the abandoned Galaxy cruise liner and the Grand Lagoona Resort
Tired of endless sunbathing, souvenir hunting and sipping cocktails on the beach? Ready for a little island adventure? Then you might want to add a trip to Koh Chang's abandoned cruise ship to your to-do list to find out what the hype about this mysterious place is all about.
This post contains affiliate links, which means that if you purchase a product through these links, we'll get a small commission which helps us to keep on going. Don't worry–the price will still be the same for you.
When visiting Koh Chang back in 2017 we knew we'd come back eventually! 🙂 Koh Chang is one of the biggest and most attractive Islands in Thailand and due to it's close proximity to Bangkok (It only took us 7 hours to get from Bangkok to our hotel on Koh Chang with the 12GoAsia bus + ferry combo ticket) it's the ideal beach getaway when you're on a tight schedule and don't have the time to travel all the way to the islands in the South.
The first time on Koh Chang, we had already explored quite a bit of the island on scooter (check out our other post: Koh Chang on Scooter – Exploring the beaches along the west coast) and thought we had pretty much seen it all. SO VERY WRONG! 🙂
On our second visit we heard about this "GHOST SHIP" in walking distance to our accommodation in the Bang Bao Bay called Bang Bao Paradise Home Stay* and knew we simply could not pass on the opportunity to go and check it out for ourselves. I mean who isn't intrigued by exploring abandoned places, especially when they come in the form of a gigantic abandonded cruise ship?
The Ghost-Cruise-Ship of Koh Chang Island - Thailand
What's the story behind the abandoned Galaxy cruise ship?
The Galaxy used to be a real cruise ship that was transformed into a 3*hotel after heaving a leak. Other sources claim that the Galaxy was deliberately sunk on the west coast of Bang Bao beach.
Either way, the cruise liner ended up on Koh Chang and just a few years back you could actually stay on this ship-o-tel during your visit to this island! And it was quite affordable too! According to other blog posts a room would have cost you just 20 EUR / night.
But that wasn't everything. The Galaxy was actually part of a much larger luxury Resort in the Bay of Ao Bang Bao called the "Koh Chang Grand Lagoona Resort" with various artificial lakes, a gorgeous beach and several other types of accommodations to choose from such as wooden lodges, bungalows, chalets and floating houses. There was even a pool house shaped as a boat.
It must have looked absolutely spectacular!
So was has happened to the Galaxy and the Grand Lagoona Resort? How did this place become abandoned?
Okay so this is where it gets tricky because nobody REALLY knows for sure why the Resort and the Galaxy ship-o-tel were abandoned.
Some say the owners simply ran out of money to properly maintain such a massive resort or didn't get the paperwork right so were forced to leave.
Others however claim that the closure of the hotel is linked to several deaths that supposedly occurred on the premises such as the accidental fall of a Russian tourist from the last floor of the ship which probably sparked all the "ghost-ship-stories".
However, when searching the internet for answers we couldn't find any useful information and the locals didn't want to share a lot about this place either. So I guess it's left to everybody's own imagination which only adds to the mysterious vibe of this place.
How to get to the abandoned cruise ship on Koh Chang?
You'll find the abandoned Galaxy Cruise ship at the very southern tip of Koh Chang past Bang Bao Bay towards Bang Bai Beach.
On google maps it's listed as "Sea Star" / " Boat Chalet Koh Chang" / "Koh Chang Boat Chalet" as well as "The Galaxy Bang Bai Beach" (The last one being the most accurate location for the actual cruise ship location)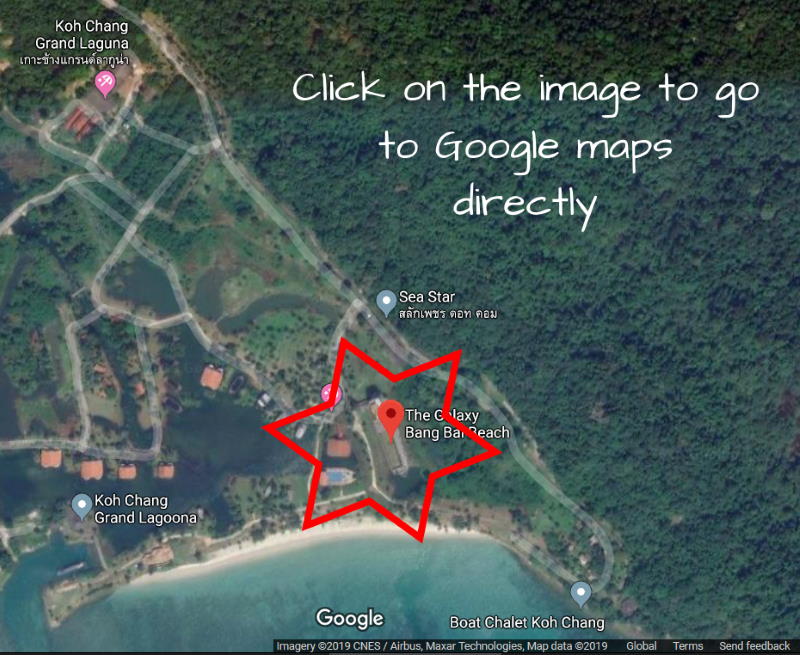 If you're exploring the island on a motorbike and want to visit the abandoned shipwreck, simply follow the google maps instruction to the "KOH CHANG GRAND LAGUNA" . You'll basically drive until the road ends and you're there!
Note that you'll pass a security guard when entering the resort area where you'll have to pay a fee which is applicable for all non-resort-guests! (100 THB / Person, October 2019). If you enter on foot through the same road you'll also have to pay. You can also rent a bicycle for a small fee which will make it easier to explore the grounds.
Money saving tip! How to enter the Grand Lagoona Resort for free
If you don't want to pay the entrance fee there is another way to enter the resort area – but we only recommend this route if you're happy to bend the rules on entering private property slightly 😉! Note that this is only available on foot, so you better pack your walking shoes!
Directions:
Coming from Klong Kloi Beach It's about a 25 minute walk. Follow the dirt road leading through Klong Kloi Cottage passing the colourful Pizza restaurant, "Big Mamas" and the "T Garten Resort" on your right.
Shortly after there is an intersection with the road taking a left turn and a small dirt path going straight. Keep walking straight and follow the path until you get to a locked gate. (That's the part we meant when talking about "bending the rules"😉 )
No worries though, you don't need to climb over the gate – you can simply cross the river next to it to get to the other side. There's not a lot of water in the river – we managed to cross without even getting wet feet.
Soon after you'll reach a small paved road again which is already part of the resort area. Simply turn right and keep walking. You'll soon be passing some old, rusty motorboats on your left – as if someone had simply forgotten them there.
These boats pretty much set the scene for everything you're about to see in this bizarre resort. Something beautiful that you know has been amazing and really cool at some point simply abandoned and left to rot away.
Exploring the Grand Laguna Resort Grounds – What's to see?
Once inside the resort area you can walk around and explore! But be prepared!
Even on a sunny day the whole thing has a very weird atmosphere and spooky vibe!
Once you've passed the battery of abandoned motorboats there is a road going to the left where you'll enter the lagoon area with several artificial lakes leading you to the first floating boat-style accommodations.
We could enter these boats without any problems, sit on the terrace and even explore some rooms that were left open.
We had a weird feeling walking around these floating wooden houses as you can't stop wonder what had happened. We found remote controls for A/Cs, flash lights and hairdryers simply laying around. Folded toilet paper and towels as if housekeeping had just made their rounds. Yet, everything was a bit moldy and dusty, some things were broken and in desperate need for repairs and there was a strange rotten smell in the air…
Just like if someone or something had sucked the life out of it.
If you keep walking, you'll get your first good look of the abandoned Galaxy cruise ship in the distance – you simply can't miss this gigantic iron shipwreck parked in the middle of the resort! 😊
There are also these Elephant statues everywhere and you'll find more accommodation types – from more boat chalets in the lagoon lakes to wooden cabins by the river. Some were locked, some were left open as if they were asking you to have a little look around 😊
Some of these rooms were really well cleaned as if new guests were about to check-in any minute. Others looked totally dated and in desperate need for some renovation completely falling apart.
It reminded us of those post-apocalyptic movies where everything looks totally normal – only that it isn't as something terrible has happened forcing people to leave within seconds.
And something else was weird! You'd expect an abandoned place to look a certain way. With plants climbing the walls of buildings, graffiti sprayed, rooms trashed and streets and pathways that are taken over by overgrown plants and so on. But here?
The grass was freshly cut as if the gardener had just made his rounds with his lawn mower.
The pathways were recently swept looking all neat with no leaves or dirt.
The picture-perfect beach looked spotlessly clean like out of a brochure.
There was no graffiti to be seen anywhere and despite some areas looking in desperate need of a little facelift, nothing was broken or trashed.
Someone was clearly maintaining this resort. But who and for whom? There were NO PEOPLE !
Visiting the abandoned Galaxy Cruise Ship
The highlight of our visit to the Grand Laguna Resort was, of course, the abandoned Galaxy Gruise Ship which some also simply call "The Ghost Ship of Koh Chang". If you stand in front of it you'll know why they call it that! Looking at this massive iron ship, searching window by window you almost wait for some eyes staring back at you.
Unfortunately, entering the Galaxy cruise ship is strictly prohibited and the fine amounts to 3000 baht. Reading some older blog posts it used to be possible and actually quite easy to access the abandoned ship just like with the other floating wooden houses however, nowadays there is a big sign along with high-voltage cables, wooden barricades and barbed wire at all entry points making it pretty clear that they want you to stay out.
Conclusion – is a trip to the abandoned Cruise ship worth it?
Although we couldn't enter the Galaxy cruise ship itself, we'd still found this place super fascinating. It let's your imagination run wild what might have happened here and how it used to look.
So if you enjoy exploring abandoned places or are simply tired of visiting yet another temple than a visit of the ghost ship on Koh Chang and the abandoned Grand Lagoona Resort is definitely for you.
As a small reminder the following links are affiliate links as well, which means that if you book a stay through these links, we'll get a small commission. Don't worry–the price is still the same for you.
Where to stay on Koh Chang?
When visiting Koh Chang in November 2019 we decided to stay in the Bang Bao Bay area which is the less touristy part of Koh Chang. It's also ideal for a trip to the abandoned cruise liner as you can simply walk there (20 – 30 minutes on foot).
Here you can read everything about our stay on the pier and what to do while you're there.
We found a cute and very affordable guesthouse directly on Bang Bao Pier which we can highly recommend called Bang Bao Paradise Home Stay This cute family-run accommodation offers cozy bungalows directly over the water as well as a beautiful deck where you can relax, enjoy a delicious breakfast or watch the sunset. Some rooms are very basic with shared bathrooms and no A/C, others come equipped with A/C and ensuite-bathrooms (starting from approx. 20 USD/night). However note that there are only a view rooms available and it's usually fully booked so be quick! 🙂
Further reading suggestion: Koh Chang Scooter Tour
Want to see more of Koh Chang? Make sure to check out our post: Scooter Tour on Koh Chang – Exploring the beaches along the west coast giving you all the information on what else to see and do on this amazing island.