GUIDE: BANG BAO FISHING VILLAGE, KOH CHANG
What to see, what to do, where to eat and where to stay on the Bang Bao Pier, Koh Chang
During our recent visit to Koh Chang Island we spend two weeks living right on Bang Bao Pier – a place you'd usually only pass through on your way to your tour boat for a fun day of snorkeling or island hopping!
As we really enjoyed our time here we decided to put together a little travel guide on what it's like living in this former fishing village here in the very South of Koh Chang Island as well as share some tips and insights on the best places to sleep, eat and play here in the Bang Bao Bay! Huuurrraaay! (see what I did there? 😉 )
Alrighty, so let's dive in, shall we?! 🙂
What to expect when visiting Bang Bao Fishing Village?
First of all, let's get one thing straight. Bang Bao Fishing Village is actually NOT a Fishing Village, at least not anymore.
It used to be a classic Thai fishing village some 10 – 15 years back when Bang Bao Fishing Village was nothing more than a narrow pier with a handful of traditional wooden stilt houses where you could watch the comings and goings of local fishermen as they prepared their boats for their next trip out to sea.
Today – it's a different picture! Check out the short video clip below of our drone flight across Bang Bao Pier:
Short Drone Clip of Bang Bao Pier on Koh Chang island - Thailand
Today, tourism has long replaced fishing as the main source of income. Most of Koh Chang's day trips exploring the islands and the best dive and snorkeling sites off the coast are leaving from Bang Bao Pier making the narrow Bang Bao boardwalk one of the busiest tour hubs on Koh Chang.
So it's no surprise that the 350m long pier resembles now much more a shopping mall or indoor market rather than a traditional fishing village.
Local houses are being converted into souvenir shops, tour agencies and seafood restaurants with the majority catering to day-trippers and tour groups passing through to catch their dive and snorkel boats that are moored at the very end of the Pier.
In fact, the pier itself had to be extended by another 350m to actually accommodate the many, many tour boats leaving from here each day.
So why, you might wonder, would anyone stay here?
Well, outside of the "tourist-rush-hour" the Bang Bao pier along with its cosy guesthouses and home-stays still does have its charm and there are several reasons why we would highly recommend visiting and even staying for a few nights in Bang Bao Fishing Village!
Why stay in Bang Bao Bay?
Good question! Why did we actually end up staying 14 nights on Bang Bao Pier?
Koh Chang, as you might know already, is packed with endless stretches of beautiful white sand beaches where you can easily find a basic bungalow for around 25 USD / night – why go all the way to the very South of Koh Chang and then pick a freaking PIER to base yourself for two weeks?
Well, staying in the Bang Bao area (and specifically on the pier!) comes with a few advantages, which we want to highlight below:
It's less crowded and less touristy!
Despite some mid-day peaks in tourist numbers in the morning and late afternoon when day-trippers pass through (usually on their way to catch/return from their snorkeling / fishing / island hopping trip ) the pier stays pretty quiet with mainly locals minding their own business.
TIP: If you're just stopping by Bang Bao Pier for just a visit try to avoid walking down the narrow boardwalk at 9am and 4pm when all the day-trip & snorkeling tour boats are leaving/arriving. With all those big tour groups rushing through it's way too crowded and hectic to enjoy the usually rather peaceful, quiet and laid-back atmosphere of Bang Bao Pier!
The overall relaxed vibe is also true in general for the whole Bang Bao area! It's the part of Koh Chang furthest away from all the action, with a very chilled vibe attracting mainly families and/or seasoned travellers – so no parties happening and loud music playing until late at night, no drunk people keeping you from your beauty sleep, no overly salesy vendors walking around the beach trying to sell you their ugly sarongs, tacky jewellery or whatever "goodies" they stock that day.
Maybe it's just us, maybe we're getting old but we very much prefer having our peace and quiet rather than being sourrounded by the mid-twenty-party-folk loudly celebrating their first trip abroad!
The breath-taking views from the pier
Due to it's beautiful location at the southern tip of Koh Chang and the long pier stretching up to 700m out into the water, the views from Bang Bao Pier towards the coastline are pretty spectacular!
Pretty much all restaurants at Bang Bao Fishing Village come with great views overlooking the Bang Bao Bay with its gorgeous, jungle packed mountain ranges in the back.
We especially loved sunset hour here, when the pier got quiet and when you can simply kick back with a nice cold Chang in your hand while watching the sky slowly turn from orange to pink and then into a dark fiery red – so cheesy but damn, oh sooo beautiful.
TIP BEST SUNSET SPOTS:
Check out Buddha View (offering views to the right) and El Greco (offering views to the left) for the best sunset views from Bang Bao Pier or simply head all the way to the end of the Pier with stunning 360 degree views from the lighthouse.
Support local businesses and families
It seems that still a lot of these small businesses and home-stays on Bang Bao Pier are in the hands of locals and family-run meaning you'll be supporting the local community staying here and not some big international co-operation.
For example we stayed at the lovely Bang Bao Paradise Homestay* which is a cozy, family-run guesthouse right in the middle of Bang Bao Pier. After a few days it already felt like home – it was like we were part of the family and there were a few tears and sad faces on both sides when we had to leave after two weeks with them.
However, we also need to add that due to the increase in tourism we assume that finding the right balance between supporting the locals and actually driving them away is not that easy.
With the increase in tourism there also comes an increase in opportunities for expats and westerners ready to pay a good sum of money for securing themselves a waterfront property here which may result in locals selling their homes and moving away.
Amenities – living the local village life
Surely it's nice staying in a secluded little hotel far away from all the tourists crowds – maybe even with their own little stretch of beach however reality is, and correct me if I'm wrong, that soon you'll be craving "something else" – something else to eat than what's offered in the in-house restaurant, or something else to do than just spend your days on the same beach sitting in the same chair…
Staying right on Bang Bao Pier still comes with it's "small village charm" but it also gives you easy access to all the amenities you might need during your stay with supermarkets, cafés, ATMs, laundry facilities and restaurants always just a few meters away.
Here is a list of what to find on and nearby Bang Bao Pier:
Amenities around Bang Bao Pier:
Supermarkets ( two local supermarkets and one 7-11 at the entrance of the Pier)
Dive Shops and Tour Agents where you can book your day trips as well as your trip back to Bangkok
Souvenir and Clothing Shops
Smoothie and Fruit Stalls
Several ATMs and Money Exchange Services
"Bang Bao Health Promotion Center" – a highly rated local clinic
Waterfront Restaurants (Seafood, Thai and a few Western Food options)
Taxi Services (prices: 50 THB pP to Klong Kloi Beach, 150 THB pP to Klong Prao Beach)
Motorbike rental shops (prices start at 150 THB/ day)
Post office
Where to eat
After living two weeks on the pier we got the chance to try all the various restaurants and cafés! Here below you'll find our top picks of where to eat when visiting (or staying in) Bang Bao Fishing Village.
As you might have guessed, you'll find A LOT of seafood restaurants here, so if feasting on some fresh fish or sea creatures is your jam, than you'll be absolutely golden here! 🙂 However, there is also some typical Thai food and delicious fusion food available.
Also, most places on the pier come with gorgeous waterfront-seating for the extra WOW-factor!
But if you're looking for mainly cheap and local food and don't care about atmosphere as much than simply leave the pier and head up the road leading towards the temple where you'll find plenty of local "thai-street-food-type-of-places" with dishes starting at 50 THB.
For Vegetarians there is not as much choice however, you won't starve either!
Our top picks of where to eat on Bang Bao Pier
"El Greco" Good Mediterranean food, stunning views.
"Buddha View" Relaxed vibe and atmosphere, nice sunset cocktails. A bit pricier than the other places.
"Baracuda" Delicious fresh Seafood
"The Chillhouse" Good Burgers and reasonable priced Pad Thai (80 THB) with amazing views.
"Nong Yim" Good option for Vegetarians! Cheap and tasty Papaya Salads as well as other salads available.
"Bang Bao Paradise Homestay" Beautiful waterfront seating, relaxed vibe, good breakfast options.
There is also a nice café and breakfast spot by the entrance to Bang Bao Pier (across from 7-Eleven) called "Arabica Café and Bar" where we often had breakfast
. No views (except of the parking lot! 🙂 ) but a super friendly owner, good coffee and quality food! They also serve delicious french-style Crepes in the afternoon.
Cheap Snacks:
If you're on a tight budget there are some cheap snacks available right on the pier (However no seating available!)
fresh Waffles (from 20 THB, available as Original, Banana and with raisins)
Fruit Shakes (from 40 THB for one fruit)
Fresh fruit (from 20 THB for a pack of cut pineapples)
Thai Iced Coffee (30 THB) as well as other drinks
Of course you'll find more snacks and drinks at the 7-Eleven supermarket at the beginning of Bang Bao Pier!
How to get from Bangkok directly to Bang Bao Pier
Since we had booked an accommodation booked right on Bang Bao Pier for our trip to Koh Chang Island we thought that maybe there also was a ferry going directly to THAT pier instead of mainly-used Center Point Pier which is located on the opposite side of the island.
We were pleasantly surprised that 12GoAsia indeed offers such a connection 🙂 ! This not only saved us time but also a lot of money as taxis from Center Point Pier all the way to Bang Bao can easily cost up to 300 THB per person.
For our total journey from Bangkok to Bang Bao Pier on Koh Chang we only paid 600 THB (= roughly $20) per person for the Boonsiri Bus + Ferry package booking our tickets online with 12GoAsia. In total the journey took us 9 hours (door to door) which we tought was absolutely okay.
As a small reminder the following links are affiliate links as well, which means that if you book a stay through these links, we'll get a small commission. Don't worry–the price is still the same for you.
Where to stay in Bang Bao Bay?
We loved staying right on Bang Bao Pier for all the reasons mentioned above! It felt like living in a little village, there was a very relaxed and laid-back vibe and with all the houses built on stilts above the water it was something quiet special we haven't really experienced before.
Maybe you can't quite compare it with staying in an over-water bungalow in the Maldives but hey, it at least gave us a rough idea about it #backpackerlifestyle 😊
Note that if you want to stay in Bang Bao Fishing village, that there aren't any fancy resorts or upmarket hotels on the pier, only guesthouses and home-stays. However, these usually come with a waterfront terrace for dining and relaxing and great views of Bang Bao Bay. What else do you really need?
The locals and families who run these small businesses on the pier are super friendly and really appreciate you staying there so if you're okay without much luxury for a few days and up for a little adventure and something out of the ordinary than we can highly recommend staying on the Pier!
We absolutely loved our stay at the Bang Bao Paradise Homestay* and wouldn't have it any other way.
All rooms are beautifully decorated and there is gorgeous terrace restaurant at the back. Prices start at 20USD for rooms with shared bathrooms, and 30USD for rooms with en-suite bathrooms and A/C.
Where else to stay on Bang Bao Pier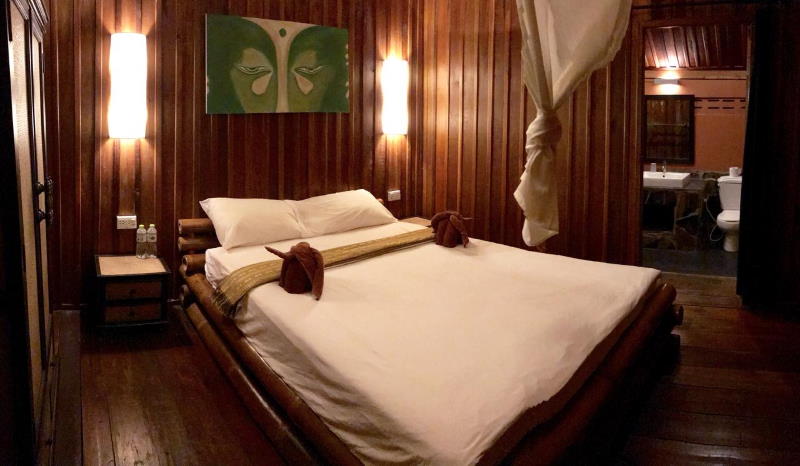 A popular (but pricier) restaurant at the end of the pier who also has rooms available.
Rooms starting from 26 USD/night.
Further reading suggestion: Koh Chang Scooter Tour
Want to see more of Koh Chang? Make sure to check out our post: Scooter Tour on Koh Chang – Exploring the beaches along the west coast giving you all the information on what else to see and do on this amazing island.