BANGKOK FOR COUPLES – 10 Fun & Romantic things to do in the city
OUR TOP 10 MOST FUN & ROMANTIC THINGS TO DO IN BANGKOK FOR COUPLES
Chaotic, loud, warm, hectic…Bangkok might not be the first place that springs to mind when you're thinking about the most romantic places to visit in the world, but there are still countless of fun and romantic activities you can do as a couple in the buzzing and vibrant Thai capital.
The perfect couple getaway is all about spending some quality time together, sharing special moments and experiencing new things together and be sure dear fellow little lovebirds, Bangkok has plenty of things to see and do that will keep the sparks flying.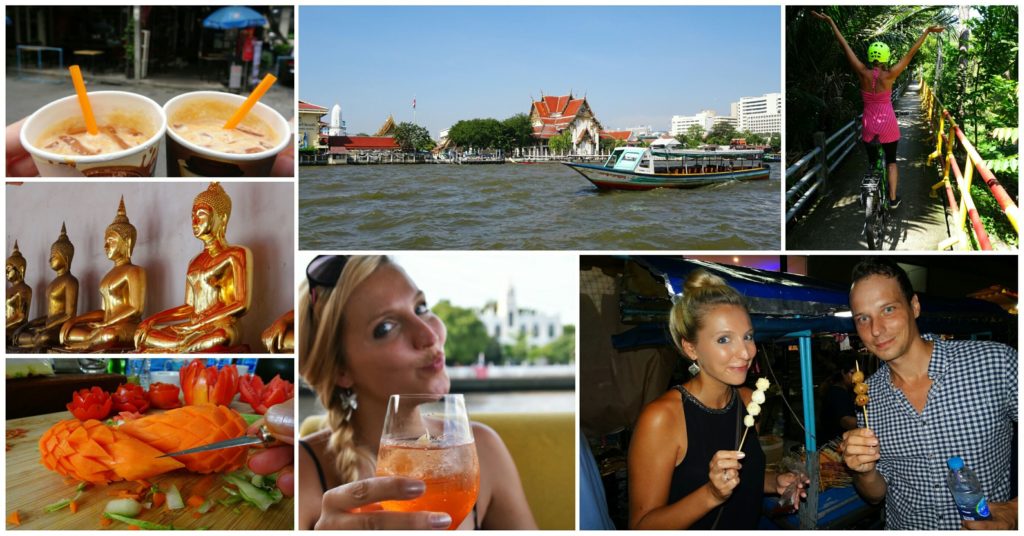 So we've put together a list of our Top 10 favourite things to do in Bangkok for couples – all of them personally tested and approved by us 😊! No matter if you're looking for some fun activities in Bangkok to do as a couple or whether you need some ideas and inspiration for romantic things to do and places to visit in this city – we've got you covered!
CHECK OUT OUR VIDEO FOR SOME VISUAL INSPIRATION 🙂
DISCLAIMER: HungryBackpack.com received some of the activities complementary but as usual all opinions are our own. This article contains affiliate links which are marked with a *.
1. EXPLORE THE "VILLAGE OF LOVE" DURING A FOOD WALKING TOUR
Everyone knows that "the way through a men's heart goes through his stomach"! I want to add, the same applies for women so why not let Bangkok do the cooking for the two of you and enjoy a culinary adventure together on a delicious food tour through the city!
If you can be tempted we suggest you skip breakfast and start the day with a food walking tour through the Bang Rak neighboorhoud which also means: The "Village of Love". This area is known for its diverse mix of cultures living here together peacefully and hence a wide array of different cuisines on offer that will tingle your taste buds.
We've done this tour together with Taste of Thailand who take you in small groups to various (delicious) stops around Bang Rak where you can not only taste the different flavours (from Thai and Chinese tea to papaya salad, pork skewers, Chinese duck, green curry and fried bananas – just to name a few 😊) but also learn more about the local people, their life and culture.
Check out our full review of our "village of Love food tour with Taste of Thailand" where we eat our way through this lovely and diverse neighbourhood.
2. SHOP TILL YOU DROP AT CHATUCHAK WEEKEND MARKET
One of the best ways to get to know the heart and soul of a city is by wandering through its local markets and Bangkok got plenty of markets to explore. Our favourite market of all is the colourful and vibrant Chatuchak weekend market which is one of the largest markets in the world.
In this massive 35-acre maze of little sois, paths and streets filled with over 8000 market stalls you can find absolutely everything money can buy! From clothes, shoes, books, kitchen utensils, pets, souvenirs and furniture to delicious food, antiques and even a good Thai massage – it's a shopaholic's dream come true and a place where you can literally "shop till you drop". But make sure to get here early if you want to beat the crowds!
More information on getting there and how to successfully navigate around Chatuchak Weekend market: http://www.chatuchak.org/ or https://bangkokattractions.com/chatuchak-market-bangkok/
3. LEARN A NEW SKILL TOGETHER – FOOD CARVING
Learning something new is always a lot of fun even more so when doing it together with your partner. So why not combine your trip to Bangkok with a little food carving lesson where you learn how to create little fruit and vegetable masterpieces? A skill that will definitely come in handy when you want to impress your friends and family back home at the next dinner party you'll host! 😊
So being all up for this challenge we decided to visit the highly rated Siam Carving Academy for a casual half day food carving lesson with master carver Laong Wan Hertz and were impressed how much you can actually learn in just a few hours.
Make sure to check out our detailed post about our exclusive foodie day in Bangkok where we'll take you with us on our first carving class at Siam Carving Academy and show you how we transformed boring cucumbers, carrots and tomatoes into little vegetable art pieces! 😊
4. TAKE A DAY FOR EXPLORING BANGKOK'S MOST ROMANTIC SIGHTS AND ATTRACTIONS

Exploring a new city is always exciting and even more fun when doing it together with your loved one! Bangkok is of course no exception to that! There is plenty to see and do in Bangkok as a couple that you might find it very difficult to fit it all in so make sure to allocate enough time for exploring this buzzing capital before you rush off to some exotic Thai beach in the South.
From romantic walks through lush, green parks, to cruising along the Chao Praya River on a local taxi boat, to exploring Bangkok's famous temples, markets and hidden neighborhoods – the choice of things to do really seems endless in this vibrant city!
Check out our detailed blog post – A ROMANTIC DIY SIGHTSEEING DAY IN BANGKOK where we'll take you on an inexpensive and exciting tour around the city showing you the must-see attractions which you simply cannot miss. (Will follow soon – we are currently updating it! 🙂 )
If you need some inspiration or rather want someone else take care of everything and simply enjoy your time in the city than have a look through the many great sightseeing tours of Bangkok offered by sites like Viator* & Co.
5. BE PAMPERED TOGETHER DURING A COUPLES MASSAGE
Getting a relaxing couples massage is an absolute must-do activity for lovebirds when visiting Bangkok. Especially after all these action-packed days of exploring, shopping and sightseeing you'll grave some time to rest, relax and recharge your batteries.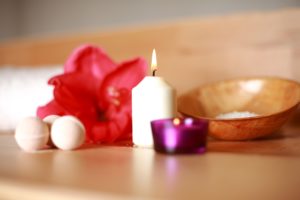 Luckily you'll find plenty of inexpensive little day spa's and hidden massage parlours spread across the city where you can simply walk in, request a couples massage and put your feet up ready to get pampered until you'll feel like a million bucks again at a fraction of the price you'd be paying back home.
Of course if money is no issue there are also tons of luxurious day spas and hotels offering massage services at high-end prices, the choice is yours. One of the best spas in the world which you can find in Bangkok are the popular Oriental Spa and the Away Spa at the W Hotel offering various relaxing couple treatments for you and your loved where you can indulge in some therapeutic romance.
6. TAKE A BIKE RIDE AROUND BANG KRACHAO

You don't think of Bangkok as an outdoor lover's dream? Well you might be surprised and in for a treat if you're an outdoorsy couple like us who love to fill their days with some more action and adventure than just walking through the city streets!
What about exploring a tranquil oasis amidst the city jungle during a fun-filled bike adventure? Sounds good? Then head to BANG KRACHAO!
Bang Krachao – also known as the green lung of Bangkok – is a lush, green peninsula just a few minutes' drive from the hectic city centre and can easily be reached by metro and boat with several bikes for rent right at the Bang Krachao Pier.
However, as the small pathways on this peninsula can be quite a maze and hard to navigate around we recommend to go for a guided bike tour ensuring you only have to take care of one thing – HAVING A BRILLIANT GOOD TIME.
We decided to go with the "GREEN TOUR" offered by Bangkok Bike Adventure* and had a blast. It is a half day tour taking you in small groups from their office in the city centre to the jungle pathways on Bang Krachao (boat ride included! 😊) while also stopping at a beautiful park and a local market along the way.
You can check out our full review about our bike adventure here.
Want to experience the tour with us? Then check out our little video of this fantastic bike adventure to Bang Krachao here:
7. PAK KHLONG TALAD – WANDER THROUGH A FLOWER WONDERLAND
Giving flowers to express human emotions goes all the way back to the middle ages and even today gifting flowers to the woman you love is still one of the most romantic gestures. But who needs a single bouquet of flowers when you can have a whole market hall full of it?
So to all the prince charming out there: Forget the idea to order an over-priced (and usually very ordinary) bouquet at your hotel to surprise your special lady and take her for a walk around the wonderful Pak Khlong Talad Flower Market instead.
Pak Khlong Talad is a massive flower market in the heart of Bangkok open 24-hours and walking through the colourful, sweet-smelling lanes packed with all kinds of flowers you could possibly imagine is definitely a unique and very romantic experience.
The air is filled with all kinds of beautiful scents and aromas and blossoms in every colour of the rainbow. Just follow the lead of your nose to explore this magical flower wonderland and don't forget to put together your own special bouquet of all her favourite flowers you find along the way, she surely will love you for it!
8. HAVE A SUNDOWNER ON THE CHAO PRAYA RIVER
Ahoy Lovebirds! 🙂
One of the best views of Bangkok's most famous attractions and temples is from the Chao Praya River that runs right through the heart of this buzzing city and there are tons of operators with their boats (public and private, big and small, modern and traditional) that happily take you and your partner for a ride on the river.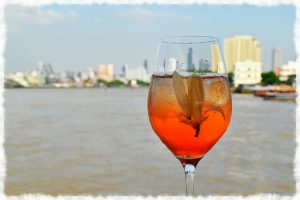 However, one of the most romantic ways to experience these stunning views, treat yourself to a chic sundowner or dinner cruise on the Chao Praya River, it'll sure be an experience you won't forget.
We decided to do a beautiful evening cocktail cruise with Supanniga Cruise http://www.supannigacruise.com/ who just recently launched their special sightseeing service. Our charming 2-deck floating bar picked us up at 4:45pm at River City Pier which you can easily reach on foot or via the many tourist boats that stop here.
During our 1-hour cruise we got treated to a signature cocktail from Vesbar along with some delicious savory snacks while admiring the gorgeous views of Wat Po and the Grand Palace in comfort and style. Not such a bad start to kick-off a romantic night in the city!
Click here if you want to read more about our stylish Evening Cocktail Cruise with Supanniga Cruise along with some pictures of Bangkok's stunning skyline from the Chao Praya River.
If you're looking for something even more special then you can check out Supanniga's 6-course dinner and Champagne cruise* – ideal if you're celebrating an anniversary or birthday with your loved one.
9. TAKE IN THE VIEWS OF BANGKOK FROM HIGH ABOVE

Watching a sunset together with your loved one is definitely one of the most romantic things to do and high up on the holiday must-do list for couples. However, no need to wait until you get to the romantic beaches of Thailand! Luckily, Bangkok has no shortage of amazing rooftop bars where you can go for some refreshing sunset drinks while enjoying the spectacular panoramic views over the city.
However, in our opinion the views are even more spectacular when night-time falls and when the city below comes to life. The mix of lights and sounds that you can admire from the distance create a very special atmosphere.
The 3 most popular rooftop bars of Bangkok are:
However, don't get trapped by visiting only the well-known and super touristic rooftop bars. Prices for drinks are usually very expensive and there are many other bars offering the same if not even better views for much less. Our personal favourite is CLOUD 47 as it offers a more casual setting and atmosphere. Views are fantastic and prices are still reasonable compared to most of the other touristic rooftop bars.
10. SPEND A NIGHT SAMPLING YOUR FAVOURITE THAI DISHES DURING A PRIVATE NIGHT-TIME FOODIES TOUR THROUGH BANGKOK
The delicious Thai cuisine is popular across the globe so what better way to combine some sightseeing with a little Thai street food feast? You can easily explore the various neighbourhoods of the city by sampling your way through Bangkok's best restaurants and street food stalls!
The best time is after sunset when the city's food scene really comes to life and you'll find countless enticing street food stalls and markets offering delicious sweet and savoury snacks on almost every corner. On your tour you'll stumble upon your favourite dishes as well as finding new things you've never even heard of before.
So in order to make the most of our night-time food and sightseeing tour around Bangkok we decided to leave it up to the professionals and went with a private night-time foodies tour of Bangkok with Smiley Thai Travel where an experienced guide accompanies you on this 4-5 hour tour and shows you the crème de la crème of street food, tells you what is what and guides you to the most hidden places with the most delicious offerings.
It was one of our best nights out and we not only discovered new flavours and had the courage to try many new dishes but by listening to our guide we also got a better understanding of the local life in general as well as the Thai culture. Make sure to check out the 2nd part of our detailed post about our exclusive foodie day in Bangkok where we'll take you on this night-time street food feast with us along with watching our little video of this fantastic tour! 😊
There you have it, our top 10 list of the most fun and romantic things to do for couples in Bangkok. Let us know if you have any additional ideas and suggestions in the comments below! 😊
---
As a small reminder the following links are affiliate links as well, which means that if you book a stay through these links, we'll get a small commission. Don't worry–the price is still the same for you.
Our additional Tour suggestions for lovebirds visiting Bangkok
Below you'll find a selection of romantic activities and fun tours that are ideal for couples visiting Bangkok which you can simply book online. From interesting Sightseeing tours where you'll explore Bangkok's highlights* together such as the Grand Palace and the beautiful Wat Pho, to an exciting midnight food tour* around the city as well as a romantic Bangkok by Night Tour* where you'll explore illuminated temples and bustling night markets.
Bangkok by Night: Temples, Markets and Food by Tuk-Tuk
his award-winning night tour by tuk-tuk provides a great introduction to Bangkok for first-time visitors, but it also showcases a side of the city that most repeat visitors haven't seen. You get to bypass heavily trafficked areas and take off-the-beaten-track routes toward illuminated temples such as Wat Pho and a bustling, 24-hour flower market. Enjoy dinner, followed by dessert at a mystery stop. This small-group tour is limited to 12 people.
Bangkok Midnight Food Tour by Tuk Tuk
Savor the after-dark pleasures of Bangkok's legendary street food scene during this evening food and sightseeing excursion by tuk-tuk. Travel aboard one of these iconic three-wheeled taxis, stopping to sample sizzling roadside favorites like charcoal-fried noodles and pad thai. You'll also experience attractions like the flower market and enjoy a chilled beer at the Secrets Bar, plus much more.
SIGHTSEEING: Half-Day City and Temples Tour incl. Grand Palace
Eee Bangkok's Buddhist temples and the Grand Palace on a 3.5-hour tour of the city's historic highlights. Visit the Temple of the Golden Buddha, or Wat Traimit, and Wat Pho, the Temple of the Reclining Buddha, then explore the grounds that once housed the royal Siamese court. This 3.5-hour tour includes all entrance fees and round-trip transport from centrally-located hotels, and both morning and afternoon departures are available.
Our recommended hotel to stay for couples during their Bangkok getaway
During our time in Bangkok we stayed at the lovely Oriental Heritage Residence* which is perfectly located for most of the activities mentioned above.
It is in walking distance to River City where you can board your Evening Cocktail Cruise, to the famous Rooftop Bar Lebua for an exclusive evening drink overlooking the city as well as to Saphan Taksin Station, from where we started our morning guided food tour around the Bang Rak area or also known as "Village of Love".
Additionally, the Central Pier is also just a 10 minutes' walk away from where you can hop on one of the many local or tourists boats taking you to Bangkok's main attractions and temples.
On top of it's ideal location we also enjoyed the style of this unique hotel combining traditional Thai and Chinese décor with modern elements. You'll find plenty of hand-picked artwork around the hotel giving it a very special charm and atmosphere. The rooms were very spacious and again, beautifully designed.
We can highly recommend this hotel for the perfect couples' getaway to Bangkok! Check out availability and prices for this gem here:


* * *
DISCLAIMER: We would like to thank our sponsors Supanniga Cruise, Taste of Thailand, Siam Carving Academy, Bangkok Bike Adventure and Smiley Thai Travel who supported us for this article by offering us their services complimentary. Also a big thank you to the Oriental Heritage Residence for their co-operation and a complimentary 2-nights stay. As usually, all opinions are our own.
---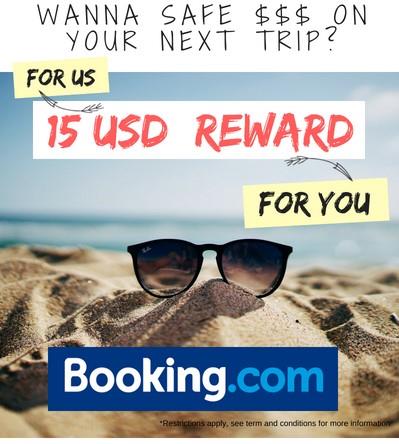 Where to stay in Bangkok
During our time in Bangkok we stayed at the lovely Oriental Heritage Residence* which is perfectly located for most of the activities mentioned in this post.
* = Affiliate links.