LEARNING A NEW SKILL WITH SIAM CARVING ACADEMY AND EXPLORING BANGKOK'S BEST BITES WITH SMILEY THAI TRAVEL
Everyone who knows us knows that we love hunting down the most delicious food a city has to offer as well as looking for fun and exciting travel experiences that we can do together as a couple and that help us to better get to know the place we are visiting as well as the local people, their traditions and culture. We fell in Love with Thailand as we absolutely love the Thai cuisine and all the friendly people who made us feel welcome everywhere we went.
So when getting to Bangkok at the end of our Thailand trip we really wanted to immerse ourselves in this crazy, beautiful, hectic and stunning city by adding some activities to the usual sightseeing mix such as a guided bike tour from Bangkok to Bang Krachao with it's lush green forest and jungle pathways a fantastic food walking tour to explore the wonderful Bang Rak Neighborhood with it's diverse mix of cultures and cuisines as well as a romantic evening cocktail cruise on the Chao Praya River.
However, our most exciting, fun and informative day was when we joined a half-day food carving lesson with a master carver to learn more about this old Thai tradition as well as going on a guided private night-time foodie tour through Bangkok to explore the absolute best street food places and hidden restaurants this city has to offer.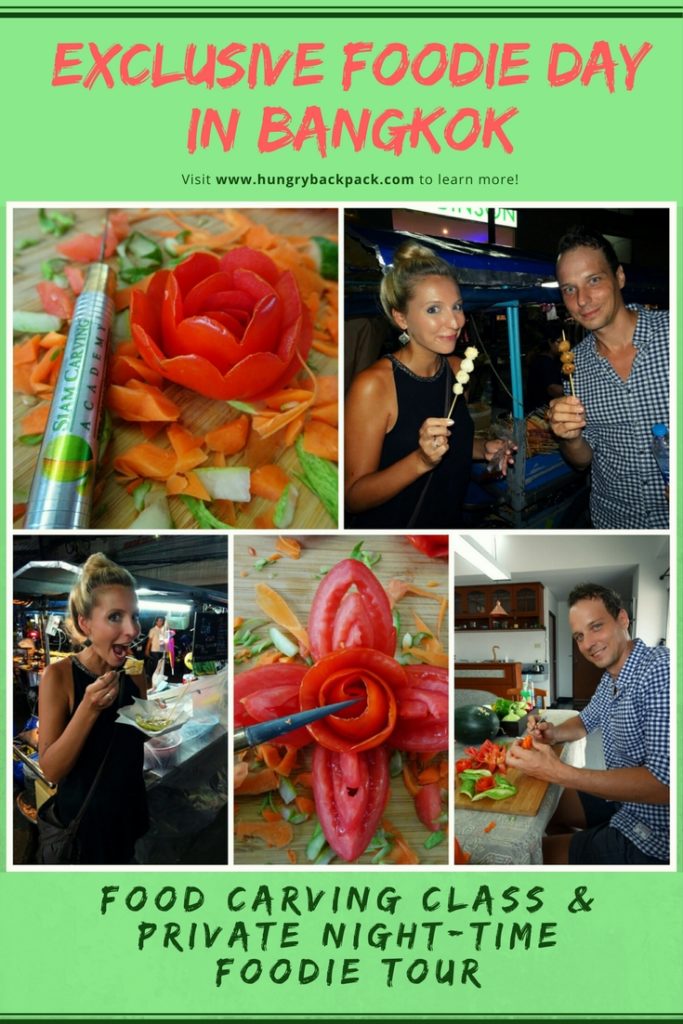 So let's join us as we REALLY use all our senses to listen and learn, taste and enjoy, feel and experience the Thai culture on this exclusive foodie day out in Bangkok.
DISCLAIMER: Our attendance on the Food carving class with Siam Carving Academy and the Foodies night time tour with Smiley Thai Travel was complimentary. All opinions are our own.
LEARNING A NEW SKILL DURING FOOD CARVING LESSON WITH SIAM CARVING ACADEMY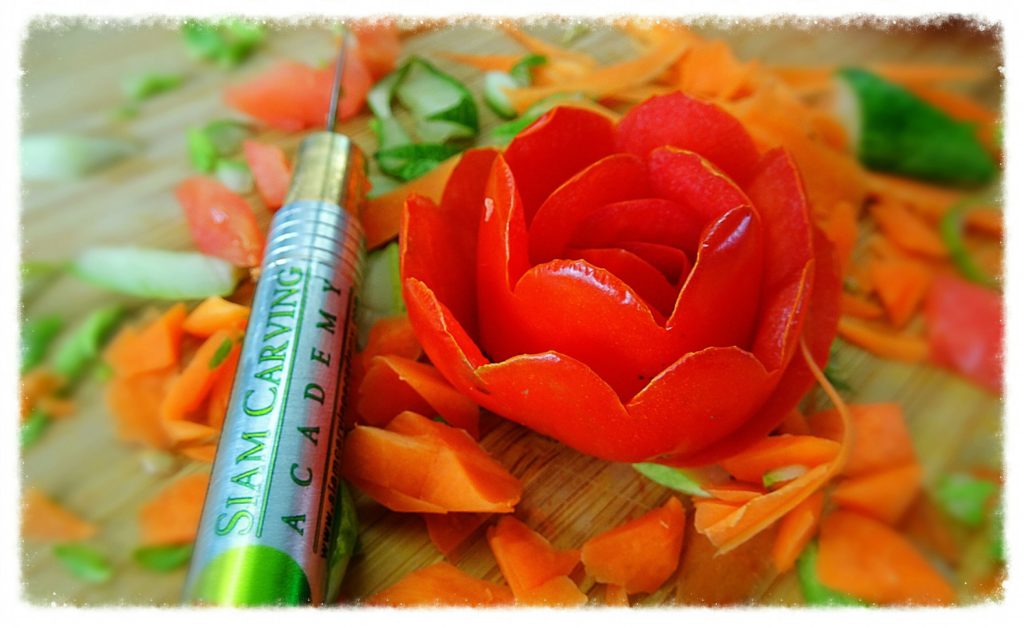 We woke up early this morning as we were super excited for this morning's activity agenda: A casual food carving class with the famous master carver Laong Wan Hertz at the Siam Carving Academy! We've never done anything like that before and only once saw a food carving presentation during our travels through Vietnam which left us really impressed and interested to learn more about this Asian tradition.
The Siam Carving Academy specializes in teaching this skill to world-class chefs as well as tourists and anyone interested in the art of food carving through various different courses and classes and many people come all the way from overseas to really step up their food carving game by signing up for a multi-day course with Wan.
As we're neither chefs nor do we run a large catering business we decided to check out their casual half-day food carving class designed for tourists visiting Bangkok – hoping to learn some tricks and skills to create little vegetable masterpieces to impress the family back home at our next dinner party! 😊
After a good breakfast at our hotel (The Oriental Heritage Residence) we went to our nearest BTS station from where we took the sky train to head to Sutthisan station which is a bit outside the city centre in a more residential area of Bangkok. We followed the description from the Academy and got to a tall apartment building. Siam Carving Academy was located on the top-floor and you had some amazing views over Bangkok from their penthouse studio apartment.
We were warmly greeted by Larry and Laong Wan Hertz, the owners of Siam Carving Academy and after a little introduction we dove right in – first vegetable to transform was a TOMATO 🙂 . We learned how to carve roses in different shapes which wasn't too difficult and looked really beautiful! Definitely an eye-catcher! 🙂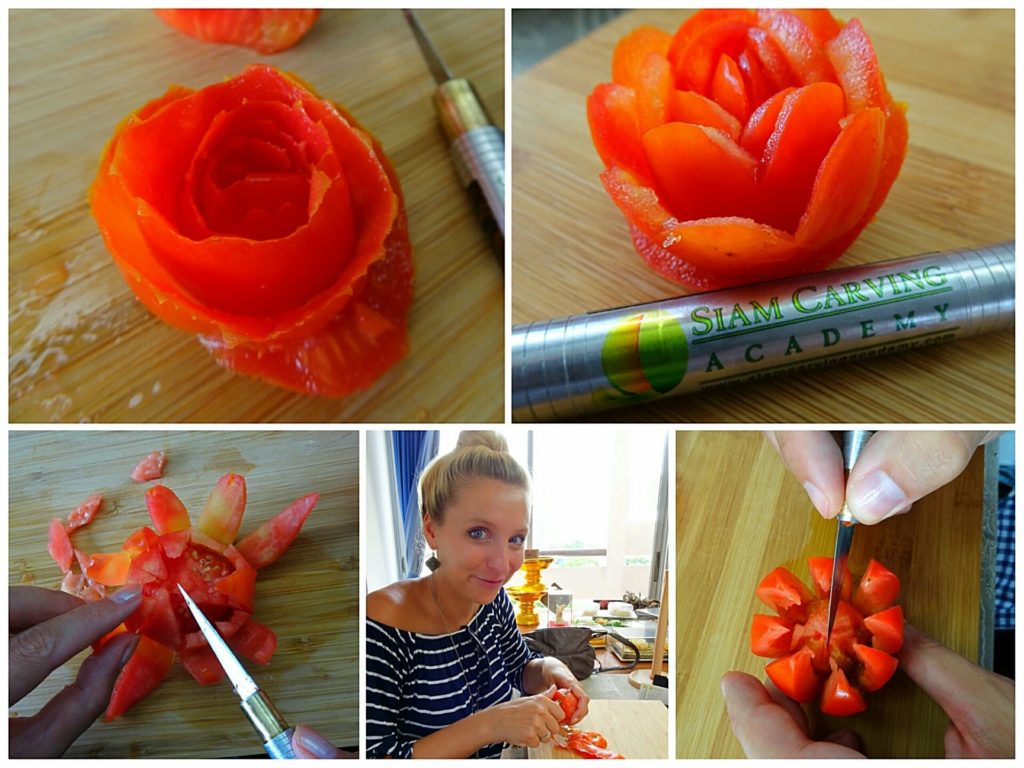 The perfect decoration to add for example on a plate with appetizers to make it look all pretty and fancy! 😊
Next one up was a CUCUMBER which we carved into a shape of a leave followed by CARROTS that went from a boring, orange vegetable to some a little foodie artwork piece. YAY US!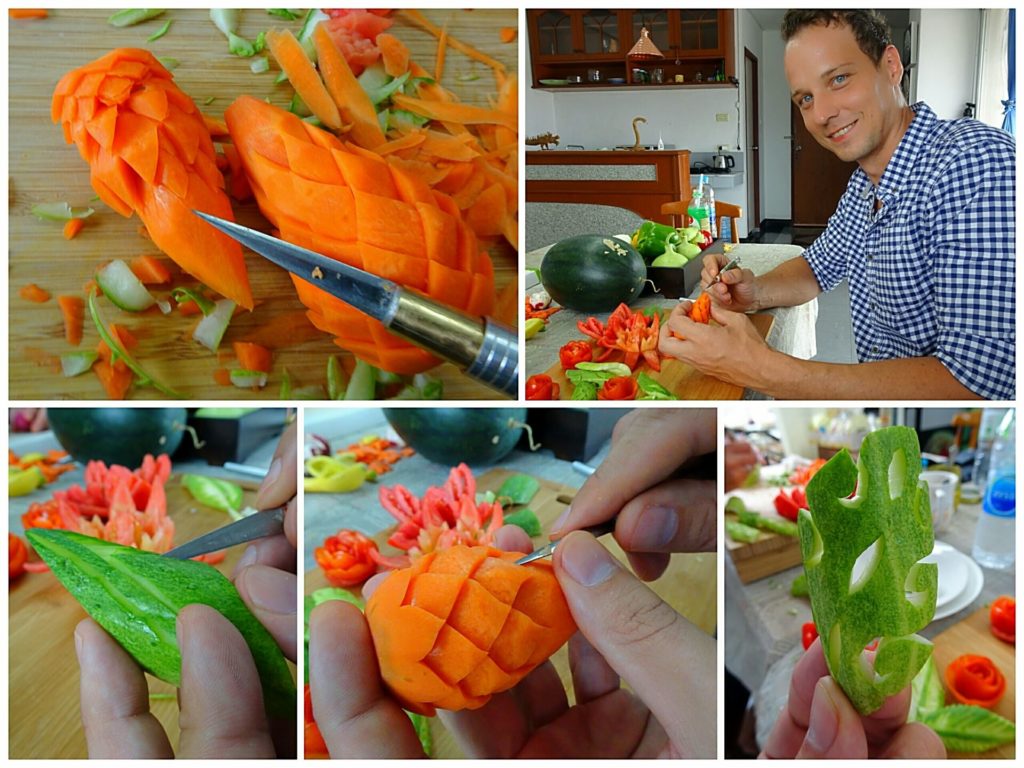 Throughout the class Wan was a brilliant teacher and very patient with her beginner carvers from Germany of which one (ME! 😊) has admittedly no talent whatsoever. I guess I just lack the patience and focus for something like that. However, with her guidance even I managed to create something beautiful which definitely speaks for her and her teaching skills ! 😊
On top of teaching us some amazing food carving skills she is also an amazing chef and cooked us a delicious lunch at the end of our course which we enjoyed a lot. It was definitely a morning well spend and we had a lot of fun learning something new! Why always shop for souvenirs (which you'll probably never even look at again) when you can actually learn a new skill to take home instead??
After our course we went back to our hotel in the Ban Rak area to have a little rest. If you feel up for another activity before the evening kicks off we can highly recommend an Evening Cocktail Cruise on the Chao Praya River with Supanniga Cruise which we had done the day before. It's a very relaxing, 1-hour sunset cruise combined with a delicious cocktail and some savory snacks.
We think that cruise is the perfect way to set the mood for the second part of our exclusive foodie day in Bangkok: An exclusive private foodie tour through Bangkok's most delicious neighborhoods!
Private Foodies Night Time Tour of Bangkok with Smiley Thai Travel
We are crazy about the Thai cuisine and are always up for trying something new so what better way to explore Thailand's (foodie) capital Bangkok than during a foodie tour with your own private guide!!!!
So this is exactly what we did! 😊 SMILEY THAI TRAVEL offers an amazing Foodies night-time tour of Bangkok where your own private guide will show you the best food stalls and venues Bangkok has to offer. This was right down our alley!!!
We got picked up by our lovely guide Anna directly at our hotel, the Oriental Heritage Residence which is only a stone's throw away from our first neighbourhood we wanted to explore that night:

The famous BANG RAK area (also known as village of Love)! Here the aromatic smell of tons of different street food stalls fills the evening air and it was hard to resist the temptation not to fill our hungry bellies right at the first chance we got.
Everything looked and smelled sooo delicious! However, Anna knew exactly where to take us and included sweet (e.g. a fantastic, crispy Banana Roti!) and savoury (e.g.freshly grilled chicken and port skewers) stops as we walked around this buzzling street.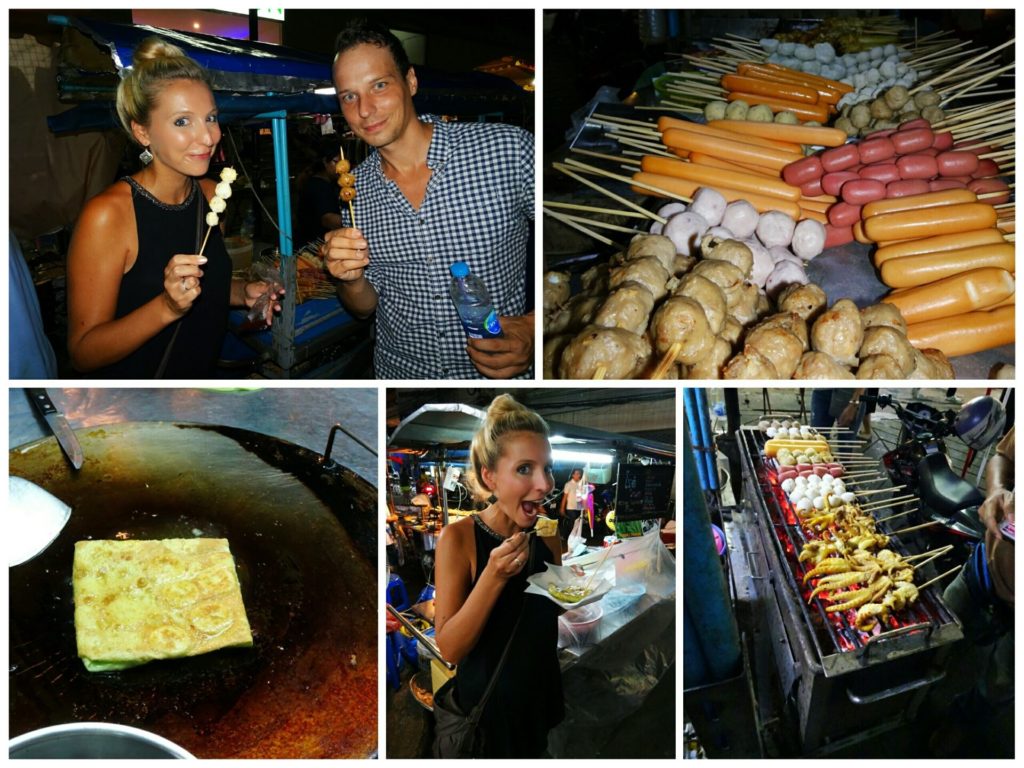 While we happily stuffed ourselves with our first food samples of the night, it was fascinating listening to Anna as she is such a lovely character knowing so many interesting facts about Bangkok and the local people and their life. We absolutely loved that girl!
While we were still sipping on our freshly cut coconut hanging on every word Anna was telling us we arrived at our next location, a hidden local restaurant known for it's fantastic Thai cuisine. Anna picked a whole bunch of items from the menu so that we could sample some of the traditional Thai dishes (and our favourites) such Papaya Salad and minced Pork – of course accompanied with the famous "Elephant drink" 😊
We had tried most of these dishes before but WOW, here they really knew the deal – everything was so fresh and delicious!
From here we hopped into a Tuk Tuk which took us to Chinatown – our second neighbourhood we wanted to taste our way around this night. The ride itself was already an adventure and we enjoyed the little breeze as we were cutting through the busy streets of Bangkok at night in our little gas-powered tricycle.
In Chinatown Anna again knew exactly where to find the real gems of this area and as I'm not such a seafood lover she always made sure we found a place that offered dishes, that I would be happy with as well. So we started our tour around Chinatown visiting tons of different restaurants and street food stalls and sampling whatever Anna suggested (by now we knew that she'll pick only the really good stuff at each place 😊) until we almost couldn't move anymore – SO MUCH FOOD!!!
So by now we realized we've made a BIG mistake and want to give our fellow foodie friend a little word of warning DON'T EAT ANYTHING PRIOR TO THIS TOUR! Don't even think about lunch or an afternoon snack! We know it's hard in a place like Bangkok with so many delicious options trying to tempt you but you'll regret it when you stand in front of the most deliciously smelling street food stall in Bangkok and have to pass cause you're full! Total NO-GO! And you know the thrill- they usually save the best for last! 😊
And of course, Anna had also a special treat saved for us for the end of the tour – a stop at the BEST PAD THAI restaurant in all of Bangkok (if not Thailand). We love Pad Thai and have eaten it almost daily so of course we were super curious whether this place could live up to the hype – in short: IT DID!
Anna got us some more drinks and snacks to sample while she was waiting in this massive line to secure us a table in this popular Pad Thai place. After around 20-30 minutes, exactly when we were finished with our sweet milky drinks we got our table and selected the traditional Pad Thai dish with some freshly squeezed orange juice.
Although we had to share as I was sadly too full to manage a whole portion by myself I'm happy I could still fit in a few bites as it was absolutely heavenly. So in general it's a good tactic to try and share as much as possible throughout the evening so that you can taste everything. However, even by doing this you'll eventually reach your limit where you cannot eat a single thing anymore, not even a crumble! But don't you worry!
As we were passing a little food stall selling various deliciously looking desserts at the end of the tour and waved our hands that we had waaaaaaaay enough food to last us for days, Anna got them anyway and had them pack up for us so that we could enjoy them tomorrow, which was so sweet.
After 4 hours of exploring all these amazing foods and drinks across Bangkok and learning so many new things about the Thai people and culture our super special foodie tour unfortunately came to a close. What a fantastic, delicious and memorable way to experience Bangkok !
This day was definitely one of our favourite days of our trip through Thailand and we can absolutely recommend Siam Carving Academy casual fruit carving class and Smiley Thai Travels night-time foodie Tour through Bangkok to anyone who wants to learn a bit more about the yummylicious Thai cuisine and the fascinating Thai culture and who is looking for some unique and exclusive activities while tasting their way through this amazing city!
---
This could also interest you:
---