TRAVEL GUIDE TO KO KUT (KOH KOOD) – THAILANDS BEST KEPT SECRET
Overview On Where To Stay, Where To Eat And The Best Things To Do On Ko Kut
In this post we'll be sharing everything there is to know about visiting Ko Kut (also known as Koh Kood) island – one of Thailand's most secluded tropical islands and probably the most beautiful Thai island we've ever visited.
If you're looking for something specific about Ko Kut, here is a quick guideline of what this post will cover:
If you rather want to see some motion pictures to get inspired about what to do on Koh Kood than have a look at our short and sweet 4 minute video showing you some of our favourite highlights of the island
Ko Kut – Love at first sight
Although we've travelled all over Thailand – including the West of Thailand with a trip to Koh Chang last year, we've never even heard about the island of Ko Kut (also known as Koh Kood) – the easternmost island before Cambodia! That was until we saw a story on Instagram recently about Ko Kut posted by another travel couple sharing pictures and videos of those crystal clear waters, those endless (and empty) white sandy beaches and the many, many unused beach swing (this girl here needs her beach swings! 😉 ) We knew right there and then that we gotta check it out and boy, Ko Kut did not disappoint.
As soon as we got a glimpse from the ferry of Ko Kuts coastline and it's lush, green hills we were in love. You hardly see any hotels or other signs of tourists here – just endless jungle almost making you believe you're the first visitor to ever step foot on this little tropical paradise.
Once you approach the Pier in Ao Salad you'll be greeted by this gleaming, golden Buddha statue watching over the small and peaceful fishing village below and all the incoming boats.
Such a difference from most of the other popular Thai islands and beach provinces in the South where instead of a peaceful golden Buddha statue and just a few wooden houses on stilts loud screaming taxi drivers await you eagerly and a coastline packed with hotels, bars and souvenir shops.
You see, we've fallen for this little tropical island right the moment we caught the first glimpse of it and in the coming few days we spend on Koh Kood this feeling only got stronger.
In this post we'll be sharing with you everything there is to know about visiting Ko Kut / Koh Kood – from how to get there, where to stay, how to spend your time here and of course – where to eat! 😊 So let's get going, shall we??
Getting to Ko Kut from Bangkok
There are several options of how you can get to Ko Kut from Bangkok. If you're not on a tight budget the quickest and probably most comfortable way is to book a flight from Bangkok to Trat and then simply hop on a speedboat that takes you to Ko Kut.
However, if you ARE on a budget like us it's best to use ground transportation. We found the easiest and best value for money being the Boonsiri Bus and Highspeed Ferry Combo Package. Pick up point in Bangkok is Khao San Road and the whole trip takes around 9 hours from Bangkok to Koh Kut (with sailing time on the Boonsiri Highspeed Ferry being between 70-90 Minutes)
You can buy the Boonsiri Bus + Highspeed Ferry package at a local travel agency or simply through an online agent such as 12GoAsia* if you prefer making all your travel arrangements in advance.
If you aren't too flexible with your Thailand itinerary, we highly recommend sorting out your accommodation on Ko Kut and booking your tickets to Ko Kut at least a week in advance – especially if you're traveling in high season as both – accommodation on Ko Kut and seats on the bus are limited. As booking our Ko Kut tickets online through 12GoAsia was pretty much the same price as booking it with a travel agent in Bangkok (around 900 THB per Person ) we definitely preferred this option as we could simply do it from our laptops while still being in Los Angeles, pay easily with our credit card online and knowing our seats on that specific date we wanted to travel to Ko Kut were reserved for us.
We have also written a detailed blog post about How to get from Bangkok to Ko Kut on a budget where can you find more information and pictures about our trip to the island.
Things to note about Ko Kut before you go
Prices for accommodation
As the demand for (budget) accommodation has increased on Ko Kut in the past years you'll find that you have to pay generally a bit more for your bed than on other Thai islands which are more developed and therefore offer more (budget) accommodation.
It's hard to find a bungalow with A/C for less than 40 USD/night however it's easy to find a luxury beach front resort if money is no issue as this island is very popular among honeymooners due to it's tranquillity and absolutely gorgeous beaches.
So make sure to check well in advance – e.g. on booking.com – for good accommodation deals. Generally the later you book, the higher the prices.
We got lucky and snatched up the last room at the Suan Maprao Resort*. Although we had to pay around 45 USD/night for our little jungle bungalow – which was well above our normal daily budget in Thailand – it was still good value for money as the huts came equipped with super comfy beds, en suite bathrooms with warm water, strong Wi-Fi connection and included a delicious breakfast every morning. No wonder this place was always booked out!
When it comes to shopping it's a similar story.
Shopping on Ko Kut Island
There simply aren't any supermarket chains like 7Eleven, Spar or FamilyMart on the island so make sure to stock up on snacks in advance.
However, you'll find numerous local shops where you can get pretty much all your daily necessities should you have forgotten your toothpaste, shampoo or sunscreen as well as various snacks and drinks – maybe not exactly the cookie brand you were looking for but they do have some sort of cookies for sure. Prices tend to be a little bit higher but still reasonable, considering they have to get it all from the mainland.
If you want to buy fruits and vegetables there are plenty of little fruit stalls, usually right next to the main roads offering fresh fruit and veggies at really good prices. Sometimes they can also prepare you smoothies and shakes (cost around 50-60 THB) if that's what you are looking for.
Getting around on Ko Kut – Renting a scooter
Except for the free shuttle taxis that take you from the ferry pier to your accommodation there aren't many local taxis driving around on Ko Kut (although we expect this to change soon) so it's best (and also way more fun) to rent a motorbike if you want to explore the island a bit. Prices are around 250 – 350 THB per day and you'll mostly get a 125cc Honda or one of those Yamaha automatics. Most hotels, resorts and guesthouses will happily organize a scooter for you.
The majority of the roads on Ko Kut are fine meaning they are paved and in relatively good condition. There is a concrete road covering the whole western coastline form North to South. However, be aware that some beaches, resorts and tourist attractions such as the Huang Nam Keaw Waterfall can only be accessed via small dirt roads and should be avoided if you're not an experienced driver or the weather conditions aren't the greatest.
If you however don't feel comfortable riding your own scooter than you can simply book a tour or get driver for the day who will show you the highlights of the island. Just check with your hotel/guesthouse about the options available.
Money, Money, Money – How to get your hands on some BAHT on Ko Kut
On Ko Kut CASH IS KING! There are no banks and only 2 ATMs on the whole island.
Only higher-end resorts may take credit cards however most guesthouses and smaller hotels as well as most restaurants and shops still only accept cash so make sure to bring enough money to cover for all your costs and if you want to avoid the high ATM fees.
As everywhere in Thailand, the ATMs on Ko Kut charge a 220THB fee on top of whatever your bank charges which you can only avoid by bringing enough cash or at least a few bills of your local currency (USD, EUR) and using the local money exchange. You'll find several places on Ko Kut where you can exchange your money but don't expect a great rate. (Better be prepared and exchange on the mainland before travelling to Ko Kut).
If you find yourself running out of money you can check with the bigger resorts, some will give cash advances for non-guests but they will probably charge around 5% commission.
Best things to do on Ko Kut
Although sightseeing is pretty limited on Koh Kood, there is still plenty to do – or NOT to do – as simply "doing nothing" is probably one of the most popular activities on this island! 🙂 And rightfully so!
However, should you get easily tired by just sitting on the beach than we'll have some other suggestions of how you can spend your time on this island!
Below we'll list six of our favourite things to do on Ko Kut:
1) Relax and recharge
Let's start with the "not-doing-anything-part" 🙂 With it's crystal clear and turquoise waters and an abundance of beach swings, uncrowded tropical beaches and jungle hammocks Ko Kut is the perfect place if you've got some serious relaxing to do! 😊
Simply kick-back and relax – you're on island time!
2) Rent a scooter and explore the island
If you've done your fair share of relaxing and day-dreaming your days away there is a whole island to explore!
As we've mentioned, there aren't many taxis or other local transport on Ko Kut so the best way to explore the island is with a little scooter. You can rent one for about 250-350THB per day from your accommodation.
Oh, how we loved our little two wheels adventures on Ko Kut. There aren't that many 'tourist attractions' and 'sights to see' so we would simply scooter aimlessly around the island through lush jungle forests and along the stunning coastline and see what we could find.
The roads are in relatively good condition and there isn't much traffic on the island with cars pretty much non-existent but do watch out for the occasional monkey jumping from the tree or rooster crossing the street.
3) Go beach hopping
Along the West coast you'll find some absolutely breath-taking beaches, most of which are essentially empty and probably among the most beautiful beaches you've ever seen in your life such as Ao Ta Pao Beach, Klong Chao Beach, Klong Hin Beach and Ao Phrao Beach.
In between you'll always find little bays and stretches of beach that look right out of a postcard, but don't even have a name! The fewer resorts around, the higher the chances that you'll have these postcard-perfect beaches all to yourself.
With such world-class beaches and crystal-clear water also come a ton of fun beach activities – okay, maybe not a ton – there aren't any banana boats zick-zacking around the coastlines nor any jet-skis crusin' around (LUCKILY!!!!).
But, should you ever get bored simply lying in the sand working on your tan, you have the option of renting a Kayak (most resorts by the beach offer them for free to their guests), go snorkeling or on a little diving adventure to spot some of the amazing underwater life in the crystal clear and turquoise waters.
However, what you'll probably notice (and what we found a bit annoying) is that sometimes it's really hard to get TO the beach. Although beaches in Thailand cannot be private property, most resorts have blocked the access roads and put up big signs "no trespassing" making it a bit tricky to get TO the non-private beach area.
The most developed beach area is probably the Khlong Chao Beach with a few up-scale resorts right on the beach such as the "High Seasons" or the "Tinkerbell Resort" but also various budget-friendly accommodation, cafes and restaurants nearby.
Therefore we'll be putting together little overview of the top 5 Beaches on Ko Kut that can easily be accessed from the Khlong Chao area on foot or after a short scooter ride.
4) Explore the jungle and ancient sacred trees
Ko Kut is home to some pretty old trees most of which are well hidden in the thick jungle forest – we're talking hundreds and hundreds of years and they are GIGANTIC! The most two well-known are the "Big Chai Tree" and the "500 year old Makka Tree" (sometimes also known as just "The Big Trees" or "Sai Yai").
So with the absence of any other major tourist attractions we decided to visit these two ancient beauties which you can find right in the middle of the island in close proximity to each other. They were also conveniently located for our trip to the Huang Nam Kaew Waterfall.
Big Chai Tree
If you're heading to the waterfall, the first of the two ancient trees you will pass is the Big Chai Tree. Shortly after you passed a little water reservoir on your left, the road goes up and you'll see a small dirt road on your left leading into the jungle. This road will lead you to the Big Chai Tree after about 50 meters. You won't see it straight away as the jungle is doing a great job hiding it 😊.
500 Years old makka tree
To get to the "500 Years old Makka tree" simply follow the road further to the waterfall. Right after when the paved road stops and turns into a dirt road leading downhill you'll see a wooden sign on your left pointing out the "Huang Nam Kaew Waterfall – 1.5 km".
This is where you can park your scooter and where a small little path leads into the jungle on your left to the second of the impressive tree duo.
5) Go chasing waterfalls
Dotted around the centre of the island are a handful of waterfalls which are all free to visit and great for a cooling dip.
There are three major waterfalls on Ko Kut: Klong Yai Keaw Waterfall (close to Ao Salad Pier), Huang Nam Kaew Waterfall (close to the Big Chai and 500 year old Makka Tree) and Klong Chao Waterfall (The most well-known and located the very heart of Ko Kut) and all three waterfalls are free to visit.
Depending on the season you are visiting these waterfalls can be fairly impressive. However, even if you're visiting Ko Kut during dry season as we did (December – March) visiting the waterfalls is still worth a trip! If you're lucky there is still enough water for a little refreshing swim in the natural pools or at least a quick shower.
Khlong Chao Waterfall
Klong Chao Waterfall is the most well-known the largest of all three waterfalls on Ko Kut and easy accessible with big signs pointing you in the right direction and a well-maintained paved road leading all the way to the parking lot.
You get to the waterfall after a short and easy 10-minute walk from the parking lot through the jungle and there is a huge pool that you can swim in – most likely even in dry season. If you're lucky you can even enjoy a little free fish-Spa session!
However, note that this waterfall is usually a very popular stop for organized (mainly Russian) tour groups who will come here around noon/ early afternoon so if you want to avoid these come here early in the morning or shortly before sunset.
Klong Yai Ki Waterfall
This waterfall is located in the North-West of Ko Kut on the way to Soneva Kiri. This waterfall is a bit smaller and more quiet but comes also with a pool where you can cool off and perfect if you want to escape the crowds from Klong Chao waterfall.
To get to the waterfall simply follow the signs to Bann Makok. Once you get to the parking area it's another short walk to the waterfall.
Huang Nam Kaew Waterfall (also formerly known as "Secret Waterfall")
Getting to Huang Nam Kaew Waterfall is a bit trickier as it's not as well marked as the Klong Chao Waterfall and the road for the last 1,5 km (after the 500 Year old Makka Tree) is a bit difficult to navigate as it's just a dirt road leading up and down through the jungle.
Once you get to the parking area with toilet facilities and a little restaurant it's another steep 100 meter walk down to the river.
Once you made it to the river you gotta get UP again! 🙂 You'll need to climb over, up and around some huge boulders if you actually want to see the waterfall but it's well worth it (though swimming here is NOT possible).
6) Watching the sunset
As most of Ko Kuts beaches are facing West it's the perfect island for all sunset lovers like us. I don't know what it is but I'll never get tired of watching sunsets while sitting on the beach (preferably with a colourful and well decorated drink in my hand and Schatzi by my side 😉). I mean, just look at this:
Our top 5 favourite places to go and watch one of Ko Kuts spectacular sunsets are:
1) Khlong Chao Beach (Tinkerbell Beach)
Park your scooter at the Tinkerbell Resort and keep walking past all the fancy resorts until you get to the very end of this little peninsula. Bring a blanket and some snacks/drinks and enjoy the spectacular views.
2) The View Point Café
This super laid-back place is build directly above the water and offers some amazing views – pretty much the same views as on Klong Chao Beach but with the option for having a cold drink and without sitting in the sand getting all…well…sandy 😊
Although the view is slightly obstructed by a few trees the atmosphere and relaxed vibe of this café/bar makes well up for it. They also offer delicious cake and Vietnamese coffee in case you're not a Chang Person and rather have something sweet with your sunset 😊
3) Nam Leuk Pier & Ao Ta Pao Beach (Paradise Beach)
Probably the most popular beach and pier to watch the sunset.
Most people will head straight out to end of the long pier past the TRAT sign but little word of warning, half of the pier is actually closed due to severe damage (and part of the construction has already collapsed).
We therefore preferred to find a quiet place on the long stretch of beach by the Paradise Beach Resort. There is also a Bar if you fancy a drink as well as a few local vendors who will be parking by the Pier selling snacks and drinks.
Where to eat on Ko Kut
Most resorts and even most guesthouses have a restaurant onsite where you can get breakfast / lunch and dinner. Outsiders are always welcome however prices in these places are usually well above what you are used to from other places in Thailand.
A Pad Thai or Egg Fried Rice will cost around 80 THB minimum, Coffee is usually 80THB and up.
In the past years however more and more restaurants and cute local cafés have been popping up – maybe still not a foodies paradise but at least offering you some choice. 🙂
We heard good things about the 'Chiang Mai Restaurant' (for Lunch and Dinner) the 'Viewpoint Café' (for sunset drinks and dinner) and the 'Mermaid Fashion & Café' (for breakfast and lunch snacks)
As we always passed a sign on our way to our accommodation for 'The Pink Kangaroo Café' and got curious (after all, it's a PINK Kangaroo!!) we decided to check it out on afternoon! It's run by this super friendly couple -Dick & Wan, who previously owned the Viewpoint Café (hence you will note both places have the same menu! Apparently the new owners didn't know how to change it so they just went with Dicks and Wans meue 😊).
They offer delicious cakes, Vietnamese coffee, cocktails and snacks in their cute little garden. The perfect place if you are touring around the island and need a little break to relax and marvel at their giant pink kangaroo statue.
If you're looking for a cheap place to eat lunch/ dinner than there are various little roadside restaurants where you can get a good meal for only 50THB. We absolutely loved 'Waree Restaurant' where almost every Thai dish was 50THB. They don't offer many vegetarian options on their menu but you can simply tell them you don't want any meat and they are happy to prepare almost every dish accordingly. I had the best Sweet & Sour Chicken – without Chicken – at this place 😊.
Another favourite for locals and tourists is 'Chaiyo Restaurant' nearby Klong Chao Beach. Super delicious food in a very rustic and local setting however always packed so be patient – it might take a while for your food to come!
If you're looking for a proper Seafood feast than 'Noochy Seafood' is your best bet located in the small fishing village of Bao Ao Yi.
Should you however fancy some Western Food there isn't much choice except for a nice Italian (run by real Italians) called "Pizza & Pasta" which is right across from Waree Restaurant as well as a small restaurant simply called "Bistro Koh Kood" which is run by a French expat and therefore offering a rather French and European cuisine where you can have burgers and steaks as well as real French cheese.
As a small reminder the following links are affiliate links as well, which means that if you book a stay through these links, we'll get a small commission. Don't worry–the price is still the same for you.
Where to stay on Ko Kut (Koh Kood) island?
Ko Kut originally wasn't a backpacker's destination at all with it's mainly upmarket resorts catering exclusively to package tour visitors. However, with more boat services connection Ko Kut to the mainland and good package deals from Bangkok more budget accommodation has sprung up in recent years attracting nowadays a more mixed crowd of couples, families, backpackers and honeymooners to this gorgeous (but still very quiet and peaceful) island getaway.
Today, you'll find most of the accommodation spread out along the Western coastline of Ko Kut with the area around Klong Chao Beach having become the "busiest" tourist hub on the island where you'll find everything from super high-end luxury beachfront resorts selling rooms for several thousand baht per night (e.g. Tinkerbell Resort*, High Season Resort* or Wendy The Pool Resort*) to a good choice cosy and budget-friendly guesthouses and jungle bungalows (examples Suan Maprao Resort*, Happy Days Guest House* or Suan Nai Bungalow Ko Kut*) selling rooms for 1500 THB/night and below just a few minutes' walk from the beach.
It's definitely our preferred area to stay on Ko Kut with a wold-class beach in walking distance as well as some good restaurants and cafes around.
We didn't want to spend more than 50USD per night and therefore opted to stay at the lovely Suan Maprao Resort*, located about 15min walk from the beautiful Klong Chao Beach, which had excellent reviews on Booking.com.
This family-run hotel offers cozy jungle bungalows that come equipped with a fridge and A/C (definitely needed!!) as well as really comfy beds. They also offer motorbike rental (at only 250THB/day!) as well as a good selection of Thai food in their on-site restaurant. A delicious daily breakfast was already included in the room rate.
Where else to stay on Ko Kut (Koh Kood) island
Siam Beach Resort
MIDRANGE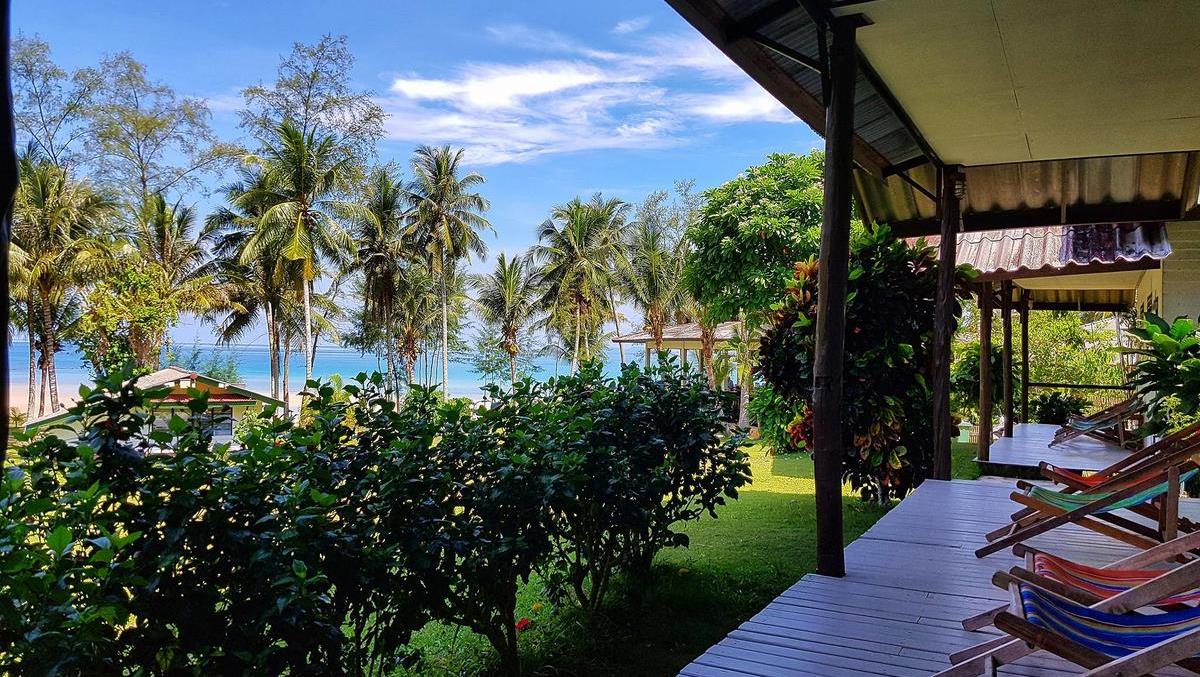 Located directly at the beach which is kind of private as well since the property is very secluded from the public.
Rooms starting from 70 USD/night.
QUICK GUIDE –
KO KUT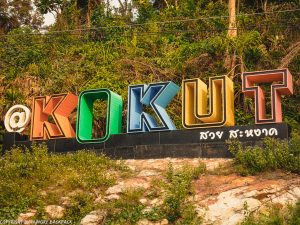 How much does it cost to travel from Bangkok to Ko Kut?
We paid 900 THB (= $28) per person for the Boonsiri Bus + Ferry package booking our tickets online with 12GoAsia. In total the journey took us 9 hours to get from Bangkok to Ko Kut.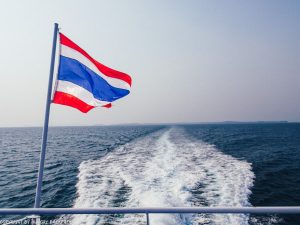 How to geht money on Ko Kut?
On Ko Kut CASH IS KING! Credit cards are not much of any use as most places accept cash only. There are only 2 ATMS on Ko Kut (both charging a 220 THB fee). There are also serval Money Exchange places however don't expect a good rate.
Best things to do on Ko Kut?
1) Relax and recharge
2) Rent a scooter and explore the island
3) Go Beach Hopping
4) Chase some waterfalls
5) See an ancient tree
6) Watch a sunset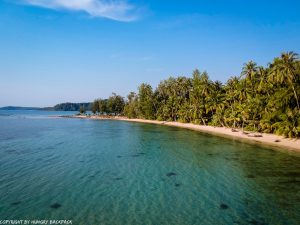 Klong Hin Beach

Ao Ta Pao Beach

Klong Chao Beach
Important telephone numbers
Ko Kut Hospital: 08 9603 8685 1669
Ko Kut Police Station: 08 7958 1991, 191
Tourist Police Hotline: 1155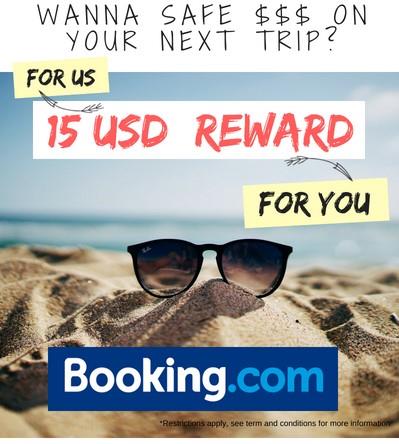 Where to stay on Ko Kut (Koh Kood) island
We stayed at the Suan Maprao Ko Kut Resort*.
This family run hotel offers cozy jungle bungalows that come equipped with a fridge and A/C as well as really comfy beds.
* = Affiliate links.