THE ULTIMATE GUIDE TO VISITING UXMAL
Explore Uxmal with us – one of our favorite Mayan Ruins in the Yucatan
If you ever are lucky enough to find yourself on the Yucatan peninsula and are interested in history and architecture (even just a tiny little bit), then you just gotta see some of the impressive Mayan ruins here, including UXMAL.
Uxmal is one of the best preserved and most important archaeological sites on the Yucatan peninsula and definitely one of our favourite Mayan ruin we got to see during our little Mexican road trip adventure.
After starting our trip in Tulum and heading down the coast to explore the charming little village of Bacalar with it's stunningly beautiful azure blue lagoon. We left the Caribbean coast and ventured further inland to tick off another item on our Mexico bucket list – UXMAL!
In our opinion, the impressive Uxmal ruins should be a MUST-DO on your Yucatan travel itinerary and we'll tell you exactly why in our little Guide to Uxmal below – including some (ah, who are we kidding…A LOT 🙂) of pictures about this place which surely will make you want to see and explore these ancient ruins for yourself too!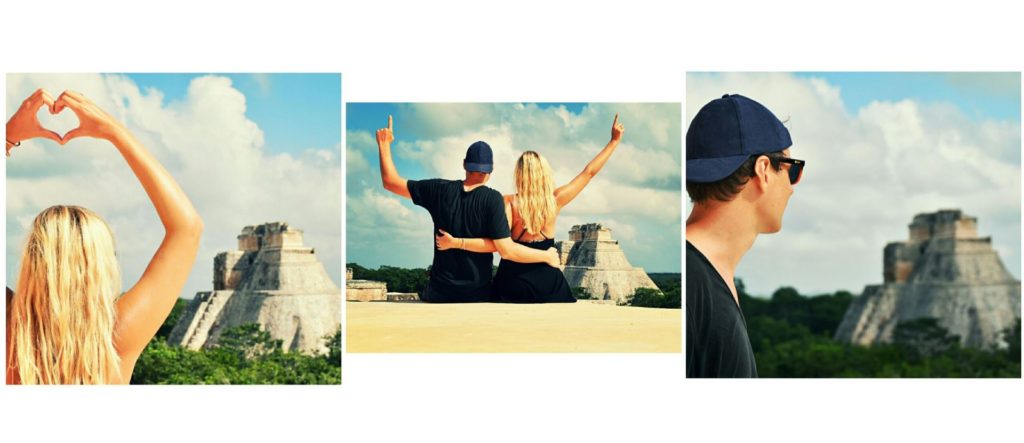 5 Quick Facts about Uxmal
Uxmal is pronounced "oosh-MAHL" and is said to be the most attractive of the archaeological sites.
Uxmal was one of the largest cities in the Yucatan region.
Uxmal flourished between the 7th and 10th centuries AD, and during this time it was home to over 15,000 people. (Some researchers even believe that up to 25,000 people used to live here)
Uxmal was designated a UNESCO World Heritage Site in 1966.
Nobody knows why settlement was actually made here due to the absence of rivers or cenotes (such as in Chichen Itza). Uxmal therefore used cisterns to collect rain water for its inhabitants. The rain god Chac plays therefore a very popular role in carvings throughout the complex.
GETTING TO THE UXMAL RUINS BY CAR
Uxmal is located on the western side of the Yucatan peninsula, about an hour's drive from Merida (80km) taking the 261 heading south or a long 5 hours' (and pretty much unspectacular) drive along the 184 from Bacalar which is where we were coming from.
After having spent the morning enjoying the beautiful Bacalar lagoon (Check out our Guide on Bacalar!) and slightly losing a bit track of time, which btw easily happens in Bacalar, we started our drive to Uxmal at around 2pm.

Luckily we had booked a cheap hotel a bit further out, which had the advantage of only having to drive around 4 hours that day but the BIG, BIG disadvantage of still having to drive another hour the next morning to get to the ruins! ARGH – we were planning on being the first ones at the gate when they open! Not the best news for sleepy heads like us! 😊
Technically you could also do this drive as a day trip from Cancun or Playa del Carmen which should also take you roughly 4 hours to get to Uxmal using the toll roads however, we would STRONGLY advice against it. You'll not only be tired after the long drive and rarely in the mood for climbing around ruins for another few hours, but you'll also be there right with all the other busloads of tourists which is SO NOT FUN! Or better said, it's a nightmare!!
So better book yourself at least one night in Merida or Valladolid and combine it with a visit of these colonial towns and a refreshing dip in one of the many cenotes on your way. You won't regret it!
To see our recommended places to stay for visiting Uxmal scroll to the end of this post!
PLANNING YOUR DAY VISITING UXMAL – Opening times, Entrance fees and facilities
The ruins are open daily from 8am to 5pm. As it is much quieter in the mornings you should be aiming on getting there at 8:00 am SHARP! This will give you enough time to have the ruins for at least 1-2 hours pretty much to yourself, take all your pictures and enjoy the views BEFORE the big crowds arrive.
There is a big parking lot directly at the entrance, cost: $80 MXN* per car (*updated 2019). Alternatively, you could simply park at the Chocolate-Story for free which is just next to the highway before making the turn for Uxmal. That's what we did and nobody told us off so we guess it's okay! 😊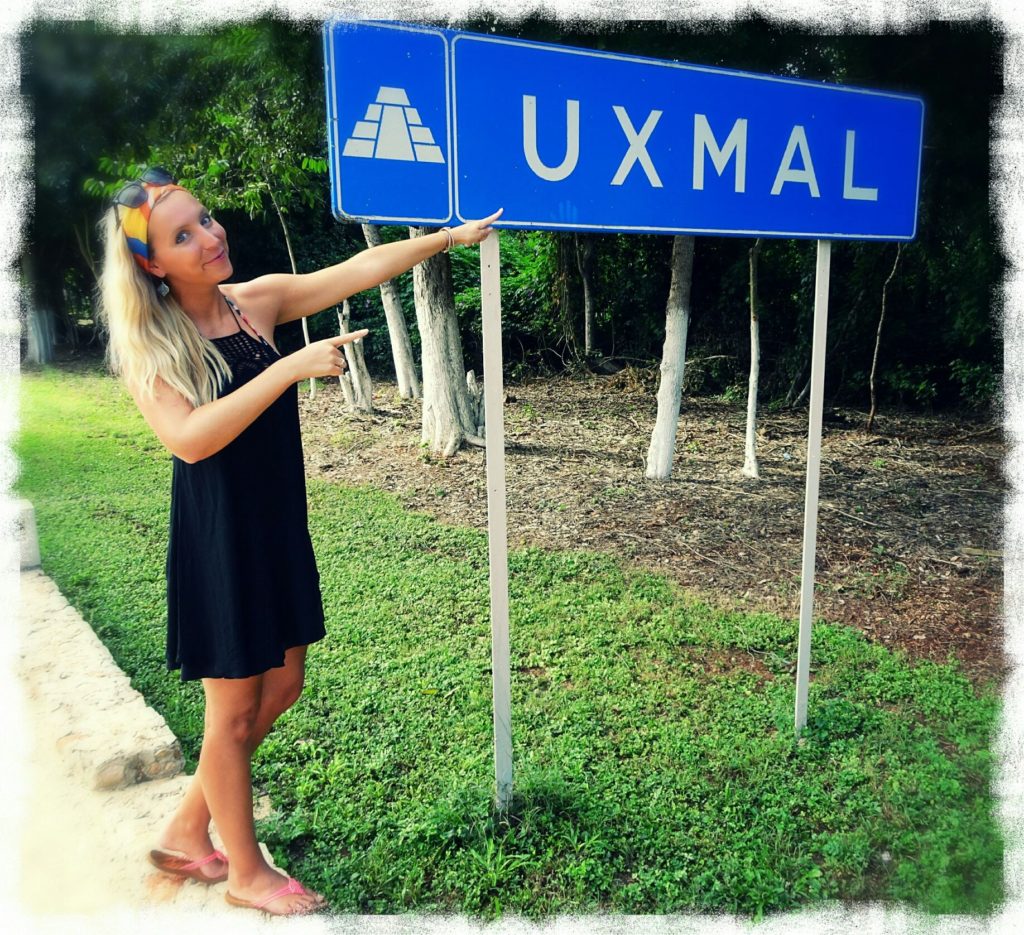 The entrance fee for the Uxmal ruins is 223 MXN which is split in 70 MXN for the entrance to Uxmal and 153 MXN for a government fee and YES, that means you have to buy TWO(!) tickets and stand in line twice – another reason why you want to get here before the others!
UPDATE 2019: Since the beginning of the year prices for entering Uxmal have nearly doubled!! The current fee to enter Uxmal for foreigners is $413 MXN (approx. 22 USD), of which 338 pesos goes to Yucatan and 75 pesos to the federal government.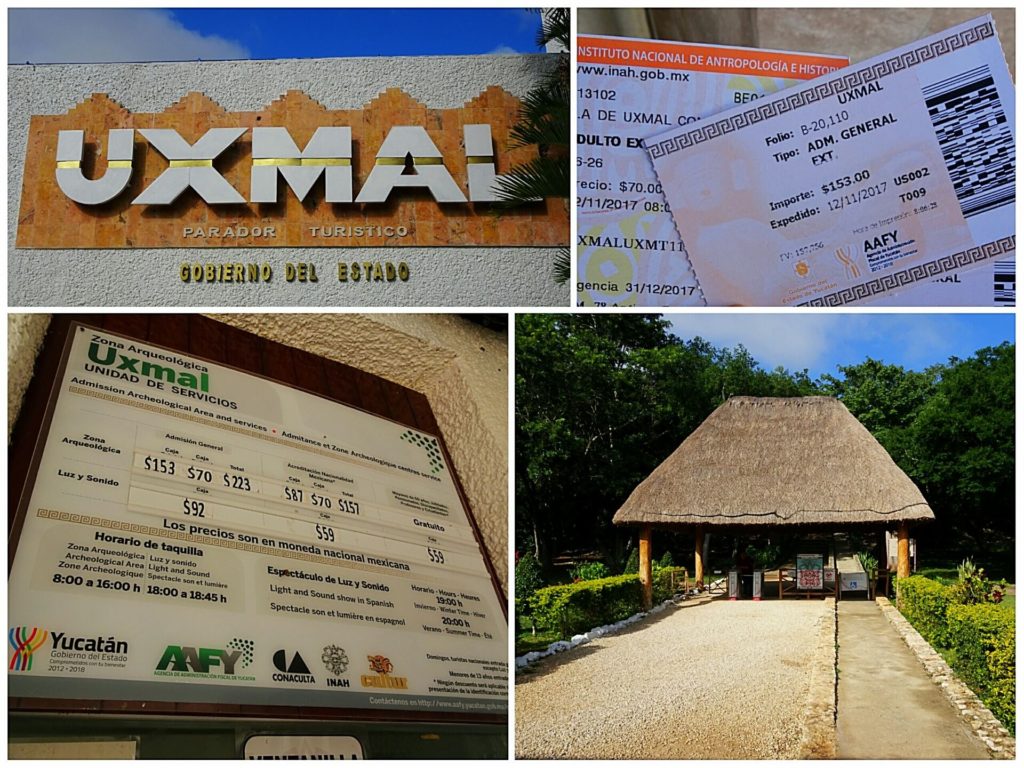 Not knowing that, we of course messed it up and tried to get away with buying just the entrance ticket, guess what – didn't work! 😊 In our defence though, how should you know that you need another ticket when holding an "ENTRANCE TICKET TO UXMAL" already in your hand? It was waaaay to early for our brains to be functioning properly and processing the Uxmal logic and also, we didn't have breakfast nor coffee yet!
So after getting back in line and buying the "other" ticket, we could finally start our Uxmal visit! Which had to start with: C-O-F-F-E-E!
Facilities at Uxmal – don't forget your snacks
Once you enter the Uxmal complex there is just you, the jungle and some massive piles of stones! So better make sure you have eaten before or get some snacks at the entrance area.
After buying your tickets (both 😊) you get to this little square where you find a convenience store, a few souvenir shops, toilets (btw some of the cleanest toilets I've ever seen here in Mexico) and a little cafe and snack bar right at the center of it. We got us a coffee (at 40 MXN this didn't come cheap but it was much needed!) and a Horchata (sweet almond drink to give us a little energy drink) and off we were to finally see some stones! 😊
Make sure to have some water with you as walking and climbing around the ruins can get very exhausting – especially in the Mexican heat!
Our walking tour of Uxmal – what to see, do and climb
The Uxmal complex is massive and you'll find many well-preserved buildings such as 2 pyramids, a palace, the typical Mayan ball game field and much more. You can really sense the history here as you walk around the complex and enjoy the magnificent architecture and layout of this ancient city.
To set the mood before you continue to read on CHECK OUT our little YouTube Video about the fun we had climbing around the Uxmal ruins 🙂
Below you'll find a map and the list of the main attractions in Uxmal which we visited during our walking tour.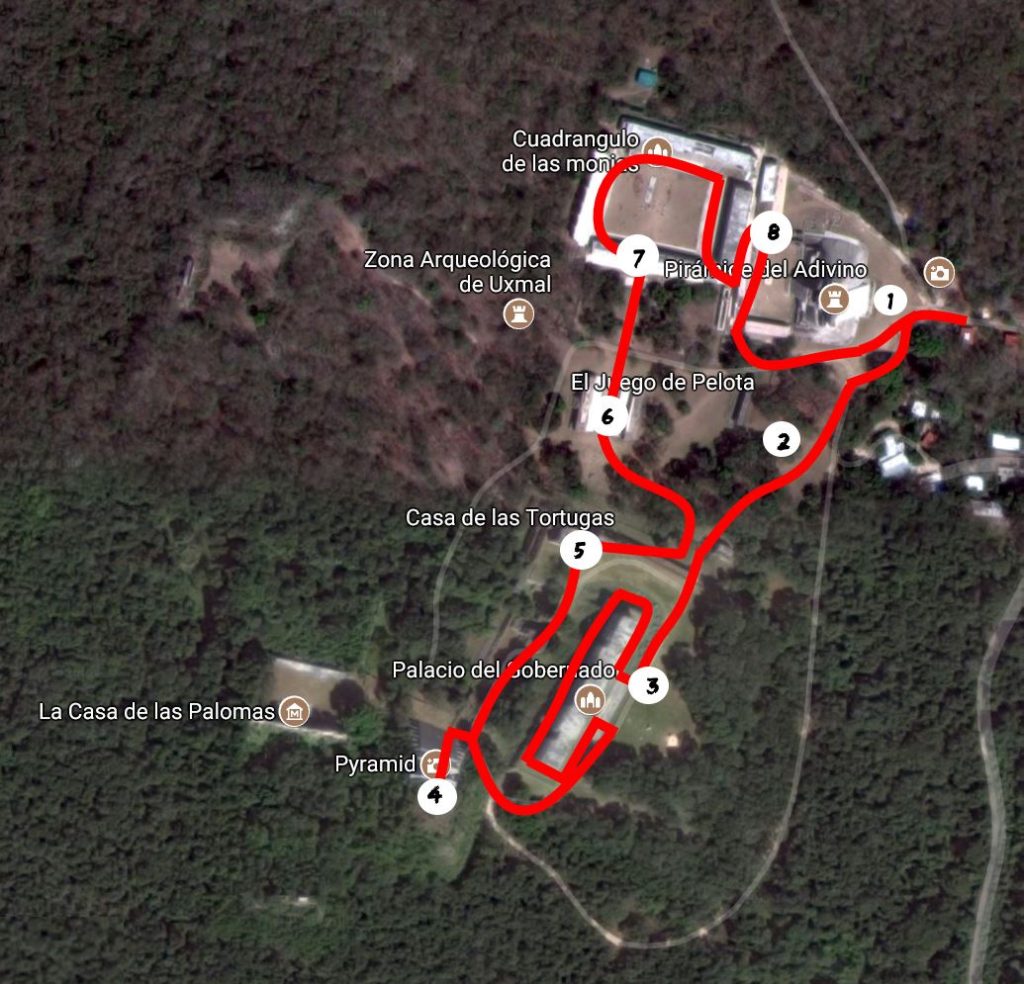 1. Pyramid of the Magician – Pirámide del Adivino
2. Walk through little forest to Governors Palace
3. Governors Palace Palacio del Gobernador
4. The Great Pyramid
5. House of the Turtles – Casa de las Tortugas
6. Ball Game court – El Juego de Pelota
7. Nunnery Quadrangle – Cuadrangulo de las monjas
8. Nunnery Annex
1. Pyramid of the Magician
Once you enter the complex and climb up a flight of stairs you'll already see to the highlight of Uxmal, the awe-inspiring structure of the 35m high Pyramid of the Magician.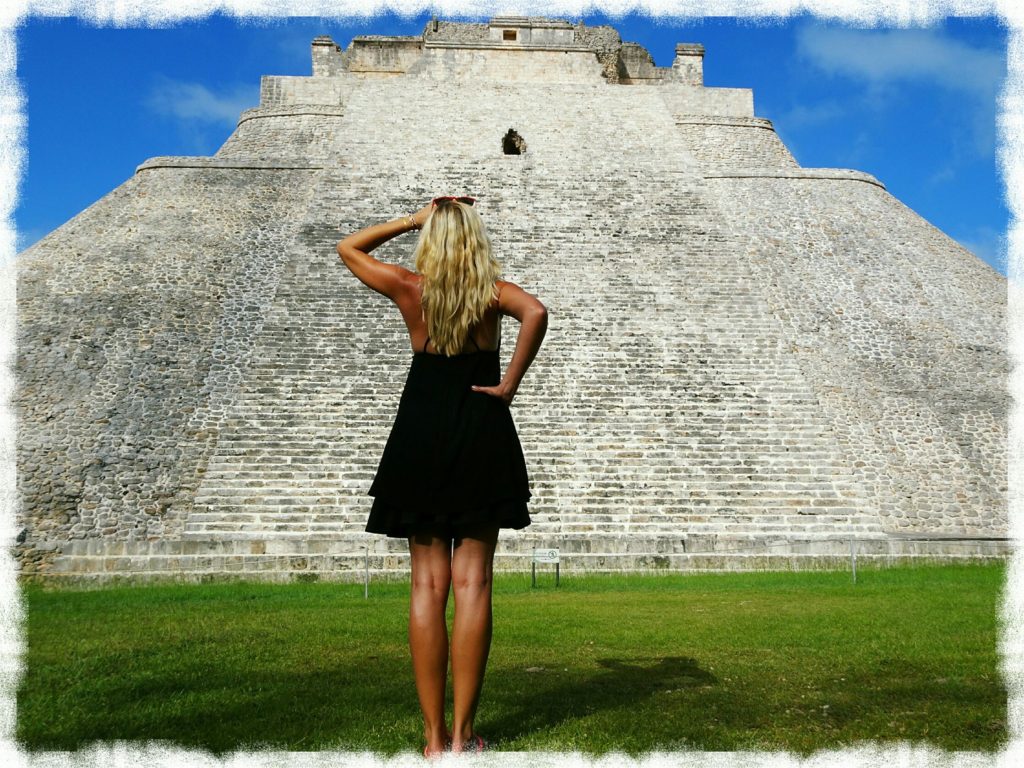 Unfortunately, it's not possible to climb the 90 steps of this impressive pyramid – we bet the views from the top of the tallest structure in Uxmal are spectacular!
However, as you are still allowed to climb basically everything else at Uxmal we weren't too bumped about it and after taking a few pyramid selfies we were on to the next – we still had a lot to cover before the big tour groups would arrive.
2. & 3. Governors palace
We kept to the left walking along a little path leading to same trees and further to the Governors Palace. What we liked the most about it was the long mosaic facade decorated with masks in the shapes of snakes, gods, birds, and flowers. It must have taken them ages and quite some skills to carve this.
The terrace is also a great spot to get a good glimpse of the whole complex of the ruins and it's perfect to take some pictures with the Pyramid of the Magician in the background.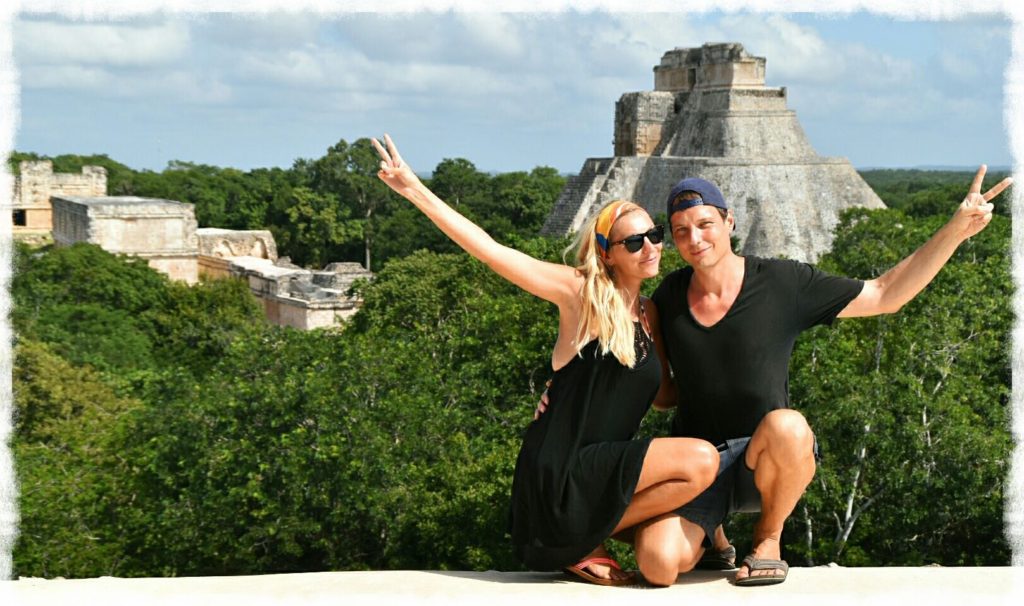 Try to get here as early as possible as it seemed to be the number one selfie spot. 😊 Luckily being there before 9am we didn't have any competition besides a few sunbathing iguanas fighting for the best photo spot and could go a little wild up there.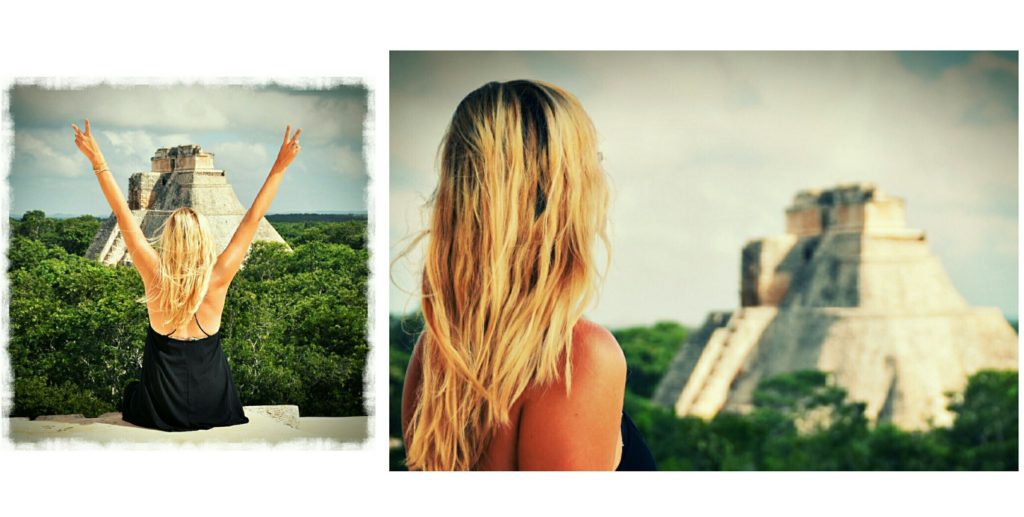 4. The Great Pyramid
After our photo session and walking around the whole Governors Palace we went to the Great Pyramid which you still ARE ALLOWED to climb!
It is not as high as the Pyramid of the Magician at the entrance, but will still give you the shivers if you are as scared of heights as I am.
Martin on the other hand had a blast running up the narrow stairs and could truly enjoy the views while I tried to calm myself and barely risked a look down. 😊
5. House of the turtles
After that we went to the House of the Turtles next to the Governors Palace which got it's name as it used to have hundreds of turtles covering the outside.
Turtles played a big role in Mayan mythology as the symbolised rain. Unfortunately, there is not much left to see of the turtle decoration nowadays but you do get a great view of the Ball court and the Nunnery Quadrangle below.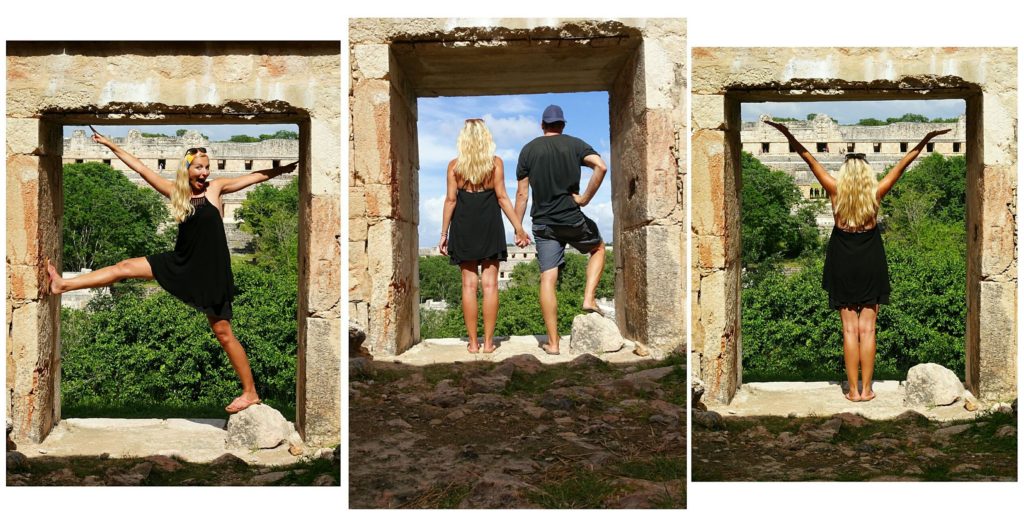 While standing there we noticed the big groups arriving at the complex with some of them already making their way to the Governors Palace. So we tried to hurry up and went back down to the Ball court.
6. Ball game court
This popular ball game payed here was a mix between basketball and football. The aim of this game was to get a heavy rubber ball (which could weigh up to 4kg!) through the hoop that is situated on each side of the court without the use of hands or feet (only the use of forearms, thighs and waist were allowed).
However, if you happened to be player of this game than you better were good at it because quite often the defeated captain or even the whole losing team were sacrificed after the game.
7. Nunnery Quadrangle
You get to this big, massive square which is surrounded by several buildings which reminded the Spanish of little nuns' cells hence the Name: Nunnery Quadrangle. Researchers however are still unsure still what these building was used for.

Once again you find beautiful decorations and carvings of gods and animals which you could admire for hours but as we were suddenly joined by two big groups with their annoying microphones we made a quick escape.
If you pass through the nunnery annex you get some beautiful views of the Pyramid of the Magician from the back and if you are a little photographer and you'll love the angles and shots you'll get by photographing through the many arches.
Unfortunately, it started raining heavily when we got there so we kept the camera safely stored in our backpacks and went back to our car, probably saving us from snapping another 100 pics 😉
We absolutely enjoyed our visit to Uxmal and cannot recommend it enough to everyone interested to get to know a bit more about the Yucatan Peninsula and the Mayan Heritage. We are sure you'll love taking your inner Indiana Jones on a play date and wonder around these fascinating ruins.
The following links are affiliate links as well, which means that if you book a stay through these links, we'll get a small commission. Don't worry–the price is still the same for you.
Where to stay when visiting Uxmal?
As mentioned earlier in order to avoid the big crowds you should definitely consider staying either in Uxmal directly, or close by in the beautiful town of Merida which is only an hour's drive away from the Uxmal Ruins.
There are a few hotels just steps away from the Uxmal archaeological site which are therefore an excellent base for all those who want to explore the famous ruins as well as some of the other Mayan sites close-by such as Kabah, Labna or Mayapan.
Do you prefer a more hassle-free option?
If you rather want to be joined by a guide including roundtrip transfer from Merida or experience the facinating lightshow then have a look at the tour suggestions from Merida below which you can easily book online through sites like Viator*
Uxmal & Kabah Day Trip Plus Mayan Planetarium from Merida
iscover the mystical allure of two of the Yucatan's most significant archeological sites on a full-day tour to Kabah and Uxmal from Merida. Learn about ancient architectural styles and Mayan mysteries as you explore the UNESCO World Heritage-listed sites with a knowledgeable guide before enjoying a traditional Mexican lunch at the luxurious Hacienda Uxmal Hotel. (entrance tickets excluded)
Uxmal Light and Sound Show from Merida