GUIDE TO VISITING MERIDA IN 72 HRS
Merida for first-timers – Our top 8 things to see and do in Merida in 72 hours
Many Tourists and Mexicans agree on Mérida being one of the most beautiful cities in the Yucatán Peninsula – and rightfully so! Join us as we explore this charming colonial town and show you our favorite things to do in Merida.
After our visit of the stunning Uxmal complex and climbing around these fascinating ancient ruins for hours we continued our little road trip around the Yucatan Peninsula and headed up North to the charming town of Merida – the beautiful capital of the Yucatán state.
Although Merida is the largest city of the Yucatan Peninsula with more than a million of inhabitants, you'll hardly notice it! The city is vibrant, colourful and buzzing however, it somehow has a very peaceful atmosphere and relaxed vibe which maybe is due to it's charming historic looks.
Once you get to the centre you'll be greeted by the pastel coloured colonial homes, and the cobblestone streets filled with smiling people and horse carriages – it's absolutely delightful!😊
We decided to spend 2 nights and 3 full days in Merida to get a good taste of this city and absolutely fell in love with it. From the colonial architecture, the many (free) museums, the delicious Yucatan food, the incredible history, the vibrant markets and places as well as the many wonderful neighbourhoods of Merida – there is plenty to do in Merida that will keep you entertained!
Therefore we decided to put together a guide on: Merida for first-timers – top 8 things to see and do in Merida in 72 hours – but be warned, you'll definitely want to come back to stay longer in this city to experience aaaaaall of the fantastic things Merida has to offer.
Merida for first-timers – top 8 things to see and do in Merida in 72 hours
1. Take a leisurely stroll along Paseo de Montejo, Merida
As we were staying a bit further out we had to sort out our parking situation first however luckily, we found plenty of (free) parking spaces along Paseo de Montejo – a wide and long avenue that reminded us a bit of the Champs-Éllysées in Paris.
This grand boulevard is lined with impressive historic mansions to both sides and cute little cafes, bars and restaurants. (As well as a Walmart a bit further away – just in case you need to get your grocery shopping done as well 😊 ).
The most beautiful stretch of Paseo de Montejo is from the beginning of the Paseo near Plaza Santa Ana all the way to the Monument a la Patria which you can easily walk thanks to the wide sidewalks and the many trees that will protect you from the burning sun.
Location: Calle de Montejo begins East of Santa Ana Park and runs almost 8km to the North.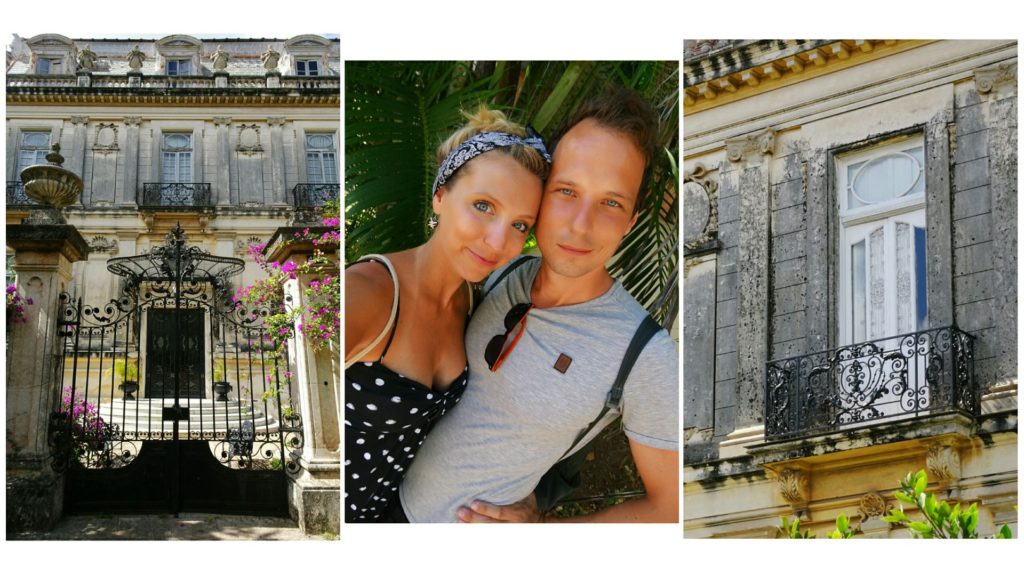 2. Explore the colourful narrow avenues of El Centro
After our morning stroll along Paseo de Montejo we headed towards the beautiful historical "centro" of Merida ( it's about a 20 minutes' walk all the way to Plaza Grande) and absolutely loved all those pastel-coloured colonial houses and the many cute cafes, shops, museums and other historical buildings you'll find when walking through those narrow streets. We've felt transported back to the city's colonial times! (Some areas actually reminded us a lot of Havana, Cuba).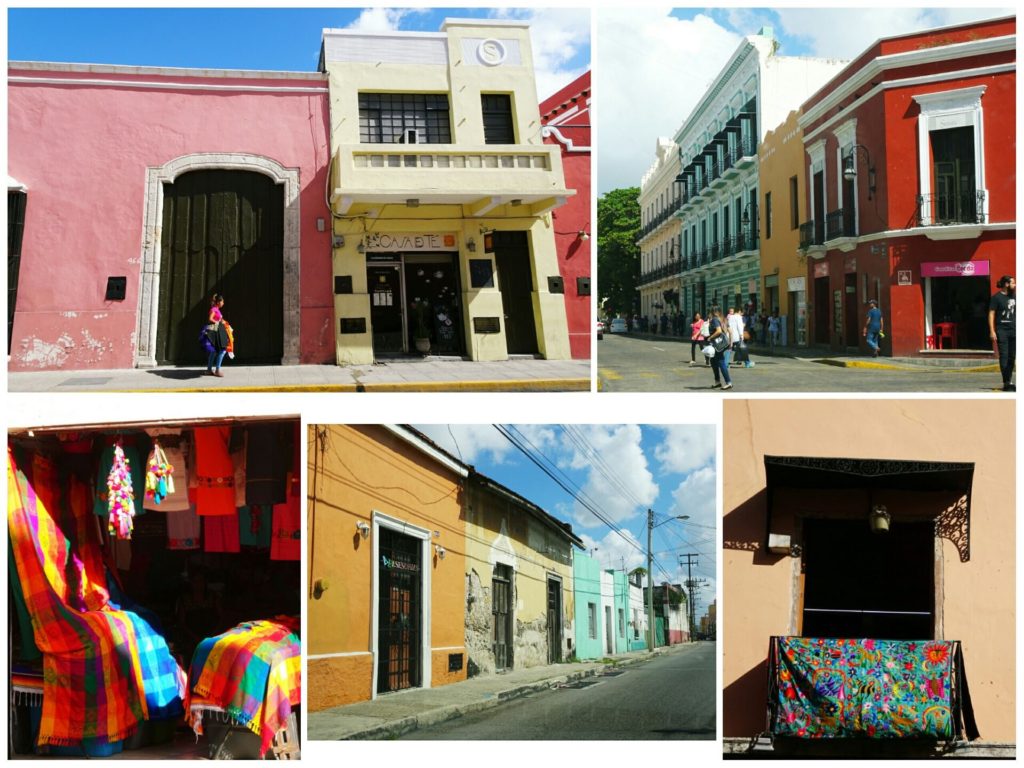 As it was getting really hot outside we decided to take a quick coffee break (iced coffee, of course 😊 ) and found the perfect place: The cute and quirky café: CASA DE TÉ.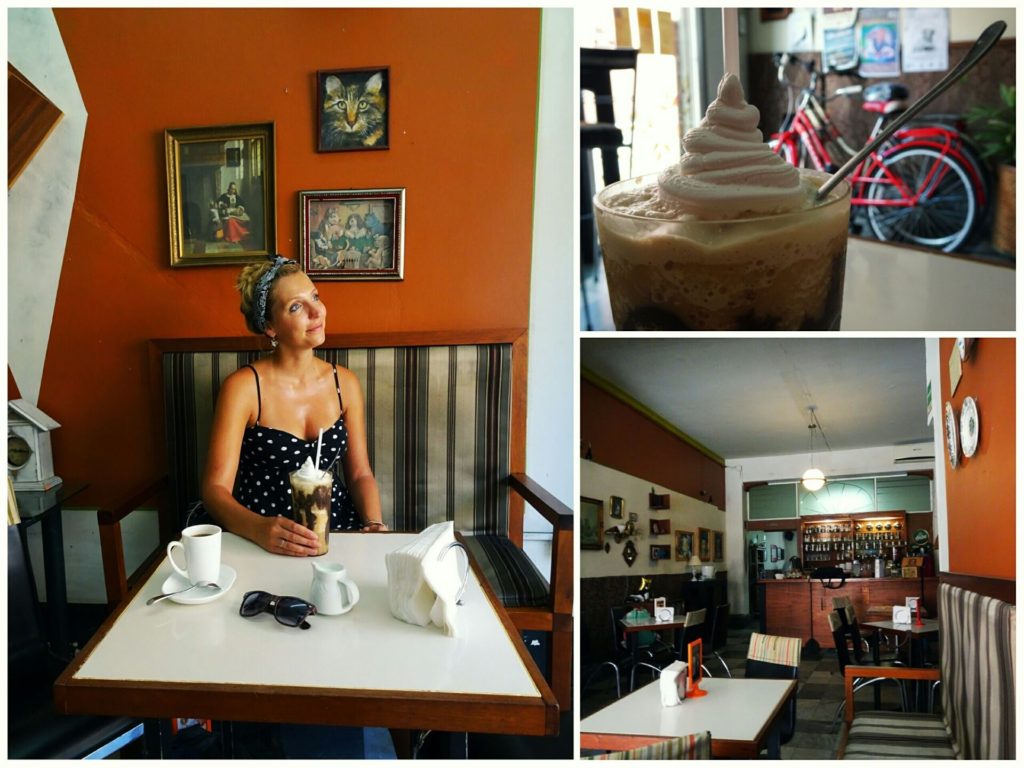 3. Take in the smells and colours at the chaotic yet charming Lucas de Galvez Market, Merida
Another thing you'll definitely want to put on your must-do list when in Merida is a visit of the vibrant Lucas de Galvez market which you'll find on street 56 between streets 65 & 67.
It's the biggest market in town and it's just as you'd imagined a big local Mexican market to be – loud, crowded, colourful, chaotic, smelly, hectic, noisy – yet charming and magical!
Here they are selling everything from fruits and vegetables, to clothes, crafts, meat and basically everything else in between you can possibly think of 😊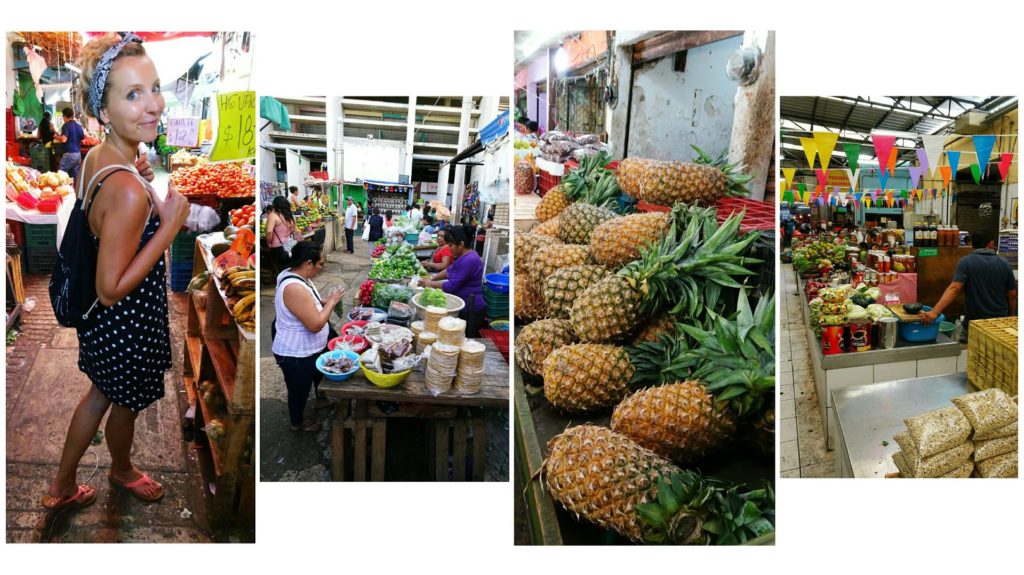 We always love browsing through such bustling markets as you can really feel the heartbeat of the city in those big market halls.
If you feel hungry there are also tons of street food vendors offering typical dishes of the Yucatan peninsula for just a few pesos – definitely go and get a bite!
4. Take a (Wi-Fi) break at Plaza Grande, Merida
No matter where you start your walking tour of Merida all roads seemingly lead you to Plaza Grande which is right in the center of town.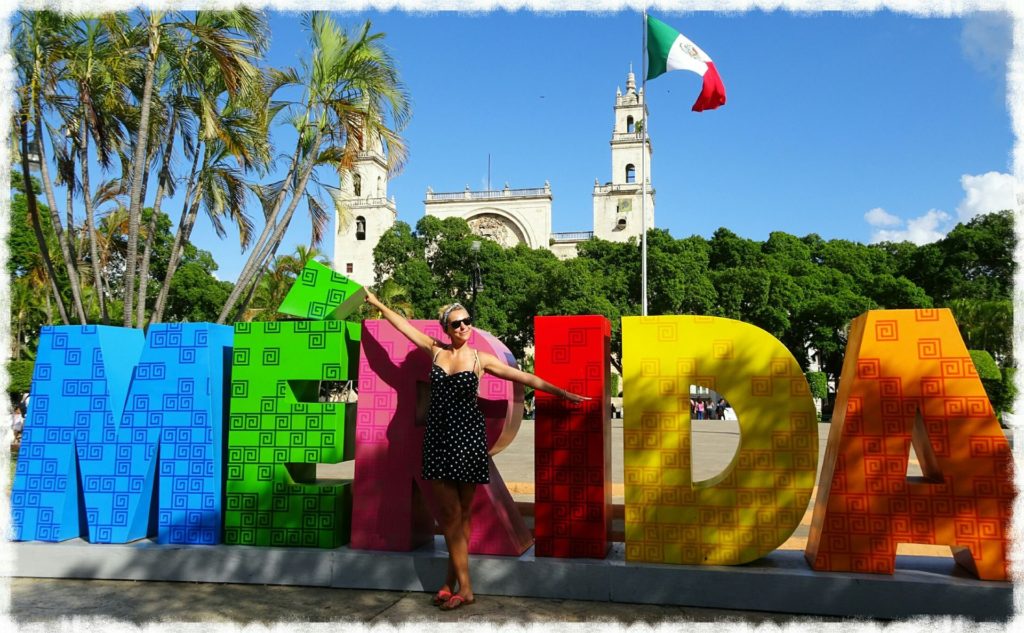 It's the ideal place to find yourself a bench shaded by a tree and simply take a break from all the walking and re-energise (maybe with a little afternoon snack from the many food vendors around the Plaza) before you're off to do some more exploring of Merida.
If you feel like talking than secure one of those typical "lover's chairs" that you find all over the Yucatan Peninsula. These signature dual chairs which are facing themselves side-by-side are perfect for sharing a little gossip or chatting up some locals and making new friends.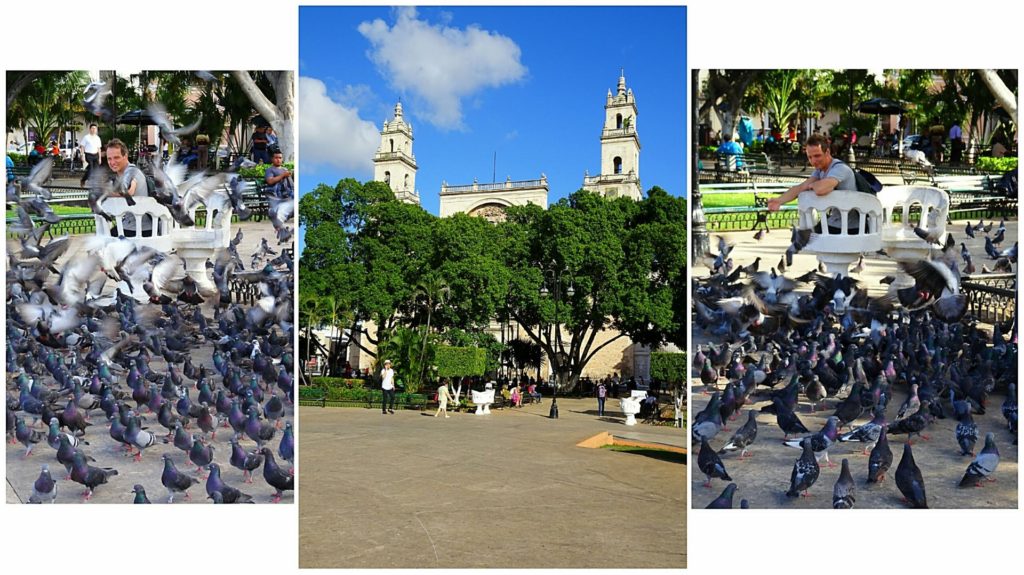 If you're however a little social media Junkie and rather want to communicate with your friends and family "online" or simply want to check your Facebook and Instagram newsfeed then we got some good news for you – The Plaza Grande is connected! 🙂
Complimentary Wi-Fi as well as many charging stations are found throughout the plaza making it the ideal place to share your Merida selfie instantly with all your followers!
Location: Between Calle 60 & 62 and between Calle 61 & 63 (not that you will have ANY problems finding this place 😉 )
5. Indulge in some traditional Yucatan food
Merida is a true food lover's paradise and has become a booming foodie town of the Yucatan Peninsula! No matter what you are in the mood for, you'll find it here and so much more! 😊
Forget lame-old tacos and burritos – and dive right into the amazing cuisine the Yucatan state has to offer.
Sample your way through the amazing dishes such as: sopa de lima (shredded turkey in a lime-juice broth), cochinita pibil (marinated slow cooked pork), frijol con puerco, queso relleno (with ground pork stuffed cheese), papazules, salbutes, tostadas and of course poc chuuc (grilled pork strips) which represent the best of what you can eat here.
Note, that most of these typical Yucatan dishes you'll find nowhere else in Mexico so better use your time wisely and schedule in a few snack and restaurant stops while exploring Merida and the other cities of the Yucatan.
What we liked the most was that you can even sample a few Yucatan goodies by only ordering a beer in a cosy local cantina as they have the tapas-style-system we know from Spain where when you order some drinks you'll automatically get a few snacks with it. How cool is that? And usually it's not just peanuts and nachos. Our little "snack" plates on our tours through the local cantinas where filled with things like little sandwhiches, meat balls, sausages and once even a small portion of Spagetti!! 🙂
We found even a great cantina which not only spoilt us with snacks but also the best ITALIAN – MEXICAN combo I can possibly think of: GUACAMOLE PIZZA!!!!! This was my dream come true on a plate – I was in foodie heaven!!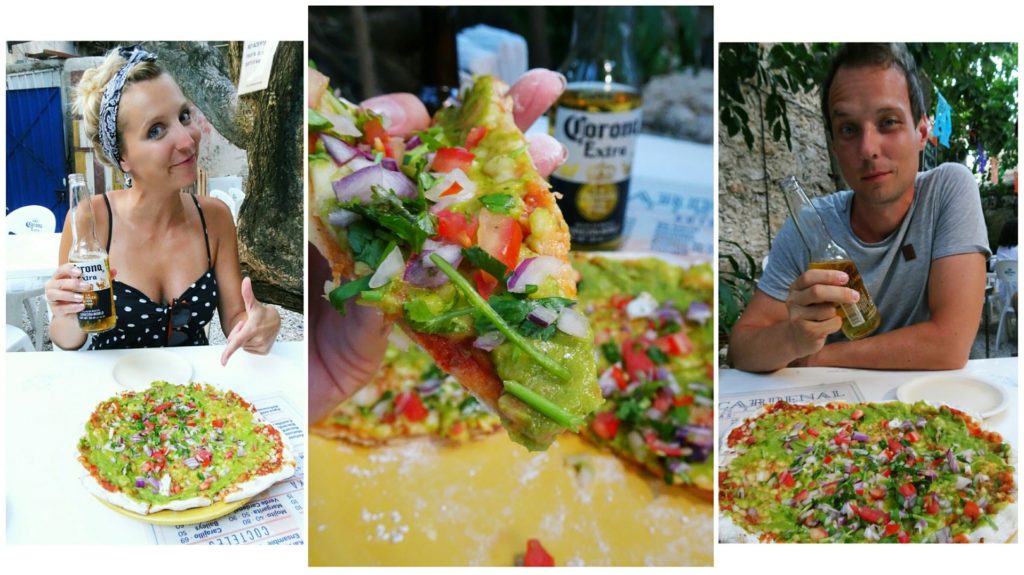 You can always end the day with our all-time favourite: MARQUESITAS! God, how we love them!!! Marquesitas are a traditional Yucatan dessert sold mainly in the evenings from small little street cars and are essentially thin and crispy crepes that are rolled up and traditionally filled with melted shredded cheese and a sweet filling of your choice. Nutella AND cheese?? Yep amigo, it's a thing and it's damn delicious! 😊
6. Explore the beautiful surroundings of Merida
If you like day-trips than you will love Merida due to its central location in the Yucatan and the endless number of things to do and see around this city.
Especially if you find yourself in Merida for more than one day we urge you to hop in your car or book a tour and check out the beautiful surroundings as you'll find some of the best natural attractions in all of Yucatan just a short drive away.
Here are our Top 5 day trip ideas from Merida:
1) Have a lazy Beach Day
If you're missing the beach or simply want to escape the heat and noise of the city than head to Progreso Beach just a 30-minutes drive from Merida.
2) Sink into a Cenotes
Take a refreshing dip in one of the nearby cenotes (=water-filled sinkholes found across the Yucatán Peninsula). We can especially recommend a trip to the three cenotes of Cuzuma, where the experience of getting is there is half of the fun! It's best to book a tour as you cannot access these cenotes by car.
3) Spot some Flamingos
Simply follow the Ruta Flamingo (flamingo road) towards the coastal town of Celestún and the Reserva de la Biosfera Ría Celestún, a nature reserve 100km southwest of Mérida. Here you can join a boat tour through the mangroves and likely spot various birds including the precious flamingos.
4) Explore some Mayan Ruins
Spend a day at the impressive Uxmal complex which is just an hour's drive away or explore some of the lesser visited ruins such as Mayapan Ruins or Dzibilchaltún. You can also head to the famous ruins of Chichen Itza which are about 1 ½ h drive from Merida, but we must admit, we liked Uxmal much better so if you only have time for one Mayan ruin, then we suggest you go and explore Uxmal (check out our guide on Uxmal here)
5) Get charmed by nearby colonial towns
Visit the nearby town of Izmal just an hour's drive away with it's charming yellow houses and laid-back atmosphere or head further to Valladolid which is about a 2 hours' drive away but is well worth the trip. You could even combine it with a visit to Chichen Itza.
7. Learn more about the history of the Yucatan Peninsula at Palacio de Gobierno, Merida

When in Merida you gotta take a peek inside the beautiful Palacio de Gobierno which is one of the buildings surrounding Plaza Grande.
The very impressive government building does not only have a beautiful courtyard and architecture but also houses some very impressive murals depicting the history between the Mayas and the Spaniards by Fernando Castro Pacheco. These paintings took him 25 years (!!!) to complete and you'll learn a lot about the Spaniards' arrival, Mayan massacres, rebellions, fights and local heroes! It's totally free so definitely worth a visit!
As it's open fairly late (I think at least until 9 pm!) you can visit it before the entertainment starts at Plaza Grande. We were lucky and somehow visited when nobody else was there – strolling around the roomy halls made for a very exclusive, VIP-kinda, experience! 😊
8. FIESTA in MERIDA
End your day in Merida with some (free) evening entertainment at Plaza Grande. On weekends and Monday nights the Plaza Grande comes alive with free concerts (from traditional festive songs to modern pop music) and dance performances taking place.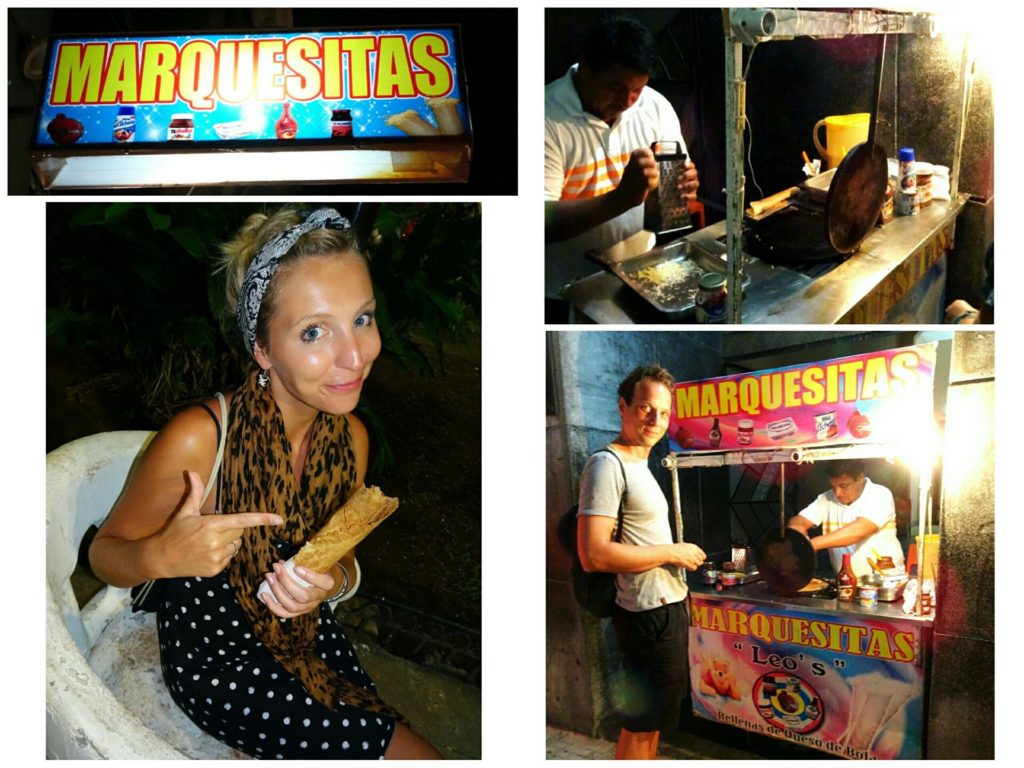 So grab a snack from one of the many food vendors (we always positioned ourselves close to a Marquesita stand 😊 ) and find a good spot to enjoy the entertainment.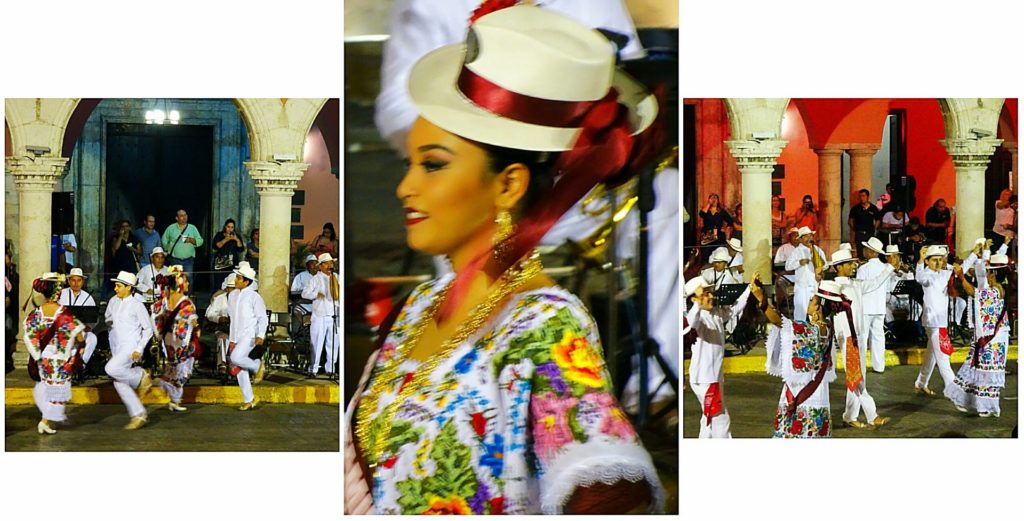 However, no matter which day of the week you visit there is always something going on somewhere in Merida so make sure to check out the local nightlife and simply – join the Party! 😊
The following links are affiliate links as well, which means that if you book a stay through these links, we'll get a small commission. Don't worry–the price is still the same for you.
Where to stay when visiting Merida
If you're looking for a place to stay in Merida we can recommend the following places for you.
If you decide to stay in the city center – Centro Merida – than make sure you are within easy walking distance of Plaza Grande as you most likely want to head out in the evenings for dinner and drinks as well as to enjoy the entertainment and performances without the hassle to find a place to park your car.
Recommended Tours and Activities to make your time in Merida unforgettable
No matter if you're planning a day trip form Merida to explore the beautiful sourroundings or want to get to know this colonial town matter, there are tons of interesting and fun tours and activities available to book online through sites like Viator*
Adventure Day Trip - Cuzama Cenotes
Izamal City Tour with Carriage Ride
Discover the traditions of Izamal, one of Mexico's Pueblos Magicos (Magic Towns) and a center of religious pilgrimage in the Yucatan. Visit the spacious atrium of a convent on a walking tour with your guide, ride a horse-drawn carriage through the cobblestone streets, and climb the pyramids of El Conejo and Kinich Kakmó.
Merida Street Food Walking Tour
This 3-hr streetfood tour is for foodies who want to sample the authentic street food of the Yucatan. Visit Merida's main market, sample fruits and juices and walk along to tasting spots where you can try native dishes such as 'cochinita pibil' (slow-roasted pork), 'panuchos' (tortillas stuffed with refried beans), empanadas and seafood tacos.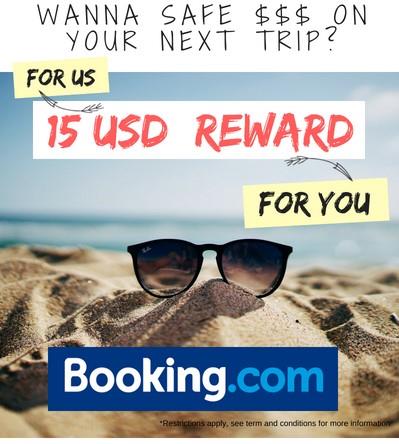 Where to stay in Bacalar?
Check out Hotel Caribe Merida*
This historic hotel is located right in "el centro" de Mérida just a 3 minutes' walk from Plaza Grande and provides free Wi-Fi as well as a rooftop pool.
* = Affiliate links.