Flashpacking Guide on how to spend an unforgettable day on Isla Mujeres without breaking the bank
In case you ever get tired of simply chilling at the white sandy beaches of Cancun, sipping cocktails and working on your tan, there is plenty of choice for adventurous day trips to explore a bit more of the Yucatan Peninsula. From taking a tour to the ancient ruins of Chichen Itza, Coba or Tulum to booking an all-inclusive action package to parks like Xcaret or Xplorer – you'll be seriously spoilt for choice.
That is, if you have packed a lot of pocket money! URGH! Because most of these tours will come at a hefty price tag and therefore were an absolute no-go for us – at least if we wanted to keep on travelling! (and we sure did!)😊.
But as we were still keen on exploring something new and ready for a little adventure we took matters in our own hand and went on a little DIY tour to the nearby island of Isla Mujeres, a small Caribbean island located just off the coast of Cancun, Mexico.
Think beaches with powder white sand, amazing viewpoints, cute turtles to get up close to, crystal clear turquoise water, delicious tacos, picture-perfect sunsets and a seriously cool ride to take you around all day...Sounds like fun? Well IT WAS, amigos!
We had such a great time on this tropical island that we've put together this handy flashpacking guide of how to spend the perfect day (and completely hassle free!) on Isla Mujeres without spending more than 50 USD/Person. (transport, food and FUN included! Cheers to THAT! 😊)
You'll also find our video about this adventure at the end of this post!
Isla Mujeres - a relaxed tropical paradise just a stone's throw from buzzing Cancun
You might want to catch a break from the beautiful but highly developed Cancun area with it's many restaurants, shops, clubs and of course all these massive all-inclusive hotels spread along the 24km stretch of beach. Finding a lil' quiet spot here will be a touch challenge.
Meanwhile, just a short ferry ride away is the laid-back island of Isla Mujeres which makes it the perfect day trip from Cancun. Don't worry, you'll still find some first-class beaches here along with many restaurants that keep your belly full and shops, activities and tours that will keep you entertained - just in a much more relaxed kinda way! 😊
The name Isla Mujeres (island of the Women) was given by the Spaniards after finding many female statues on the island. This was because the Mayans, who discovered the island more than 1500 years ago, devoted Isla Mujeres to Ixchel - the goddess of the moon, fertility, healing and happiness. For centuries, Mayan women came to the island on yearly pilgrimages to seek help from Ixchel.
One could say I was feeling right at home! 😊
How to get to Isla Mujeres from Cancun?
You can easily reach Isla Mujeres by ferry which will take less than half an hour from Cancun.
If you are looking for a hassle-free, reliable, fast, safe and comfortable way to get to the island than Ultramar Ferry (link to website) is your best bet. They have regular ferries running from several locations in Cancun, depending on where you are staying.

Option 1 - Ultramar Ferry from Downtown Cancun to Isla Mujeres.
There is an Ultramar Ferry service running from Gran Puerto, the ferry terminal in Puerto Juarez, which is just north of downtown Cancun. It's the cheapest and quickest crossing with Ultramar to Isla Mujeres however considering that you'll most likely need to organize yourself a colectivo (a little shuttle van running from Downtown Cancun to Puerto Juarez) or a taxi that takes you there it pretty much adds up to what you'd be paying from the other ferry terminals. So unless you stay close to Puerto Juarez it's probably not worth the hassle – especially if you are based in the hotel zone.
Option 2 - Ultramar Ferry from the Hotel Zone to Isla Mujeres.
There is not just one but three (!!!) Ultramar ferry terminals in the hotel zone. El Embarcadero, Playa Tortugas and Playa Caracol. Any bus running from Downtown Cancun to the Hotel Zone (e.g. R-1) will drop you off at any of these three ports. (bus fare: 12 Pesos).
Price for the 22-25 minute crossing is the same from all of these 3 terminals and will cost you 19 USD (round trip).
No matter which option you take, make sure to get a seat on the top deck and enjoy the beautiful view as you rush of to the Island. Usually there is even some live music entertainment which definitely gets you in the right mood for a fun day out! As we were sitting in the very back we didn't hear much however the breeze and the views where spot on! 😊
All ferries will drop you off right in the heart of the action close to restaurants, shops and the famous "playa norte" (North Beach).
9 fun and exciting things to do on Isla Mujeres
1. Rent a Golf Cart
Okay this will admittedly set you back much more than simply walking, riding a bicycle or renting a scooter but than again, we've never had the chance to cruise around in a golf cart before - anywhere - so it was pretty much a done deal! Also it's the number one mode of transport for tourists and locals alike on the island so you simply gotta join the fun!
And honestly, do you really want to cycle around the island in the heat, all sweaty and exhausted just to save a few bucks? No? Yea, that's what we were thinking! 😊
Most golf cart operators (no worries, you'll see them as soon as you get off the boat on Isla Mujeres!) charge around 15USD / hr. However you can get quite a reasonable price if you book your golf cart right on the ferry. We got a deal of 700MXN (around 40USD) including fuel, insurance and all this stuff for the WHOLE day.
Another saving option would be to quickly make some friends to team up with as all golf carts can easily fit 4 people.
NOTE! They will ask you for you driver's license and keep it while you are out cruising around the island! So no worries to drive without your license - it's standard procedure!
2. Visit The turtle Sanctuary
If you love turtles as much as we do than your first stop on your little golf cart adventure around the island should be the Turtle Farm "Tortugranja" less than a 30 minutes' drive from the ferry dock in the center of town. This Sanctuary was created to help preserve and protect the sea turtles in Mexico and to educate visitors and locals alike on the importance of turtle conservation.
For a small entrance fee of 30 Pesos (or 3 USD) you can view numerous turtles in all the different stages of their life (Depending on the time of the year you visit you'll get to see little baby turtles...hundreds even 😊 We visited at the right time – baby turtle overload! I couldn't have been happier 😊)
We also spotted some other interesting sea creatures in this small aquarium such as cute little sea horses, lobsters and a fish with the most enormous eyes we've ever seen! Slightly freaky but still super interesting 😊
There is also a nice outdoor area with more tanks and turtles - and the views, oh my...!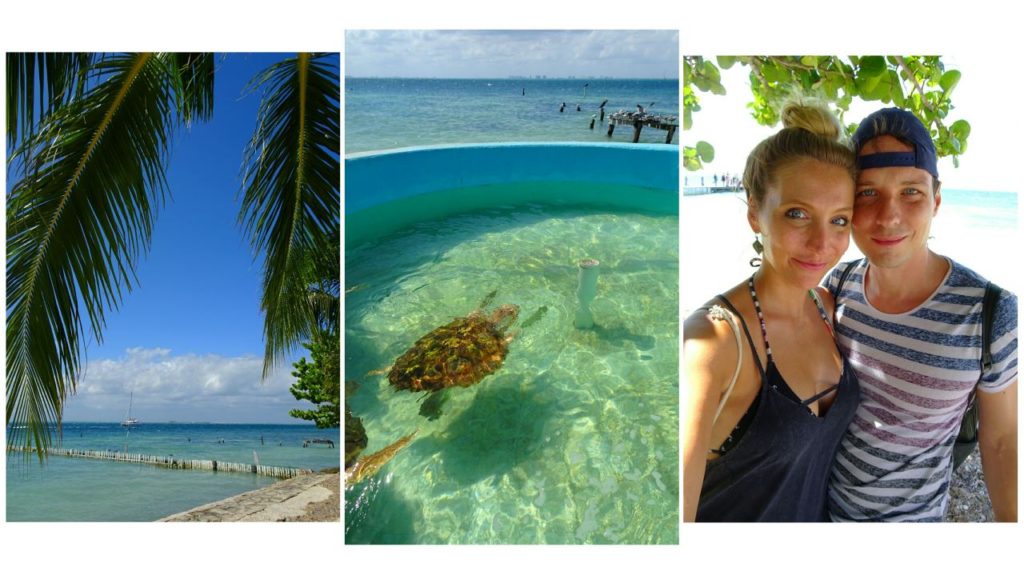 3. Count the iguanas at Punta Sur and enjoy some stunning panoramic views from the cliffs
If you keep going along the main road you'll soon arrive at Punta Sur - the most southern part of the island and the place to be for some spectacular scenic views of dramatic cliffs and turquoise waters, definitely one of our favourite viewpoints here in Mexico!!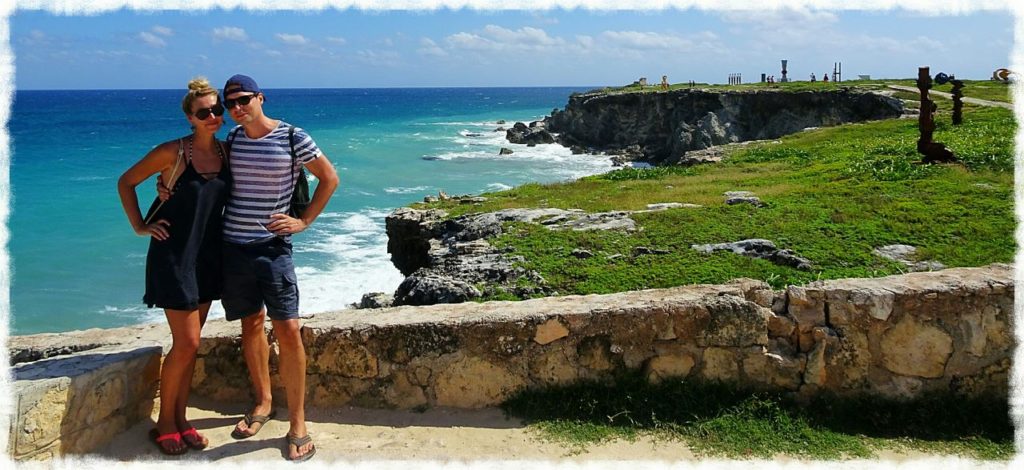 For an entrance fee of 30 Peso (or 3 USD) you can visit the outdoor Sculpture Garden and walk down to the steep cliffs for some even better views.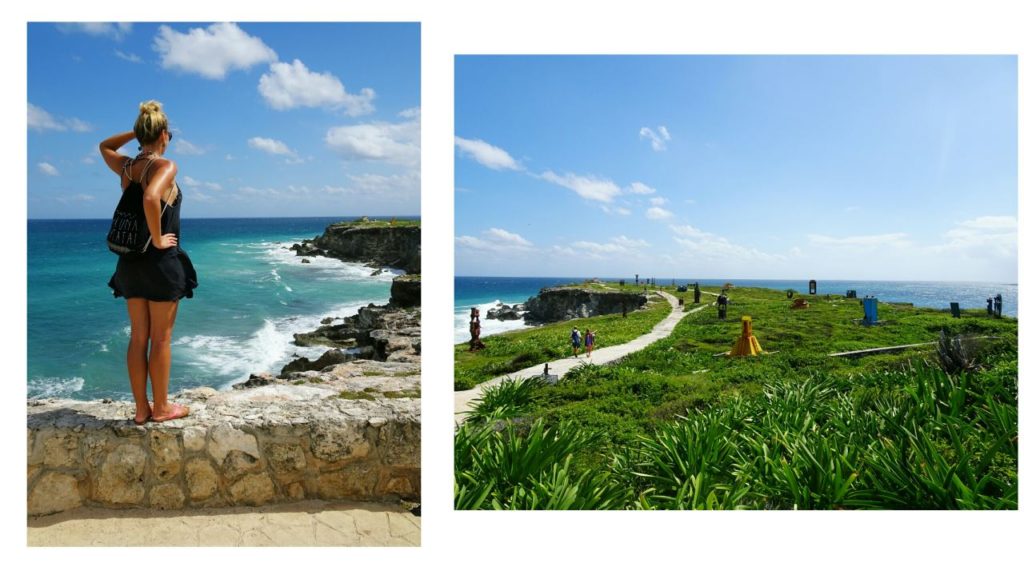 However, we didn't bother as views seemed to be spectacular enough from where we were standing and instead of counting sculptures you could count Iguanas! We've seen at least dozens of them up there bathing in the sun and simply enjoying their happy Iguana life on the up here on the rocks at Punta Sur.
There is also a small "caribbean village" with several stores to get some snacks or buy some souvenirs and a restaurant overlooking the Sculpture Garden.
4. Shop till you drop in Downtown Cancun
Once you get back to the city center you can simply park your golf cart anywhere you like (btw no parking fees – anywhere! 😊 ) and hit the town to check out some shops and souvenirs.
You'll find that this area is really quite charming - narrow little streets filled with colourful houses, restaurants and shops. If you look for some souvenirs this is the place for you – you'll find a variety of handicrafts such as hammocks, silver, Guatemalan clothing, folk art, rugs, masks and everything in between. Let the treasure hunt begin! 😊
5. Have some delicious local lunch
This is also the place to find a nice shady place to fill up on tacos, down a few glasses of margaritas and watch the people pass by.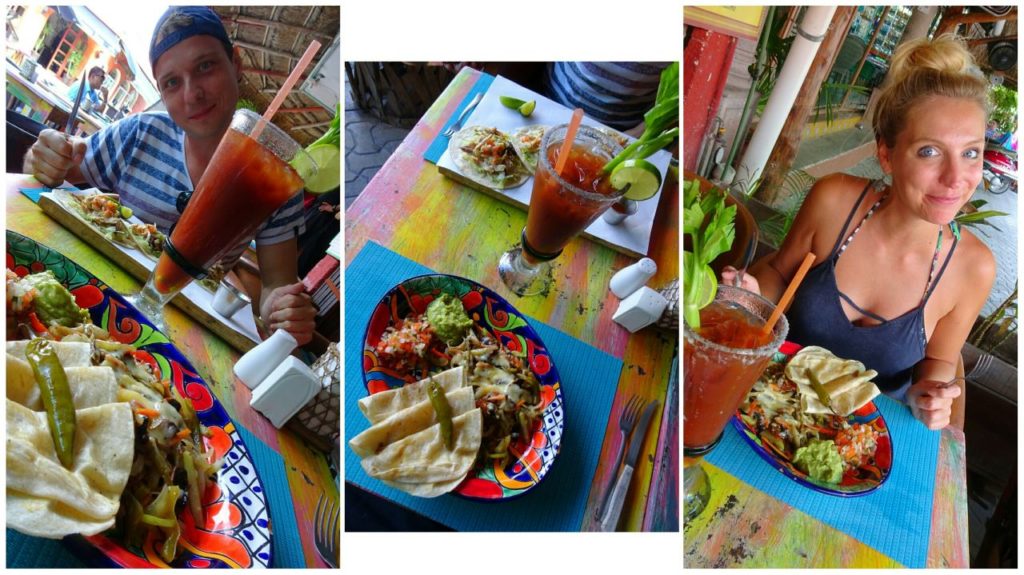 You can also head to the beach where you can find many restaurants and beach clubs serving drinks and food with the added bonus that you can put your feet in the sand and watch the waves while filling your hungry bellies. Disadvantage: the bill will most likely be much higher, but I guess you'd expect that.
6. Swim in the calm turquoise waters of North Beach
As soon as you get to the beautiful tropical North Beach (Playa Norte), which is close to the ferry terminal and the center of town, you never want to leave again. It's simply perfect! White powdery sand, crystal clear and calm water, palm trees providing enough shade...it's like finding yourself in a postcard! However, it can get very crowded as it's super popular among tourists and locals alike.
7. Stroll along El Malecon
El Malecon is long stretch of promenade running on the east side of Isja Mujeres starting at Playa la media luna at the corner of Abasolo and Guerrero and running south all the way to the end of town.
It's a nice place to take a stroll in the afternoon or early evening and check out the crashing waves. You might also spot some iguanas basking in the sunshine.
It is also lovely spot for taking some pictures as you'll find the big "Isla Mujeres" sign (right at the beginning) as well as some cool street art along the way.
8. Admire the street art and take some pictures
No matter where you are on the island there is beautiful and colourful street art aaaaall around! However, you'll find most of those quirky paintings in the city centre with one painted wall next to the other. We had so much fun on our little street art hunt around town so go and explore and see what treasures you can find.
9. Watch the Sunset at North Beach
If you rented your golf cart for the day you usually will have to return it at around 5pm but there is no rush to get off the island! No no nooo! If you head straight for the ferry you'll be missing out on one of the nicest sunsets we've seen here in Mexico!
So get some drinks from the local supermarket (e.g. Oxxo) and plant yourself at North beach for a first class sundowner! It was simply magical and the perfect ending to our fun day out here on Isla Mujeres! 😊
WATCH OUR VIDEO!
As you see you'll be spoilt for choice when it comes to things to do on Isla Mujeres even when you are on a budget so definitely make sure to explore this island when you are in the area and let us know what you liked best!