BACKPACKING GUIDE TO ISLA HOLBOX
Exploring Holbox on a budget without missing out on the Fun
If you find yourself backpacking around Mexico and in desperate need for some relaxation, palm trees and Caribbean flair than we've got just the right place for you – ISLA HOLBOX in the north of the Yucatan Peninsula!
Holbox is definitely one of our favourite places here in Mexico and it'll be yours soon too!
With its colourful buildings, beautiful beaches, laid-back vibe and tropical charm Isla Holbox is a real backpacker's dream come true!
Golf carts that serve as taxis, broad sandy streets instead of paved roads, a new colourful street art design to spot wherever you go, friendly racoon encounters on your way to the beach (Yes, you read that right – RACCOONS!!!), lush palm-trees with cozy hammocks for your afternoon naps and those white sandy beaches and shallow turquoise waters…do we need to say anything else?
Long are the days gone that Holbox was a well-kept secret that only a few well-informed travel nerds knew about however luckily it's still not overrun by tourists and has kept it's laid-back charm and friendly backpacker vibe despite all those big fat PRO'S that easily make it the number 1 place to visit during your trip around the Yucatan Peninsula.
So better hurry amigo to get a piece of that cake before it's too late!
QUICK LINKS:
How to get to Isla Holbox on a budget from Cancun and Playa del Carmen?
How to get to your hotel on Isla Holbox and around?
What are the best and cheapest things to do on Isla Holbox?
What and where to eat on Holbox on a budget?
Where to stay on Holbox Island?
Holbox on a budget – Is that even possible?
Holbox isn't the cheapest place in Mexico, that's for sure. A trip to this little paradise comes with a rather steep price tag as all nice and pretty things do. Especially prices for Accommodation seemed to be much higher compared to the same standard you'd find in other places along the Riviera Maya. However, with a bit of smart travel planning and budgeting you can easily survive on a daily budget of around 25-30 USD/day without missing out on the fun.
So if you want to make a trip to Isla Holbox happen – all without calling home to ask mum and dad to send you a big load of pesos – then keep on reading as we will list all there is to do on Isla Holbox on a budget as well as the best and cheapest ways to get to this little island paradise.
How to get to Isla Holbox on a budget from Cancun and Playa del Carmen?
The first time we went to Isla Holbox two years ago was during our epic 10-day road trip around the Yucatan Peninsula (we managed to get an amazing deal for our car at 9 USD/day!!! You simply gotta make use of that, right? 😉) so obviously we had a car and getting there was just a matter of surviving all the potholes and so called 'topes' (the Mexican speed bumps) along the way to catch a ferry.
However, if you rely on public transport (Which you most likely will as you are a budget traveller 😉) and are based in Cancun or Playa del Carmen than getting to Isla Holbox is just as easy. We did it like this this year for our 2nd trip to Isla Holbox and found it super convenient and hassle-free. You can simply take the ADO Bus from either the Cancun Bus Terminal or one of the two ADO Bus terminals in Playa del Carmen heading to the town of Chiquila.
There are serval daily routes from Cancun and Playa del Carmen to Chiquila so unless it's peak season, you probably don't need to book your ticket in advance.
Check out the ADO timetable here!
The bus ride takes around 2-3 hours, depending on the route and will cost around 270 MXN (approx. 13 USD)
Once you get to the little town of Chiquila you can simply board a ferry (they are crossings almost every half an hour) which will take you straight to Holbox in less than 30 minutes.
Don't worry finding the ferry terminal, it's located right next to the place where all the buses arrive and as soon as you get off the bus someone will already point you in the right direction to buy your ticket for the next available ferry. Simples!
There are actually two ferry companies – 9 Hermanos and the Holbox Express, both costing exactly the same: 150 MXN / one way (7.50 USD). However, we found that the Holbox Express was a bit more comfortable so if you have a choice, go with them.
How to get to your hotel on Isla Holbox and around?
As mentioned, you luckily still won't find any cars on the island but that doesn't mean there aren't any taxis to take you around. Only difference, they come in the form of golf-carts! 😊
There will be a golf-cart-taxi-queue right at the ferry terminal so you can simply hop in the back and have them drive you to your hotel which usually doesn't cost more than 30-50 MXN (2-3 USD).
However, Isla Holbox is pretty walk-able so if you're based in town and don't have too much luggage with you than you can simply walk up the street leading directly to the big main square and getting to your accommodation shouldn't take longer than 10 to 15 minutes.
What are the best and cheapest things to do on Isla Holbox? 6 fun and budget-friendly things to do on this island
You made it to the island! Yay! But what now? How far will your money last in a paradise like this?
We'll list our favourite things to do on Holbox below that are either totally FREE or super affordable so that you can make the most of your time on this island without worrying to much about spending all those precious pesos! 😊
1st: Enjoy the beautiful beaches of Isla Holbox
Holbox is the perfect place for living the ultimate beach-bum life!
If you stay in/close to Holbox town (which you most likely will do) than getting to the beach is not an issue at all as one of the many beaches will only be a short walk from your accommodation, no matter where you stay.
So pack some snacks, a beach towel and some sunscreen and enjoy your day on the beach.
Tip: you'll find all the well-maintained and pristine beaches towards the Hotel and Resort zone however these are also the most busy beaches with lots of tourists. You'll find the less busy and more natural beaches towards Punta Cocos if you don't mind some birds and algeas and prefer having your peace and quiet 🙂
2nd: Go on the hunt for some amazing street art
Definitely one of the best budget-friendly activity you can do on Holbox is wander around the rustic town with it's pastel wooden houses and checking out all the amazing coulourful street-art.
We've been to quite a few places known for their murals and street art but love the ones in Holbox the most. It adds a lot to this islands charm and the Caribbean flair.
So pack a camera and see which ones you can find.
3rd: Chill in a water hammock or watch people in the attempt of the perfect IG shot
Thanks to Instagram the iconic water hammocks have become THE place Holbox is mainly known for.
Luckily there are several places where you can chill in one of the water hammocks around the island but the most well-known with the famous H-O-L-B-O-X letters on top are in front of Carolinda Beach Club and Villas Tiburon.
Although "to chill" is probably a bit of an exaggeration, especially if you're not there at 8am in the morning, as there will be a line of people waiting to take THAT picture so forgot the idea of spending hours here dozing off in these idyllic looking water beds.
If you want to have a bit more time with your hammock, than another, less crowded place is Punta Cocos.
Usually all it takes to snap a few photos there is to buy a drink first.
We honestly couldn't be bothered to waste our time for a shot that is pretty much all over Instagram anyway already so were happy with taking our pictures from the distance. However, we had an awesome time watching others (usually poor boyfriends trying to please their eager girlfriends) attempting to get their ultimate IG shot!
At Punta Cocos, while we sat on the beach, sipped our cervezas, watching the sunset these couples went through every possible hammock pose you an imagine all while missing the real magic happening right behind them!
Talking about Sunsets….
4th: Watch the sunset on the beach
Although this comes as a given as it's the typical tropical-island-favourite, watching sunset on Isla Holbox still has to be on top of your to-do list.
Simply pack some cervezas from the shop and head to the nearest stretch of beach in the North for some front-row seats to a stunning, Caribbean sunset show!
If you rather fancy getting some ice-cold drinks from the bar and chill on a beach chair than head a bit further to Punta Cocos – the westernmost point of the island and about a 20-30 minute walk from town – which was one of our favourite places to watch the sunset.
If you don't want to walk that far but still want those sunset drinks you can simply secure yourself a hammock chair at Cafe del Mar just a few minutes along the beach from town, the sunset views might not be the best Holbox has to offer but the atmosphere there was super relaxed and the drinks really good!
Another PRO – when watching the sunset at Cafe del Mar a guy came around with fresh and absolutely amazing empanadas filled with spinach and corn. No idea if he does that every night but keep an eye out for this delicious sunset snack for less than a $! A bargain considering the views that came with it.
5th: Visit baby raccoons and give some loves to the animals at REFUGIO HOLBOX.
Essentially Refugio Holbox is a shelter on isla Holbox for domestic and wild animals in need of shelter, care or medical treatment – from dogs and cats to birds and even baby raccoons.
You can find it at Av. Pedro Joaquin Coldwell & Calle Tintorera or simply pick up a free Holbox map at your hostel or restaurant which will most likely have it on there.
Refugio Holbox welcomes visitors to come and see the shelter, learn about and spend time with the animals there, or even taking the dogs for a walk.
Unfortunately we only got to know about this place on our 2nd trip shortly before leaving but encourage you that if you have time and some love to spare and want to make a new furry friend than stop by and say hello.
Every little help is hugely appreciated.
To learn more about Refugio Holbox visit http://refugioholbox.weebly.com/
6th: Wander the Island on bike or on foot
You can rent expensive golf-carts (approx. 500 MXN / 25 USD for half a day), bicycles (around 10 USD/day) or simply walk around (FREE! 😊) along the broad sandy streets to explore this beautiful island.
We managed to walk pretty much everywhere we wanted to go but have to admit that sometimes we wished we had rented a bike as well as Holbox is bigger than we first thought. Especially if you want to go and explore the whole island you'll be much better off with a bike.
For all those tropical bird lovers among you, don't forget to check out the pink flamingos which you can find at Punta Mosquito on the north-east side of the island. That is, if you're lucky, when we were there, they apparently had their day off. I would have been really disappointed (I'm a big fan of those fancy birds) if we hadn't seen the flamingos already at Rio Lagartos.
But even just walking around town (see number 4) hunting down all the the colourful street-art), along the beach and checking out the nearby surroundings will be a lot of fun.
We managed to stumble across a raccoon in a little side alley which was a first and getting to know this little fella is still one of our greatest Holbox memories.
What and where to eat on Holbox on a budget?
Breakfast on a budget:
For a little breakfast snack or afternoon treat you can simply get some "pastelitos" (small sweet treats) at the local bakery at a very reasonable rate. There is one right by the central square where we loved to treat us to some fresh chocolate croissants and ice teas before heading to the beach. (#breakfastwithaview for 20 MXN 😊 )
Alternatively, should you have a bit more money to spare, there are lots of great little restaurants in town serving a delicious breakfast / brunch such as La Tortelleria at the central square.
Other great places for breakfast on Holbox are:
Casa Nostra Roof Restaurant
Even if you're not a guest of Hotel Chuukkay* you can enjoy a great breakfast at their bright and airy Casa Nostra Roof Restaurant.
Le Jardin Panaderia/Cafeteria
Another great breakfast spot is Le Jardin Panaderia/Cafeteria an original French bakery where you can feel like in France having a breakfast with a baguette, a croissant and much more.
Lunch and Dinner on a budget:
There is no shortage of restaurants in town around the central market square but usually a normal Lunch or dinner there will set you back at least 150 MXN p.P. If you don't want to spend so much, don't pick the busiest dinner time and look out for deals and promotions.
You'll easily spot some restaurant promo deals when browsing through the streets offering 2 beers + guacamole for 80$, or 4 Tacos + a drink + guacamole (which we shared btw) for 179 MXN (9 USD) which we found were fairly good deals. So keep an eye out for these if you are on a budget.
If you fancy some dessert after dinner (I mean, who doesn't???) or simply have a sweet tooth than head to the market square in the evening where you'll find several Marquesita stalls selling not only this Mexican treat but also Crepes and Churros. (cost: around 30-40 MXN, 2 USD). Our favourite: The crepes with caramel sauce and banana are to die for and fill you up pretty well! Another one of these and I couldn't have moved anymore! 😊
Alternatives, if money ain't an issue are:
Restaurante & Beach Club Mandarina: Beautiful place where you can dine on the beach with a view of the turquoise waters. HEAVENLY! Prices obviously reflect the location but the avocado salad we treated us to for lunch one day was delicious. Sometimes you gotta spoil yourself, right?? 😊
In the mood for some healthy food, smoothie bowls, salads and Co.?
Then check out Painapol on Calle Tiburón Ballena. However, you might have to wait a bit to get a table at this hip place – we tried twice to have lunch here but never managed to get a table. It looked good though.
The following links are affiliate links, which means that if you book a stay through these links, we'll get a small commission. Don't worry–the price is still the same for you.
Where to stay on Holbox Island?
There is no shortage of hotels, hostels, guesthouses and apartments on the island however they know that THIS IS PARADISE so they do charge for it! Bummer! Especially in high-season make sure to book well in advance to get an early bird deal and the hotel of your dreams or super last-minute which might secure you a good rate if you're lucky (don't count on it though) but most likely not for the hotel you had your eyes on.
As a rough guideline – expect to pay around 20-25 USD for a dorm room and at least 45-60 USD for a decent double room with ensuite bathroom, everything below that is a bargain for Holbox and you should look those deals in as soon as you spot on.
However, if you're all about style and vibe and don't mind spending some extra $$$ than there are tons of super chic boho style hotels which you'll fall in love with. Expect to pay at least 90 to 140 USD / night for these gems. (Compared with US Hotels probably still a good deal for what you're getting).
Here are a few of our favourite places to stay when visiting Holbox:
Mapache Hostel
BUDGET
Mapache hostel offers affordable 8-bed dorm rooms including breakfast (starting at 12 USD/night) as well as a private room with ensuite bathroom, AC and Wi-Fi located closer to town – perfect for couples and solo travelers.
We went for the private room (cost 30 USD/ night) and thought it was amazing value for money. It's located close to the central square with shops, beach and restaurants just steps away. You can use all the facilities of the hostel as well if you want like those comfy hammocks in the garden…. 😊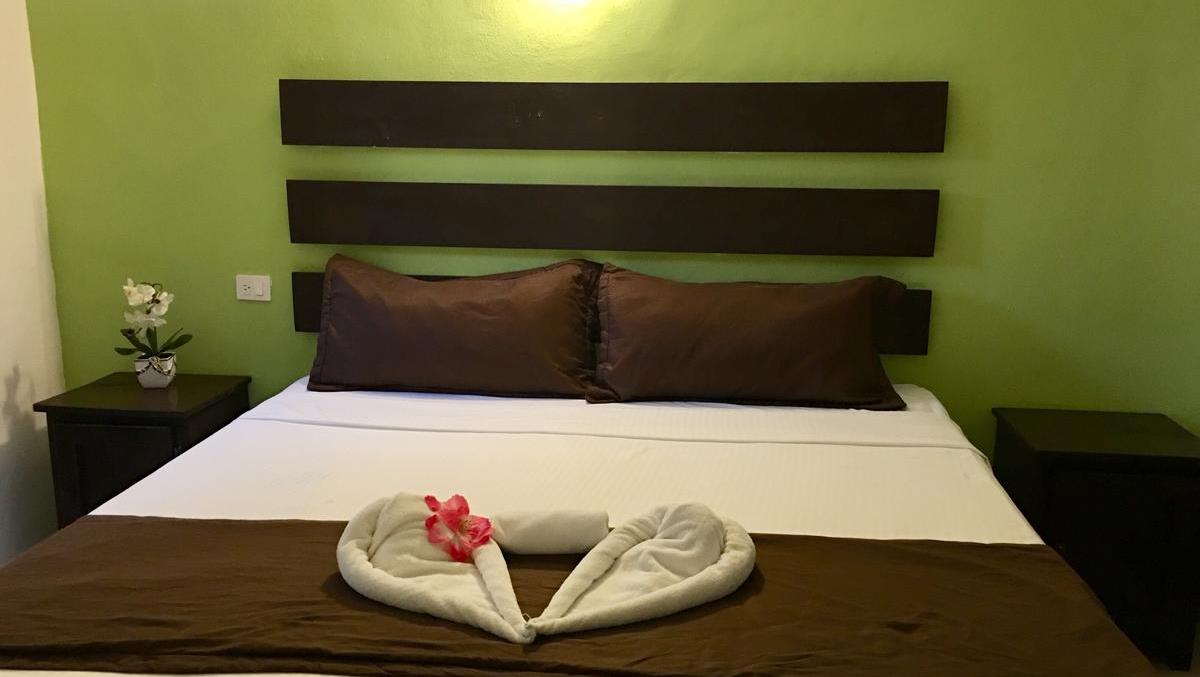 3-star hotel with super affordable double rooms close to town and equipped with TV, Wi-Fi and en-suite bathrooms. There is also a tour desk.
Rooms starting from 45 USD/night.
Hotel El Pueblito
STANDARD TO PREMIUM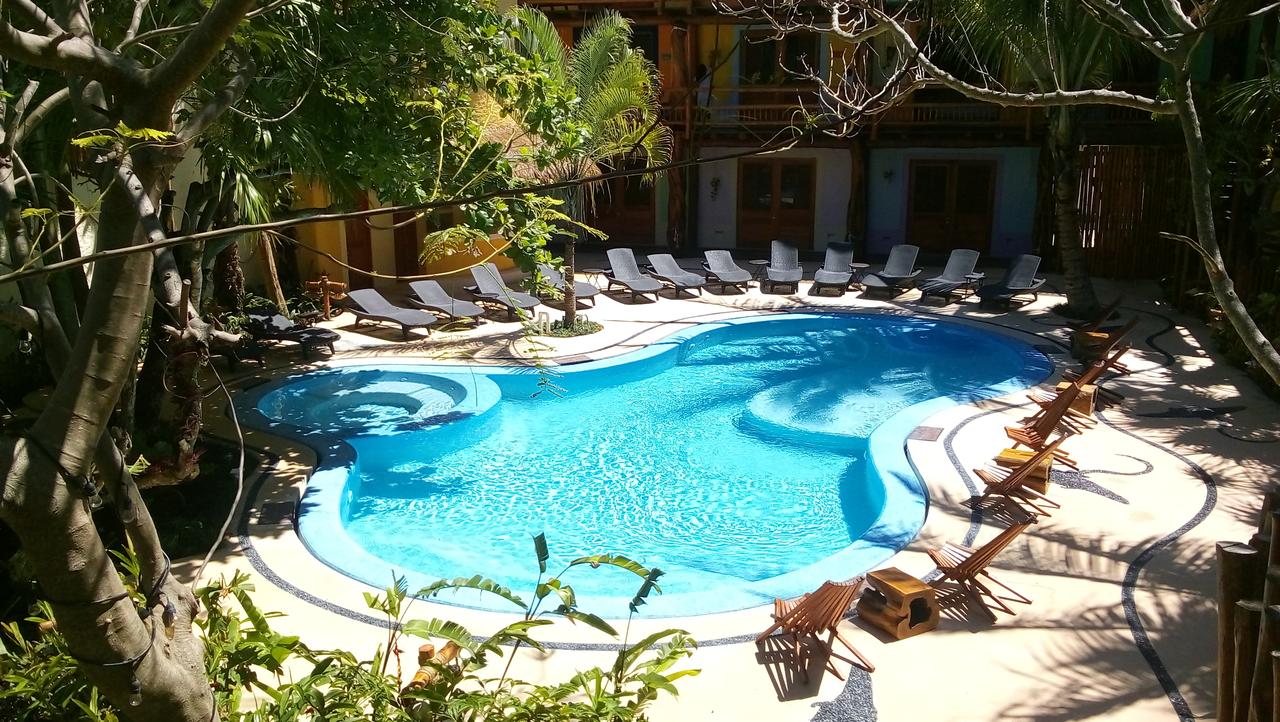 Cozy Hotel located directly in town with a beautiful pool and good breakfast included. Perfect if you're a group of 2-4 as most of their spacious and stylish rooms can accommodate up to 4 people (two double beds) .
Rooms starting from 90 USD/night incl. breakfast.
Do you prefer a more hassle-free option?
If you're not on a tight budget and rather want to relax and have someone else take care of everything (you're on holidays after all 😉 ) then check out these amazing and highly recommended tours* for Isla Holbox which you can easily book online through sites like Viator!
All inclusive Holbox Paradise full day tour from Riviera Maya
Pick up from your hotel and transfer to Chiquila where we'll go on a 3hr boat tour to explore the beautiful nature around Holbox. After that we'll go to the Yalahau cenote where we can swim and then take course to "Passion Island" to admire some birds' species that nest here. Then we'll visit Punta Mosquito, where we might find pink flamingos. After the boat tour it's time for lunch on Holbox and some free time for swimming and sunbathing on the beach. Round-trip transportation, 3-hr boat tour and lunch included.
Private Isla Pajaros, Passion Island and Swimming in Yalahau from Isla Holbox
Take a boat tour to Passion Island, Isla Pajaros and Yalahau Spring from Isla Holbox. On this guided excursion, view over 35 species of nesting birds on Isla Pajaros (Bird Island), including frigates and pelicans. Continue to Passion Island to see the resident flamingos, then swim in the cenote (freshwater sinkhole) at Yalahau. Round-trip transportation from Isla Holbox hotels is included.
Whale Shark and Snorkeling Adventure from Isla Holbox
Snorkel alongside docile whale sharks during this eco-adventure on Isla Holbox. With your local guides, board a boat and set off in search of these gentle giants. Slip into the water in pairs with a knowledgeable guide and swim with the world's largest fish, which can grow up to 45 feet (14 meters) long. On the way back to shore, stop near Cabo Catoche to snorkel the 'cuevones' reef. Continue to Santa Paula to go swimming and enjoy freshly caught ceviche before returning to Holbox. Use of all equipment, breakfast and snacks are included.
Isla Holbox in 3 words
COLOURFUL
TROPICAL
HEAVENLY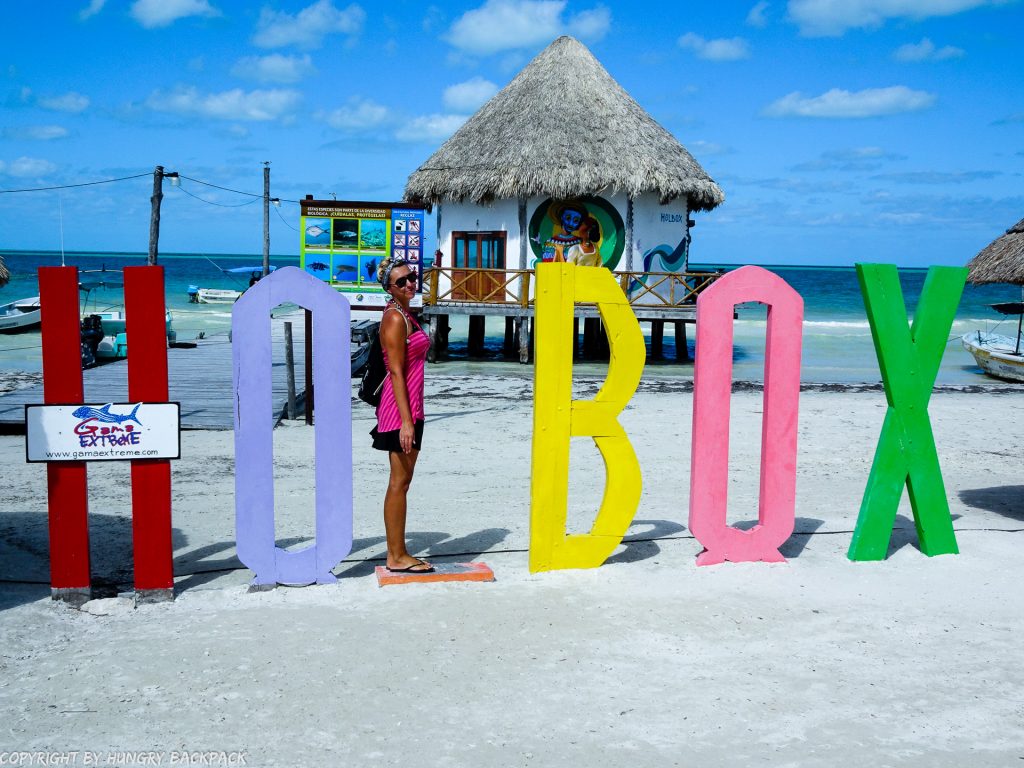 Quick Guide
Getting to Holbox from Cancun or Playa del Carmen
Take the Ado Bus to the town of Chiquila (costs from Cancun: 254 MXN, costs from PDC: 270 MXN) – there are several buses a day, journey time: 2-3 hrs
Take the ferry from Chiquila to Holbox. (costs: 150 MXN for tourists / one-way) – there are crossing every half an hour by either '9 Hermanos' or the 'Holbox Express', journey time < 30minutes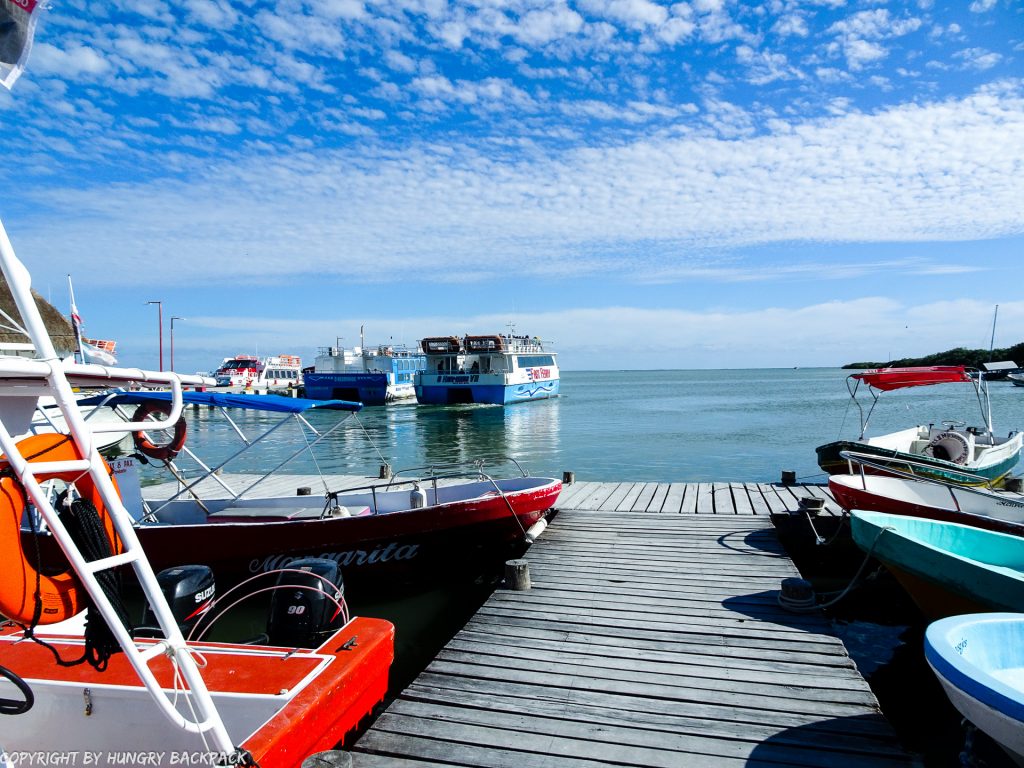 Budget-friendly things to do
Enjoy the turquoise water and white sandy beach
Explore the colourful Street Art around town
Watch the sunset at Punta Cocos
Visit baby raccoons and go for a walk with a rescued street dog at Refugio Holbox
Rent some bicycles and explore hidden beaches and spot pink flamingos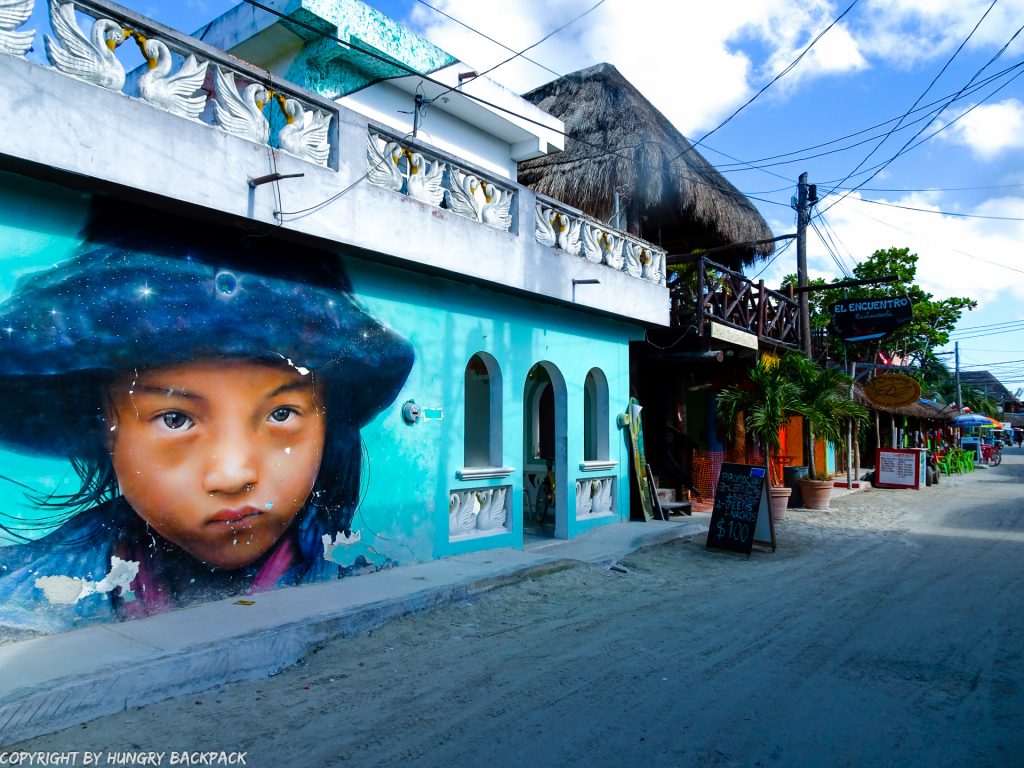 Shopping
There are a few shops in town where you can buy most day to day items. Obviously slightly more expensive than on the mainland but still less than what we've expected to pay.
You can also find a few pharmacies, tons of souvenir and clothing shops as well as places to buy art and ceramics.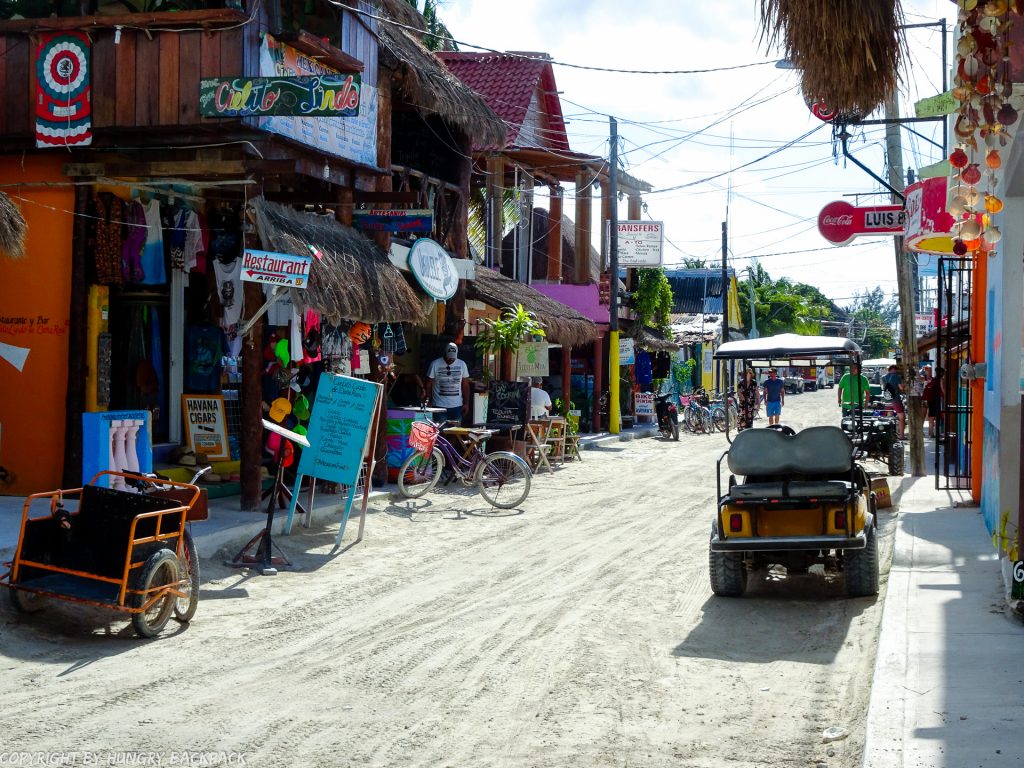 Money
There are no banks on the island and money exchange rates in local shops suck! Period. BRING ENOUGH CASH.
There are only a few ATM's here most of which fail to work regularly so again CASH IS KING!
A few shops and restaurants do accept credit card but definitely not all so again – BRING ENOUGH CASH! 😊
Best packing tip
Along with enough cash, don't forget to BRING mosquito repellent! We forgot and thought we'd be fine anyway…well we weren't so trust us, bring a good mosquito spray. 😊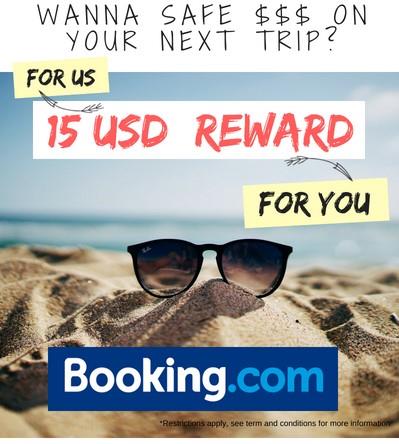 Where to stay on Holbox
We stayed at the Mapache Hostel*.
It's a beautiful little hostel close to town with a very relaxed vibe and friendly staff. They also have a private room with A/C and ensuite bathroom (located even closer to town) which we stayed at which offered great value for money. Highly recommended for the budget traveller.
* = Affiliate links.