THE ULTIMATE GUIDE TO BACALAR, MEXICO
Best things to do and see when visiting Bacalar – A water-junkies paradise
Bacalar was the first stop on our 10-day road trip around the Yucatan Peninsula – and definitely one of your favourite places we've seen on this journey – hell, it was one of our favourite places we've been in our whole life!!
We started our trip down the coast from Tulum and it's a good 2 hour drive along the 307 (from Playa del Carmen it'll take you 3 hours and from Cancun at least 4 hours) to get to Bacalar however, no matter how long you have to drive to get there, it's ALWAYS worth the trip – trust us!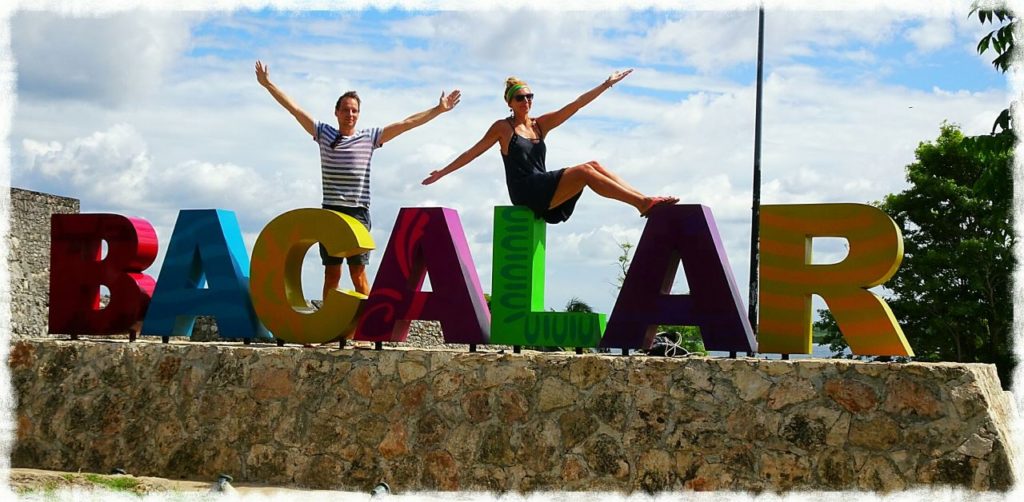 Natural beauty at its best, Bacalar is a true Mexican treasure
Bacalar is one of those places you dream you could go back to as soon as you've left – it's THAT beautiful! The town of Bacalar still has this charming small-village feel. It seemed worlds away from the buzzing tourist hot spots of Cancun and Playa del Carmen which is exactly why we loved it from the second we got there.
You won't find any big hotel chains, shopping malls, clubs or all-inclusive holiday makers in Bacalar – at least NOT YET! Which is kinda surprising as the area around Bacalar is packed with so much natural beauty that it's hard to believe that not more tourists find their way down here.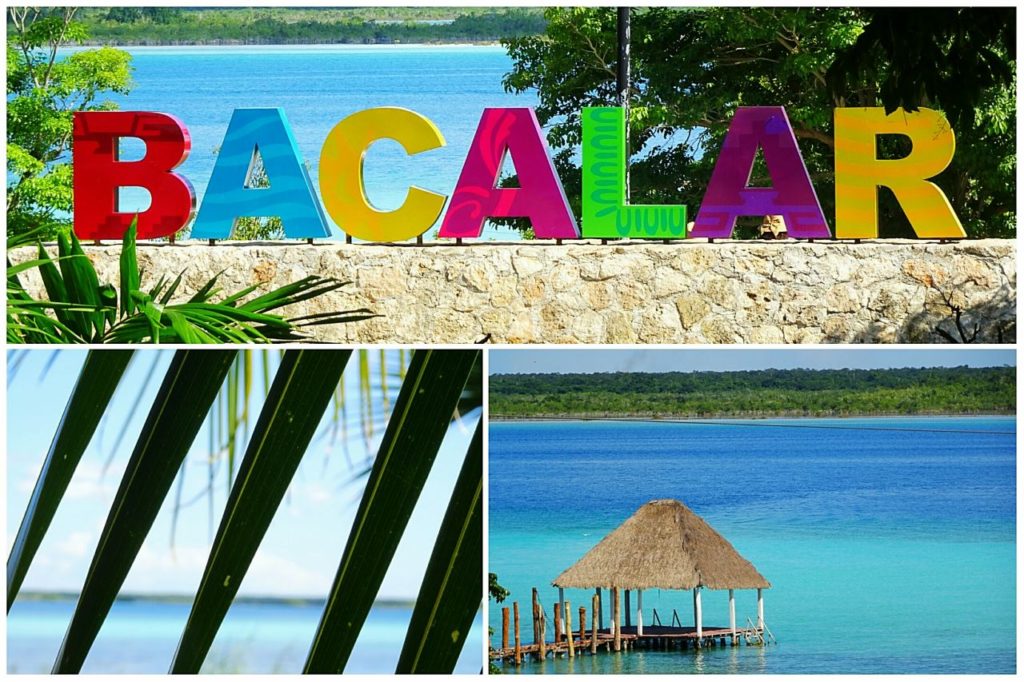 One of the biggest natural treasures of this area is of course the lagoon. "Laguna de Bacalar" is a fresh water lake feed by underground cenotes, but it does look like the ocean – FOR REAL! You'll think you have never left the Caribbean Sea! 😊
The lake measures about 34 miles from tip to tip and 1.2 miles at its widest point. The size and beauty (as well as the absence of big crowds of tourists – luckily!) make it a great place to visit and explore so definitely plan to spend at least 2 days here – you won't regret it!
Here are our top 5 things to do when visiting Bacalar
1 – Enjoy the "Laguna de Bacalar"

Bacalars' number one selling point is the stunningly azure blue Lake Bacalar, Mexico's second largest body of freshwater, which is also known as the "Lagoon of 7 colours" – and rightfully so!
You'll see the colour of the crystal-clear water turn into various shades of turquoise and blue depending on the depth of the lake and the time of the day – it's simply magical! It could easily induce one to sit by the shores for days without regret simply admiring the changing colours of the lake.
The lagoon is largely fed by cenotes which are underground water systems typical of the Yucatan Peninsula. The crystal-clear waters of the lake, the sandy bottom and the shallow water at the shores also make the ideal place for swimming and snorkelling or simply to set up camp at one of the many piers and chill your day away! 😊
If you don't have a hotel right by the lagoon with it's own private lagoon access and wonder where to access the water simply head to one of the Balnearios or restaurants/ bars located on the lakefront where you can enjoy a meal or just a drink and sit lakeside or relax on the adjacent docks. (e.g. Las Playitas)
Looking for something that wouldn't cost us too much we found the best (and cheapest) places to access the Bacalar Lagoon to be:
BALNEARIO MUNICIPAL

Balneario Municipal is the public one close to the center of town that you can access for FREE (parking 10 MXN) We expected this place to be super crowded and packed with tourists however this wasn't the case. Especially when you get here during the week in the mornings you might end up having the whole pier to yourself. We went here several times and always had a blast!

NOTE: Drinks and food not allowed on the pier.

COCALITOS

Cocalitos (which is the name of the restaurant by the Lagoon) is a bit further out, close to the Cenote Azul and easy to access by bike or by car from Bacalar town center.

For 25 MXN p.P. you not only get parking, toilets and a grassy area by the lagoon to put your towel and sunbath the day away (btw. waaaay more comfortable than the docks!) you also can see the giant stromatolites – known colloquially as fresh water coral or living rock.

Freshwater stromatolites are very rare, with only a handful of ecosystems in the world that support them and the ones found in the Bacalar Lagoon date to at least 3.5 million years ago, how amazing is that??

There are also picnic tables in the shade by the water which you can rent for 50 MXN to consume your own food or simply head to the restaurants for some drinks and snacks if you feel hungry.

You can also rent Kayaks or standup paddle boards here. We were happy simply enjoying the water and the cool wooden water swings – definitely an Instagrammers dream! 😊
2 – Explore the CENOTES
As mentioned the water by the shores of the lagoon is very shallow however, there are also some sinkholes commonly known as cenotes within the lagoon which can be seen by kayak or during a boat tour of the lagoon which will be offered basically everywhere you go. (some enthusiastic sellers will even jump in front of your car that get your attention – so watch out! 😊)
There are also cenotes outside of the lagoon such as the beautiful Cenote Azul. This cenote is definitely a must-do for divers as it apparently represents a real challenge due of its great depth (approx. 90 meters!) and special features.
It is separated from the lake only by a few meters and can be easily found as big signs along the highway will point you there. (If you're in town simply head to the southern tip of the lagoon towards Cocalitos which we mentioned above).
We are no divers but even if you just want to take dip your toes in the warm waters or do some snorkelling to spot some smaller fish this cenote is the perfect place. There is also a restaurant on site where you can get some snacks and refreshing drinks while enjoying the views – great place to spend the afternoon.
NOTE: It can get very busy on the weekends when many Mexican families from Bacalar and Chetumal come here for some relaxation and to have a good time so if you can, come here on a weekday in the mornings or early afternoon!
3 – Visit the fort of San Felipe Bacalar
The beautiful stone Fort of San Felipe Bacalar, which was built in 1729, can be found in the center of Bacalar town on the eastern edge of Bacalar's town square.
It was used to prevent attacks from the pirates as well as to monitor and repell traffickers of dye-wood which was a highly sought-after product back then. The Spanish also used the fort as point of defence against the Maya, who were fighting to win back the village.
You can find a small but modern local history museum inside the fort today, which tells you a bit more about the history of Bacalar and the surrounding region. There is even a skeleton of a pirate on display!! 😊
The fort is open from Tuesday to Sunday, 9 AM to 7 PM. The entrance fee is MXN 60.
4 – Explore some ancient Mayan ruins nearby Bacalar
Bacalar is conveniently located for exploring some local archaeological sites nearby, many of which are less well known in the region and therefore not (yet) overrun by tourists. In fact if you're lucky you might even wander around some of these ancient jungle ruins all by yourself ! 😊
So if you have a bit of time to spare then the following Mayan ruin sites close to Bacalar are definetly worth exploring: Kohunlich, Dzibanche, Chacchoben and Chicanna.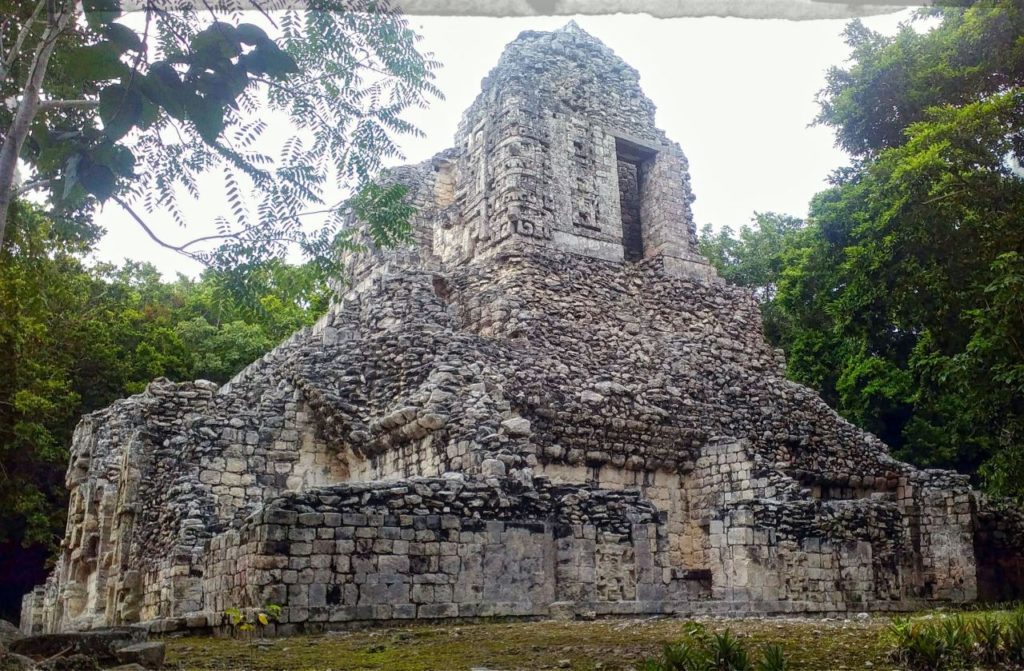 5 – Wander through the town of Bacalar – un pueblo magico!
The town of Bacalar was declared a "Pueblo Magico" (= a magic village) in 2006 since it is such a unique and beautiful gem on the Yucatan Peninsula. So in-between all the relaxing at the lagoon, the exploring of ancient Mayan ruin or the jumping into gorgeous cenotes definitely make some room for a little stroll around this this charming little town.
You can start at the main town square with its green park where you can also find the Fort of San Felipe as well as the Bacalar sign and take in the stunning view of the lagoon from up here.
Note: there is free Wi-Fi at the main square ! 😊
You can then head to the other side of the park and turn into calle 22 with its colourful wooden houses, cute little shops and laid-back restaurants. At the end of the road you'll get to a church – Parroquia San Joaquin – which we liked a lot.
After that grab a bite in one of the cosy little restaurants before it's time to head back to the lagoon for a little afternoon nap.
Food tip for breakfast lovers!!
If you're looking for a great place for breakfast or brunch in Bacalar than we have THE PLACE for you! Head to EL MANATI, which you can also find in Calle 22. This part gallery, part store, part cafe, part garden kinda place serves some delicious breakfast which you can enjoy in their big and beautiful garden at the back – we absolutely loved it there!
We hope you find this guide helpful and would love to hear from you if you've been to Bacalar too!
The following links are affiliate links as well, which means that if you book a stay through these links, we'll get a small commission. Don't worry–the price is still the same for you.
Where to stay in Bacalar, Mexico?
We stayed at the Hotel Lagoon* which is located right between Chetumal and Bacalar – ideal, if you plan on visiting Chetumal as well.

It offers great value for money (we paid around 34 USD/room), a little pool,free coffee and a little breakfast in the morning (SCORE!).
Other stays in Bacalar
Recommended Tours and Activities to make your time in Bacalar unforgettable
If you're looking for a hassle free option to get to Bacalar including all the highlights than we can recommend booking a full day tour such as the "Bacalar and Cenote Azul"* Tour including pick-up from your hotel in Playa del Carmen (Cancun at a surcharge) as well as a boat cruise on the lagoon, swimming and snorkling at Cenote Azul and lunch. Ideal if you don't have your own transportation but want to explore more of the Riviera Maya!
If you're already in Bacalar there are also tons of fun activities available for online booking such as boat cruises on the lagoon like the "Bacalar Lagoon Sightseeing Boat Tour with Open Bar"* – yep – OPEN BAR! ;-), sailing trips* and – my personal favourite – a sunrise SUP Session* on the Lagoon – how cool is that???.
If you're looking for something specific just head to a trip-booking site like Viator* and simply search for "Bacalar".
Bacalar Lagoon Sightseeing Boat Tour wtih Open Bar
Cruise the Bacalar Lagoon to the Black Cenote and Cenote Esmerelda on a half-day snorkeling tour of the spectacular 'Lake of Seven Colors.' You'll pass through the Pirates' Channel, pause to make mud masks from sulfurous mud, and slip into the water to snorkel at both cenotes. Before returning to shore, navigate to the Island of Birds, a haven for some of the migratory birds that flock to the Bacalar Lagoon. Snacks and unlimited Ddrinks from the open bar included.
Sunrise Stand Up Paddle Board Tour
Explore the calm, clear waters of Bacalar Lagoon during the early morning hours on this sightseeing stand-up paddleboarding tour. Discover the Black Cenote (also known as Cenote La Bruja), an open sky cenote at the deepest point of the lake. Plus, mix up an exfoliating mask with sulfur mud. The tour also includes coffee and juice, as well as a light breakfast and snacks.
BACALAR & CENOTE AZUL from Riviera Maya and Cancun (Private)
Take a day tour to Laguna Bacalar, where is the second largest lake in Mexico. It is the mayor attraction of the village, also known as "the lagoon of 7 colors", thanks to the different tonalities of blue and green that has depending on the depth. You'll visit also the little downtown, Fuerte San Felipe and the amazing Cenote Azul, the deepest of Yucatan, where you will enjoy snorkeling in the crystal-clear water of this beautiful natural pool. Return-trip from Riviera Maya and lunch included.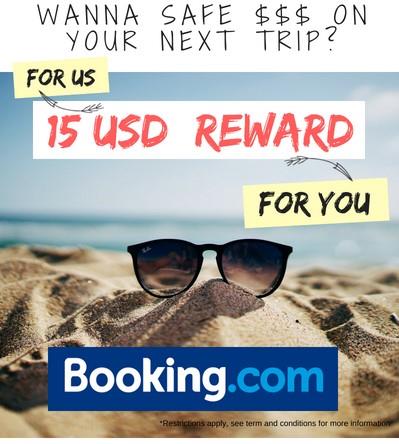 Where to stay in Bacalar?
Check out Casa Lamat*
Cosy, jungle-type cabanas right at the lagoon. They have their own private pier and hammocks, perfect for relaxing and simply enjoying the day. Quiet location, about 20 minutes walk to the town center.
* = Affiliate links.