FUN SCOOTER DAY EXPLORING 2 VIEWS LOOKOUT, LOVE
@

KOH TAO, CHALOK BAAN KAO AND TANOTE BAY

Although Koh Tao is a really small island there is still tons to explore! So we decided to get us a little scooter and check out some of the popular viewpoints Koh Tao has to offer as well as to explore some of the other tropical bays and beaches, which are simply too beautiful to miss when visiting Koh Tao.
GETTING INTO ISLAND MODE

Check out our short video of our Koh Tao scooter tour for the ultimate island feeling 🙂
GETTING OUR SCOOTER
Before getting the ride for our little Koh Tao scooter tour we checked online for reviews and feedback on the various scooter rental places in Sairee (there are TONS!) and found a lot of people saying that going for the cheapest rental company might not necessarily be a smart move.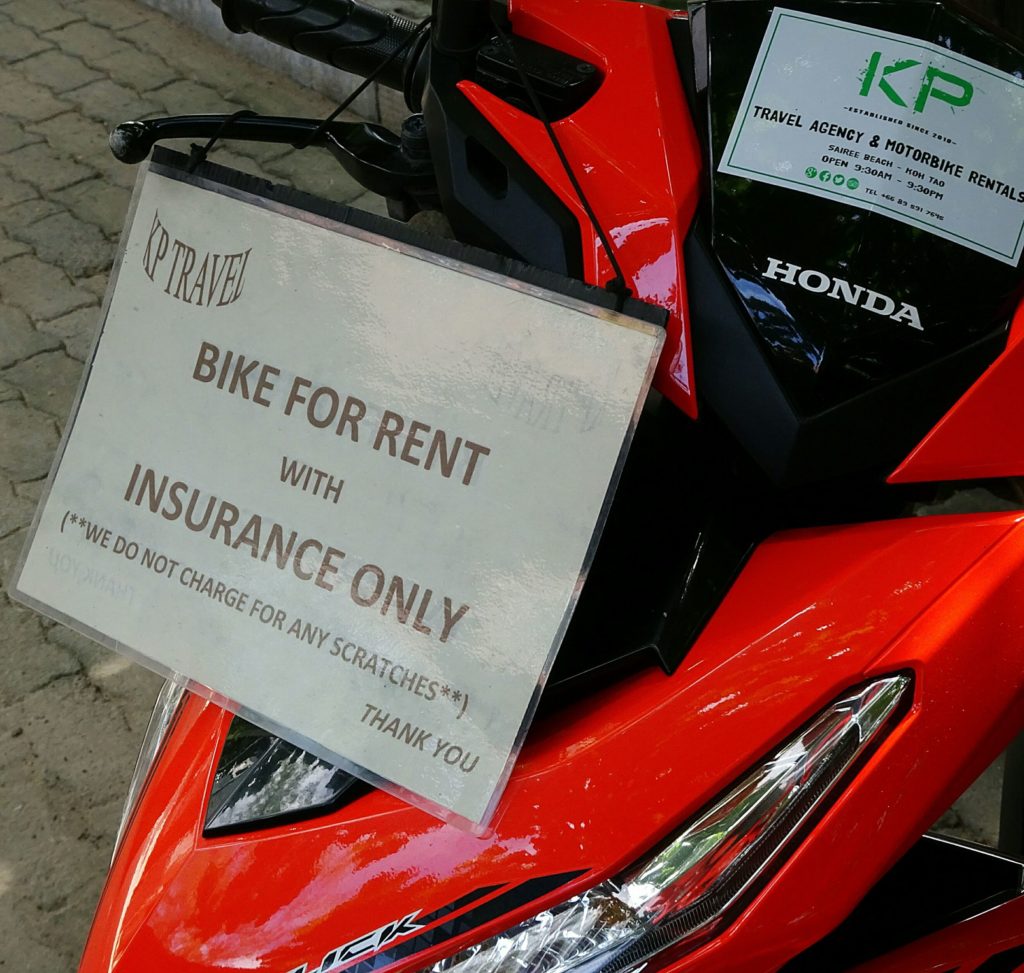 Seems there are a lot of scooter rental shops on Koh Tao which try to make an extra dollar by blaming you for scratches which actually have been there before, but maybe hidden so that you did not spot them when getting your scooter.
There was for example a comment from one traveller claiming that the rental company charged them 5000THB for a scratch underneath (!) the motorbike and in order to get their passports back (it's common to leave your passports as a deposit) they had to pay it! How fucked up is that?
So be sure to do your homework and check the reviews or ask some fellow travellers for recommendations. We decided to pay a few extra $$ (in total 300 THB for the day) and go with KP Travel & Motorbike rental as all their motorcycles come with insurance that covers you basically for all scratches – definitely worth for having peace of mind while touring Koh Tao.
BUT FIRST, COFFEE!
Having our scooter sorted we were ready to go. Well Martin was, I however needed some coffee and breakfast before I'd be going anywhere. Luckily, KP is located right next BLUE WATER, one of our favourite spots for breakfast and sundowners on Koh Tao. Although a bit pricy, the money spend is well worth it.
You can get a table right on the beach and their food is well presented and of high quality! We absolutely love their muesli and the banana-caramel French toast for breakfast, it's the perfect start to the day! (Check out our top 10 places to eat on Koh Tao which is coming up soon – needless to say that Blue Water is one of them 😊)
After waking from our sugar coma, it was really time to get going so we quickly hopped on our scooter and off we were to explore Koh Tao!
PANORAMIC VIEWS COME AT A COST!

We definitely wanted to see some amazing views and decided to check out the two viewpoints in the centre of the island: Two Views lookout and Love @ Koh Tao.
If you are interested in visiting them as well than you'll basically have two options.
OPTION 1, and what we did, is best if you start your trip in Sairee and combine your scooter tour with a little jungle walk.
You take the main road from Sairee towards Mae Haad and look for a round sign pointing to OK VIEW. Turn left leaving the main road and follow the steep, narrow path passing Moonlight Bungalows and head all the way up the very steep, rutted track.
You'll eventually see a sign pointing to the viewpoint on the right hand side of the road. This is as far as you can go with your scooter!
So we parked our scooter, grabbed our bottle of water, put on some sunscreen and started climbing up the hill to see the viewpoint. The rutted steep path is partly washed away and we quickly regretted only wearing flip flops. Definitely NOT recommended!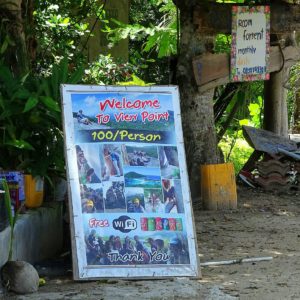 Once you've climbed up the hill you'll pass a restaurant on the left and a sign shortly after that asking for 100THB per person to continue to the Two Views Lookout. You might be able to sneak past without paying the 100THB as there was nobody there to collect the money when we were there!
Alternatively, you can simply invest the money in a drink in the Two View Restaurant & Bar shortly before the viewpoint from where you'll be rewarded with similar amazing views over Sairee. (Tip – Check out their rooftop terrace! 🙂 ).
From the restaurant it's an easy 5 minutes walk down the road to the reservoir where you'll find another viewpoint – Love @ Koh Tao with amazing views over Ao Tanote and Hin Wong. If it's clear, you'll also be able to see the neighbouring islands of Ko Pha Ngan and Ko Samui.
As it's a restaurant you'll be expected to buy at least a drink but a bottle of water should do if you just want to take a quick photo. As we really loved the views and the relaxing vibe at Love @ Koh Tao we spend about an hour here sipping mango smoothies, taking pictures and relaxing in the shade while overlooking the Ao Tanote Bay – simply spectacular.
From Love @ Koh Tao a road leads down to Tanote Bay so if climbing is not your think you could easily access both viewpoints, 2 Views & Love at Koh Tao via this road. (Btw, that's OPTION 2 😊)
As we didn't know about that before and came hiking up the path from the other side we had to walk all the way back to get our scooter.
However, we actually enjoyed a bit of exercise through the jungle forest of Koh Tao. (Although I must admit I was shortly tempted to ask Martin to go and get the scooter by himself and to pick me up at the viewpoint…veeery tempted 😊)
Once we survived the walk back down in our flip flops and were back on our scooter we went via Mae Haad towards Chalok Baan Kao where we wanted to grab some lunch and look for turtles at the Turtle Sanctuary.
TURTLES AND SMOOTHIES
If you are on Koh Tao at the right time you might be able to visit some baby turtles at the View Heaven Dive Shop and Restaurant who also run a turtle e conservation project. Don't expect anything huge, they only have a few marine tanks where they keep the turtles until they are old enough to be released into the ocean however the staff is very passionate about this project and they are doing a great job here.
But of course, we picked the wrong time for our meet & great with the baby turtles of Koh Tao ☹ All tanks were empty and not a single turtle in sight! Turns out they only get the turtles from mid-June and release them from October until January/February. Hence why there are no turtles at all at the end of May when we visited this place! 🙂 Well another time maybe.
Since we were here already we decided to grab a little snack at the restaurant, they do some amazing smoothies which fill you up for the next hour or two and the views of Chalok Baan Kao beach from here are just amazing.

So turtles or no turtles, this place is worth a stop either way!
TANOTE BAY – another beach paradise
Time was ticking and we continued our journey to Tanote Bay. They recently have finished building a concrete road to access Tanote Bay but it's still a very steep one and being the little chicken that I am, I freaked out a little and clung firmly on to Martin who, as usual, delivered me safe and sound to our next destination.
You can access the beach at Tanote Bay simply by walking through one of the resorts. As we parked our scooters at the very end of the road we simply walked through the Family Resort and after a few steps arrived to another beach paradise.

As there are only a few resorts here it is much quieter and we loved that the water here is not as shallow as in Sairee or Chalok Baan Kao. There are tons of little fish in the water so it's worth taking your snorkel gear with you if you have it!
We stayed until the sun was gone and almost decided to confirm a hotel here for our remaining week on Koh Tao. Luckily we didn't as you'd always need a scooter to go, well…ANYWHERE and we actually loved being close to the hustle and bustle of Sairee having plenty of restaurants and shops in walking distance.
However, if you look for a quiet place to snorkel and sunbath your days away than Tanote Bay might be right down your alley.
SUNSET AT SAIREE BEACH – FINISHING THE DAY THE RIGHT WAY
We arrived back in Sairee just in time to watch the sunset and if we questioned where to stay before we now were 100% certain that just for the sunsets alone, Sairee is simply the best place to end your days on Koh Tao.
With some drinks from 7-11 we headed to our favourite place on the beach and watched this perfect day come to a close.
Koh Tao you are simply wonderful!
---
YOU MIGHT ALSO BE INTERESTED IN: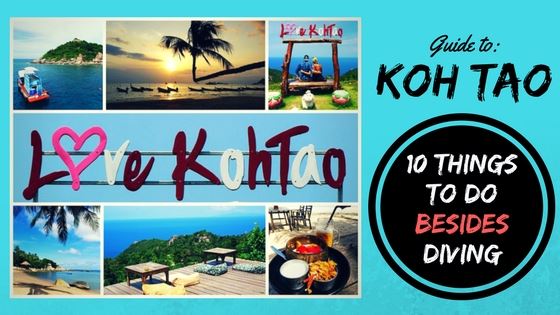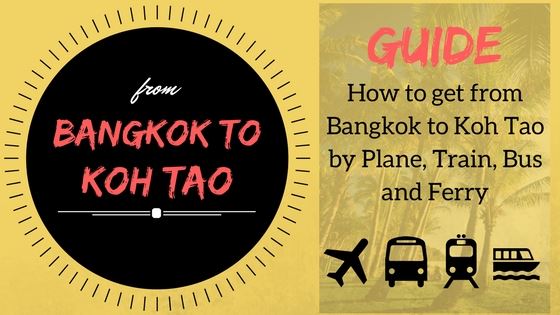 ---
---
Did you enjoy our post about our Koh Tao scooter tour? Leave a comment below, share and pin it! 🙂