Every year thousands of tourists and backpackers flock to the little island of Koh Tao to go on unforgettable scuba diving adventures or at least do their PADI certification and THEN go on unforgettable scuba diving adventures. No wonder, the sea life around Koh Tao is known as a world class hot spot packed with colourful fish, corals and sea turtles and getting your diving certification still comes at a bargain compared to most western destinations.
However, what if you are just like me, not such a big fan of the underwater world and simply the thought of putting your head under water while heavily relying on an oxygen tank to keep you alive just to see some oddly looking creatures basically seems not really worth all the effort? It's also pretty damn scary…and…weird…and I very much prefer staying in a habitat I was meant to live in, thank you very much.
Especially if the habitat looks like this:

Plus I also don't specifically like fish…I don't like to eat them and I also don't like to look at them…unless of course it's Dory or Nemo, those two rock! But luckily my fellow anti-fish-lover-fans, Koh Tao is not just an underwater paradise waiting to be explored. Forget sitting bored in your hotel room all day long desperately waiting for your diver friends to return.
There are tons of other fun things to do on Koh Tao without even getting your feet wet. From beautiful bays, beaches and lush, green hills and mountains offering spectacular views to some amazing restaurants, beach bars and there is so much else on this island just waiting for you to explore.
So we say DITCH THE SCUBA DIVING and try one or all of our other highly recommended things to do on Koh Tao BESIDES diving.
Here are our TOP 10 FUN and NON-DIVING-related MUST-DO's when in Koh Tao 😊
1

:

WORK ON YOUR HOLIDAY TAN AT ONE OF THE MANY TROPICAL BEACHES
Despite being such a small island, Koh Tao still has numerous white sandy beaches spread across it's coastline to enjoy some sunbathing sessions while working on your perfect holiday tan! Definitely my number one activity when stranded on a tropical island! 😊
With most accommodation being found either along Sairee beach or in the Mae Haad bay these two long stretches of sand are the most popular and busiest beaches on Koh Tao and highly frequented by tourists. You'll also find tons of restaurant, bars, shops and cafes nearby making it the perfect place to chill your days away.
The Water is very shallow and warm so you'll most likely end up sitting in the water like in a bath tub rather than doing much exercise and swimming around.
Both places are also ideal snorkelling spots with tons of little fish around. There is the famous shipwreck at Mae Haad at the south end of the bay and a coral reef just 30 metres from the shores of Sairee Beach where you can snorkel your little heart out.
Other beach-bum hot spots on Koh Tao include the white sandy beach in Aow Leuk Bay with beautiful Shark Island in the background and a coral reef on both sides of the bay as well as picturesque Freedom Beach, which is the most popular beach on the south coast with its crystal clear water and a shallow coral reef not too far out. (Attention, entrance fees for access to both beaches apply!)
Another (free) alternative is the beach at Tanote Bay on the east coast of Koh Tao which is perfect for sunbathing and snorkelling as well as Chalok Baan Kao Bay, the 3rd largest beach on the island, with various restaurants and shops nearby.
2

:

DIG IN SOME FOOD WHILE OVERLOOKING THE SEA!
No matter if it's an iced-latte with a delicious bowl of fruits for breakfast enjoyed while sitting on a Thai cushion in of the beachside cafes, a box of cheap Pad Thai for lunch from a street food vendor which you take down to the beach with a cold drink from 7-11 or a visit to a top-notch seafood restaurant while watching the sunset, listening to the sound of the waves while sipping your Mai Tai's… – Koh Tao got you and aaaaall your food cravings covered.
From tons of street vendors, cafes and restaurants, deciding where to go for breakfast/Lunch/Dinner was always one of the hardest decisions of the day – there was just too much choice! 😊
Check out our posts about our favourite food hot spots on Koh Tao (coming soon!) and make sure to give them a try when you are around – they always fed us well. 😊
3

:

GO HIKING
Walking around Koh Tao is a great way of getting some exercise. After all the mid-night pancakes and cocktail buckets you'll most likely need it 😊. It also offers you the chance to get off the beaten path and see the island in a unique, un-spoilt way.
Some more remote areas and a lot of the viewpoints are actually only accessible on foot. (See also point 6 – Viewpoints)
Im terms of where you can go there is usually the next beach, town, viewpoint or bay just a short walk away (usually no more than 5 km) so you can basically start your walk right from your bungalow door and see where your feet take you.
We usually walked a lot between Sairee Beach and Mae Haad Beach as you can either walk along the little concrete foot path passing hotels, shops and restaurants which usually offers a bit more shade or you can walk directly on the beach until the Cliff View Resort from where you'll need to use to concrete path before you get to Mae Haad Beach again. If you want something a bit more challenging than we can recommend the following walking tour:
SAIREE BEACH – TANOTE BAY
The road up the hill starts approximately right in the middle of the main road which connects Mae Haad and Sairee Beach. If you are coming from Sairee you'll spot a big round "OK View" sign on the right hand side of the road.
From there Walk up approx. 1 kilometer following a small but steep road through a lush, tropical forest. Eventually the road turns into a dirt trail which is partly washed away so pay attention where you step!
You'll soon arrive at the top where you'll find a bar/restaurant offering a fantastic view over Sairee Beach.
You have the option to continue the road to Two Views Lookout or continue straight down the road to the reservoir and the Love @ Koh Tao Lookout, a great spot to have a drink and take some pictures.
From here you can continue the road leading down (approx. 600m). Once you are back down go in the opposite direction from Mae Haad by turning left to get to Tanote Bay (approx. 1km) and simply pick on of the resorts such as the Tanote Villa Hill Resort to enter to the beautiful beach.
In total this tour is approx. 5km one way so you'll most likely end up taking a taxi for your way back 😊
Note however that it can get super hot during the day so take a lot of water and sunscreen with you. Also there are usually no footpaths nor proper walking trails so pay attention to the traffic and take your GPS with you to avoid getting lost in the jungle 😊
4

:

RENT A SCOOTER AND DO YOUR OWN TOUR OF THE ISLAND
Renting a scooter is definitely one of the easiest and best way to explore this little island and we truly enjoyed our little scooter adventure to check out some amazing viewpoints and beaches. (Check out our full article about our Koh Tao Scooter adventure to two views, Love @ Koh Tao, Chalok Baan Kao and Tanote Bay)
However, should this be your first time renting a scooter than bear in mind that although Koh Tao has this relaxed – carefree atmosphere with most people not even bothering to wear a helmet (how stupid can you be??) that riding your scooter can be quite tricky and difficult in some places. Some of the roads are extremely steep (especially if you plan on visiting some of the viewpoints) and watch out for loose gravel and sand on the road which can be very slippery.
Prices for renting a motorbike start as low as 150 THB – 300 THB per day however be aware that the general rule is should the bike be damaged in ANY way, any parts must be replace NEW, not just repaired. We read quite many reviews online where tourists where being "tricked" into having to replace scratches, they were not even responsible for and ending up paying up to 5000THB.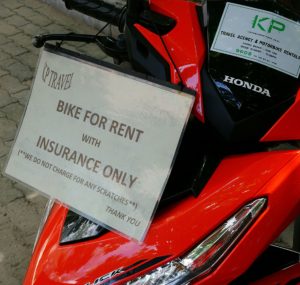 So if you go with a cheaper rental company which doesn't offer any insurance than ensure to check your bike carefully for any scratches and broken parts before and make sure all parties concerned are aware of and note down anything you noticed on your ride before you start your scooter adventure.
Being rather safe than sorry we opted for the slightly more expensive scooters from KP Travel which came with a "no fee for scratches – insurance" – the 3-4 $ extra were well worth the peace of mind not to get ripped off at the end.
5

:

GET A MASSAGE OR SPA TREATMENT ON KOH TAO
As the traditional Thai message is a integral part of the Thai culture there are basically massage places EVERYWHERE in Thailand, luckily also on Koh Tao. Prices are still reasonable but highly dependent on where you go.
You can either book a luxurious, high-end spa session at one of the new and super modern spa resorts (free pick-up is usually included) or simply get a traditional Thai message right at the beach or at a local family-run spa.
6

:

BE AMAZED BY THE SCENIC VIEWS FROM ONE OF THE MANY LOOKOUTS
Due to it's many hills Koh Tao is packed with beautiful viewpoints which you can either access on foot (if you are up for a little sweaty challenge climbing those hills in the blazing heat 😊) or with a scooter. However note that for most of these viewpoints there will be at least a bit of walking involved so wear proper shoes if you have some! Flip Flops are definitely NOT the right choice – trust me! 😊
Unfortunately, during the past years most of the Koh Tao's lookouts have been commercialised meaning that some now charge an entrance fee of up to 100 THB per person. This mainly applies to the ones in the North of the island such as Mango Viewpoint from where you can see the whole of Sairee Beach and Mae Haad Bay. But also the popular John Suwan viewpoint in the very South charges 100 THB which however will reward you with perfect panoramic views of the whole of Chalok Baan Kao and Thian Og Bay as well as allow you access to one of the most beautiful beaches on Koh Tao: Freedom Beach.
We went to see the Two Views Lookout as well as the Love @ Koh Tao in the centre of the island as they are pretty much next to each other, don't charge an entrance fee and can easily be combined on a little scooter/hiking adventure. Check out our detailed Koh Tao Scooter adventure to two views, Love @ Koh Tao, Chalok Baan Kao and Tanote Bay for all instructions how to get to these two viewpoints.
Looking for a spectacular sunrise or sunset experience on Koh Tao? Then don't you worry, Koh Tao offers both. If you look for the best viewpoint to watch the sunrise than it got to be Love @ Koh Tao which is facing the east and will totally be worth getting up for so early (or maybe you are still awake after dancing the night away? 😊) and if you look for the best viewpoint to watch the sunset than head to Mango Bay Viewpoint at the very North of Koh Tao guaranteeing you the best spot for an unforgettable sunset experience.
7

:

GO ROCK CLIMBING
Admittedly, Rock climbing is not really my thing as I'm just as scared of heights as I'm scared of breathing underwater 😊 But if you just love to climb up some rocks than Koh Tao is the place to be. You'll find granite rocks basically everywhere on the island and with most people coming here for the diving rather than climbing you'll most likely end up having this huge playground for yourself.
Popular climbing spots are Mek's Mountain and Secret Garden in Sairee as well as Front Yard and Back Yard in Chalok Baan Kao.
There are some guided tours available, just check in one of the tour agencies or local climbing shops.
8

:

TAKE A TAXI BOAT AND EXPLORE NEARBY ISLANDS OR BAYS
The most common sign you will see when strolling along the beach other than diving is TAXI BOAT!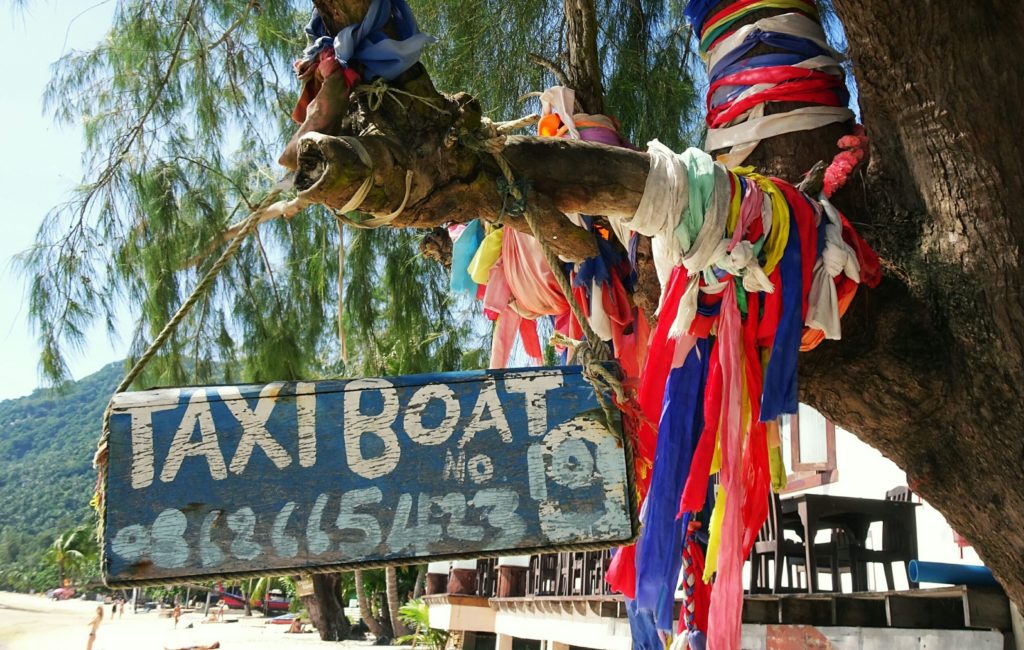 It seems every local with a boat on Koh Tao has a little side business offering private tours and transfers to nearby bays, beaches and islands. So get together a little group, grab some snacks and drinks and hire a water taxi for the day and you are guaranteed a fabulous time cruising around the crystal clear waters! (prices start from roughly 300-500 THB per person depending on your group size)
If you are up for snorkelling than most drivers will be able to bring you to some amazing snorkelling spots such as the Japanese Garden or Shark Bay. We can also highly recommend a visit of the nearby little island of Koh Nang Yuan! (Attention, there is a landing fee of 100 THB per Person).
Actually the island consists of 3 little islands which together form one of the most beautiful islands in the world. There is also a nice lookout (the climb takes approx. 15 – 20 min) offering absolutely spectacular views as well as the chance to take your photo at the number one Instagram selfie spot around Koh Tao! You have probably seen those pictures of tanned backpackers sitting on the top of a hill overlooking a stretch of white sandy beach below leading to another little island? It's THAT spot! Seeing these photos always, ALWAYS, resulted in spending the rest of the day dreaming about your next trip to South-East-Asia…
9

:

ENJOY A CHEAP SWEET STREET FOOD SNACK
Who doesn't love a good-old fashioned banana-Nutella pancake, coconut smoothie or a generous serving of mango-sticky rice as late-night party snack or dessert after a lovely dinner by the beach?
EXACTLY! Luckily there are tons of carts selling smoothies, pancakes and mango sticky rice that are filling the streets of Sairee during day but mainly night time so that your next sizzling pancake is always just a few meters away.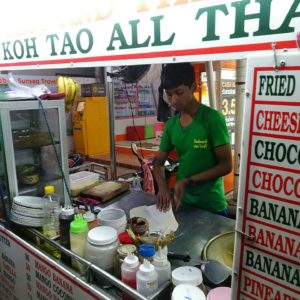 Here is a rough list of Koh Tao sweet street food snacks: (as of June, 2017):
Pancakes: from 50 THB / 1.50 $ (including various combinations such as coconut – banana – Nutella pancake)
Mango Sticky rice: small portion 80 THB, big: 100 THB (2.10 $ – 2.40 $)
Fruit Smoothie: 40 – 50 THB / 1.20 – 1.50 $
Fruit Salad: 50 – 60 THB / 1.50 – 1.70 $
10

:

WATCH THE FAMOUS KOH TAO SUNSET
Honestly, can you ever get tired of chilling all your worries away while watching picture-perfect sunsets??? Luckily Koh Tao has sunsets backpacker dreams are made of.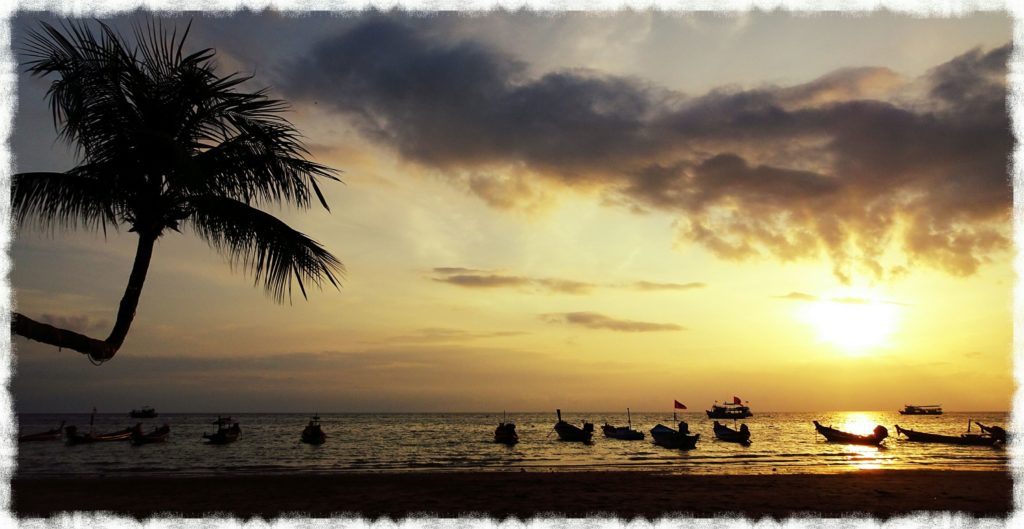 An interesting story is that Koh Tao used to be a political prison between 1943-44 and the prisoners described the island basically as "living hell" with most inmates either starving to death or dying from Malaria.
However, those beautiful Koh Tao sunsets kept even blowing their minds despite all the harshness of the island. One inmate of that time wrote:
"The only joy each day is watching the sunset. It's a spectacular scene. The waves are light purple with an indigo sky."
Luckily times have changed and 70 years later you can enjoy those gorgeous Koh Tao sunsets in comfort & style.
So if you want to get WOWED away just head to one of the many beach bars nestled along Sairee Beach about an hour before sunset, order yourself a delicious cocktail from the happy hour menu (starting from 100 THB), lay back on your cushion, dig your feet in the sand and simply enjoy the spectacle right in front of you! You'll be hooked right away and most likely you'll make this your daily Koh Tao evening routine. Because why wouldn't you?
Cheers to that!
---
YOU MIGHT ALSO BE INTERESTED IN: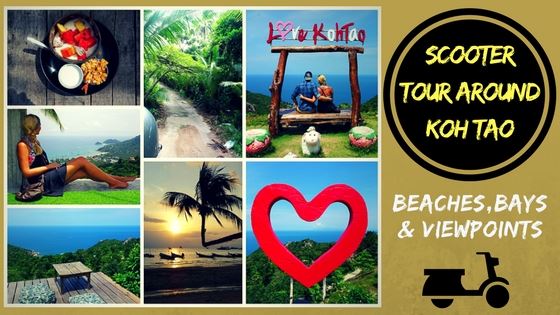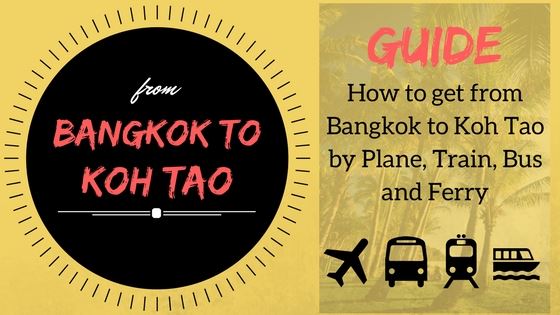 ---
---
If you like it – Pin it! 🙂