ACCOMMODATION, FOOD, BUDGET and CO-WORKING TIPS FOR YOUR NEXT KOH LANTA WORKATION
If you're a digital nomad looking for an island paradise in Thailand for your next workation then look no further – Koh Lanta got you covered!
Situated in the beautiful South of Thailand just off the coast of Krabi, Koh Lanta is still not as overrun by tourists and backpackers as nearby Aonang Beach or the ever popular Phi Phi Islands but offers everything your digital nomad heart could possibly need.
From good and strong Wi-Fi, delicious local food, white sandy beaches, rocking co-working places, great dive and snorkel spots to an absolute chilled and laid-back island vibe that will make you feel relaxed no matter how many things you've written down on your To-Do-list.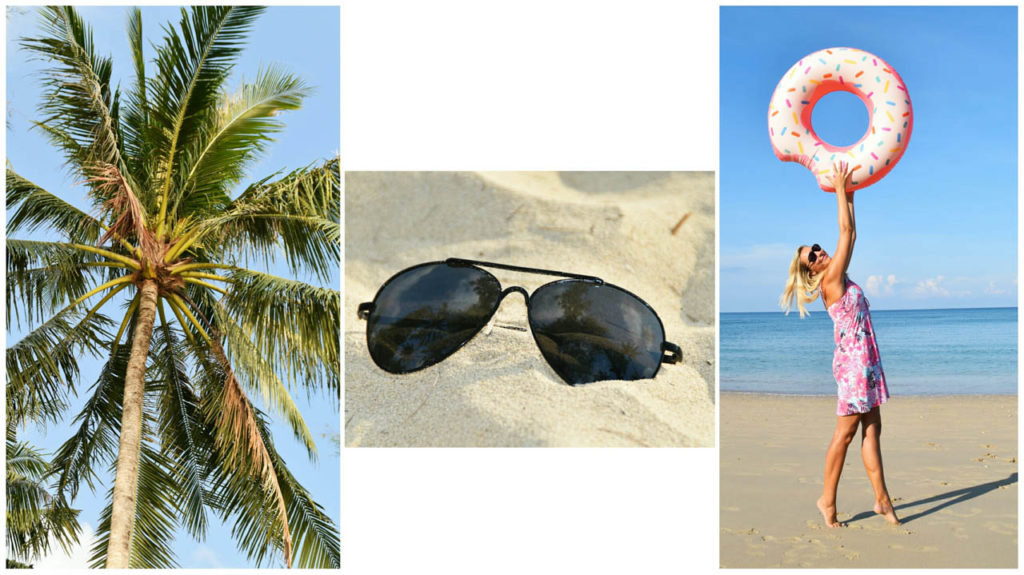 So if you're still looking for a great place in Thailand to base yourself with your laptop for a couple of weeks (or even months?) we can strongly recommend checking out Koh Lanta. To make your life easier we've put together a detailed guide about our time in this tropical paradise listing everything from where we stayed and worked to what we did in our spare time and how much we spend during our one month workation on Koh Lanta.
Enjoy! 😊
DISCLAIMER: This article contains affiliate links which are marked with a *. If you buy anything after you clicked such a link we'll receive a small commission but most importantly the price for you stays the same.
Getting to Koh Lanta from Krabi
If you made it to Krabi than you basically have two options to get to the island of Koh Lanta – either you take the ferry or a minivan.
Ferries run regularly from Krabi Pier and take approximately 2 hours to Koh Lanta. Keep in mind that Krabi Pier is a few miles outside of town so you need to add a few baht for your transfer from Krabi town or Aonang Beach. Once you get to Koh Lanta you need to organise yourself a tuk-tuk to take you to your accommodation. This can cost you between 50 THB – 200+ THB depending on how far it is.
Minivans are a good alternative – especially when you don't like long, shaky ferry rides like me. "Package deals" are advertised everywhere, no matter if you stay in Krabi town or Aonang Beach and usually cost 300 – 450THB. A big advantage of this option is that you not only get picked-up at your hotel in Krabi but also dropped off at your hotel on Koh Lanta! EASY PEASY!
When you opt for the Minivan option you'll mainly be using roads until you get to Hua Hin Pier from where you AND the van get on a car ferry. The crossing only takes 10 – 15 minutes to Koh Lanta and you can stay in the car for this short trip.
---
BOOKING TIP
If you prefer booking your transfer online definitely check out 12Go Asia* – they sometimes offer great transfer deals for your island hopping adventures as well as reasonable rates for train, ferry, minivan and bus tickets. Biggest advantage, securing your seat in advance and being able to pay with credit card (which we try to do as often as possible due to the enormously high ATM fees in Thailand! 220 THB – SERIOUSLY??!!??).
At the time of writing this article 12Go Asia* did not offer a direct transfer from Krabi airport however good deals from Krabi Town and popular Aonang Beach for around 360 THB (= 10EUR/$11) per Person for their door-to-door transfer service.
---
As we arrived at Krabi airport we bought a ticket for a minivan transfer from one of the counters in the arrival hall which could take us straight to Koh Lanta. There are several agencies in the arrival hall so simply shop around, it shouldn't cost you more than 350 – 450THB per person.
We ended up paying 400THB and after waiting for 5 minutes a guy came to pick us up and we got into this empty and super fancy brand-new van. We thought YES! JACKPOT! A whole van to ourselves!!!
However, we only got to experience this luxury for exactly two short minutes as our driver was just taking us OUTSIDE the airport area to the highway where we had to get off and board an already super packed van waiting on the side of the road.
Classic Thailand 🙁 ! Neither we nor the people already in the van were too happy about that idea but after a bit of reorganising they somehow managed to squeeze us in – one in the very front and one in the very back.
Not ideal but having been on a long, 24-hrs trip from Sri Lanka to Krabi we didn't bother to complain, we just wanted to get to our hotel and pass out for the next day or so. 😊
The journey by minivan from Krabi airport to our hotel on Koh Lanta took roughly 3 hours in total.
Getting Around on Koh Lanta
There's no such thing as public transport on Koh Lanta but tuk-tuks are readily available to take you pretty much everywhere you want to go.
Make sure to negotiate the price before getting on – especially if you are more people or need to go a bit further.
As a rough indication for getting from one beach town to the next it (e.g. from Long-Beach to Khlong Khong Beach) it shouldn't cost you more than 50THB per Person.
A much more economical option – especially if you want to explore a lot – is renting a scooter.
Prices for renting a scooter usually start at 250THB per scooter / day (=6,50EUR/$8) and will give you the freedom to go and see everything this wonderful island has to offer without being dependent on finding a tuk-tuk to take you back home at the end of the day.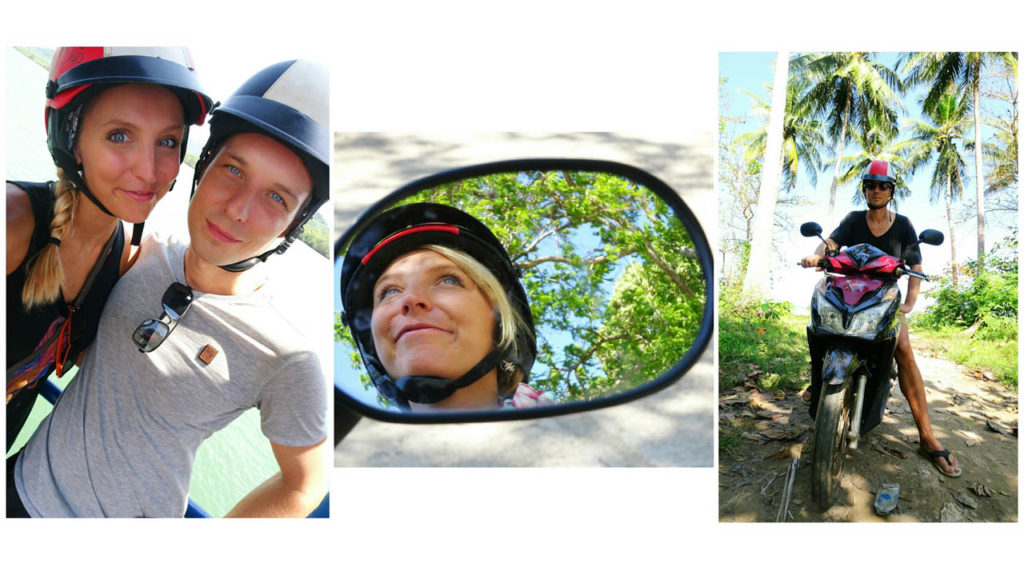 You can rent a scooter pretty much EVERYWHERE. We always rented our scooter at the accommodation where we were staying which was the most convenient option for us and prices where pretty much the same no matter where you rent your scooter anyway. However note, that they will keep your passport for the duration of your scooter rental which seems to be standard practise at most places here in Thailand.(Sometimes you can leave a cash deposit but most places will insist on keeping the passort)
Economically speaking, renting a scooter occasionally was the much cheaper and better option for us than taking a tuk-tuk (especially since we were two people on one scooter) and we absolutely loved our little scooter adventures around the island. (Click here if you want to read more about our scooter adventures in Thailand – they are THE BEST!!)
Getting work done on Koh Lanta
If you are a fellow digital nomad then you're not just here to eat, play and work on your tan – you actually need to get sh** done!
Luckily Koh Lanta features one of the highest rated Co-Working Spaces in Asia: Koh-Hub
Koh Hub is located in Long Beach and offers air-conditioned indoor places as well as tropical outdoor places in the garden area plus a strong and reliable internet-connection. It's a very welcoming atmosphere, staff is super sweet and friendly, you got a nice little juice bar and you can order delicious food to your desk. Brilliant! What else do you need to be super-productive?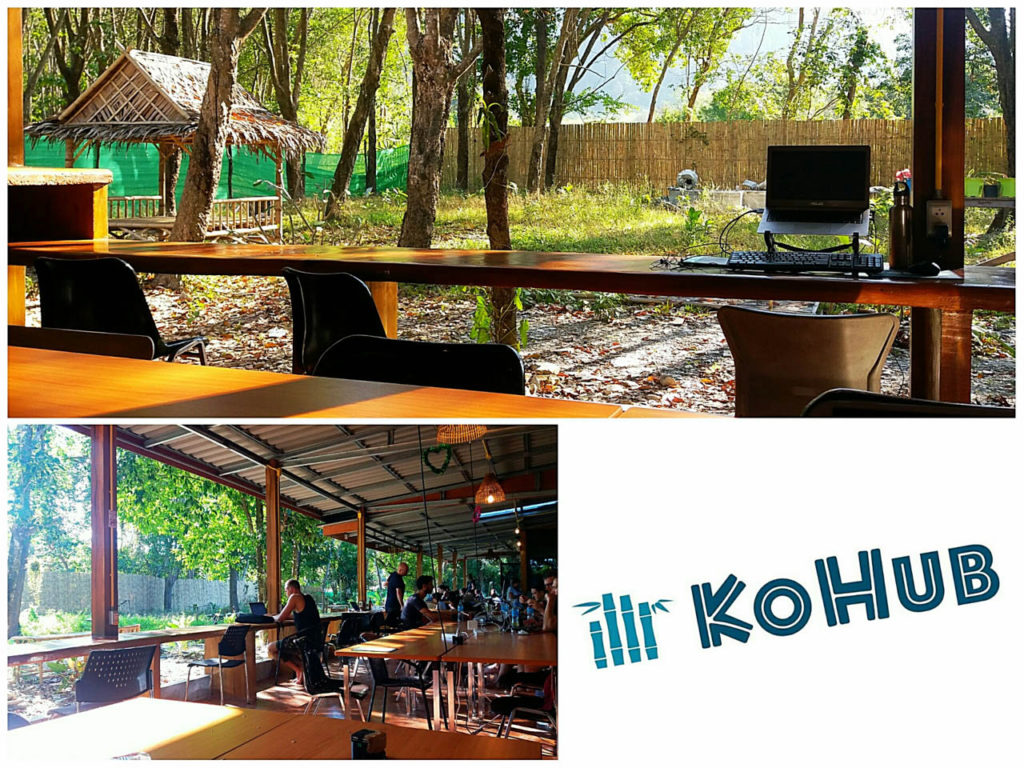 They also have a lot of activities going on which is perfect should you ever feel lonely – you'll quickly become part of the Koh-Hub community which is probably one of their biggest selling points.
They offer day passes, weekly deals as well as monthly food & accommodation packages.
In the one month we were staying on Koh Lanta we went to Koh Hub for 2 weeks (weekly pass = 2,000 THB / 50 EUR / $65) but if you're not looking for the community feel and better work on your own than in our opinion there are better (and cheaper!) options to get your work done.
We found that internet was usually strong enough no matter where we went on the island so we loved working from one of the many cute little cafés (some even came with a stunning sea view! 😊) as well as from our accommodation where we had set up a little work station.
You'll save some baht which you can then invest in food & drinks! WIN!
How to spend your spare time on Koh Lanta when you're not working?
Once you got your work done you're free to go wild and enjoy this wonderful island. There are tons of things to see and do on Koh Lanta that will keep you well-entertained outside your "office hours" 😊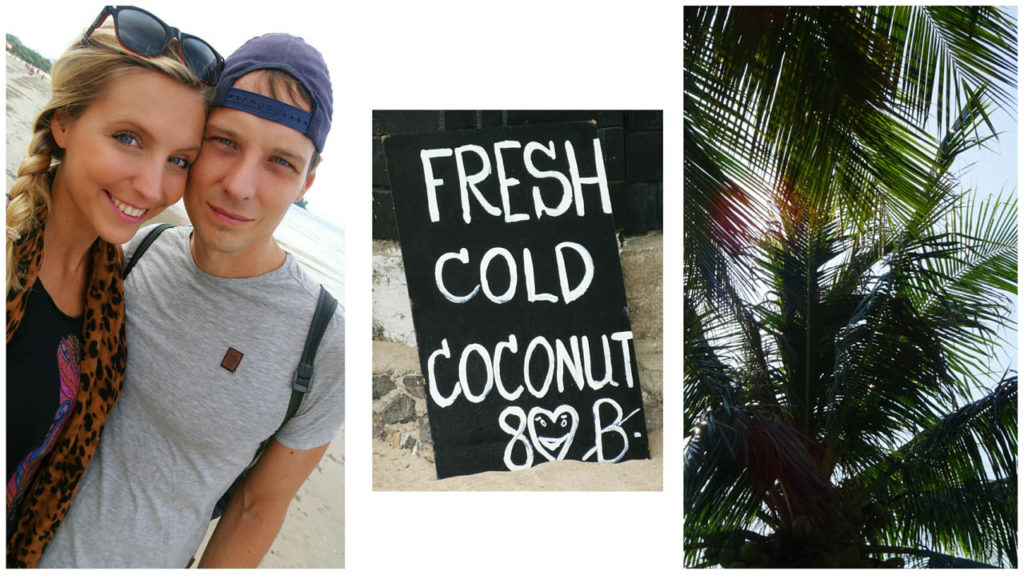 From white sandy beaches, delicious food, yoga and messages, beach bars with happy hour to fantastic snorkelling and diving spots – you'll be spoilt for choice.
Here are our favourite "Pinch me, this is where I live and work?"-activities on Koh Lanta:
---
1. Relax on the beach and work on your tan
Probably one of the most popular things to do on Koh Lanta is hitting the beach – after all, why come to an island if not for chilling on a white sand beach and soaking up the sun, right?
Luckily Koh Lanta got tons of beautiful beaches and likely there will be one in walking distance to your accommodation.
We stayed close to Long Beach which was perfect for a quick dip in the water or a run along the beach before starting our day. However, being spoilt for choice here we loved taking our scooter to explore other beaches such as our favourites: Secret Beach and Bamboo Beach.
They are further away from all the hotels so you'll only have to share these little gems of beautiful white sand beach with a handful of other people.
For more information about the best beaches in Koh Lanta, check out our guide to Koh Lantas Beaches. (COMING SOON! 🙂 )
2. Rent a scooter and go exploring
Exploring the island by scooter is one of the best things you can do and we absolutely loved our little scooter adventures and going on the hunt to find secluded little beaches, hidden cafes and restaurants and breath-taking viewpoints.
The roads are mostly fine and not too steep but watch out for the many pot-holes which can be dangerous. The average price to rent a little scooter on Koh Lanta is 250THB per day. However, if you're staying longer and renting for more days you obviously can negotiate a better deal.
Gasoline is available at little stalls on the side of the road and sold in bottles. One bottle (750 ml) will cost you around 40THB and will fill around a quarter tank of a small scooter.
3. Date with nature – visit the National Park
At the very southern tip of Koh Lanta you'll find a beautiful National Park (perfect to combine with a trip to Bamboo Bay Beach) – one of the nicest areas of Koh Lanta.
You can go hiking along the nature trails, spot cheeky little monkeys (watch your belongings!!!) and enjoy stunning panoramic views of the beach and the lush green jungle from the lighthouse.
Entrance fee is 200THB per person but well worth it if you enjoy nature and want to escape the tourist crowds for a bit.
4. Explore Lanta Old Town
If you want to get away from the resorts and hotels of Koh Lantas West coast then hop on your scooter and head to the other side of the island for a visit charming Lanta Old Town.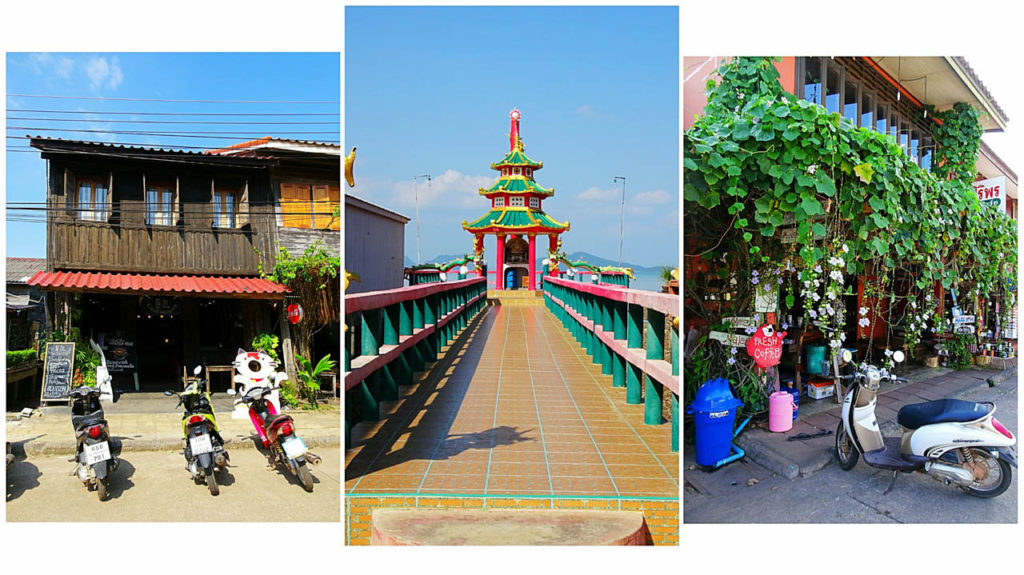 Until around 50 years ago Lanta Old town was the business centre of the island with Chinese and Arabic merchants settling here after using the island as a stop off on long journeys. The little fishing village has remained it's unique charm and atmosphere to today with it's traditional wooden houses on stills, it's laid-back vibe and the stunning panoramic views.
So have a stroll through this cute city and see what you can find. You can make some great bargains as prices tend to be a bit cheaper then in the tourist centres on the other side.
It's also the place for finding some unique souvenirs as there are many boutique shops specialising in authentic, hand-made clothes, arts and crafts.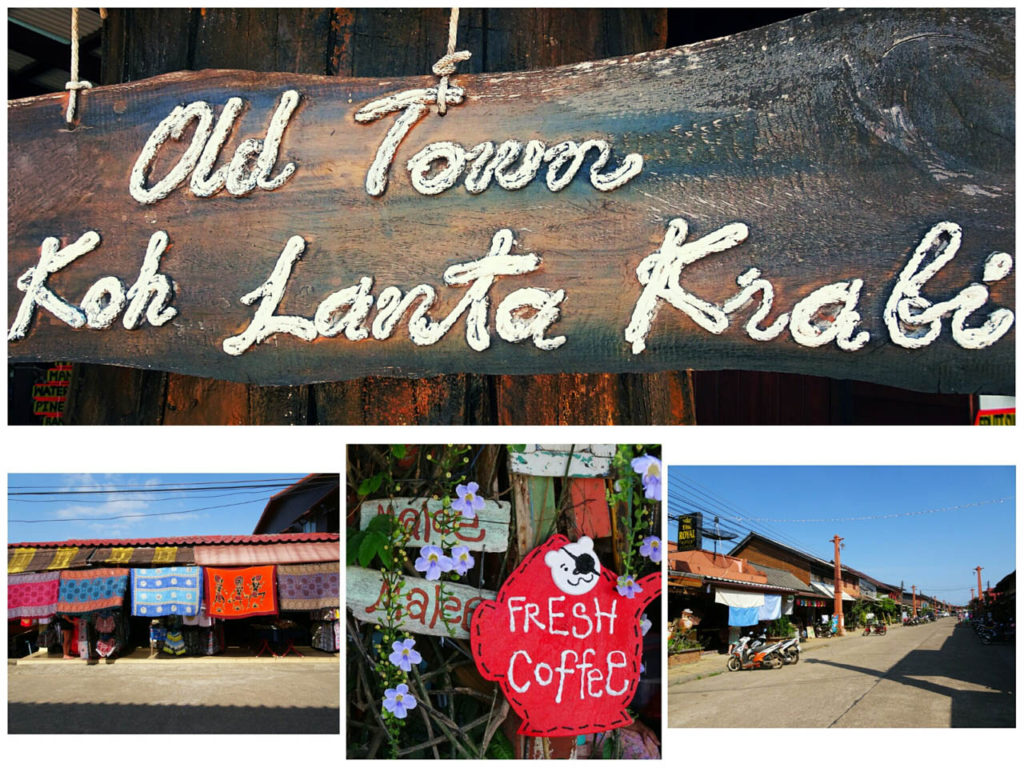 It's also a cultural hot spot and features a Buddhist and Chinese temple. There are tons of festivities taking place here all year round so check the calendar! You might be in for a special treat.
If you look for a nice little café to relax and simply enjoy the views of the nearby islands head to SHANTI CAFÉ.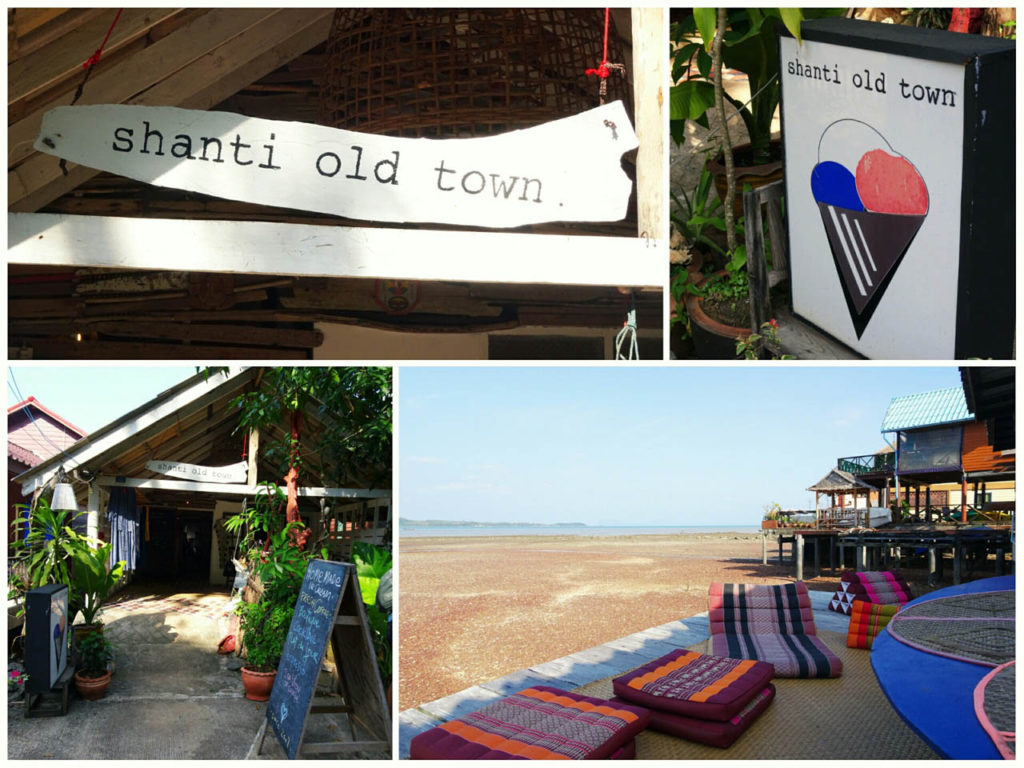 It's a little bit outside of the town centre and run by a French guy. He serves the best home-made ice-cream we've had in all of Thailand. An absolute treat!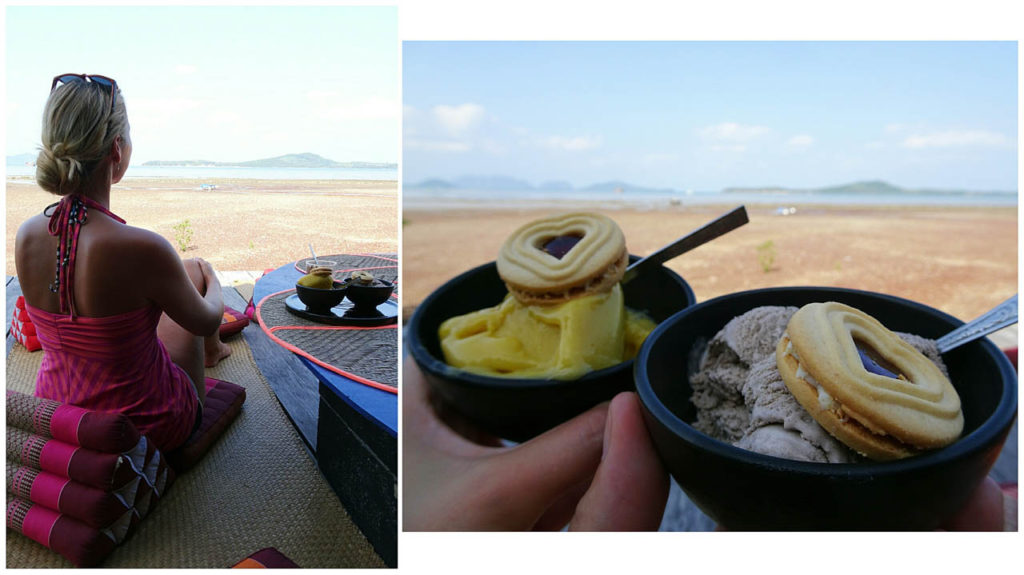 5. Cuddle some adorable cats and dogs at Lanta Animal Welfare
The Lanta Animal Welfare is a must for all animal lovers.
This non-profit organization opened in 2005 and takes care of sick, injured and homeless cats and dogs in Koh Lanta by looking after them, sterilising them and helping them to find new, loving homes. So far they have successfully treated more than 15000 animals!
You can join a free 45 minute tour and learn more about the great work the awesome people of Lanta Animal Welfare do here as well as get up close with the animals and make some new furry friends.
You can support them by sponsoring animals, making donations or even assist in bringing one of the animals to their new home if you're flying back home from Thailand. They'll will do all the work and it'll cost you nothing! If you want to find out more head to their website: http://www.lantaanimalwelfare.com/
6. Practice Yoga by the beach
If you 're into Yoga then you'll love Koh Lanta – nothing better than a good outdoor yoga session by the beach to get you ready for the day!
The beaches are still quiet with not that many tourists around before 10ish so you can simply find a nice little spot and get to work.
If you rather want to join a group and have a teacher by your side than you can head to one of the yoga places along Long Beach such as Sanctuary Yoga. You'll feel all zenned out listening to the waves and feeling the soft ocean breeze while practising your new yoga moves.
7. All aboard! Go on a snorkelling or diving adventure around Koh Lanta
With it's many neighbouring Islands Koh Lanta is the ideal place to book a fun boat tour and go exploring. There are various boat and snorkeling trips on offer with the most popular one being the 4 island tour where you'll have a great day out snorkeling, exploring the the local islands, enjoying a fresh and delicious BBQ feast on the beach and taking in the beautiful scenery around you.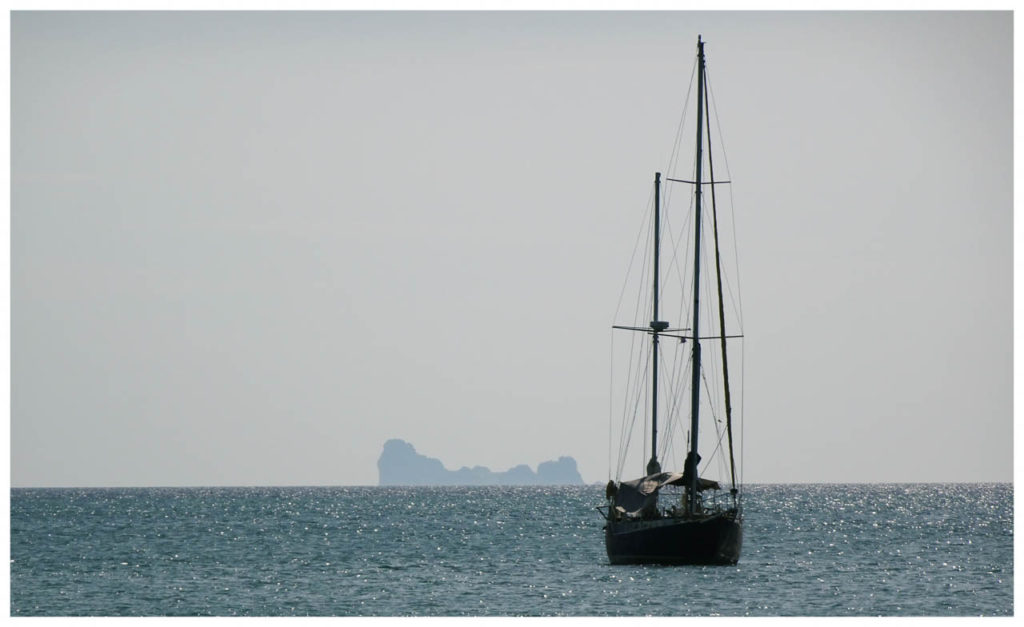 If you're a certified diver then joining a dive around Koh Lanta will be a very memorable experience. The area is home to an abundance of spectacular marine life, including whale sharks, manta rays, leopard sharks, turtles and much more so you should have a great day out.
You can usually book these tours directly at your accommodation or in one of the many local tour agencies.
8. Watch the sunset and enjoy a happy hour cocktail
With most beaches facing West you shouldn't have problems finding a nice spot to watch the spectacular Koh Lanta sunsets. Especially Long Beach and Khlong Khong beach are lined with tons of cute beachfront bars and restaurants offering good value Happy Hour Deals where you can end the day in style while enjoying a cocktail or two.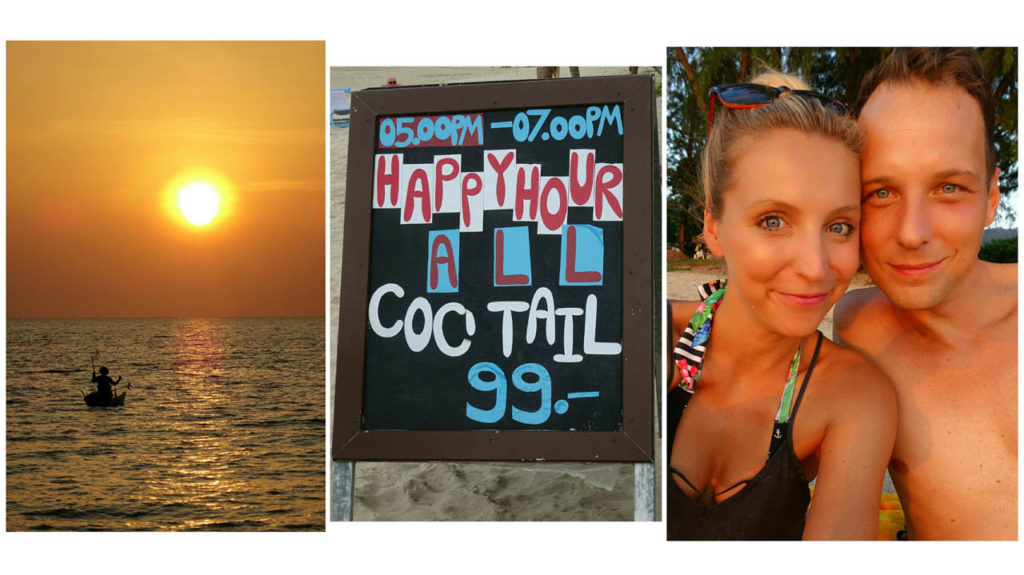 ---
Budget – How much does it cost to spend a month on Koh Lanta?
Obviously picking the right place to base yourself for a while very much depends on the cost-of-living so we've put together a little guide about the prices you can expect to pay on Koh Lanta.
Keep in mind that it's an island after all so you'll have to pay a bit more for pretty much everything than in other (touristic) places on the mainland.
1. Accommodation
One month accommodation in a studio apartment with fridge, AC, WI-FI and in walking distance to the beach and shops will cost approximately: 15,000 – 20,000THB (approx.$500 – $650).
We recommend booking something through Booking.com* for the first couple of days so that you can check in person for a place that works for you long-term. We stayed for the first week at the wonderful DREAMY CASA* which we cannot recommend highly enough.
We absolutely loved it but unfortunately they did not have availability to extend our stay for a month so we kept looking around and found Pra-Ae Lanta Apartments very close to the Koh Hub Co-Working office and only minutes from the beach. So we decided to rent a room there for a month and overall, very much enjoyed our stay.
2. Food
As our apartment unfortunately didn't come with a kitchen, only a fridge and a kettle we pretty much relied on dining out at least twice a day.
Restaurants along the beach are obviously rather pricey but you can find some great local food from little restaurants besides the main road where a local Thai dish such as Pad Thai, Papaya Salad or Fried Rice will cost no more than 50-60THB ($1.50 – $2).
Our favourite local restaurants in Long Beach offering good value for money were the "Sweet Restaurant" close to our room at the Dreamy Casa Hotel and the access road to the beach, "Uncle-O" which was located just opposite the Pra-Ae_Lanta Apartment and "OA Restaurant" a few meters away.
Being both vegetarian we first thought there wasn't much for us on the menu but after checking with the lovely owners they always prepared every meal we wanted as a vegetarian option.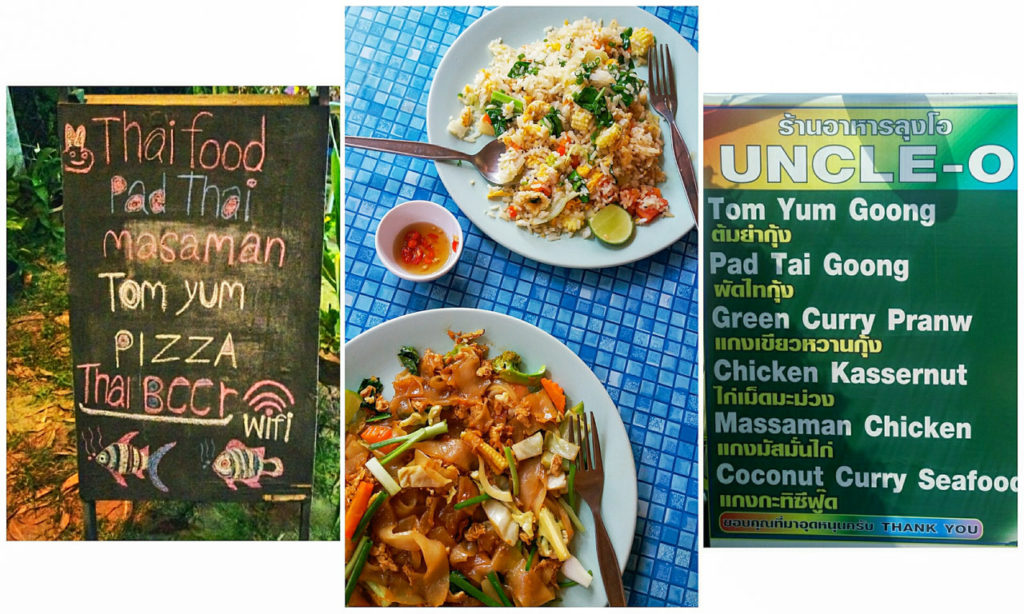 The food was absolutely delicious and great value so we ended up eating at these places at least once a day (We loved the Papaya Salad, Vegetable Pad Thai and the Vegetable Sweet and Sour from Uncle-O and the Fried Vegetable Rice and the Tom Yam Soup from OA Restaurant).
For breakfast at home we usually got us Cereal and Soy Milk from the 7-eleven store (price = 30THB for a little breakfast for 2) and some fresh fruits from one of the local street vendors (price for a pack of cut fruit – 20THB). Sometimes we went for a walk in the mornings and treated us to a banana pancake by the beach (80 – 100THB) or a fruit shake (50THB) on our way home.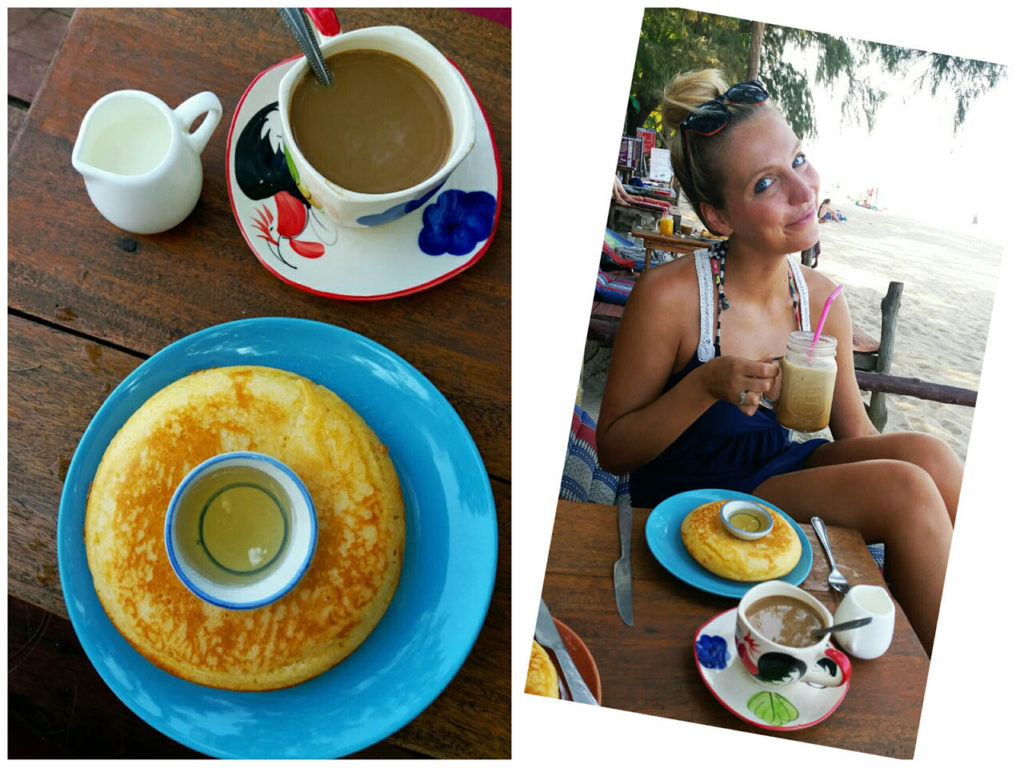 On the weekends we sometiems treated us to breakfast at our favourite breakfast spot on Koh Lanta – the German Bakery in Sala Dan for a delicious German style breakfast including fresh rye bread with scrambled eggs and a good cup of coffee. (price approx. 400THB for a breakfast for two // = 10 EUR/$12 )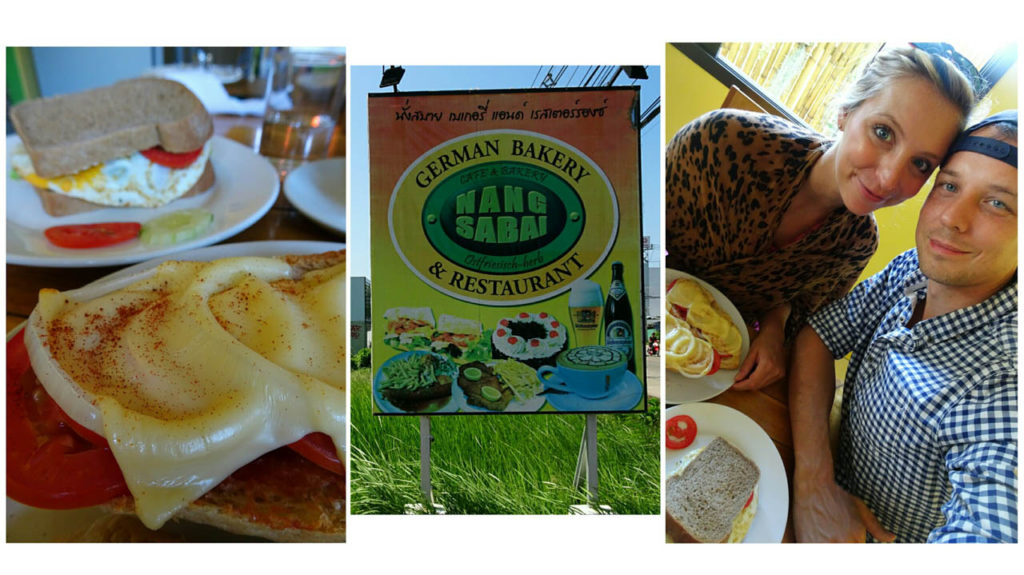 3. Activities
We didn't do that many activities as our main focus was to get some work done and not holiday around all day but we rented a scooter occasionally (250THB / day) to go explore the island and obviously treated us to a meal in a cute restaurants here and there while touring around Koh Lanta. (cost per meal in a beachfront restaurant for two people – approx. 400-500THB)
4. Purchases
We didn't buy much during our time on Koh Lanta except for food (cannot live from love and air alone, can ya?! :-)) and other small necessities. However, we had to buy some overpriced flip flops for Martin (250THB) after his old ones ripped apart as well as a shirt in Lanta Old Town for 80THB.
After some discussions we've also bought a doughnut floaty (350THB) – because…why not! 😊 Unicorns, Flamingos, Brezels, Melon and Pizza slices – you can get a floaty in every form and shape you can imagine on this island. The waters are super calm almost everywhere with hardly any waves therefore ideal conditions to float around, relax and have a great time with your floaty. (after all, what's the point of being on an island for a month with crystal clear water if you don't have a floaty to enjoy it to the max?? 😊)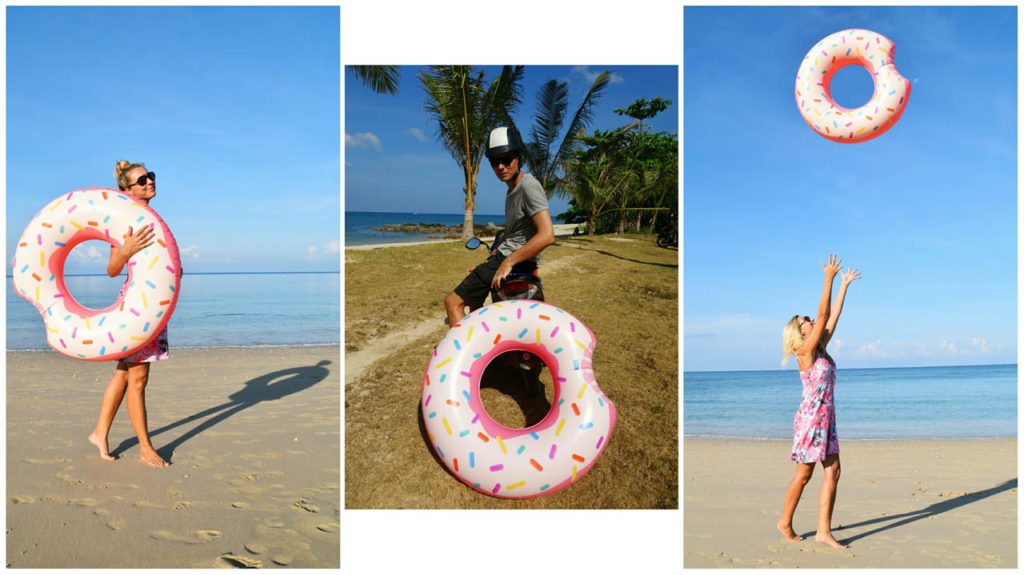 The biggest expenditure of all was however our visa extension (1,900THB pP / 60USD) which we got in Krabi. If you want to learn more about how you can extend your stay in Thailand then check out our detailed posts about how to extend your tourist visa in Krabi and How to extend your tourist visa in Chiang Mai.
---
TOTAL COST FOR 1 MONTH KOH LANTA:
$1,400 ($700 per Person).
---
We hope you enjoyed this post – let us know if you've been to Koh Lanta, how you liked it and which of Thailand's Islands rocks your digital nomad world.
This could also interest you: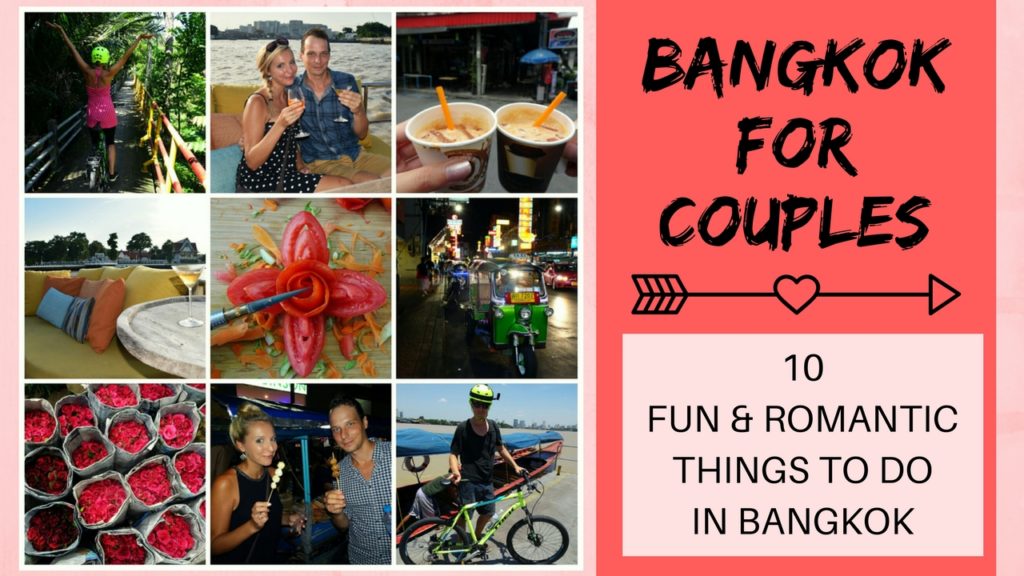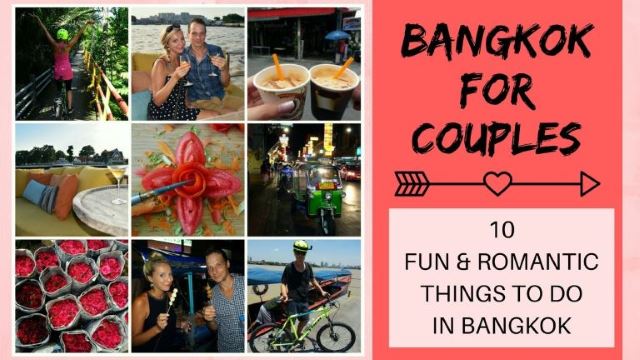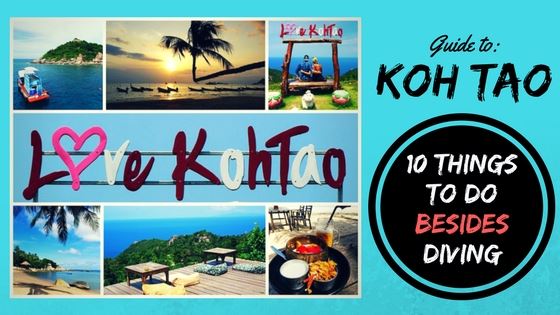 If you like it, pin it 🙂