GUIDE ON HOW TO EASILY HANDLE YOUR TOURIST VISA EXTENSION IN CHIANG MAI
BREAKING NEWS!!!!!
Chiang Mai Immigration has moved back to the airport to their Provincial site on Sanambin Road as of September 24th 2018 operating from 8:30 AM to 4:30 PM Monday – Friday (except on Thai national holidays). Visa extensions will be dealt with there on the 1st (ground) floor of this new building.
As we've just spend another month in Chiang Mai in February 2019 we have written a complete fresh, detailed and updated blog post about the revised visa extension process at the NEW Immigration office near the airport which you can find here:
HOW TO EXTEND YOUR TOURIST VISA FOR THAILAND IN CHIANG MAI – THE NEW 2019 PROCESS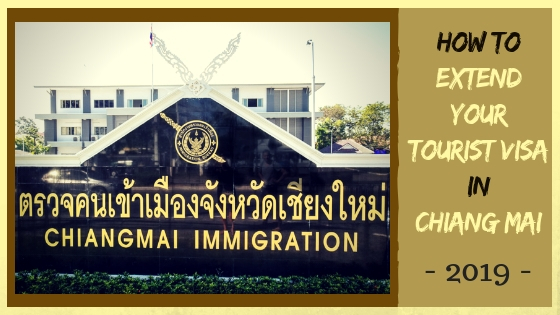 Here's the exact address:
Chiang Mai Immigration Building, at 71 moo 3, Sanambin Road, Suthep, Muang Chiang Mai, Chiang Mai 50200
As we assume that the procedure will still be similar as to the tourist visa extension progress back at Promenada Mall, which served as the place for extending your visa for several years you can still check this article below for some general information and tips on how to extend your visa in Thailand.
---
Just when we thought we left all the paperwork and bureaucracy behind it caught up with us when we realized that our Thai tourist visa was about to expire in less than 4 days and with the weekend coming up we quickly realized we better hit the road and make a trip to the Thai immigration office in Chiang Mai to get our visa extended for another 30 days! So if you find yourself in the same position and have no idea how the tourist visa exension process works in Chiang Mai than keep on reading.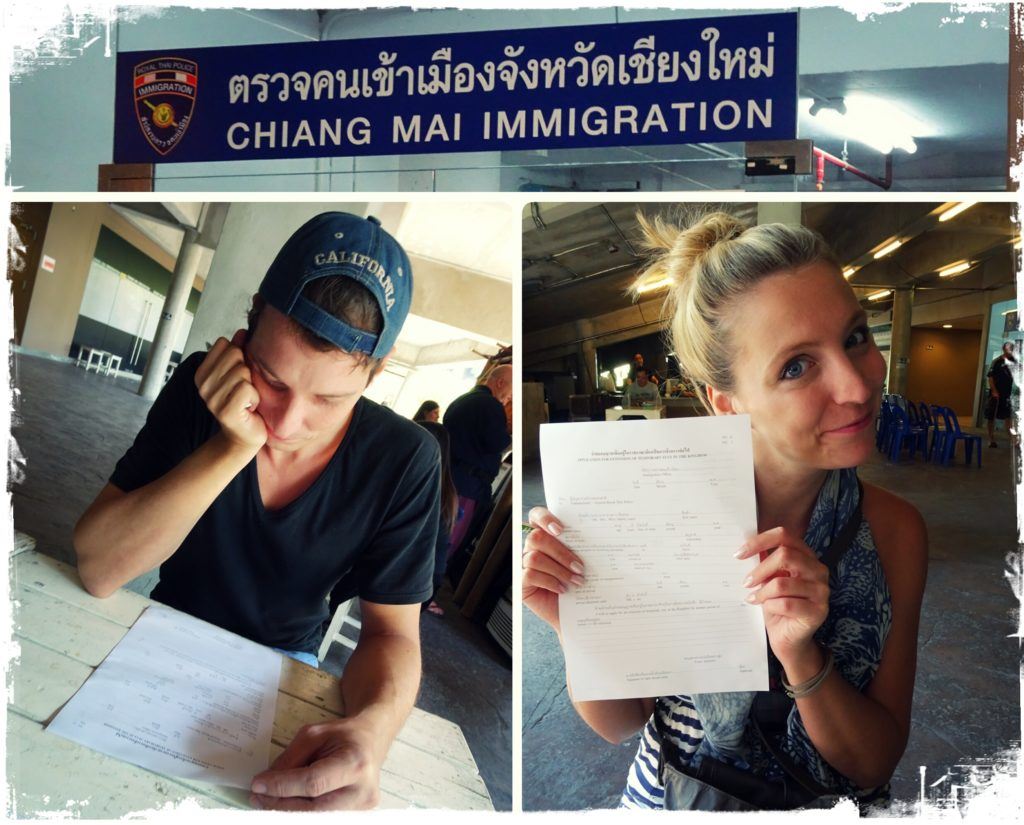 All in all the visa extension process is pretty straight forward and well organized. We've put together a little guide below on how to extend your Thai tourist visa when you are in Chiang Mai! Enjoy! 🙂
UPDATE April, 2018: We've received some feedback from fellow travellers about a few changes regarding your visa extension process in Chiang Mai as well as some great tips and info that should make your application process a breeze. We have added these changes to the post below! 🙂
WHY APPLY FOR AN EXTENSION OF YOUR THAI TOURIST VISA
With a German passport we were allowed to enter the country with no visa at all and permitted to stay for a total of 30 days. If you plan on staying longer (and once you'll see all the beautiful beaches and islands chances are high you WILL want to stay longer 🙂 ) you can extend your visa for another 30 days. PIECE – OF – CAKE!
Same applies when you enter with a single entry tourist visa which allows you to stay for 60 days in total. You could also extend this visa (only ONCE!) for another 30 days without leaving Thailand giving you the possibility to stay for a total of 90 days!
Three months in Thailand? – HELL YA!!!!
Attention! Keep in mind that the first day you are on Thai soil is already counted towards those 30/60/90 days! So always check your passport stamp for your exact expiry date!
WHEN TO APPLY FOR AN EXTENSION OF YOUR THAI TOURIST VISA
Theoretically you can apply for an extension of your tourist visa for Thailand up until the day it expires or your passport stamp tells you to leave if you entered with no visa like we did.
However waiting until the last second is pretty risky. There might be a public Thai holiday you don't know about or the date falls on a weekend when the immigration office is closed. Also it might be one of those days with just tooooo many people in line in front of you so you simply won't make it that day.
Whatever the reason, better safe than sorry! So to avoid any last minute heart attacks we recommend paying a visit to the immigration office to extend your visa at least 2-3 days prior.
WHERE TO EXTEND YOUR THAI TOURIST VISA IN CHIANG MAI
Tourists can extend their tourist visas at the immigration office at the Promenada Mall. They have a so called "One Stop Shop" for visa extensions which is open from Monday – Friday, 8:30 am to 4:30 pm (with a 1 hour lunch break from 12pm – 1pm! ) – excluding public holidays!
Just watch out for the big Tom N Toms coffee chain sign – it is located right BELOW that!
HOW TO GET TO THE PROMENADA MALL TO EXTEND YOUR TOURIST VISA?
Promenada Mall with the immigration office is located roughly 15 minutes from the Old Town by car so chances are you won't want to walk 🙂
So simply stop a red Songthaew or Tuk-Tuk and tell them you want to go to "Promenada". They will drop you of right in front of the mall so you can't miss the big Tom N Tom sign.
We took an Uber taxi from Nimman area for around 85 THB and it took approx. 20 minutes to get there.

WHAT TO BRING WHEN EXTENDING YOUR THAI TOURIST VISA?
Theoretically your passport with your departure card should be completely enough as everything else is available or can be done right there (forms, passport photo service, copy shop) – it's not called "one stop shop" for no reason. 🙂
However here is the full list of what is REQUIRED for extending your Thai tourist visa:
Passport (including your Tourist Visa or your entry stamp and departure card)
Photocopies of the main passport photo page
Photocopies of your current Thai tourist visa page (if you have a tourist visa already)
Photocopies of your departure card
Application for Extension of Temporary Stay in the Kingdom (form TM.7)
One 4cm x 6cm passport photo (they are not flexible here!!)
An application fee of 1,900THB
Also make sure you know the address where you are currently staying as well as having a Thai phone number – this information is required on the visa form!
WHAT IS THE PROCESS FOR EXTENDING YOUR THAI TOURIST VISA IN CHIANG MAI?
The Process to extend your stay/visa is pretty straight forward and there is always enough staff on site to tell you what's happening next.
But so you are prepared here is a quick description of all the steps taking place before you can leave when a new stamp in your passport allowing you to stay 30 days longer in this beautiful country. 🙂
---
1. Find the "one stop shop" of the immigration office below Tom N Toms coffee chain and go to the information desk to pick up the TM 7 form. Note: This is all outside!
---
2. Check out the examples of how to correctly fill in the form (there are a few examples tucked to the information desk – knowing how to fill this in will safe you some time)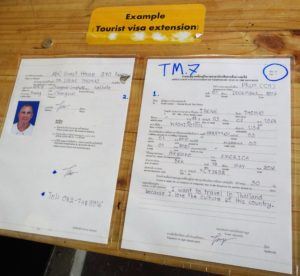 ---
3. Find a seat (there a couple of outdoor tables and chairs) and fill in the form – it's just 1 ½ page
Note: Bring a pen as there are only a few pens at the information desk so unless you want to wait around for a seat to get free better bring your own blue or black pen!
---
4. Get your passport & departure card copied if you didn't bring copies with you already – it's less than 10 THB so I wouldn't worry about doing it before.
---
5. Have your passport pictures taken if you didn't bring a 4 x 6 cm passport picture. You will get 6 passport photos for 200 THB here – not that you will ever need the other 5 again :/
UPDATE APRIL 2018: a tip from a fellow traveller was to skip the lines and high prices and go to BIG CAMERA on the 3rd floor. They charge around 150 – 180 THB for TEN photos whereas the shop near immigration will charge around 200 THB for six photos.
Note: they are not flexible on the size of the pictures and rejected the ones we brought as there were "too small" 🙂 Funny thing was that Martin brought the ones he got taken when extending his visa before at the immigration office in Phuket, Thailand.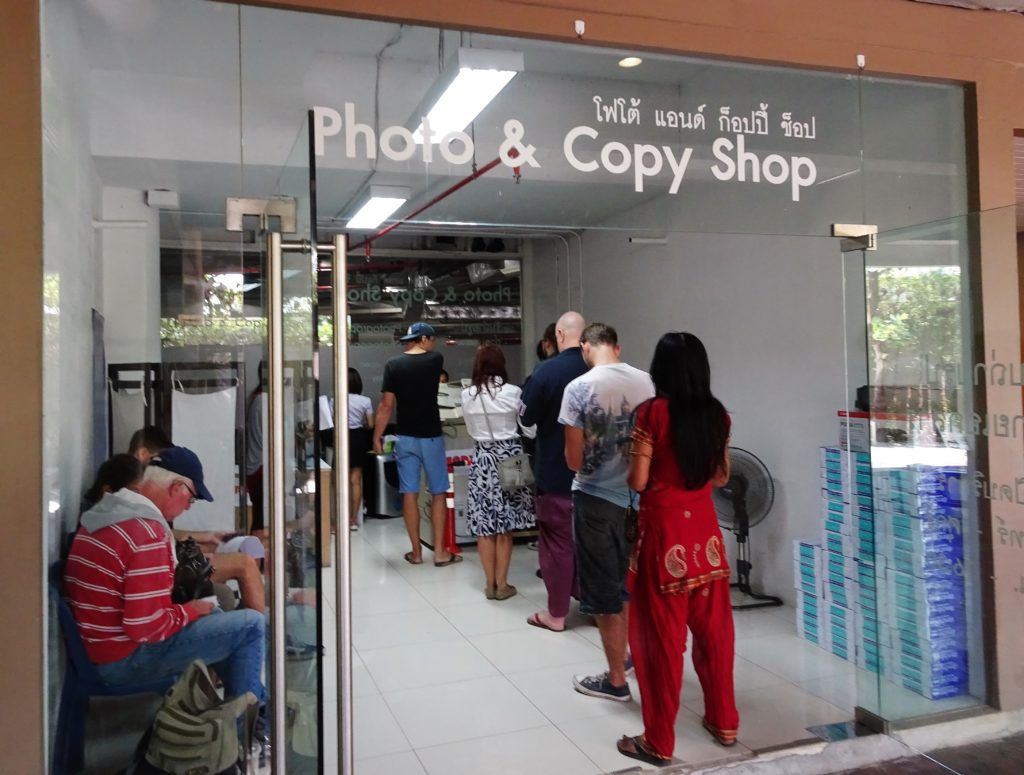 ---
6. Take your completed TM 7 Form, one passport picture, the copies of your passport and departure card (both need to be signed again) and the 1900 THB in cash to the information desk . The staff there will check whether you have completely everything correctly and will also take the payment from you. They will hand over everything to their colleagues and you will be asked to wait until they call your name in the (air-conditioned! 🙂 ) waiting room just next door.
Note: If you didn't bring the exact change you will get your change at the end when they'll return the passport to you.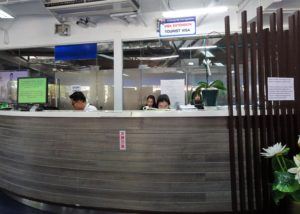 ---
7. Wait until they call your name. First time they'll call you they want to take another picture with you holding up your TM 7 form, second time they'll call you they return the passport with the next extension stamp along with any change and a receipt – THAT'S IT! 🙂
---
Note: Depending on how many people are there that day expect to wait around 30 min – 1 hour. If it's super busy you might have to wait even longer. So bring a book to read or have your phone fully charged so that you'll have some entertainment while waiting.
IS THERE ANYTHING ELSE TO DO AROUND AFTER YOU HAVE EXTENDED YOUR TOURIST VISA?
Sure, have a bite to eat or enjoy a coffee in the Promenada Mall. There aren't A LOT of shops but it's still fun to browse around for a bit. There is a supermarket, some tech and clothes stores, a few restaurants and about 20 coffee shops! So you'll DEFINITELY get a good cuppa coffee there! 🙂
UPDATE April 2018: A tip from a fellow traveler was to check out the "Amazon Cafe´" on the 3rd floor! They charge reasonable prices, make great coffee AND have a fantastic green tea as well on offer!
HOW TO GET BACK TO CHIANG MAI FROM PROMENADA MALL?
You could either get an Uber (some of the coffee shops offer free Wi-Fi so you can get an Uber while sipping your coffee), check if there are any taxis, tuk-tuks or Songteaws outside OR – and this is a tip for everyone on a budget – use the FREE SHUTTLE BUS!
UPDATE April 2018: A reader informed us that their free shuttle bus service was unfortunately discontinued :-(We currently don't know if this is a temporary thing or not so have left the information in this post for the time being. Let us know if you see/hear anything. Thanks!!!
There is a free shuttle bus from Promenada Mall to about 6 different stops in town: Amora Tapae Hotel, Imperial Maeping, Night Bazaar/Le Meridien Hotel, Shangri La, The Empress & Holiday Inn.
They run hourly and you can get your ticket at the information desk inside Promenada Mall. So we just did that! After enjoying some soul food and coffee at the mall we got us a ticket at the information desk, hopped on the next shuttle bus to Amora Tapae Hotel and just walked from there back to our apartment.
So all in all the visa extension process in Chiang Mai wasn't as bad as we expected – actually they were really efficient and processed our application pretty quickly considering the amount of people there. We are now looking forward to staying another few weeks in Thailand! YEEEAA!!
Also extended your visa? CONGRATS! Make sure to check out our scooter adventures around Chiang Mai for some inspiration and guidance of how to spend your next weeks here 🙂 .
---
YOU MIGHT ALSO BE INTERESTED IN: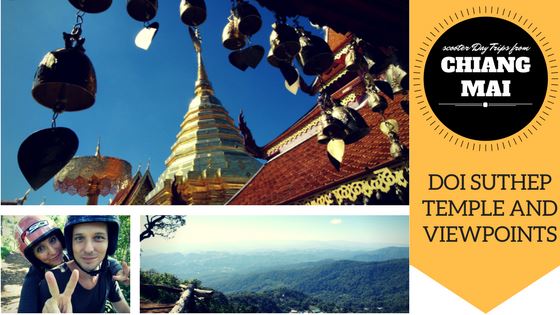 ---