ULITMATE GUIDE TO UNAWATUNA, SRI LANKA
GUIDE TO WHERE TO STAY, WHERE TO EAT AND THE BEST THINGS TO DO WHEN VISITING THE BUZZING BEACH TOWN OF UNAWATUNA, SRI LANKA
The coastal town of Unawatuna in Sri Lankas Southern Province is the perfect place to spend a few relaxing days basking in the sun, working your way through the mouth-watering menus of all those cosy little restaurants and ticking off some cultural highlights such as the Japanese Peace Pagoda or the Dutch colonial town of Galle of your "Sri Lanka Bucket list".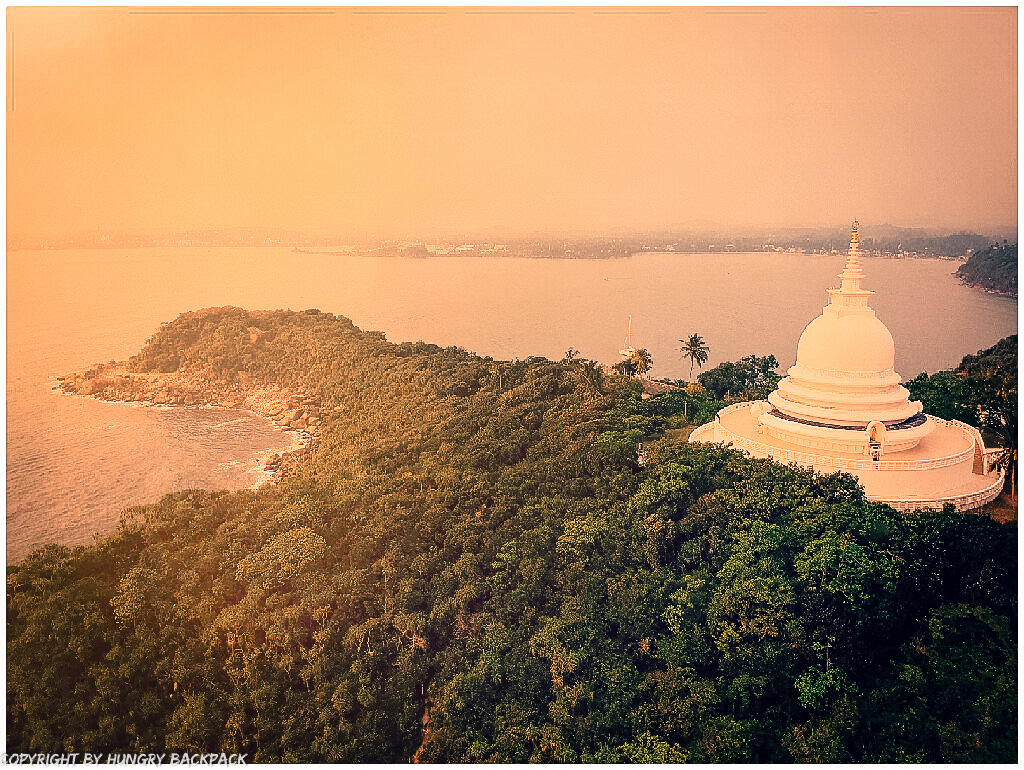 Although it is probably the busiest town in this part of Sri Lanka attracting the highest number of tourists each year (lots of Europeans and Russians) we actually have to admit that Unawatuna was still our favourite of all the Sri Lankan beach towns we visited.
This was probably down to the mix of having all the amenities that come with tourism such as the cute little cafes to sip your afternoon coconut smoothie, a good choice of accommodation, quirky souvenir shops and fruit stalls and nice restaurants along the beach for your romantic evening dinners while still having this relaxed "beach-town-flair" (while the beach might be crowded at days, there are luckily no high-rise concrete buildings and big hotel chains – YET).
If you want to get a feeling of what it's like to wake up in Unawatuna yourself then go and check out this short video "GOOD MORNING FROM UNAWATUNA" – you'll quickly understand why we loved it here so much! 🙂
So if you're like us and enjoy meeting other travelers, having a good choice for places to stay, shop and eat and pretty much have all your holiday needs taken care off, then parking your pretty-lil'beach-bum in Unawatuna for a few days might be well worth it!
And to make your travel life easier we've prepared a little travel guide for you of our favourite things to do here in Unawatuna to keep you busy and entertained as well as tips on where to eat and stay.😊 So let's get started, shall we??
QUICK LINKS:
RELAX AND UNWIND – Spend a fun day on Unawatuna main beach
HIDDEN BEACHES & STUNNING VIEWS – The Jungle Beach and Japanese Peace Pagoda
BARGAIN HUNT – Shopping for souvenirs in Unawatuna town
CULTURE TRIP – Explore Galle Fort on a day trip from Unawatuna
DATE WITH TURTLES – Visit the Turtle Hatchery in Habaraduwa
IG DREAMS DO COME TRUE – Take the perfect palm tree swing shot
ROMANCE IT UP – Watch the stunning sunset at Unawatuna Beach
CULINARY ADVENTURE – Indulge in some amazing local food
WHERE TO EAT
GETTING AROUND UNAWATUNA
HOW TO GET TO UNAWATUNA FROM COLOMBO
WHERE TO STAY IN UNAWATUNA, SRI LANKA
SPENDINGS
RELAX AND UNWIND – Spend a fun day on Unawatuna main beach

Admittedly not the nicest beach we've ever come across as it's mainly made of large and sharp broken shells rather than the fine white sand you'll find in other places, buuuut it still does the trick at least if you're not a total beach snob 😊

It's a pretty long and wide stretch of beach with not that many trees or vegetation but several restaurants and cafes where you can secure yourself a cool drink and a bit of shade during the blazing mid-day heat.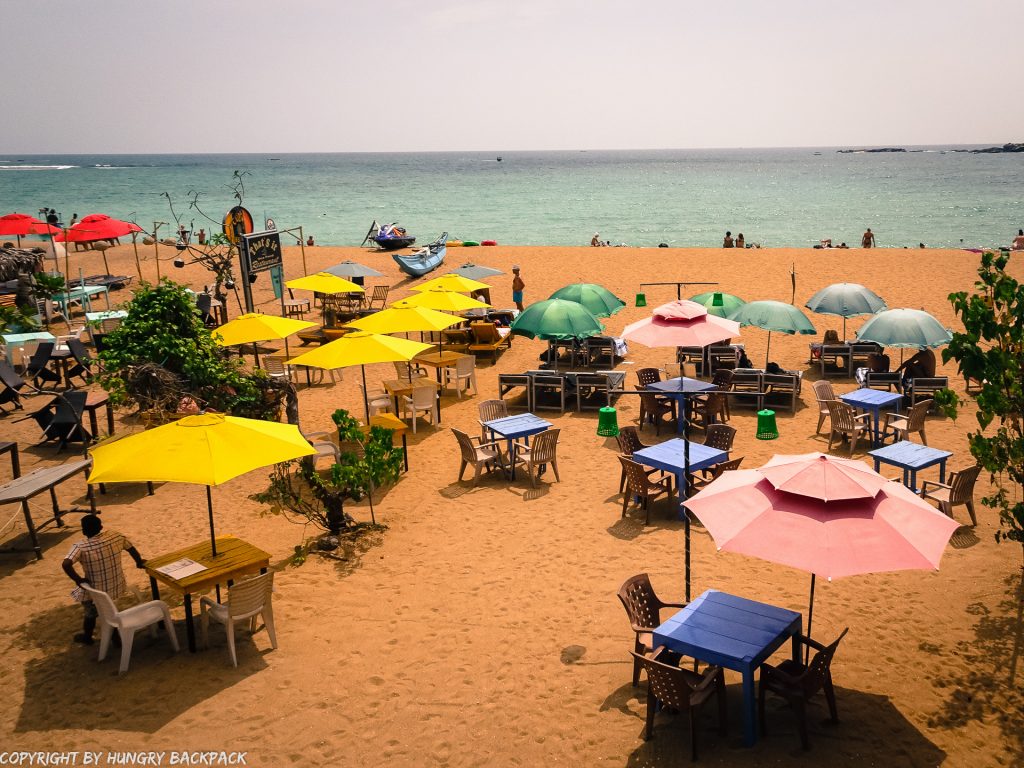 If you're looking for a bit more action you can go on a diving or snorkel adventure, ride a jet-ski, hop on a glass bottom boat or simply stroll along the beach from one side to the other which should take you roughly 15 – 20 minutes.
TIP: Go for a little morning stroll – the beach is still empty with only a few local fishermen returning with the catch of the day.
If you came here to surf than we have to disappoint you, this is not the place for it.
As the bay is protected by a big reef you'll hardly see any waves here which makes it perfect for families with younger children or even older children like myself, as I very much prefer the calmer waters for a nice swim than beating against the waves the whole time swallowing – unwillingly – buckets of salt water. Martin on the other hand was not a big fan. When it comes to him and his slightly suicidal beach behaviour the waves cannot be high enough – the higher the better.
* * *
If the busy main beach in Unawatuna is too crowded for you then there is another beach on the opposite side called Jungle Beach. As it's a bit hidden and not as easily accessible there are way less tourists there making it this little tropical beach paradise you were looking for.
You can hike there from town which takes about 45 minutes (just follow the signs) or get a tuk-tuk (10 min drive, approx. 400 – 500 LKR) or a local boat from Unawatuna.
We decided to walk there and combine it with a trip to the Japanese Peace Pagoda which is located closeby and offers some stunning views. It was definitely one of our favourite things to do in Unawatuna.
* * *
BARGAIN HUNT – Shopping for souvenirs in Unawatuna town
As Unawatuna is probably one of the most touristy places in Sri Lankas Southern Province one of the main activities here is shopping. There is this small road running from the main road all the way down to the beach where you can find tons of cafes, restaurants, guest houses and of course little shops and street vendors selling everything from sarongs, handicrafts, shirts, dresses, jewellery, bags and what not.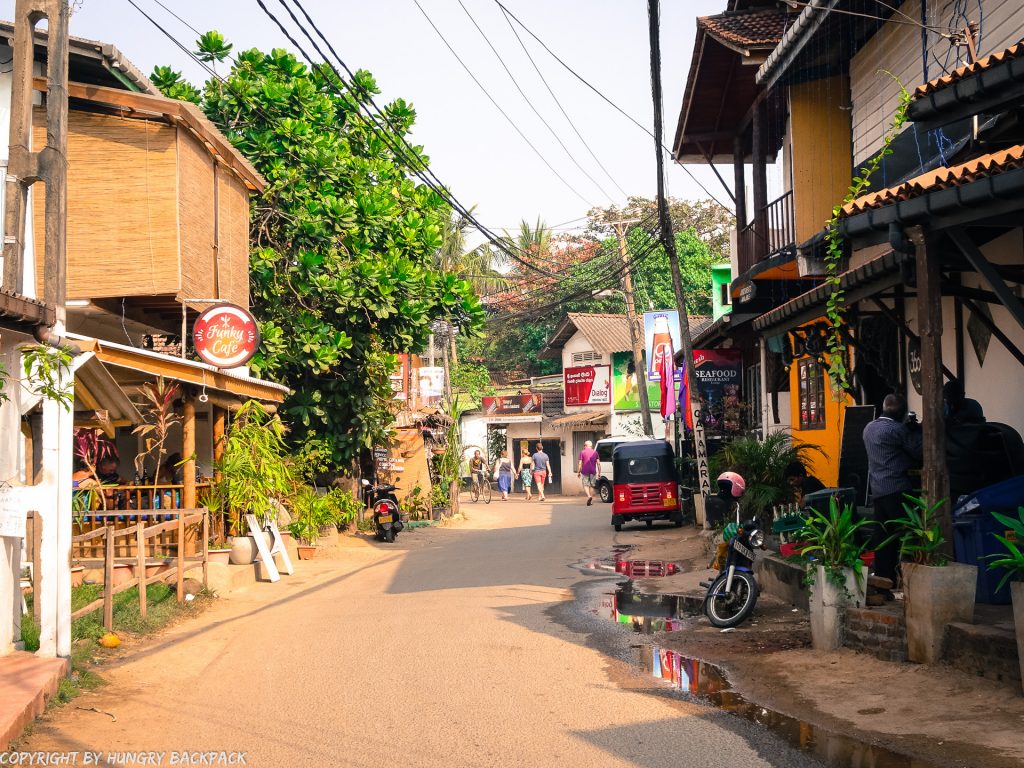 However, if you're looking for something particular than we recommend heading to nearby Galle where you'll find many more shops and boutiques.
* * *
CULTURE TRIP – Explore Galle Fort on a day trip from Unawatuna
If you're looking for a great day trip from Unawatuna then head to Galle just a 20-minute bus ride away and wander around the cute Galle Fort area with it's famous (and very instagrammable 😊) lighthouse.
You can also find tons of little shops, boutiques, cute cafes, bars and restaurants in Galle so it's always worth a trip.
The Galle Fort was built in 1588 by the Portuguese and later expanded by the Dutch in the 17th Century who both left quite their mark here hence no wonder this part has this very un-sri-lankan-vibe and reminded us much more of a town in Europe rather than in Asia.
The bus drops you off at the local bus station which is just a few minutes from the main gate where you enter Galle Fort. Here you can also find a map that shows you what there is to see around Galle Fort.
However, be aware off the annoying tuk-tuk drivers waiting there who want to offer you over-priced tours. Unless you feel super tired of walking just ignore them as Galle Fort is best explored on foot.
We spend around 4 hours walking the fort wall, enjoying the sea views, taking pictures of the lighthouse, exploring the cute little side streets and having a little carb feast with pizza and gelato in one of this hipster style restaurants – oh yes, so very European! 😊
* * *
DATE WITH TURTLES – Visit the Turtle Hatchery in Habaraduwa
Sri Lanka is one of the world's most important breeding spots for sea turtles however times have changed and with the development of the coastal areas and the increase in plastic garbage in the sea the numbers of these beautiful, endangered creatures have declined drastically over the past years.
In order to protect the Sea Turtles there are now a number of hatcheries and turtle sanctuaries along the coast which you can visit and support however do some research prior to visiting as sometimes the well-being of the turtles is not necessarily their primary goal.
The turtle hatchery closest to Unawatuna is the Sea Turtle Farm & Hatchery in Habaraduwa only a 5-10 minute tuk-tuk ride away.
This place opened back in 1986 with the main goal of saving the Sea Turtles of Sri Lanka from extinction. Since then they have released more than 500,000 Sea Turtles (back) to the ocean. Quite an impressive number!
When visiting this place you'll find numerous water tanks filled with either cute and clumsy baby turtles waiting to be old and big enough to be released to the ocean as well as injured turtles recovering from various (mostly human related ) "accidents" before they are ready to be released again.
Entrance fee: 500 LKR p.P.
Opening Times: 7:30am – 6pm
* * *
IG DREAMS DO COME TRUE – Take the perfect palm tree swing shot at Dalawella Beach
You might have already seen those IG posts about those highly photogenic palm tree beach swings which seem to have become one of the ultimate Sri Lankan IG hotspots! For anyone interested in keeping up with the latest IG travel trends, this is pretty much a must-see (and shoot pictures..obviously 😉) places in Sri Lanka along with shots taken at the Nine Arch Bridge nearby Ella, shots taken of the impressive Sigiriya Rock from Pidarungala Rock and of course the "let-me-quickly-hang-out-of-the-door-train shots" on your ride from Ella to Kandy.
Being Insta-concious we of course also looked for the swing all over Unawatuna and Mirissa beach without any luck before consulting Mr. Google – BIG MISTAKE! By the time we finally knew where it was hidden we had already left the coast, buhuuu… ☹
We're talking about THOSE shots! 😉 Whoohooo! Who doesn't want a pic like that in their feed?!?
So if you stumbled across this blog BEFORE your trip to Unawatuna and the Southern Province and want to spice up your Instagram profile with one of those gorgeous palm swing shots than you are in luck my friend cause we gonna tell you HOW TO FIND IT!
The most popular palm tree beach swing of Sri Lanka is located on Dalawella Beach (or sometimes you'll also find it by searching for Mihiripena Beach) a short 5 min tuk-tuk ride (or 30 min walk) from Unawatuna beach. The exact location is actually in front of a guesthouse called Dream Cabana who also happen to be the geniuses behind getting the swing up in the first place. Little did they know what success this would become!
Swinging into the sunset to shoot that tropical Sri Lanka must-have photo nowadays comes at a price as the owners have quickly realized that they can actually make some money from letting visitors on their beautiful swing (we think it's around 4-5 USD these days). We think it's worth it!
* * *
ROMANCE IT UP – Watch the stunning sunset at Unawatuna Beach
Heading to the beach in the late afternoon, finding a nice spot in one of the many bars and restaurants and watching the spectacular Sri Lankan sunset is definitely a memorable experience – even more so when shared with your loved one! Maybe a bit cheesy but who cares, it's damn romantic!
We've seen our fair share of sunsets during our travels but admit, that the one we got to enjoy in Unawatuna one the night we arrived was one of the most beautiful ones we've ever seen.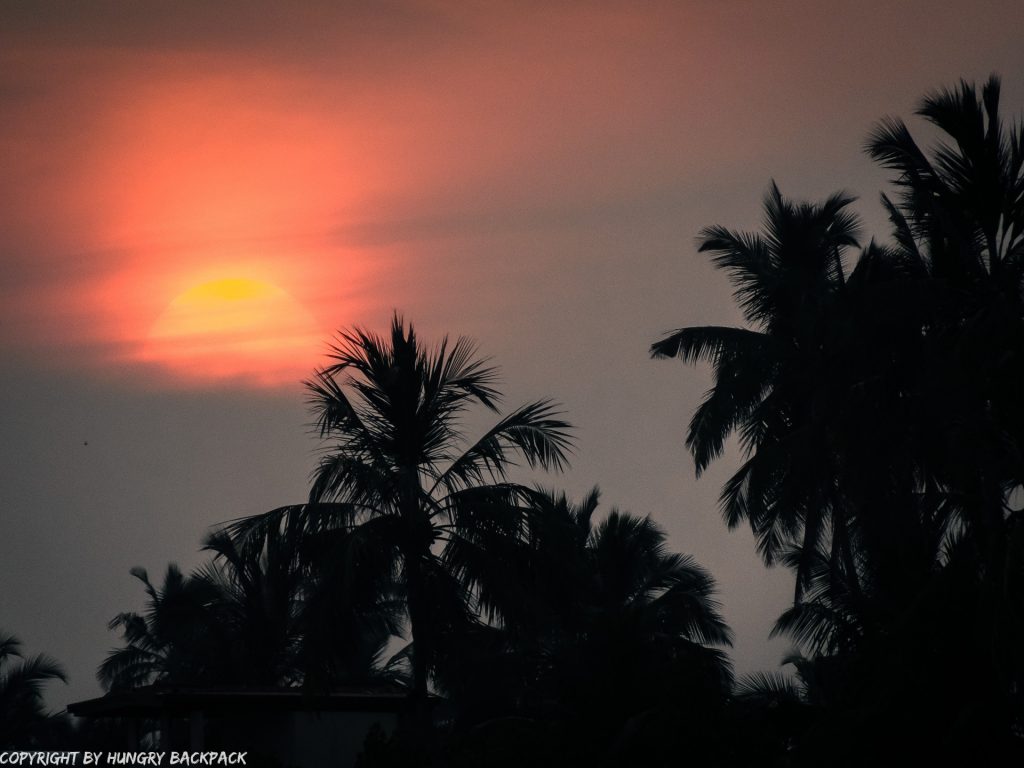 So sit back, relax, get that cocktail and enjoy the show!
* * *
CULINARY ADVENTURE – Indulge in some amazing local food
Being a very touristy place comes with a few advantages such as a great selection of restaurants and cafes to choose from every day. No matter what you fancy – a delicious authentic Sri Lankan curry, fresh seafood or Italian Pizza – you'll find it here. Have a look below at our recommendations for the best places to eat in Unawatuna.
If curries are your thing and you want to spice up your cooking skills than you can also sign up for a cooking class and learn all about your favourite Sri Lankan curry dishes in Unawatuna.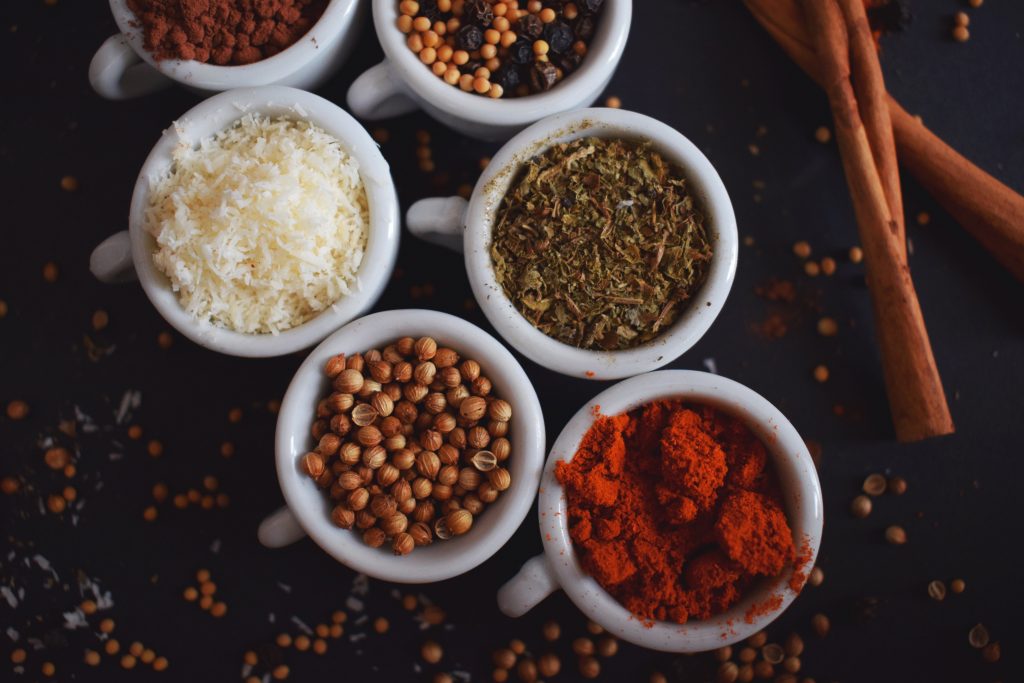 Sri Lankan curries are simply amazing! This typical inexpensive meal is usually a mix of colourful dishes made from vegetables, lentils, meat or fish and is served with rice, pickled fruit and vegetables, chutneys and sambol. So getting the chance to learn how to prepare this dish will definitely come in handy when you're back home and want to WOW your friends and family 🙂
The Sea Waves Restaurant & Cooking Class comes highly recommended. We didn't have enough time to check it out so let us know if you've done a cooking class here and how you liked it!
WHERE TO EAT
Oh yes, on the the fun part – where to eat in Unawatuna!!
As mentioned earlier, you'll be spoiled for choice in this buzzing little beach town and will most likely find a place catering to whatever your taste buds demand. Probably one of the reason we ended up staying here for longer than anticipated! 😊
Here are a few suggestions of the places we liked the most:
BEST BREAKFAST PLACE
FRENCH LOTUS CAFÉ, SKINNYTOMS DELI & HOPSTARS

If you need those smoothie bowls in the mornings than look no further the cute little French Lotus Café (also a guest house), SkinnyToms's Deli & Hopstars got you covered.

BEST ROTI & CURRY
THE HUT ROTI SHOP & THE ME-NU

The Hut Roti Shop won't win a price for décor and cozy atmosphere but you'll get some damn good Roti and Kothu for a very reasonable price. No complaints!

We had a great curry for lunch at the Me-Nu which was advertised outside and we strangely couldn't find on the menu. Well it tasted very good for a very good price. 🙂

BEST PLACE FOR AN AFTERNOON COFFEE AND SNACK
LE CAFÉ FRANCAIS BAKERY & BOUTIQUE

Also located in the centre of town on the access road to the beach you can find here a great selection of pastries with a chocolate croissant to die for! You can get something for take away or enjoy your sweet treat in the cute little wooden hut.

BEST PLACE FOR DINNER
PINK ELEPHANT & BEDSPACE KITCHEN

Both places are located in the centre of town and come with a great vibe and atmosphere plus a diverse menu, hence you'll pay slightly more but it's well worth it. Food is also presented very nicely – perfect for those IG shots! 😊

BEST PLACE FOR A FANCY SEAFOOD DINNER
KINGFISHER RESTAURANT

There are numerous restaurants along the beach which will more or less all do a good job for a romantic dinner by the ocean with feet stuck in the warm sand (expect to pay slightly more than in the city).

However, if you're looking into indulging in some fantastic fresh seafood and get slightly confused by the many places all proudly presenting their catch of the day than simply head to the Kingfisher Restaurant which offers high quality food and good service.
GETTING AROUND UNAWATUNA
Although you'll have various tuk-tuks on offer no matter where you go, all places in Unawatuna can easily be reached on foot, usually not taking longer than 15 – 20 minutes to walk from one side of town to the other. Strolling through town along the little road running parallel to the beach (Yaddehimulla Road) and up to the main road is actually very enjoyable as you'll find many shops, restaurants and cafés here.
For day trips to other nearby places and (beach) towns you can either take the local bus which will only cost pennies or a tuk-tuk where the price will depend on your negotiating skills (we suck with negotiating 🙂 ).
As a little reference, for our trip from Unawatuna to Mirissa by tuk-tuk we paid 1200LKR. Much more than the local bus but it saved us some hassle as we had a lot of luggage and food with us and were happy to pay a bit extra for our door-to-door service.
HOW TO GET TO UNAWATUNA FROM COLOMBO/NEGOMBO?
If Unawatuna is your first stop out of Colombo or Negombo and you prefer not splashing a big junk of your holiday cash on a private taxi transfer (around 8000 LKR) than we highly recommend taking the train which is always a fun experience in Sri Lanka.
For the most part of this 2.5 hour journey to Galle the rails go right along the coastline. So try to secure yourself a seat by the window or the open doors to not only get a nice breeze but also to enjoy some beautiful views along the way.
Tip: Try to board the train already at Maradana Railway Station rather than Colombo Fort for a better chance to get a seat. Should you come from Negombo this is the place you want to get off and hop on the Galle Train.
For more information visit our detailed blog post about our journey from Negombo via Colombo to Unawatuna.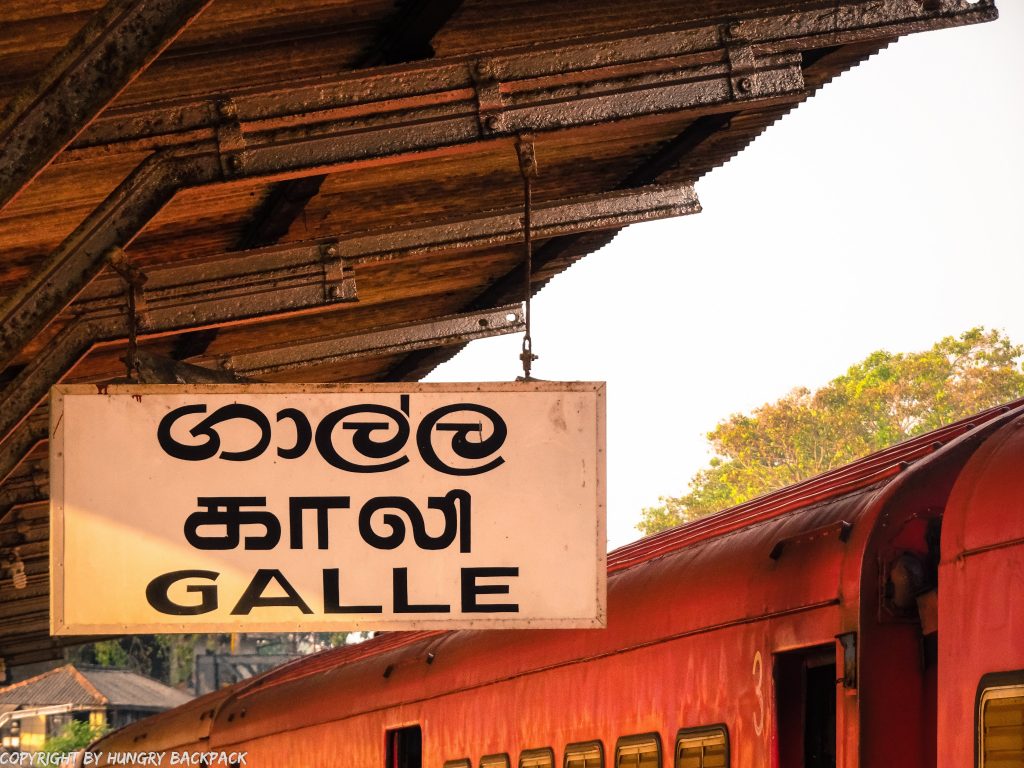 ---
The following links are affiliate links, which means that if you book a stay through these links, we'll get a small commission. Don't worry–the price is still the same for you.
Where to stay in Unawatuna, Sri Lanka?
You can find plenty of hotels directly on the beach as well as numerous little guesthouses along the access road which usually offer a bit more value for money and great home cooked food. You can still easily walk to the beach within a few minutes so that really shouldn't be the issue.
Booking.com regularly offer discounts on properties in Unawatuna, so click here to see the best deals and offers for your stay!
We stayed for 4 nights at the Asantha Guesthouse which was located in a separate little quiet street and only 1 minute from the beach – yay!
It offers stunning jungle views from the terrace (we spotted many squirrels and monkeys 🙂 ) The rooms are pretty spacious and the friendly hosts make a delicious breakfast in the morning – especially the tropical fruit platter was amazing.
As the double rooms were already sold out we stayed in a deluxe double and paid around 36 USD per room/ night. (Double room rates start at around 30 USD / night incl. breakfast). For more information about this hotel and rates click the button below.
---
Also highly recommend come the following two places for your stay in Unawatuna: SHORE by HOPPA & Bedspace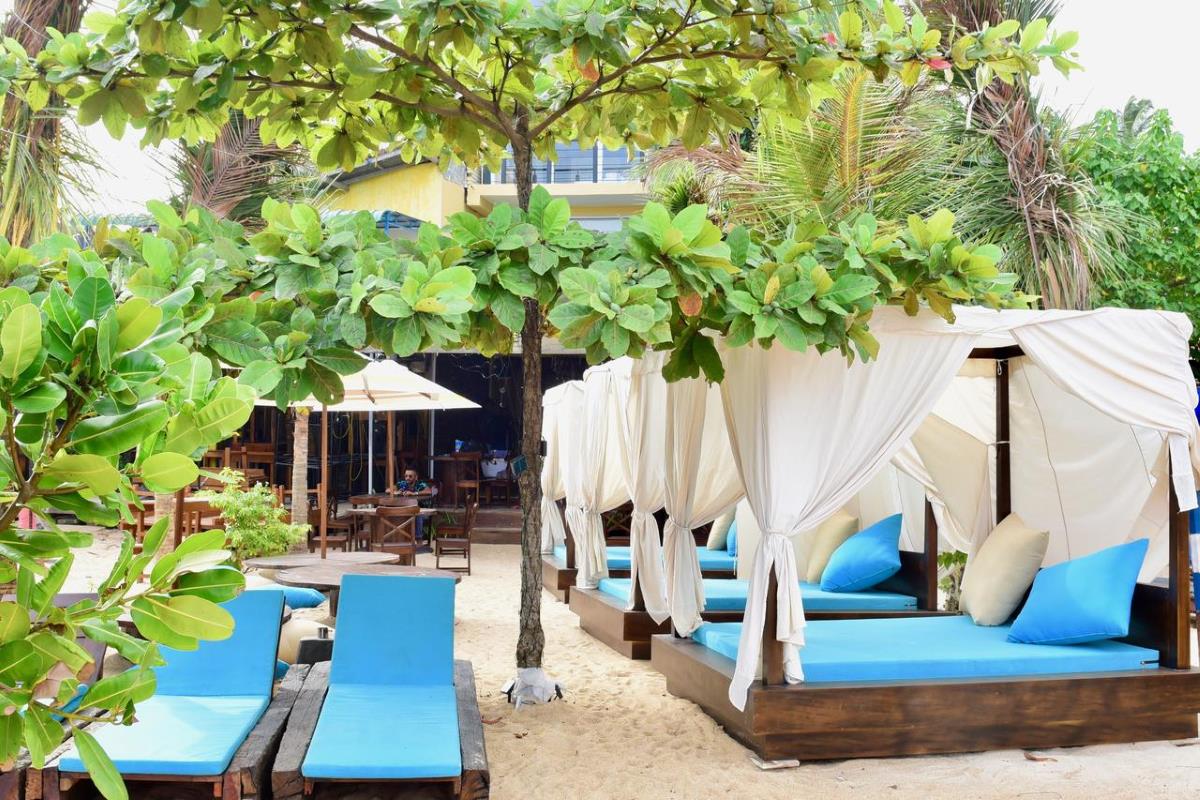 Nice little beachfront Hotel with free Wi-Fi and a lovely beach terrace where you can relax on the compfy beach beds and enjoy the gorgous views of the bay. In walking distance to the town with bars, shops and restaurants.
SPENDINGS
As it's very touristy, Unawatuna is definitely more expensive than most other locations in Sri Lanka. We spent about 45-50 USD per day (for the two of us) which was based on staying in a nice guesthouse including breakfast, as well as a small lunch and a proper dinner at a restaurant every day.
After giving you guys the whole run through where to stay, eat, play in Unawatuna we hope you'll decide to check it out for yourself and give it a chance despite all the "let's just skip it because of the crowds-chatter".
We ended up really falling for this place and it's definitely worth a stop before heading to the more laid-back/less-touristy beach towns of Mirissa and Tangalle.
* * *
What about you? Do you like a buzzing little beach town or do you prefer a quiet place with nothing but a bamboo hut by the beach where you simply hang in your hammock and listen to the waves all day? Let us know in the comments below?
QUICK FACTS
Best way to get there (budget friendly)
Take the (Express) train from Colombo to Galle (approx. 2- 2 ½ hrs ) and then a tuk-tuk from the train station to your guesthouse.
Check out this post for more details: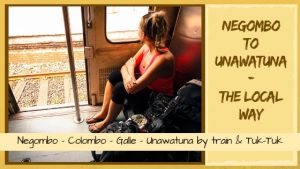 What to do
Unawatuna is a tourist mecca therefore offering plenty of things to do such as hiking trips (e.g. to Jungle Beach), beach activities (swimming, snorkelling, diving, Jet-Ski), cultural sights (Japanese Peace Pagoda or trip to Galle Fort) as well as plenty of opportunities to shop and eat to your hearts content.
Best time to visit
The best time to explore this beach destination weather-wise is from December to March which are the driest months for Sri Lankas South-West coast.
Prices
Unawatuna is a bit more expensive than most of the other towns we've visited in Sri Lanka. Rates for accommodation and food were approx. 30-40% higher than in areas further inland such as in Ella or Dambulla.
Where to stay
There are plenty of hotels and guesthouses to choose from.
We stayed at the Asantha Guesthouse* as it offered good value for money and was in walking distance to the beach and town with shops and restaurants.
Check here for current deals for accommodation in Unawatuna*
* = Affiliate links.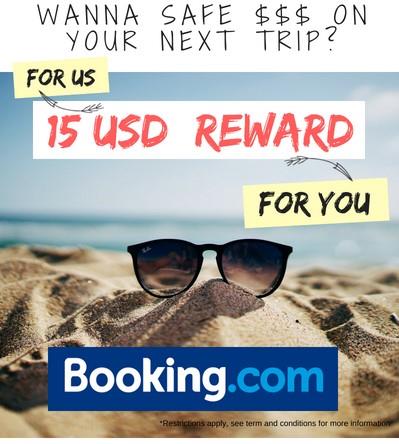 Where to stay
We stayed at the Asantha Guesthouse* as it offered good value for money and was in walking distance to the beach and town with shops and restaurants.
Check here for current deals for accommodation in Unawatuna*
* = Affiliate links.