An insider's guide on how to spend a romantic day in London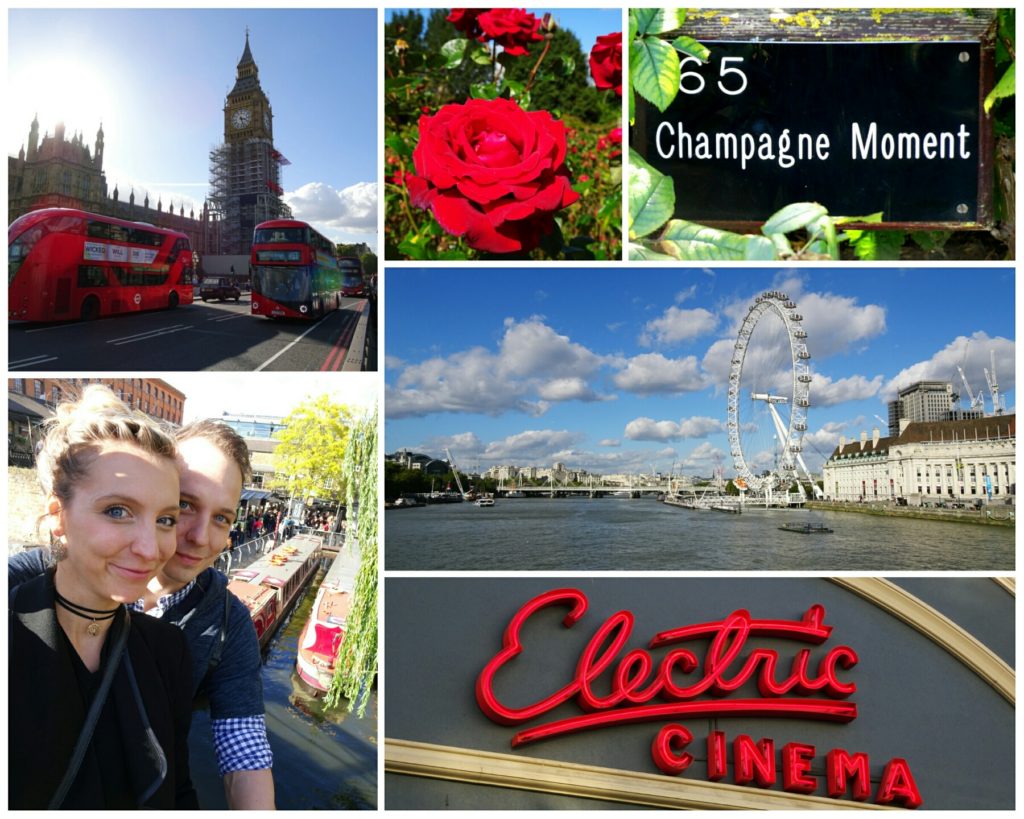 If you think about all the cities in Europe where you can spend a romantic getaway, the first one that usually comes to mind is Paris, maybe Barcelona or Rome but NOT London. The British capital is known for its bad weather, the crowded underground (or "tube" as they call it), noisy pubs and of course football…might sound like a good place to bring your beer and sports loving mates for a fun weekend away but for a romantic getaway with your loved on? Mmmmhh, maybe not so much. But hear us out!
London has so many beautiful things to offer that will get the sparks flying, guaranteed! So check out this post on how to spend the perfect romantic day in the British capital and follow our footsteps as we recently celebrated our 6th anniversary in London – our personal number one capital for lovebirds in Europe. 😊
A love story – made in London
A little background story about our relationship with London. 🙂 London is a very special place for us as it's not only the place where we've worked and lived together for almost 6 years but also the place where we've met for the very first time in a bar close to Old Street.
It wasn't love at first sight (just like with London – but we get to that later) but we were both new in the city and decided that it was way more fun exploring all the great things London has to offer TOGETHER rather than alone.
Said and done. The next couple of weeks we spend a lot of time together exploring this amazing city and all it's beautiful neighbourhoods and eventually we fell for it and obviously – each other 😊. (can I get a heart-felt aaaaaaaawwww??? 😊)
So, obviously when it came to picking a place where we wanted to celebrate our 6 year anniversary, it HAD TO BE LONDON! And we knew exactly how we wanted to spend it – doing all our favourite things which made us fall in love with this city and that eventually become very special to us. And let us tell you – we had AN ABSOLUT AMAZING ANNIVERSARY!
Therefore, we decided to share the whole "London anniversary itinerary" with you as we think this special day simply got it all. It was the perfect combination of getting to know some of London's hidden attractions and neighbourhoods while having enough time for, well, each other! 😊
London for couples – an anniversary itinerary of how to spend a romantic day in the British Capital
Okay let's start of by saying: London is huge! MASSIVE! So obviously there are tons and tons of fun, exciting and romantic things you can do here as a couple which unfortunately won't fit all in one single day. However, we tried our best to point out some different options and alternatives within this itinerary so that you can pick'n'mix depending on your preferences. Let's get this going, shall we?
1. Start the day right with some delicious brunch in the city
Okay my lovelies, a romantic day out in London gotta start with breakfast. Of course breakfast in bed is probably at the top of the list of how to start your anniversary day and maybe your hotel does offer room service so that you can ease into the day and enjoy your eggs on toast while snuggling up in your comfy bed. However, you can have breakfast in bed on basically any day you wanted so when in London, we urge you to get out of bed and head to one of the many awesome breakfast/brunch cafés this city has to offer! You'll be spoilt for choice!
We are total breakfast/ brunch maniacs and while living in London we've started almost every weekend with a trip to a new breakfast place making us a bit of a London-breakfast-expert 😊.
Our top choices for a romantic breakfast or brunch session in London include the following:
Fancy option for brunch in London:
1. Brunch @ the Darwin Brasserie
http://skygarden.london/darwin
As part of the SkyGarden the laid-back yet luxe Darwin brasserie does not only offer spectacular views of London's skyline but also a great food selection of high-quality including fresh salads, cured meats and smoked fish as well as a fantastic dessert selection from the brunch buffet along with a choice of a warm dish from the a-la-carte menu.
£44.50 per person
Available every Saturday and Sunday, Reservation required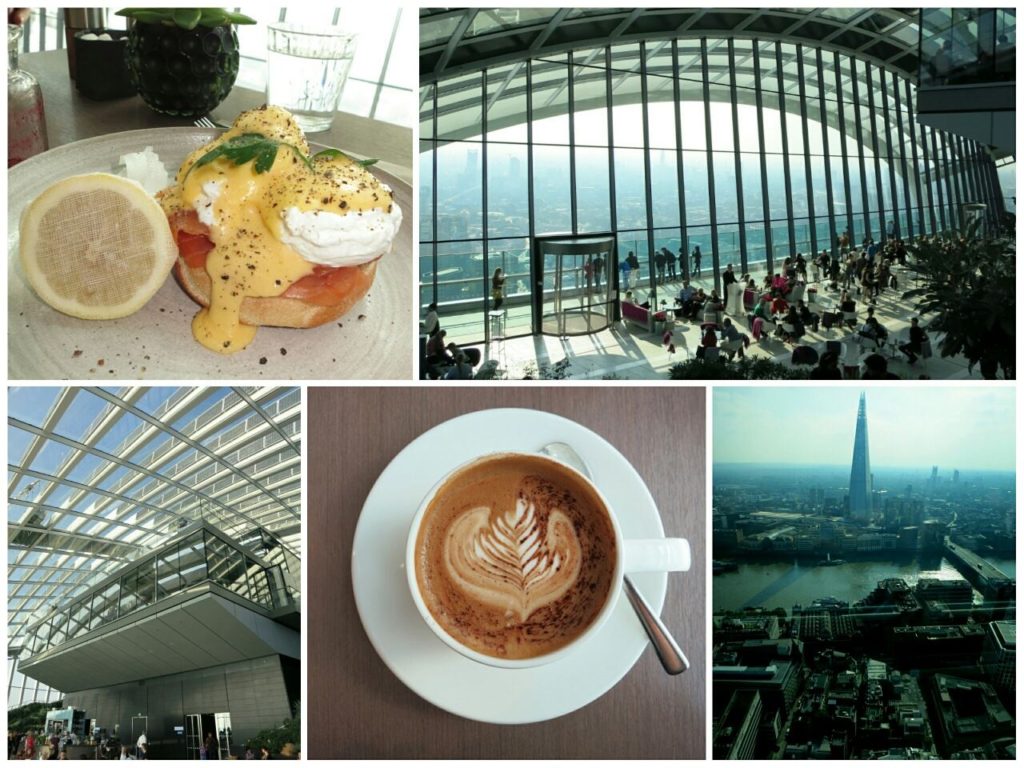 2. Detox or Retox Sunday brunch @ the W Hotel
http://www.wlondon.co.uk/retox-brunch
Unfortunately only available on Sundays however the perfect brunch after a big night out if you want to keep the Party going! 😊 You'll get free-flow bubbles and unlimited food from the salads and starters bar. Additionally there is a cheese station, a smoothie bar as well as a desserts station and if this wasn't enough you'll also get rotating canapes plus hot bowl food. YAM!
£45 per person for two hours
Available every Sunday, Reservation required!
---
Mid-Range options for brunch in London
So there is fancy, chic and expensive or comfy, cosy and affordable. It's totally up to you as London got it all! 😊 For mid-range options we can highly recommend:
1. Continental Stores, close to Kings Cross: This little café which is tucked away in one of London's best central areas serves some seriously delicious brekkie and with it's delicious coffee and pastries along with some great brunch a-la-carte items had quickly become our go-to place for brunch in London.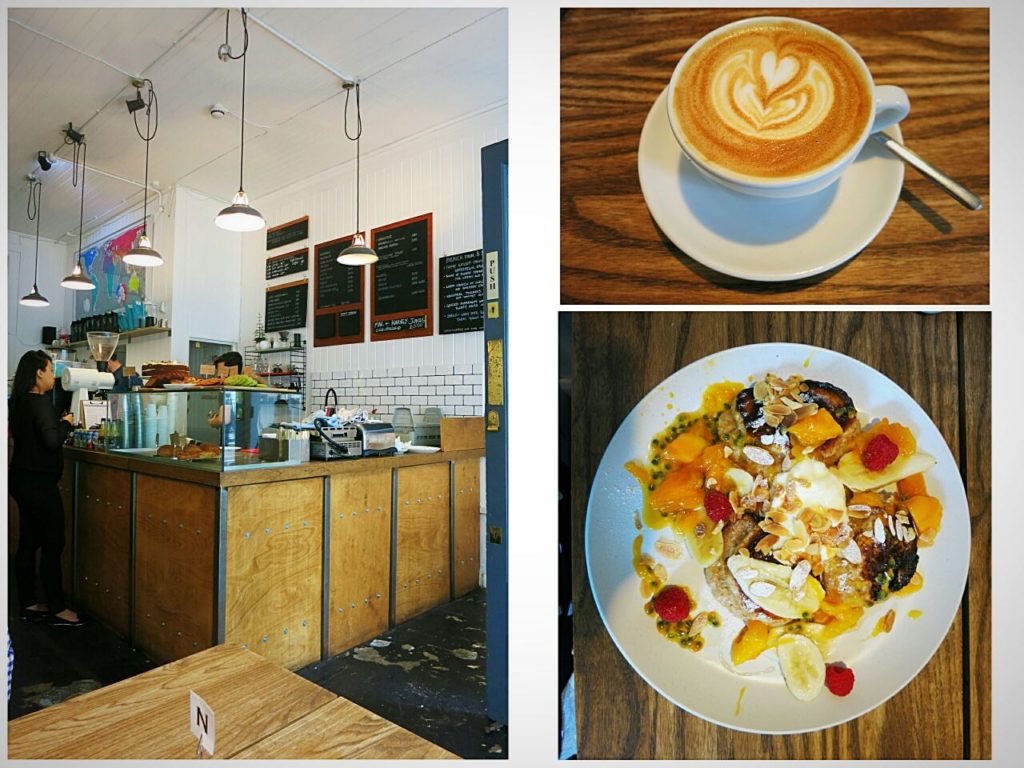 2. Breakfast Club: The name says it all ! No wonder you'll find always people queuing up no matter the day of the week or the time of the day to get into one of the several Breakfast clubs spread across London. It's simply a must-do if you love breakfast. Period! Tip, grab a take away coffee before to enjoy while waiting in the queue – as it can take easily up to 30 minutes and more to get in.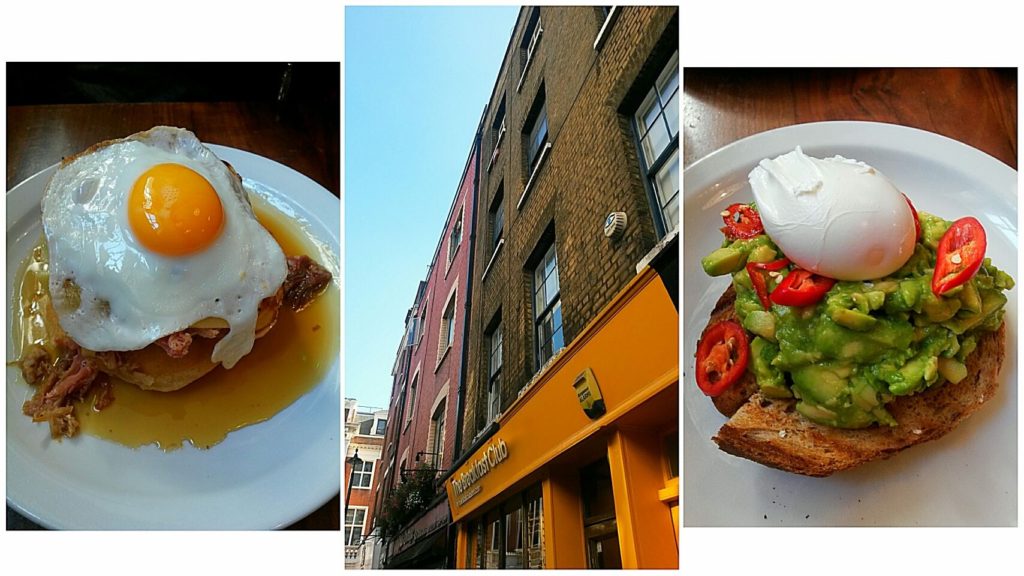 3. Revolution: This stylish chain bar/restaurant can be found in some of our favourite neighborhoods to wander around on the weekends including Clapham, City of London, Richmond and Battersea and they sure know how to serve some damn good brunch. From porridge brulée or pancakes to an avocado feast and perfectly poached eggs – you'll find yourself in brunch heaven.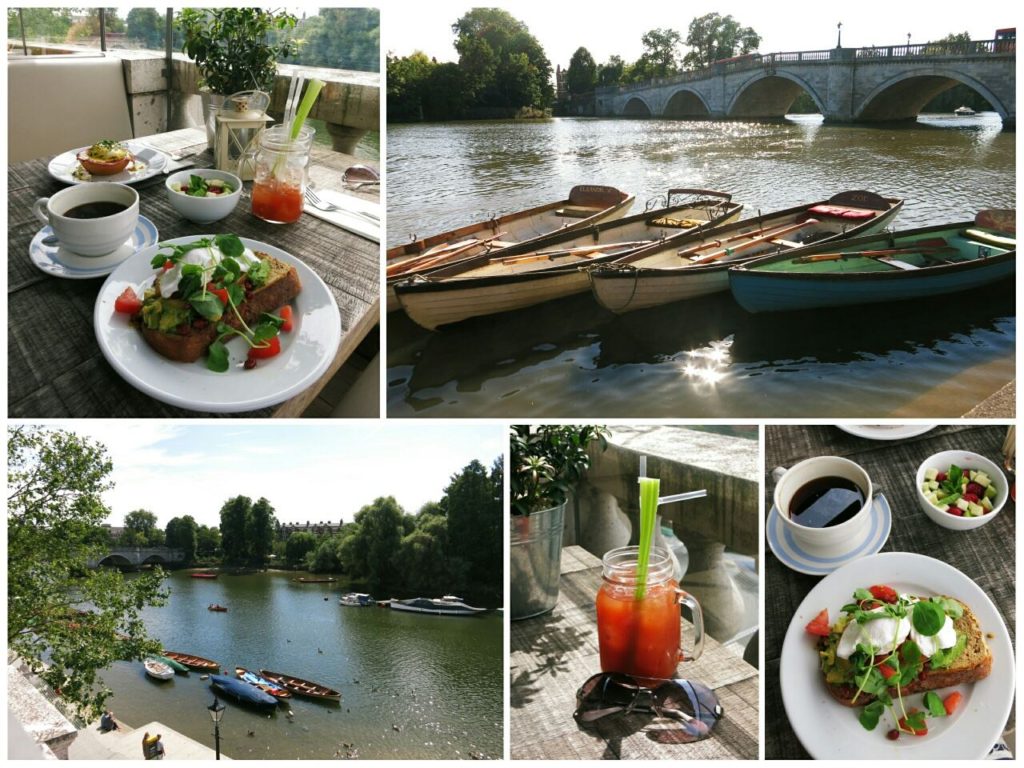 Admittedly, this is just a glimpse into the gazillions of different brunch places London has to offer so if you just want to get out and explore the local breakfast scene on your own than go right ahead. We're sure you'll find something you like – no matter where you are in this city! 😊
2. GET MOVING – TAKE A WALK THROUGH THE PARK
After such an indulgence, you'll definitely feel like moving so it's time for a romantic walk through one of London's many Parks. We went to the beautiful Regent's Park which was nearby to our breakfast spot and is definitely one of our favourite parks in London.
How to get there: Tube Station Baker Street – turn right when getting out of the tube station and right again at the first crossroad into Baker Street passing the Sherlock Holmes Museum and you'll get straight to the entrance of Regents Park.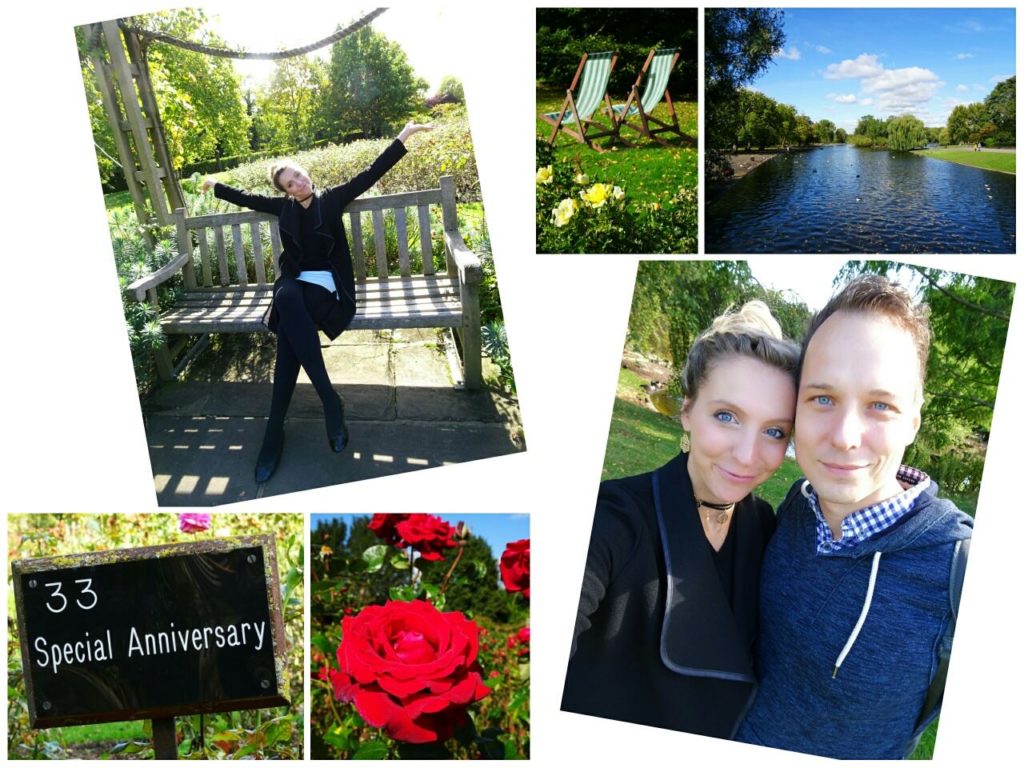 Inside the Park we first headed to the Queen Marys Rose garden and afterwards followed the signs to the London Zoo as this will take you to the exit from where you can get easily down to Regents Canal following the Canal all the way to Camden Town which was our next stop on our anniversary agenda.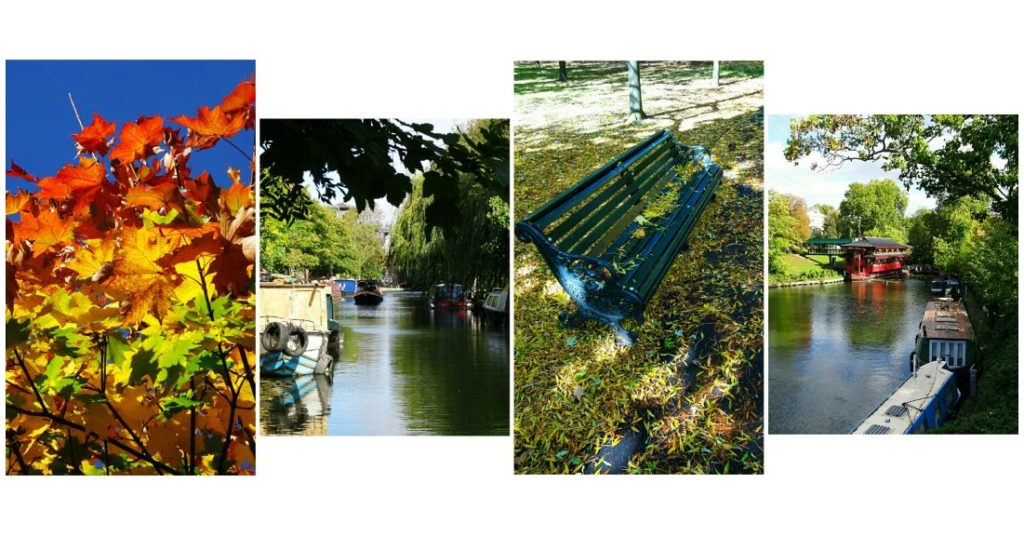 Depending on your location you can also opt for a walk through Hyde Park (Central London), Hampstead Heath (North-West London), Richmond Park (South West of London) or Greenwich Park (South East London) or well, any other of the many parks you'll find in London – we love them all. 😊
3. GET A BITE AT ONE OF LONDON'S FOOD MARKETS
As you'll probably won't be THAT hungry after having had such a big breakfast a stop at one of the many food markets in London is ideal for grabbing a little bite for lunch.
From Regents Park we walked along Regents Canal to get to Camden Markets, one of our favourite markets and neighbourhoods in London and the place to be to sample some amazing street food.
Along with many clothes stalls and 2nd hand and vintage shops you'll also find plenty of food stalls offering exotic dishes from all around the world. Thai Curry, Argentinian steak, French Crepes, Turkish Kebab or Spanish Paella? No matter what you're graving – you surely will find it here. We opted for some delicious Greek Halloumi Fries – highly recommended! 🙂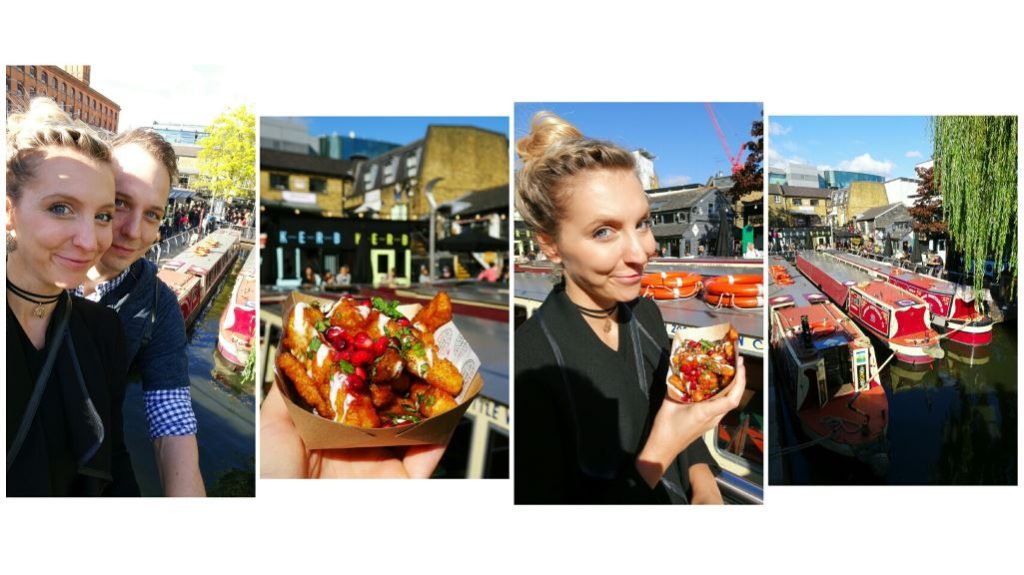 If you have time you can also hop on one of beautiful wooden narrow-boats here for a laid-back canal boat ride along Regents Canal taking you from the buzzing markets at Camden Lock all the way to Little Venice (and back if you go for a return ticket). A super relaxed way to see another side of the city – the "stress-free-no-worries"-side of London town 🙂
Check out the London Waterbus which runs hourly trips up and down the canal.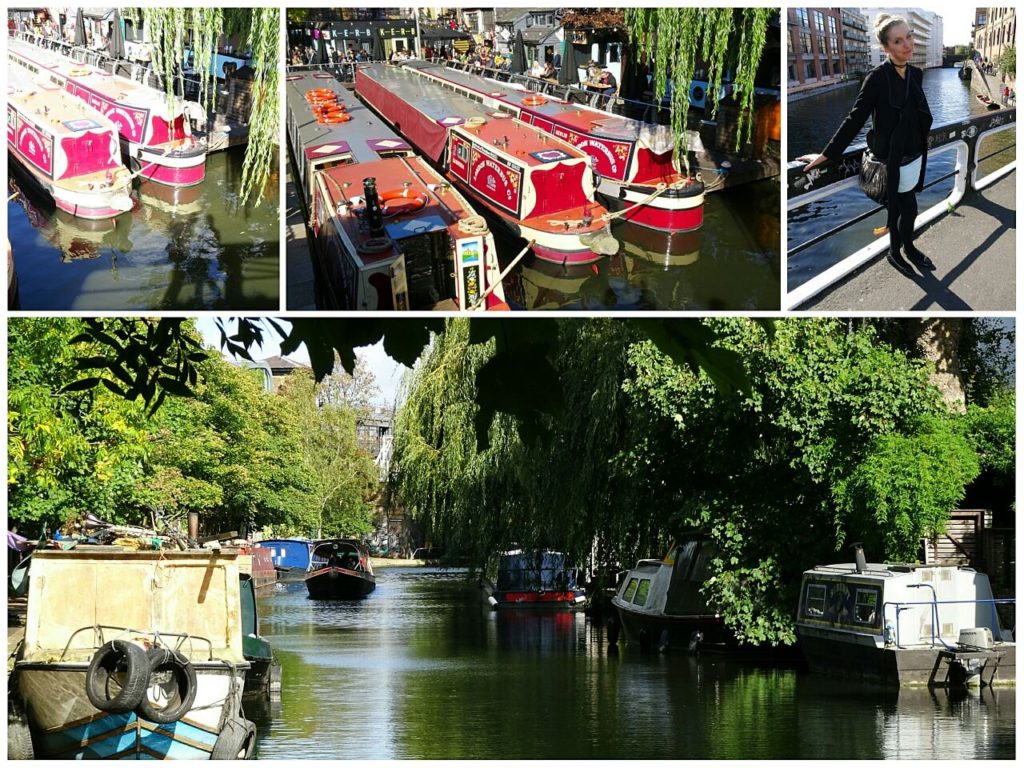 Another favourite food markets of ours is the London Borough Market close to The Shard and London Bridge which is also London's oldest food market and has been serving the people of Southwark for more than 1000 years.
If you find yourself in this area, definitely check out this gourmet paradise and sample some of the fresh, local produce you'll find here. It's the perfect way to kick-start the second part of your romantic day out in the city. (Note, the market is closed on Sundays!)
4. EXPLORE THE FAMOUS ATTRACTIONS IN CENTRAL LONDON
No matter where you are based a trip to London is not complete without a trip to central London and a walk along Embankment where some of Londons most iconic attractions can be found such as the famous London Eye. Did you know that you can even rent a private capsule if you feel like splashing the cash and taking your love to new heights? 😊
Although we weren't planning on taking a flight we were still keen on seeing one of London's most iconic attractions. We had been in a capsule several times before usually when we had visitors over so we can definitely highly recommend it if you've never done it before to catch some amazing views of the city. (On days with clear views you can see as far as Windsor!)
So we got off at Embankment station and crossed the Thames via the foot bridge from where you have some great views of London Skyline with St. Paul's Cathedral and the Shard in the back.
We then strolled along South Bank (the entertainment and commercial district next to the river Thames and opposite Westminster) down to Westminster Bridge passing the London Eye and Jubilee Gardens, listening to a street artists playing guitar, chasing pigeons and of course enjoying the stunning views of the Houses of Parliament and Big Ben.
We then crossed Westminster Bridge for a closer look at Big Ben. If you want you can also take the stairs down to the boat terminals and hop on a city cruise liner taking you all the way to the Tower of London (stop 1 – appox. 45 minutes) or if you have more time to spare to Greenwich (stop 2 – another 45 minutes), where you can take a walk around Greenwich Park, enjoy some delicious Fish & Chips or walk up to the Royal Observatory where you'll also find the prime meridian.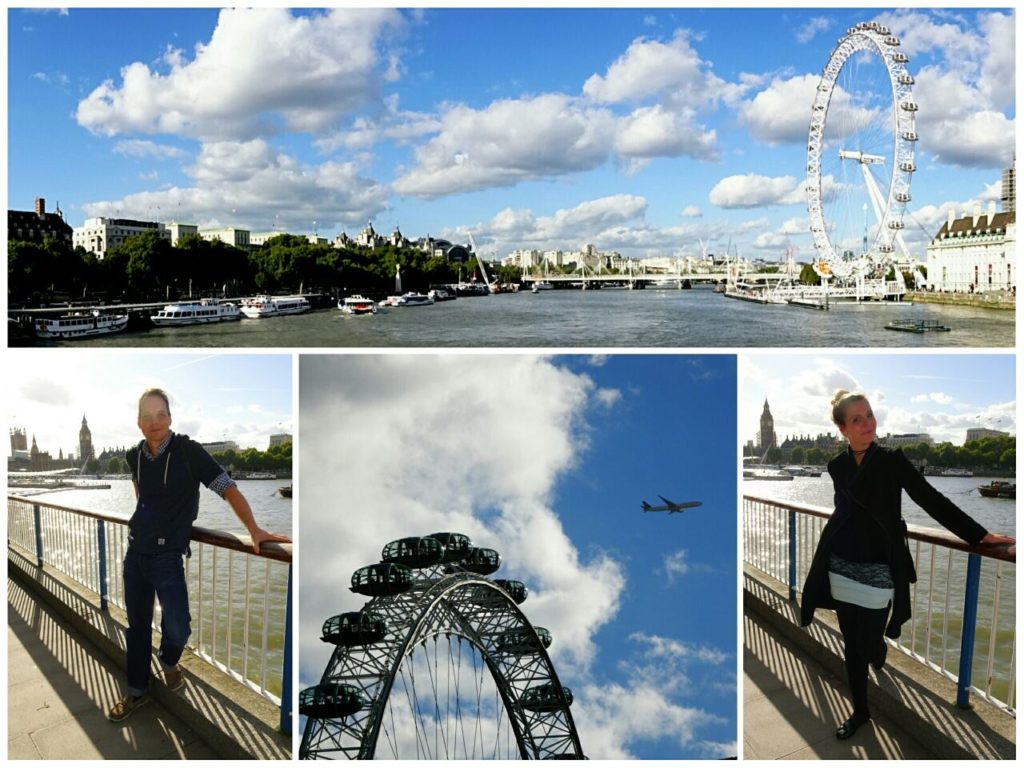 As the sun was shining we decided to keep on walking and went from Westminster Station all the way to Trafalgar Square and up to Piccadilly Circus where our little sightseeing trip came to an end as we had something special planned for the evening in another part of town.
4. DINNER & A MOVIE IN NOTTING HILL – Vintage cinema and a real Pub experience
We love watching movies and as you can imagine London is packed with a variety of massive multi-screen cinemas like Vue and Odeon all over town but for our special day we wanted to treat us to something special and a vintage movie theatre in the quirky Notting Hill neighbourhood was right down our alley.
Here you'll find the amazing "Electric Cinema", one of our favourite movie theatres of all times! Think ultra-comfy leather seats, cashmere blankets, foot stalls, a gorgeous bar serving wine and cake and a beautiful art-deco flair. Definitely a must-do for all couples who love going to the movies and are looking for a unique and romantic experience. You can also reserve your private couch or even a bed where you can snuggle up – super romantic!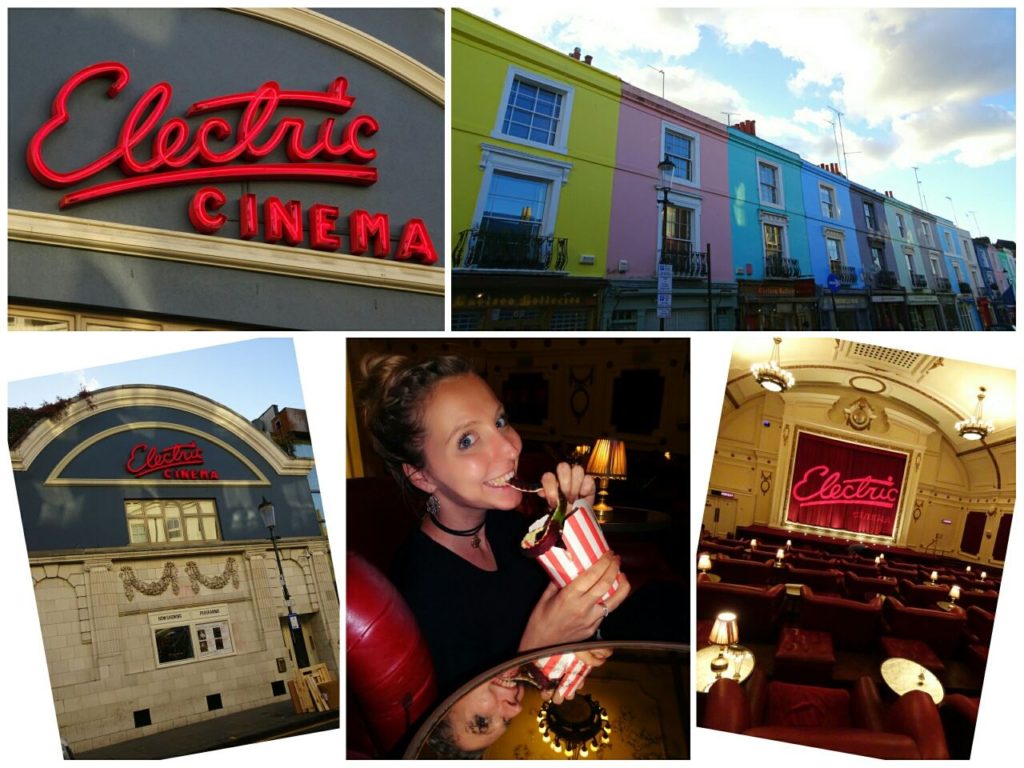 Afterwards you can go for a romantic dinner in one of the many cute little restaurants nearby – you'll be really spoilt for choice. If you looking for a typical Pub experience than you'll find one of our favourite pubs in London in walking distance – the beautiful Churchill Arms!
Dripping in flowers and crammed with Churchill memorabilia, The Churchill Arms is one of London's most recognizable and famous watering holes. Built in 1750, the pub was frequented by Churchill's grandparents. Nowadays, it's known for serving real ales and authentic Thai cuisine.
Definitely check it out if you find yourself in the area!
You can end the day in style by hitting the bars or dance the night away in one of the many clubs but for us it was time to head back home. We had the most incredible anniversary day in one of the most stunning cities in the world and can guarantee you'll have an amazing (anniversary-) time here as well!
London might not be love at first sight for everyone, but it will grow on you and sooner or later you'll be falling in love with it – if you want it or not and isn't this what all good love stories are about? 😊