NEGOMBO TO UNAWATUNA THE LOCAL WAY – OUR FIRST SRI LANKAN TRAIN EXPERIENCE
Negombo – Easing into the Sri Lankan lifestyle
After arriving in the middle of the night at the internatinal airport in Colombo (check out our first post HERE) we decided to take things slow and stay two nights at the Cappucino Hotel in Negombo. We went for Negombo rather than Colombo as it was much closer to the airport (just a 5 USD Uber ride away) and due to its smaller size and beachfront location ideal to ease into the Sri Lankan Way of Life.
We had our first tropical fruit shake (Have you ever tried wood apple? We've never even heard of this fruit before but it's freaking deliciosooo) and went for a little stroll through the city. There are some restaurants, cafes and small shops but nothing that will keep you here for long. Even the beach was rather disappointing – especially once you get to know the other beaches further down south such as Unawatuna Beach, Jungle Beach or Mirissa Beach. So get moving my friend – Sri Lanka has more in store for you!
What we however do recommend you to do when staying in Negombo is to watch the fishermen return from their trip to the sea, which you can do near Negombo Dutch Fort Make sure to get here early if you want to get a glimpse of the spectacle.
You can also have a look around the nearby Negombo Fishmarket which is open every day – what an experience! Word of warning though – better not visit this place on an empty stomach 😊
You'll see tons of fresh fish laying around for sale (fancy a bucket of anchovies for a dollar? Well here's the place! 😊 ) as well as even more fish spread across the beach to dry. Apparently it's the perfect snack for all the people working in the tea plantation in the hilly area of Sri Lanka.
All in all it Negombo was a good starting point but after those 2 days it was time to get moving! The South was calling!!
Negombo to Unawatuna by Train – Experience Sri Lanka the local way
We did a bit of research about the best ways to get from Negombo to Unawatuna and decided that the train was probably our best bet.
We didn't feel ready yet to board one of the very chaotic, crazy express busses (we kinda wanted to hold on to our lives for a little while longer 😊 ) nor had we the budget for hiring our own private driver so a 2nd class train ticket from Colombo to Galle seemed to be the most logical way to go here. Little did we know what this trip had in store for us. 😊
Part 1: Negombo (Kattuwa station) to Colombo (Maradana station)
We checked the map and noticed a small train station just a 5 minutes' walk from our guesthouse in Negombo – KATTUWA STATION. Perfect! This meant we could board our train right there heading for Colombo.
TIP: If you have a similar route in mind make sure to get off at 'MARADANA STATION' and NOT at the main station 'COLOMBO FORT' – at least if you want to have a slight chance for a seat on your onward journey down South to Galle.
The train going down south to Galle will start its journey at MARADANA STATION before (!) picking up more passengers at Colombo Fort – and by "picking up more passengers" we mean pack the train with as many people as possible and then squeeze in some more. 🙂 So Maradana is your only chance!
When we got to Kattuwa Station we were still in high spirits. There were hardly any people waiting and the ticket guy told us we could already buy tickets all the way from Negombo to Galle with him, meaning no added stress finding the ticket counter in Colombo! With only 15 minutes time between our arrival at Maradana station and our departure to Galle this was well appreciated!!!
In total we paid 460 LKR (roughly 3 USD) for the both of us for two tickets from Negombo to Galle in 2nd class – pretty sweet deal for a trip of 160 kilometers! (Especially when you have lived in London for years where your monthly train ticket was a quarter of your paycheck!!! #whatwasIthinking )
The train arrived right on time and although it was only made up of 3rd class compartments it didn't feel crowded nor uncomfortable. We got a seat right by the window and enjoyed our 1 ½ hour journey into Colombo passing little villages, rivers and banana plantations.
Part 2: Colombo Maradana station to Galle – 2nd class commuter train
Once we got into Colombo Maradana station it was actually easier to find our platform for our train to Galle than we thought – it was platform 5 – right across from where we got off our train. There were just a few people waiting so we thought, hey cool – that's gonna be awesome!
But 5 minutes before the train was supposed to pick us up the platform suddenly got overrun by people – like an invasion.
Then the train came and the chaos started. People were running and shouting and we just stood watching the madness, unable to make a move. Well be better had brought our catch-that-seat-A-game because by the time we realized what was happening and that we were standing at the complete wrong spot (2nd class compartments are apparently more towards the end of the train…pfff) the train was pretty much PACKED! So much for getting seats at Maradana station.
As there was not a single seat left in 2nd class we decided to park ourselves in 3rd class as there was a bit more space by the doors to catch some fresh air and (potentially) a nice view. So I quickly transformed my north face bag into a seat and proudly thought – YES, I still got my first-class-window seat after all! Oh dear…what was I naïve!
My luxurious train ride experience lasted exactly ONE STOP! Once we arrived at the platform at Colombo Fort hundreds of people pushed inside, quickly filling up every spare centimeter on that old rusty train.
My window disappeared as the door was simply pushed away and my scenic view of the tracks and the greenery outside got exchanged for a rather unpleasant view of numerous feet around me.
Martin tried to ensure we had some room to breathe by blocking (and fighting for) a little tiny space using his arms and elbows and so we took off cramped in this bundle of moving mass heading along the coast to Galle.
Tip: FIGHT FOR THAT SEAT RIGHT AT THE START! WHATEVER IT TAKES!
On the bright side, at least we picked the right door to sit at as we could at least enjoy glimpses of the ocean right next to the track and once the train got a little bit less crowded with more people getting off than on we could actually start enjoying this beautiful scenery rushing by – palm-trees and ocean views, it was actually brilliant!
However, I guess our bodies are too spoiled to enjoy such an experience for more than 1 hour and by the time we got to Galle our legs were burning and we were hungry and tired. But hey, WE MADE IT! We'd just survived a 3-hour 3rd class train journey in Sri Lanka! I guess that meant we were ready to move on to more adventurous modes of transport now – e.g. THE BUS! 😊
Part 3: Galle Railway Station to Unawatuna Beach by Tuk Tuk
We stumbled outside (btw. nobody ever checked our tickets!) and of course got quickly approached by a crowd of enthusiastic tuk tuk drivers. As we were too tired to care we simply went with the least pushy salesman and agreed on 600 LKR to our guesthouse at Unawatuna Beach. You could probably get it lower at around 500 LKR if you are in the mood for negotiating but 4 USD for another 20-30 minute drive seemed pretty fair to us.
At around 5pm we finally arrived at our Asantha Guesthouse in Unawatuna and ended the day with a walk to the beach (luckily just a 1-minute walk from our guesthouse – 5 stars for location!!!) where we had a yummy and well-deserved dinner while watching the sunset. Unawatuna – you had us right there and then! 😊
FURTHER READING SUGGESTIONS: Don't forget to check out our Ultimate Guide to Unawatuna.
---
The following links are affiliate links, which means that if you book a stay through these links, we'll get a small commission. Don't worry–the price is still the same for you.
Where to stay in Unawatuna, Sri Lanka?
We stayed at the Asantha Guesthouse which is located ideally located for exploring Unawatuna.
It's situated in a prime location just a few steps from the beach and offers stunning jungle views from the terrace (we spotted many squirrels and monkeys 🙂 ) The rooms are pretty spacious and the friendly hosts make a delicious breakfast in the morning – especially the tropical fruit platter was amazing.
As the double rooms were already sold out we stayed in a deluxe double and paid around 40 USD per room/ night. (Double room rates start at around 30 USD / night incl. breakfast). For more information about this hotel and rates click the button below.
---
Alternative places to stay in Unawatuna, Sri Lanka: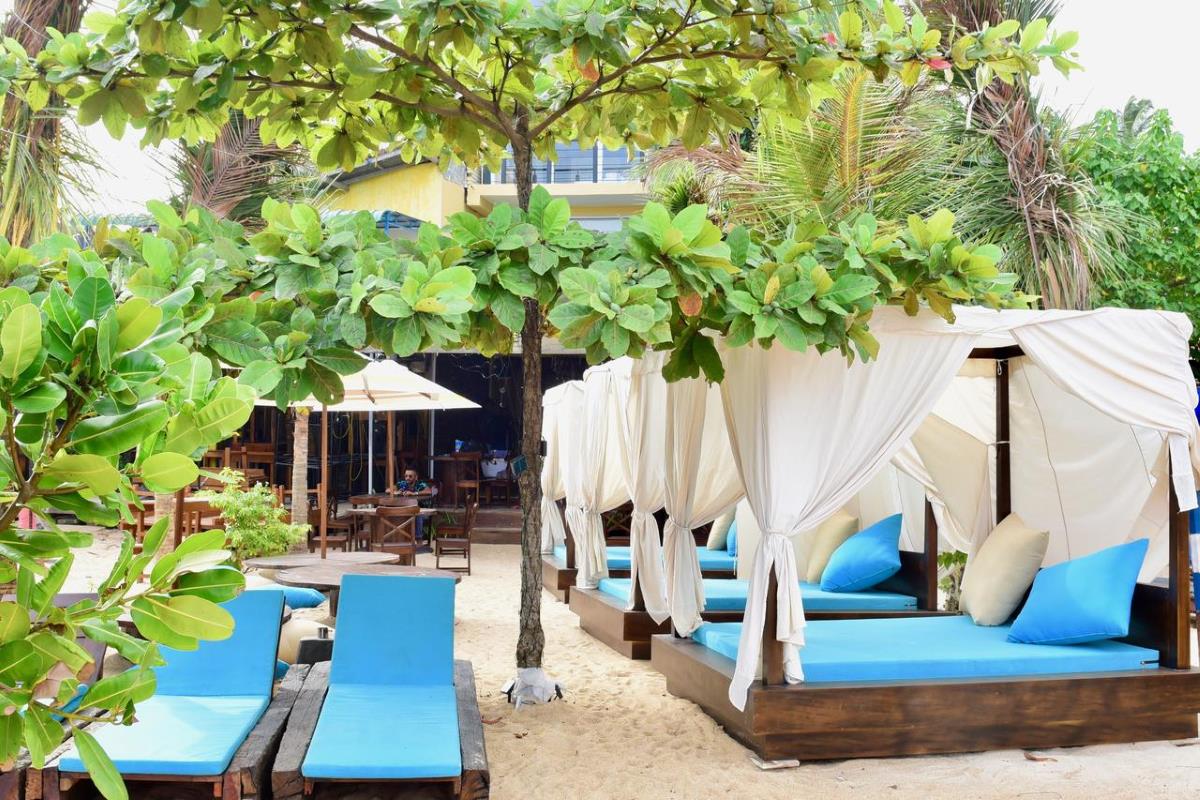 Nice little beachfront Hotel with free Wi-Fi and a lovely beach terrace where you can relax on the compfy beach beds and enjoy the gorgous views of the bay. In walking distance to the town with bars, shops and restaurants.
QUICK FACTS
Negombo – Unawatuna
by train & tuk-tuk
Take a train from Negombo to Maradana station in Colombo (NOT Colombo Fort!) – 1 ½ hrs
Take a train from Maradana station to Galle – 2 ½ hrs (approx. 460 LKR/ 3 USD for 2 pax)
Take a Tuk-Tuk from Galle station to Unawatuna – approx.. 500 – 600 LKR /4-5 USD)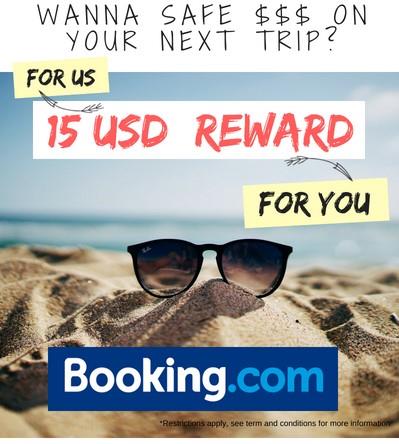 Where to stay in Unawatuna
We stayed at the Asantha Guesthouse* as it offered good value for money and was in walking distance to the beach and town with shops and restaurants.
Check here for current deals for accommodation in Unawatuna*
* = Affiliate links.