LOOP WALK FROM ELLA TO THE FAMOUS NINE ARCH BRIDGE
Exploring Ella and its beautiful surroundings on a hike to the Nine Arch bridge
This easy but spectacular hike from Ella to the famous Nine Arch Bridge should definitely be on your bucket list when visiting Sri Lanka. Walking on railway tracks, passing through tunnels and crossing bridge makes definitely for a trip to remember.
You can start your walk to the Nine Arch Bridge from Ella Railway Station. There is a little dirt path right after the station leading to the train tracks. You can then simply follow the railway tracks for about half an hour all the way to the Nine Arch Bridge.
No need to worry to walk on the tracks or directly next to it. If there is a train coming you'll hear it waaaay before it's actually there – guaranteed 😊! And except for a few short parts that looked very narrow there is usually always enough space for you to stand and wait when a train is passing by and of course to wave back to all the smiling passengers!
You'll also find some places that sell coconuts and sometimes even other drinks and food on your way to the bridge so you'll be well taken care off!
Shortly before you get to the bridge you'll need to pass through a dark and narrow tunnel. Some people said that sometimes officials will prevent people from doing that however on the day we were there nobody stopped us. However make sure that you check whether any trains are nearby as passing through the tunnel when it train is coming is NOT advisable. 🙂
Once you get to the Nine Arch Bridge there is the Nine Arch Café to your left where you can rest, have a drink and watch the next trains passing by. Most blogs will mention it so that we thought it's the place to be when you want to stay for a while here watching some trains passing by and enjoying the views.

However, we found a café with even better views which is the Asanka Café. You'll find it up on the hill on the other side of the Nine Arch Bridge. There is a little steep dirt path to your right when you get to the end of the bridge leading up to the café. From here you have some spectacular views of the bridge and the railway tracks from above so make sure you're in time to watch a train!
But note that this is a very basic café so don't expect anything fancy! But the prices are super fair (we paid 75 LKR for a coffee with milk and 300 LKR for a nice, fresh mixed fruit juice) and waited up here until the next train was crossing the bridge – it was fantastic and probably the nicest #Drinkwithaview we had in a long time! 😉
Continuing your loop walk from the Nine Arch Bridge back to Ella
After our coffee/juice break at the Asanka Café we headed back to Ella. You can simply follow the path that leads up to the Asanka Café further up the hill until you reach a little road where tuk-tuks and scooters pass by. Turn right in direction to Ella. You'll pass a little tea plantation and some houses until you get back to the main road leading back down to the city center.
In total it's about another 30 minutes' walk from the Nine Arch Bridge back to Ella.
Best times to visit the bridge to see a train crossing
Tip! The earlier you get here the less tourist will be around spoiling your perfect shot however don't stress yourself. There are plenty of trains crossing the bridge throughout the day.
Also despite visiting the Nine Arch Bridge in high season (January 2018) there were never any big tourists crowds and you could always find a spot to take a few nice snaps of a train crossing the bridge. We spend in total roughly 2 hours here and saw two trains during this time.
However, make sure to get to the Bridge at 10/11am the latest as it does get very hazy around noon/early afternoon (which you probably already know when you've been traveling around Sri Lanka for a while 😊)
In regards to the best times to see a train, well, to be honest the bridge itself is already very impressive and I couldn't stop taking pictures from every ankle possible – train or no train – but I agree that you should definitely wait to see at least one train crossing the bridge! If it's a passenger train then usually it's a big happy party with lots of smiling and waving! Such a spectacle!
If you want to have a rough guideline of times to be at the bridge to see a train crossing over we've taken a picture of the train schedule we found at the Asanka Café or you simply go to the Sri Lankan Railway website where you can check for all passenger trains from Ella to Badulla and from Badulla to Ella!
However, keep in mind you are in Sri Lanka so don't take these times for granted. Sometimes they don't show up at all (they apparently cancelled 2 trains on the day we were there so from 12am to 3pm there was not a single train), sometimes there are random trains at times when there shouldn't be one (luckily after those 3 hours of waiting such a train showed up out of the blue at 3:00 pm 😊) and sometimes you are lucky and these trains are actually – believe it or not – right on time (e.g. the 3:30pm we saw while enjoying our coffee and fruit juice – it crossed over the bridge not a minute too early or too late)
Attention: Apparently you are not allowed to stand on the bridge walls (parapet) and if there is police present (as it was the case when we were there) they will check that everyone behaves 😊. However, sitting on the bridge walls, walking across the bridge and even walking on the train tracks was absolutely fine.
Best Photo Opportunities
Below you'll find a list of the best places to take a photo during your excursion to the Nine Arch Bridge. There is plenty to see so make sure your SD card has space left and your batteries are charged to the max! 🙂
The Tunnel

There is a dark, narrow tunnel right before you get to the bridge which makes for some spectacular photo shots. But mind the trains 🙂

Hill on the right

There is a hill to your right which you'll see once you get through the tunnel. Walk up the little path on your right before the bridge. Walk up 2-3 minutes and you get some stunning views through the forest

Asanka Café

Asanka Café up on a hill to your right at the end of the bridge is probably one of the best places to take a photo of the bridge. Especially when a train is crossing the bridge.

From the bottom of the bridge

There are also some little paths leading down which probably make for a fantastic shot however as we were wearing only flip flops we didn't dare to go down – only looking down 🙂

On the bridge – obviously

Of course the pictures you can take ON the bridge shouldn't be forgotten. As long as there are no trains coming you are allowed to walk on the tracks or sit on the walls as much as you like. But be sure to leave the bridge when a train is coming!
What about drones at Nine Arch Bridge?
You can register your drone with the CAA here
We've seen quite a few people with their drones at the Nine Arch Bridge (about 5)
Generally as per the Sri Lankan Civil Aviation Authority it is not permitted to fly over the train tracks but if you have a permit you can get some nice shot of the bridge from both sides (We've even seen some people flying their drones through the arches under the train tracks – probably an amazing shot!)
Attention if you don't have a permit – there is police present at the bridge (they walk from side to side and make sure people are not standing on the bridge when the train arrive) who might check that you have your permit! We've seen them asking two guys who had a drone for their permit and it looked like neither one of them had it so they had to leave. However we've also seen people starting their drones from further up the hill and nobody checked with them for their drone permit.
A good spot to start/land you drone is the Asanka Café which you get to by climbing up the steep path up the hill on your right at the end of the bridge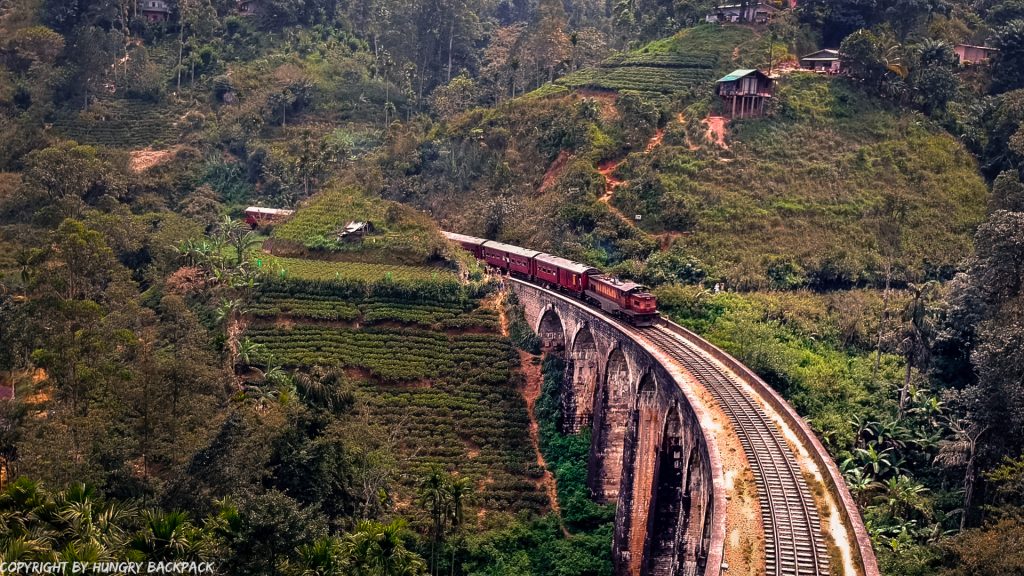 The following links are affiliate links, which means that if you book a stay through these links, we'll get a small commission. Don't worry–the price is still the same for you.
WHERE TO STAY IN ELLA?
During our 3-days in Ella we stayed in a cute little guesthouse called: Rest Full Homestay which was located up on a little hill a few minutes walk from town with stunning jungle views from our terrace. They only have a few rooms so make sure to book well in advance if you don't want to miss out on this little mountain retreat. However please note the walk up is quite steep – even our tuk-tuk driver didn't manage to get up their when we arrived from Tangalle so we had to walk the rest of the way.
For more information about this hotel and rates click the button below.
Other lovely guesthouses in/nearby Ella which are all about the views are Eden View Ella & Nine Arch View Ella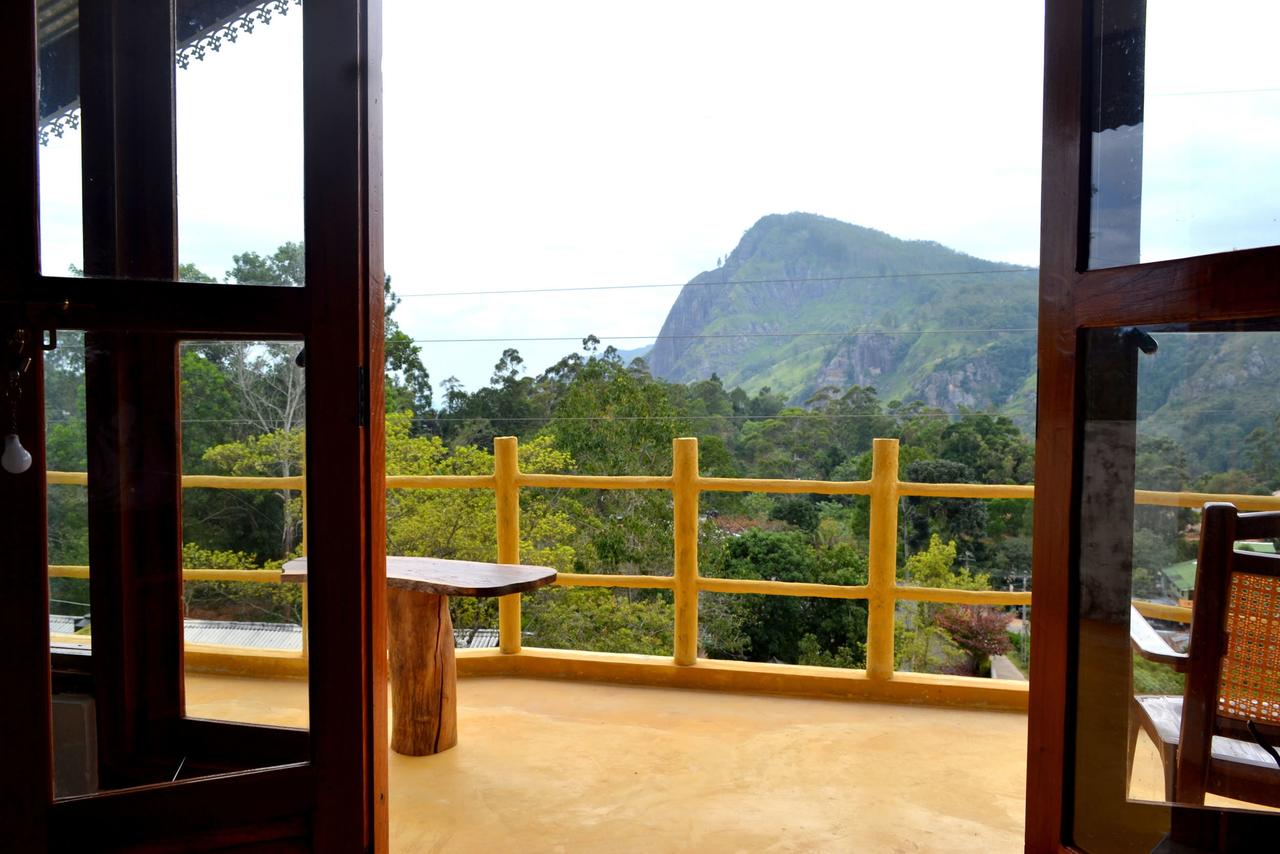 It's all about the views, views and more views for this Ella accommodation. Each room will provide you with a seating area as well as ensuite bathrooms. Enjoy spectecular mountain and jungle views from your room while still being in walking distance to the town centre. WiFi is also available.
Quick Facts
Start your trip from Ella Railway Station
Follow the small trail right after the station leading to the tracks
Walk along the railway tracks for about 30 minutes
Have a drink at the Nine Arch Café or for some even better views at the Asanka Café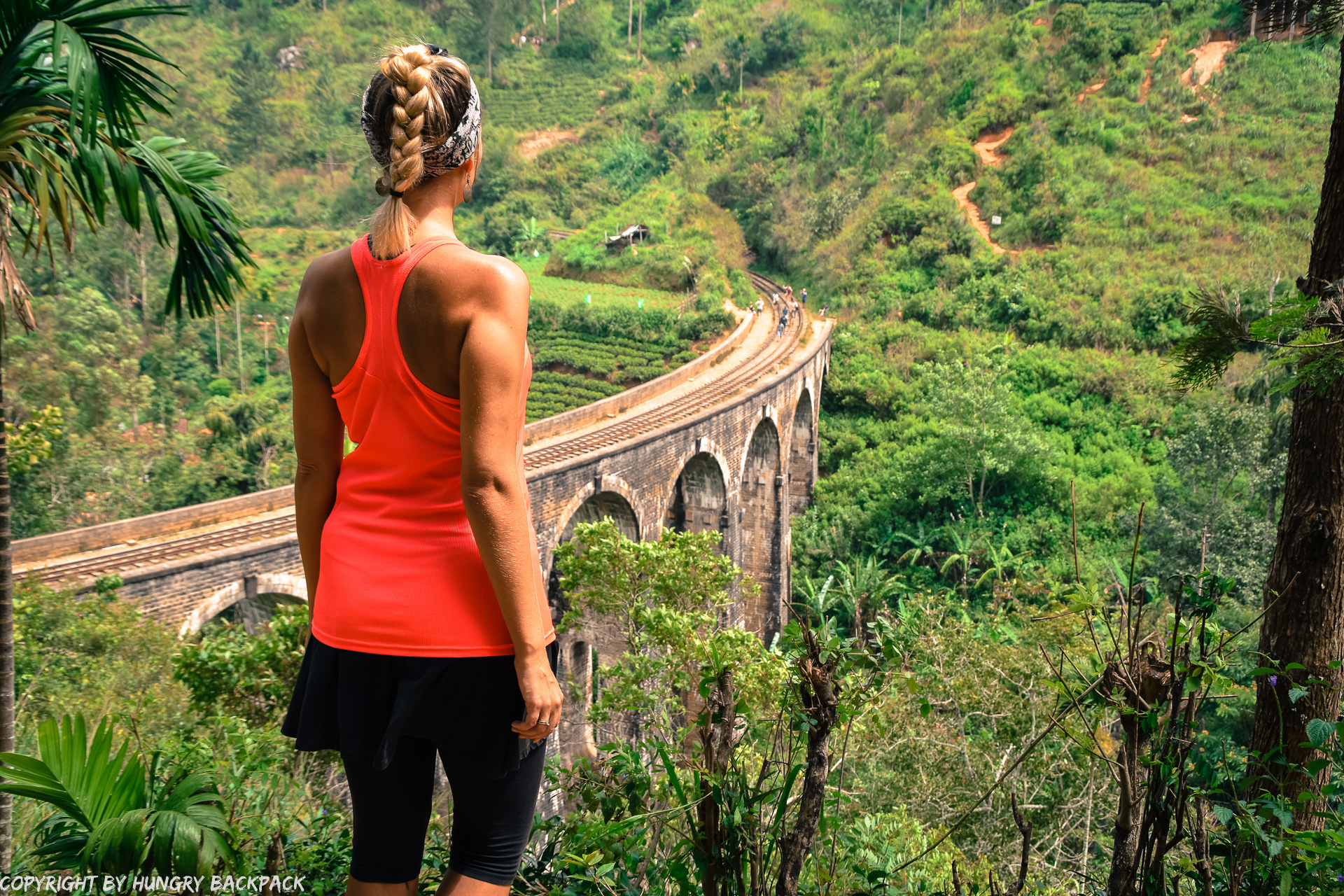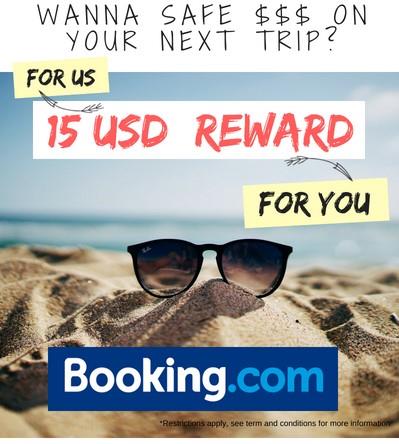 Where to stay in Ella
We stayed at the Rest Full Homestay*.
This small and cosy guesthouse offers a huge variety of typical Sri Lankan breakfast items for the perfect start of your day in Ella and enough energy to explore the beautiful surroundings.
* = Affiliate links.