REVIEW OF OUR TRAIN – FERRY – COMBO TRIP FROM BANGKOK TO KOH TAO
In part one we listed the various options you have when you want to get from Bangkok to Koh Tao. We decided for a sleeper train & ferry combo trip and would like to share our experiences with you!
Okay so actually we started our journey not from Thailand but from Indonesia where we had spend a whole month before heading back to our beloved Thailand for some more fun in the sun! 😊
After an early rise in Bali we left this island of the gods on the 8:10am AirAsia flight from Denpasar to Bangkok – Don Mueang Airport.
Everything went smoothly and we arrived at around 12pm in Bangkok. Thailand here we are again! 🙂 As our sleeper train was scheduled for 7:30pm we had TONS of time to kill and decided to hang around at the airport for a bit and find ourselves some delicous thai snacks to eat.
There are quite a lot of restaurants on the 4th floor of the Don Mueang Airport – from traditional thai food to western favourites such as Pizza and Burger, you'll be spoilt for choice. (Although it doesn't come that cheap!)
After enjoying a quick Pad Thai and loading up on snacks from the convenience store we spend some quality time with our laptops, making use of the FREE WIFI! YES! We also saw several plugs and even phone chargers across the terminal so you can easily kill some hours while waiting for your flight or as in our case, your train! 😊
GETTING FROM DON MUEANG AIRPORT TO HUA LAMPHONG STATION
As our train to Chumphon would be leaving from Bangkoks main train station we decided to just hop on one of the many commuter trains connecting Don Mueang Airport and Hua Lamphong station! This would save us the 350THB (minimum!) taxi ride to the city.
The train station is just a short walk from the Airport terminal and tickets costs…are you prepared for this?!…20THB!!!!!!!!!!! What a bargain!!!!
To get to the trains you simply have to cross the motorway between the Airport and the train station. Luckily there is a crosswalk which you can take to get there very easily right from the Terminal building.
The crosswalk is located at ground level of terminal 1. Just look out for the big orange sign which leads to the Amari airport hotel. Take the elevator to level 1 and then exit through the door on the right hand side just before the hotel corridor begins. Cross the motorway to get to the other side and voila, the platform for the trains towards Bangkok will be the very first one and you can take any train which stops here to get to Hua Lomphong.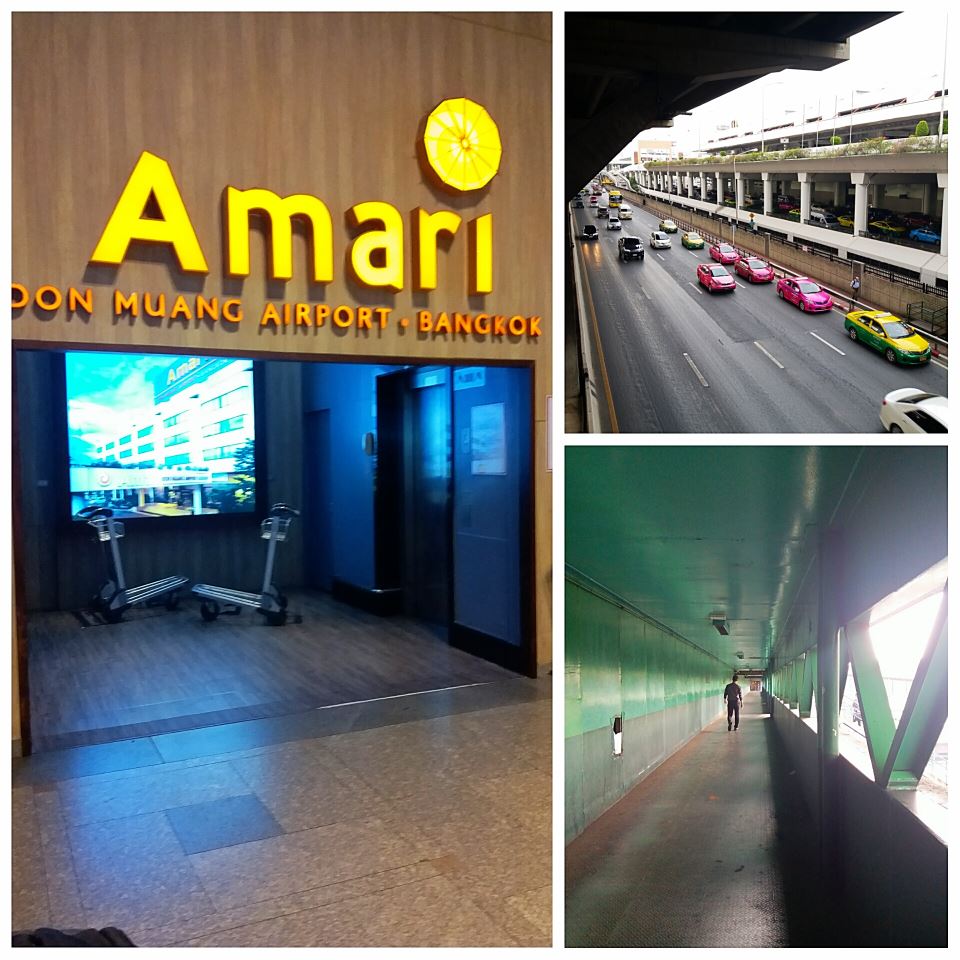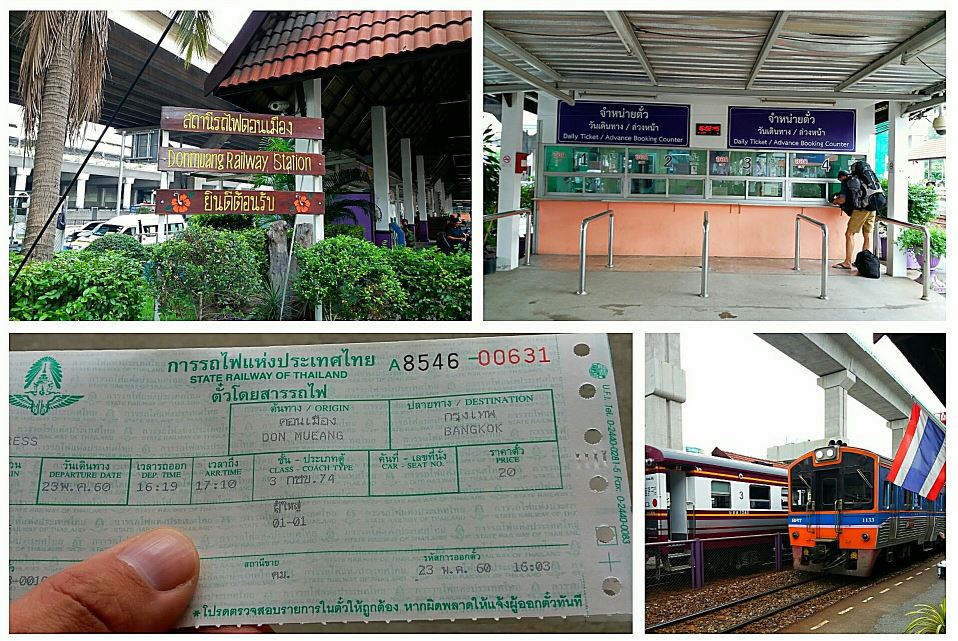 We arrived at Hua Lamphong train station at around 5pm. While I was waiting with an ice coffee and our bags at Black Canyon Coffee inside the station (take the little stairs up in the main hall, they have food, coffee, tables and WiFi! 😊 ), Martin went to the [eafl id="2047″ name="12Goasia BKK Koh Tao" text="12GoAsia"] office just a short walk from the station to pick up our combo tickets which we had booked online a few days before.
He was back in no time so we could move on to the next – and equally important – task: THE DINNER HUNT!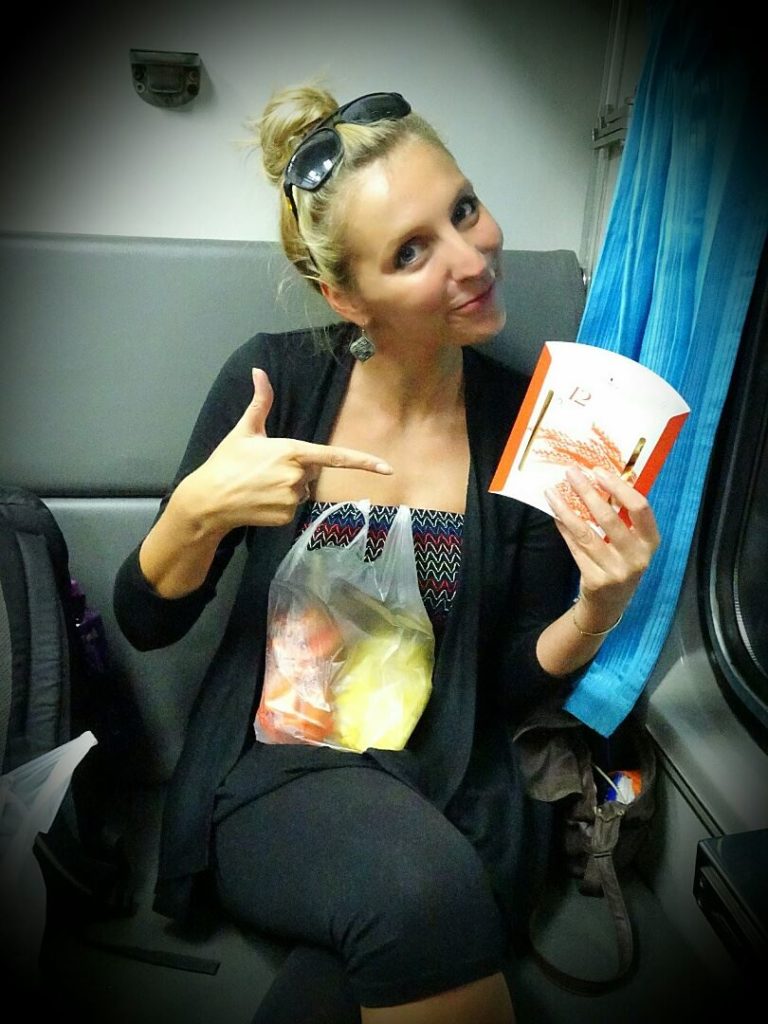 As it is already our tradition, before boarding our overnight train we stocked up with snacks from 7 Eleven! Don't waste your money on the food they serve on the train!!! There is a 7 Eleven just across from the station plus several food and fruit vendors right outside of the shop so plenty of choice!!
Armed with toasties, peanuts, ice teas, cookies and 2 big bags of fresh pineapple and papaya we went back to the station to check whether our train was already there – IT WAS! And ready for boarding. WHOOP! Smooth sailing so far!
Once we found and settled into our seats it was dinner time! 😊
LEAVING Hua Lamphong right on the dot – KOH TAO HERE WE COME!
The train staff is super quick and efficient in turning seats into beds. I think that within 15 – 30 minutes after leaving Bangkok all beds had been made.
We noticed that this sleeper train was a bit more spacious than the other overnight trains we had before when traveling from / to Chiang Mai. (click here for more on our journey from Bangkok to Chiang Mai with the Overnight Train)
Having more space, allowed us to chill in the lower berth for a while watching a movie on our laptops before we hit the hay early – after all the alarm clock was about to go off at 3:40am!!!!!!!!
We arrived at Chumphon Train Station at 4:10am sharp! We followed the crowds to the information desk where you present your combo ticket and check in for the bus to Chumphon Pier and the ferry to Koh Tao. (if you don't have a combo ticket than the 1 hour shuttle from Chumpon Train Station to Chumphon Pier is about 100 THB)
After everyone had checked in we assumed we could board the shuttle bus to the Pier. WRONG! Because for the next 1 ½ hours what happened was: NOTHING! 😊
After checking with the staff where we could find the bus they informed us that the bus wouldn't leave before 6am! 6AM??? It was 4:30am! We are not morning people and this were NOT good news!
So basically we sat there in the dark for more than an hour, on some super uncomfortable stone bench surrounded by some lively big fat rats running around gathering left over food from previous travellers waiting for this FREAKING bus to take us to the pier! URGH!
Shortly before 6am the bus to the pier finally came and being super quick running across and boarding the bus we even managed to secure the front row seats! FRONT ROW BABY! Alrightly, the day seemed to be getting better! 😊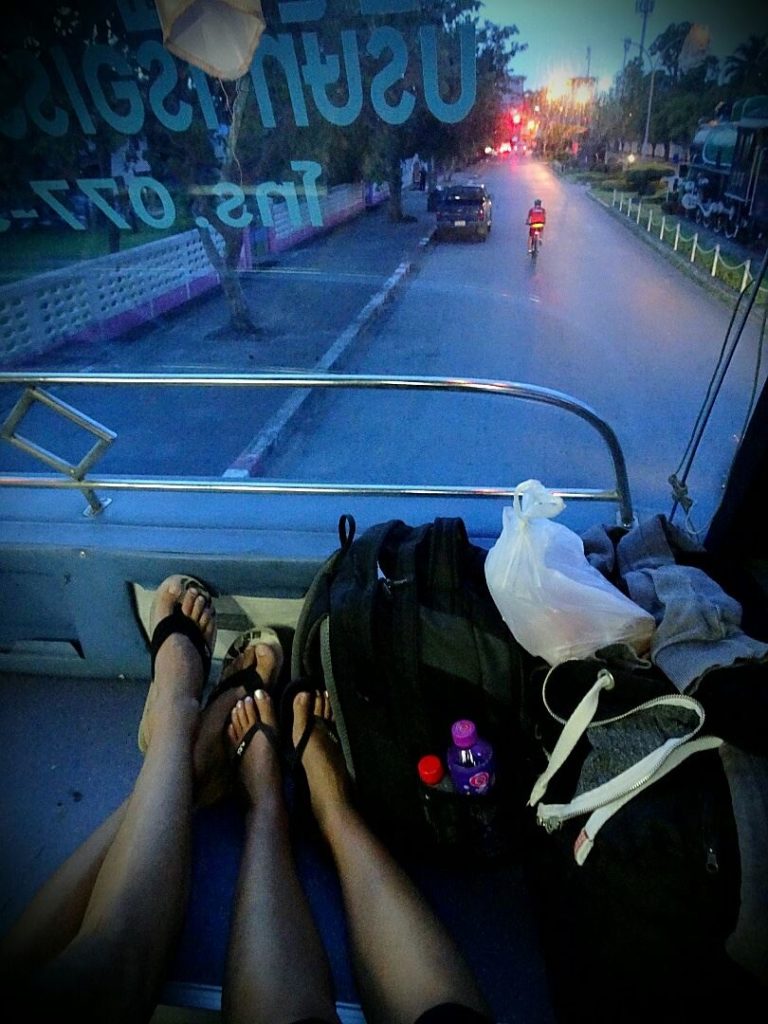 When we got to the Pier there were already a lot of people waiting. We assume these were the ones that arrived here by bus at night only that "their waiting" looked waaaaaay more fun! There was a beach, a café with WiFi and even some lounge chairs with sea view! Comparing this to our experience from the train station this was a freaking 5* resort!!! (We had to admit, this was a good point for taking the bus instead of the train!)
After getting off the shuttle bus you once again have to go to the information desk with your tickets and check-in for the ferry.
At around 7am they start boarding with the ferry leaving at 7:30am. The ferry ride takes in total 2 hours to Koh Tao and we read before that it can get very shaky so better bring some motion sickness pills.
Getting sick super easily, I've been eating them like Smarties ever since we left Bali, one for the flight, one for the train to Bangkok and another one for the train to Chumphon! Ferry ride meant it was time for swallowing pill number 4 – and this one better did a damn good job as the sea looked a bit rough!
Luckily it did! 😊 We secured us some seats at the top deck and with a nice morning breeze and the pills kicking in I was quickly dozing off and basically slept most of the ride. Hallelujaaa!
After our first short stop at the small Nang Yuan island right next to Koh Tao we arrived at Koh Tao (Mae Haad Pier) at 9:30am – pretty much 24 hours after having left Bali!!!! WHAT A JOURNEY!
But we made it in on piece and what we've seen so far looks super promising that it was all worth it! Definitely make sure to check out our other blog posts about our adventures on Koh Tao! 🙂
---
YOU MIGHT ALSO BE INTERESTED IN: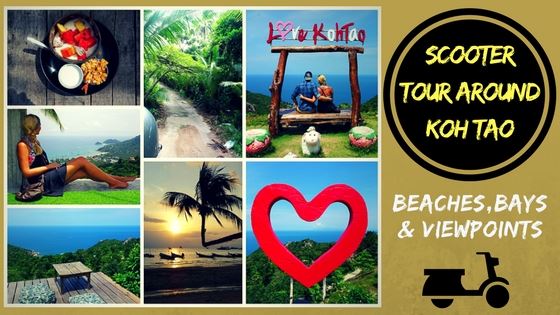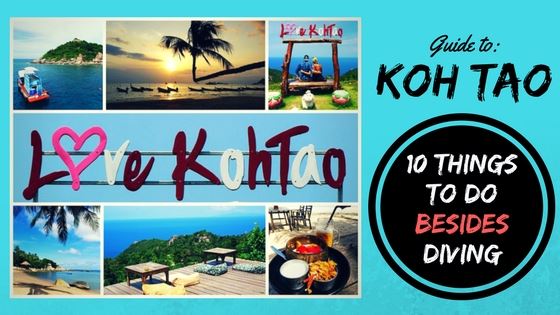 ---