CRAFT BEER TOUR THROUGH PORTO – REVIEW OF THE "BEER & BITES"-TOUR WITH TASTE PORTO
Exploring Porto's vibrant craft beer scene on a 3.5-hrs beer focused food tour with "Taste Porto"
Porto is Port. Period. At least so we thought. 😊
However, turns out that not only port lovers but also beer enthusiasts will be pleased with the city's offering of alcoholic beverages.
Forget the days when there were only two Portuguese beers on offer (namely Superbock and Sagres). Today's visitors to Porto will find a young but super vibrant and creative craft beer scene offering some of the best artisan beers we've ever come across.
So should you ever get tired of port tasting we urge you to go and explore this small but rapidly growing craft beer scene in Porto and all those cozy craft beer bars and shops that have opened their doors and taps in recent years to their beer-thirsty customers.
There are also some cool companies nowadays in Porto offering tours that specifically focus on teaching you more about Portugal's artisan beers! So instead of wasting valuable (drinking-)time researching the best places for a good pint of craft beer in Porto we've decided to let the experts from Taste Porto take charge and guide us to some of the best local craft beer spots in town.
FREAKING BEST DECISION EVER!!!!
Below we've put together some info about our experience with Taste Porto and their new beer-focused walking tour of Porto called "Beers & Bites" which not only was packed with various tastings and informative nuggets about the history and development of Porto's craft beer scene but also tons of general information about the local life, Portuguese culture and traditions as well as tips on attractions to see, places to visit and local restaurant gems to go to.
Simply put this tour had all the good stuff included which you just can't find in a guidebook and we soaked it aaaaall up, every last drop of it! 😊
Let's start with the basics:
What's included in the Beer & Bites Tour with Taste Porto Food Tours?
As per their website the following is included in your ticket price:
A 3.5 hours guided walking beer-focused food tour through the centre of Porto
A visit of 4 unique craft beer venues, including a microbrewery, a pub & a local bar
All the food & drinks offered during the tour
A passionate English-speaking, beer enthusiast as your guide
A charitable donation to a local NGO, that helps feed the poor of Porto
Review of the tour
The starting point of our Beer & Bites tour was a new and modern craft beer brewery called "Fábrica da Picaria" located close to Aliados station in Rua da Picaria – a small street lined with tons of hip restaurants and bars. We've returned several times to this area after the tour to simply grab a drink or a bite to eat and can highly recommend you do the same! 😊
As the name suggest, Fábrica da Picaria has its own craft beer being brewed on the spot which you can either enjoy inside or on their nice outside terrace in the back of the bar.
They also have some additional beer on tab however the selection isn't huge.
André – our local host for the day – was already waiting for us inside and once our fellow tour mates arrived we got served the first round of their home brew beer while André started off by quickly introducing himself and the company as well as giving us more info on the tour.
We were a lovely little bunch of six people in total and it felt very friendly and familiar right from the start – as if you were out with friends you haven't seen in a while.
A second round of beer – a Lager and IPA – quickly followed paired with some traditional Bifanas. While we were happily munching our sandwiches and drinking our beer André enthusiastically explained the whole craft beer production process as well highlighting the differences about the various beer types.
With our first couple of beers in, our bellies filled and curious to learn (and taste! 😊) more we continued our tour with a short stroll to "Catraio".
Our 2nd stop of the tour was "Catraio" – the first craft beer pub and shop in Porto which opened its doors to the beer lover community in 2015.
This place is a true gem for every beermaniac or anyone curious to learn a bit more about these artisan beers and taste some new flavours and aromas!
Along with their 10+ beers they have on tap they also offer over 130 brands of bottled beer. From various well-known Portuguese craft beers such as Sovina, Letra or Mirandum to tasty international ones from Europe and the US – you find it all at Catraio.
Here we got served not one, not two but four (!) different Portuguese artisan beers: a stout, a Belgian strong dark ale, an American Amber Ale as well as a newcomer IPA.
While we worked our way through the selection and munching on some lupin beans (tremoços) André along with one of the owners told us a bit more about the craft beer festivals in Portugal (you'll also find more info about that at the end of the post) and the craft beer history of the city. It was truly fascinating to listen to them talking about this young and dynamic craft beer culture here in Portugal. You can easily tell that the people who run Catraio are so proud of what they do and are true craft beer connoisseurs – the not only sell craft beers here, it's their passion and life!
We also got to check out their cosy and sunny outside terrace in the back which is a beautiful place to meet up with friends and sampling some of the latest craft beers in town – the staff at Catraio will surely assist you with any questions you might have. 😊
We could have happily stayed at Catraio however another brewery was waiting – luckily a 30-minute walk away which was really needed after those four+ beers. 😉
On the way to our next stop our host Andre aka our new best friend in town 😉 showed us some hidden spots and local neighbourhoods of Porto, patiently answered our gazillion questions (sorry André, we blame all that alcohol 😊), gave us some great restaurant tips on where to find the best local food as well as recommendations of what to do and see on our remaining days here in Porto.
We ended up ticking off quite a few of his "Porto tips" before continuing our travels! Locals simply know it best and his recommendations were pure gold! From breezy brunch spots with ocean views to hidden cozy wine bars and restaurants to the best "Porto-tonic" in town – we had a blast with André's hit-list and found incredible new places we would have totally missed out on!
Shortly before arriving at "Colossus" – the next stop on our tour – we also passed some funky street art – any idea what this is supposed to mean? 🙂
Our third stop on this tour was "Colossus Craft Brewery" which opened it's doors in 2015.
What actually started here as a dream and a "joke" producing some homemade batches of beers for family and friends for their regular BBQ nights quickly became an amazing business opportunity as these guys had some real brewing talent.
With their first beer called "Wanderlust" (obviously we loved it before even taking our first sip 😉) they participated in a craft beer contest and won 2nd prize which allowed them to take their fun little hobby and side hustle to the next level increasing production and creating new recipes.
Today they are one of the key players in Portos craft beer scene and their beers can be enjoyed in more than 30 places across the country.
Normally on this tour the founder of Colossus itself – João – would take you around his little brewery for a look behind the scenes but unfortunately, he wasn't in that day. Luckily his friendly staff took over and together with André they told us more about the history of Colossus and the brewing process.
You can also have a look around to see where all the magic happens:
Of course we also got to taste their signature beers and sampled a Witbier, an American IPA and a stout paired with a nice smoked salmon sandwich.#Goodtimes
For our last beer tasting we headed back to the centre of Porto to a beer pub and shop called Armazém da Cerveja.
After a 10-minute walk we arrived at our last stop "Armazém da Cerveja" which is also known as the "Beer Warehouse" of Porto. Not surprising by the many shelves packed with bottles already greeting you when entering this place.
In addition to the countless bottles of artisan beers from around the world they also offer 5-6 beers on tab and we've got to try anAmerican Red Ale and a wheat beer which was our absolute favourite!
What we loved most about this place was the super relaxed, familiar and cozy atmosphere – It felt more like being invited over to a friend's house rather than going to a bar.
Their friendly staff came over for a chat, a spontanous BBQ was happening on the outside terrace, and you are even allowed to bring your own food – how cool is that?? Of course, with an incredible sandwich stop just down the road André treated us to another round of these handy an delicious snacks however with several pints and sandwiches already occupying pretty much aaaall the space in our bellies we were relieved that we got offered them as take-away 😊
---
This tour was so much fun and totally exceeded our expectations. Not only did we get to try various glasses of fresh and tasty beer paired with delicious sandwiches, we also learned so much about Porto's craft beer history, it's origins and development over the recent years. An absolute MUST-DO for any beer lover visiting Porto!
But even if you're not a huge beer drinker chances are high you'll still enjoy this tour. André is such an amazing, funny and knowledgeable tour guide who will teach you so much more on this tour than just about Portugal's local beer culture.
We can really recommend this tour to basically anyone interested in getting to know Porto from a different perspective who wants to learn a bit more about its local culture, traditions and the daily life here – all while getting to taste some great beers, having a laugh, making new friends and feasting on some hearty sandwiches.
So CHEERS or S-A-Ú-D-E as the Portuguese would say and make sure to pencil in a tour with Taste Porto Food Tours on your next trip to Porto – it's definitely an experience you won't regret!!!
---
TOUR INFO:
Tour Name: BEER & BITES
Company: Taste Porto Food Tours
Price: 59 EUR pP
Times: Wed – Saturday starting at 4:30pm
Practical Information, Tips and Advice
Tour Times & Prices: The tour runs Wednesday to Saturday, starting at 4:30pm and cost 59 EUR per Person which might sound a bit steep at first but is totally justified once you get to see what's all included. Not to mention the experience itself which was priceless!
Don't eat before this tour! You can have a light lunch but avoid stuffing yourself with a massive Franceshina, save it for another day! 😊 Although this tour focuses mainly on beers you will get a proper sandwich at almost every stop and we're not referring to those British-styled cucumber sandwiches! The Portuguese sandwich is a meal in it's own right – and you get served SEVERAL of those! 😊
Ladies, wear comfortable shoes! You'll walk around for quite a bit) to get to the 4 different tasting locations included in this tour (in total around 3.2 km/ 2 miles) so do keep that in mind! And with Porto's cobblestones and sometimes pretty hilly streets (not to mention all that alcohol running through your veins) you'll be better off leaving the stilettos at home that day.
Vegetarians/Vegans: If you have any dietary restrictions or allergies, please let them know when you make your reservation however keep in mind, that this tour is intended to be the perfect experience for omnivores and they will mainly serve meat/fish-based food on this tour.
Tell your friends! If you had a great time, tell others or even better write a TripAdvisor review. It only takes a few minutes and really helps these amazing guys to continue their service and offer these fantastic tours.
Craft Beer Festivals in Portugal
Porto Beer Fest (usually mid-June)
A great craft beer festival that celebrates craft beer from Portugal such as Mean Sardine, Sovina and Letra as well as a few international ones.
It is possible to try over 200 different beers from around the world as well as experience "show cooking" events and masterclasses. To go with the beer there is also a great selection of street food vendors and DJs and Live bands will be performing daily.
Art Beer Fest Caminha (usually early to mid July)
Said to be one of the best craft beer festivals in Portugal, ArtBeer Fest in the beautiful seaside town of Caminha celebrates the best of Portuguese and Spanish craft beer. You'll also find a growing number of international breweries including Germany, US, Italy, Norway and Hungary.
There'll be tastings, brewer shows and workshops, masterclasses as well as music and street food vendors in a beautiful setting.
DISCLAIMER: We'd like to thank Taste Porto Food Tours for sponsoring this tour. However, as always ALL opinions expressed above are true and our own 🙂
The following links are affiliate links as well, which means that if you book a stay through these links, we'll get a small commission. Don't worry–the price is still the same for you.
Where to stay in Porto?
Rivoli Cinema Hostel
Rivoli Cinema Hostel is located in a restored 1930's Art Deco building close to Aliados MTR station. It is also just 300 m from Sao Bento Train Station and features a spacious rooftop terrace (an absolute highlight, even for non-guests!!) which even comes with an inflatable swimming pool that hostel guests can use in the summer. The shared lounge area has a Wii console as well as a DVD library.
Prices per night start at 60 EUR for a double room and 24 EUR for a bed in the dorm.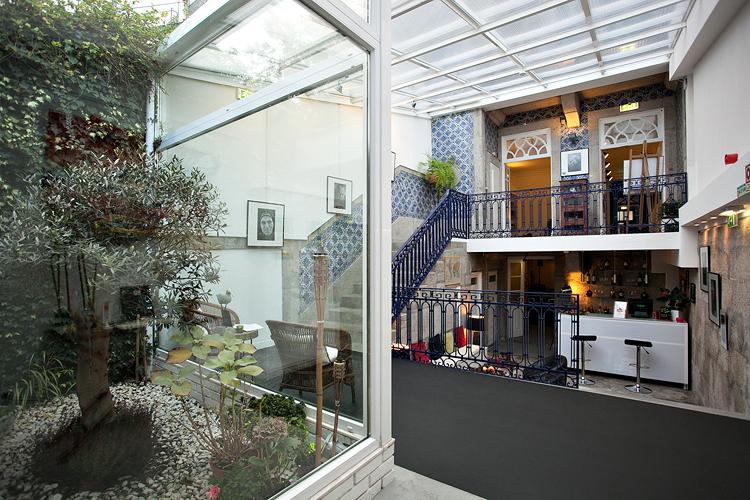 Set in a 19th-century building Gallery Hostel is the ideal place to stay for all art lovers.
In addition to it's ideal location in Rua Miguel Bombarda – Porto's art gallery district and street art hot spot – the rooms at this cozy place are beautifully furnished with an artsy touch and offer scenic views. You can choose between private and shared rooms depending on your budget. Gallery Hostel also has a 24-hour front desk and a communal kitchen and bar.
Prices per room start from 50 EUR/night.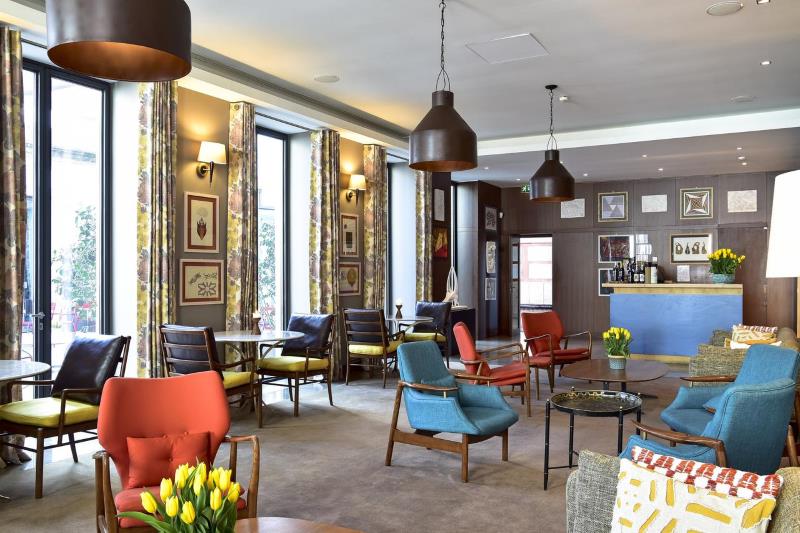 The Artist Porto Hotel & Bistro's 17 guest rooms, bistro, and bar are decorated and maintained by students at Porto's Hospitality and Tourism School. It's a vibrantly colorful hotel where the rooms are filled with classic furniture and an array of artwork and photography, ideal for all art lovers.
It's in walking distance from the traditional Bolhão Market and just a few minutes from Rua de Santa Catarina – where you can find our favorite Nata Shop in Town: Fábrica da Nata!
Prices per room start from 150 EUR/night.