BUBBLES & BEER IN THE BEER CAPITAL OF THE WORLD
We just returned from our little weekend getaway to the lovely city of Prague and what stood out the most, despite the stunning attractions and beautiful architecture, was that the Czech really LOVE THEIR BEER! 🙂
With more beer being consumed in the Czech Republic than ANYWHERE ELSE in the world (beating even Germany, Ireland and Belgium for 23 years in a row) it is no surprise that Prague is often referred to as the beer capital of the world.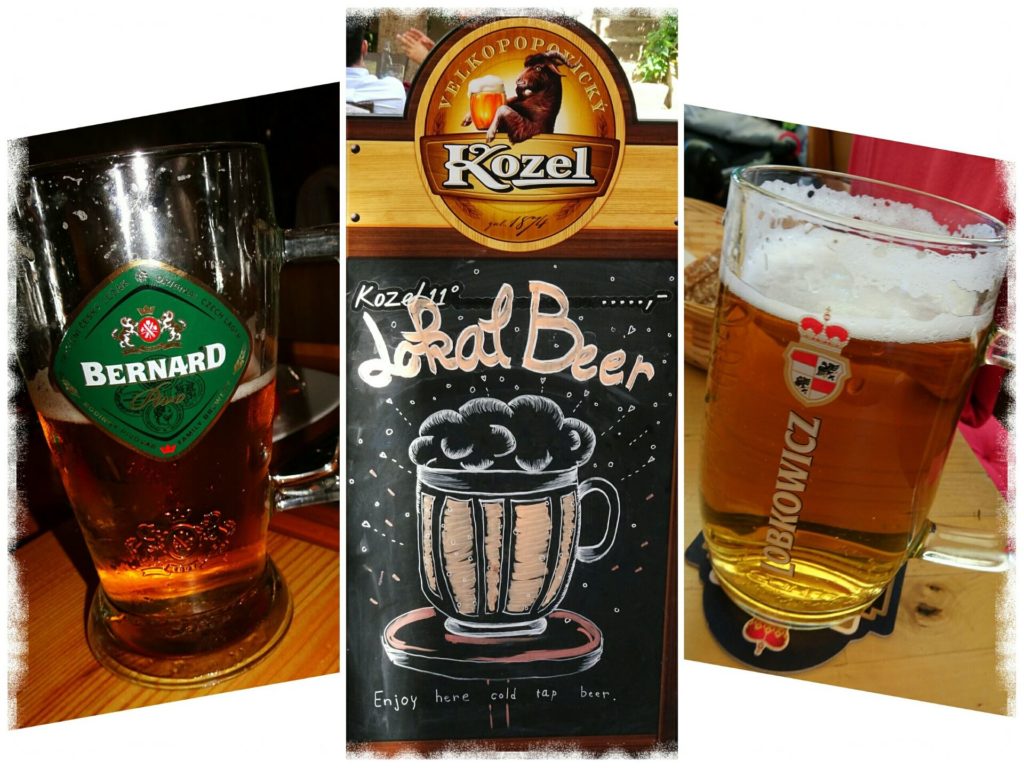 Being German, we are used to a strong beer culture but from what we've seen and heard we must admit that those Czech are playing on a whole other level!
For them, beer is like drinking water and more than 145 litres of beer is guzzled down per person per year – that's enough to easily fill a whole bathtub. Can you imagine drinking this much beer???
Soooo seeing those figures and reading this comparison we had a crazy thought, what would it actually feel like to bath in a bathtub full of beer? After all drinking beer is not just down to loving the taste of it. Scientists have proven the healing qualities and effects of beer for your body and if one nation would offer something like sitting in a tub full of beer simply because it's actually good for your health, it surely must be our beer-loving Czechs!
And lucky us, we didn't need to search for long to find several offers in the Czech capital for a "traditional beer spa experience"! Turns out that the tradition of Beer Spa's goes all the way back to the middle ages where beer spa's were a popular medical procedure known for it's many health benefits.
Well, if it was good for our ancestors it's surely good for us today so we decided to give it a try and "Czech" it out! BEST IDEA EVERRRRR! 😊
FROM A CRAZY IDEA TO THE COOLEST BEER EXPERIENCE IN THE WORLD
So putting our plan into action we went for a DELUXE BEER SPA PACKAGE at the Grand Relax and Spa in Prague which included not only the traditional beer pearl bath, but also a stay in a relaxation room to rest after the bath, a soothing message and most importantly, unlimited consumption of Bernard Beer to go with it! Yep my friends you heard us right … U-N-L-I-M-I-T-E-D … !
We were sold immediately! I mean, playing with bubbles, getting pampered from head to toe and enjoying free flowing delicious Czech lager all in the name of health and well-being – Come on, can this get any better?
DISCLAIMER: Our attendance at the Grand Relax & SPA was complimentary. All opinions are as usual our own.
Arriving at the Grand Relax & Spa
When we arrived at the Grand Relax & Spa which is at the Grandior Hotel in Central Prague close to Florenc Station we were greeted by the extremely friendly staff with big smiles and some refreshments.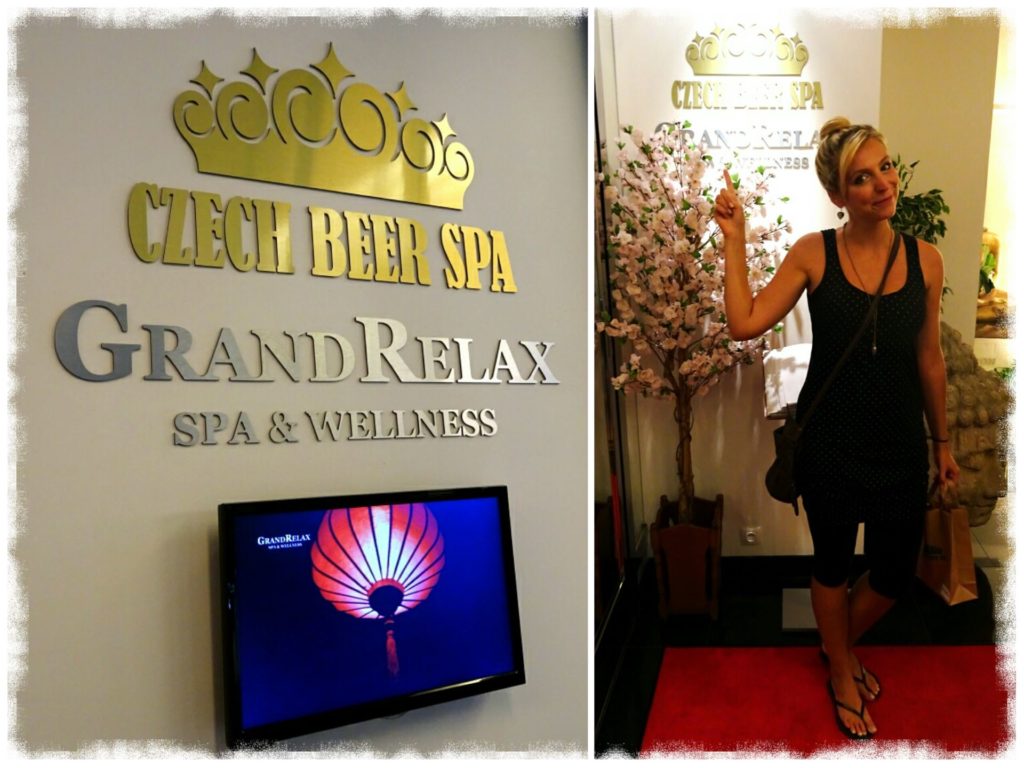 While getting into the "SPA-mode" they explained the whole procedure of the Czech beer spa experience before we were shown to the changing rooms.
You don't need to worry about bringing anything as everything – from comfy bathrobes to slippers and towels is being provided. (Hell, they even have selfie sticks which you can borrow to document this fun experience! 😊)
TIME FOR OUR BEER BUBBLE BATH!
We were then shown to our fully private room with a whirlpool bath in a traditional wooden tub – next to it our own beer tap and even some Czech sausages! YES!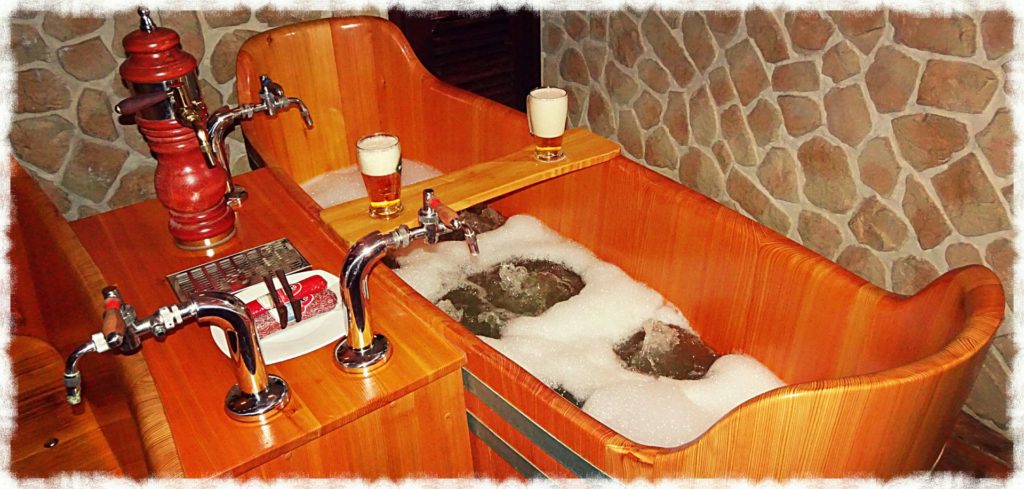 We couldn't wait to hop in but first one of the ladies from the SPA added the special mixture of hops, malt and yeast to the warm water and poured us a mug of Bernard beer. Before leaving she also explained all the nourishing and rejuvenating benefits of this mixture for our bodies which basically can be summarized that we would feel and look a couple of years younger after the treatment – well, CHEERS TO THAT! 😊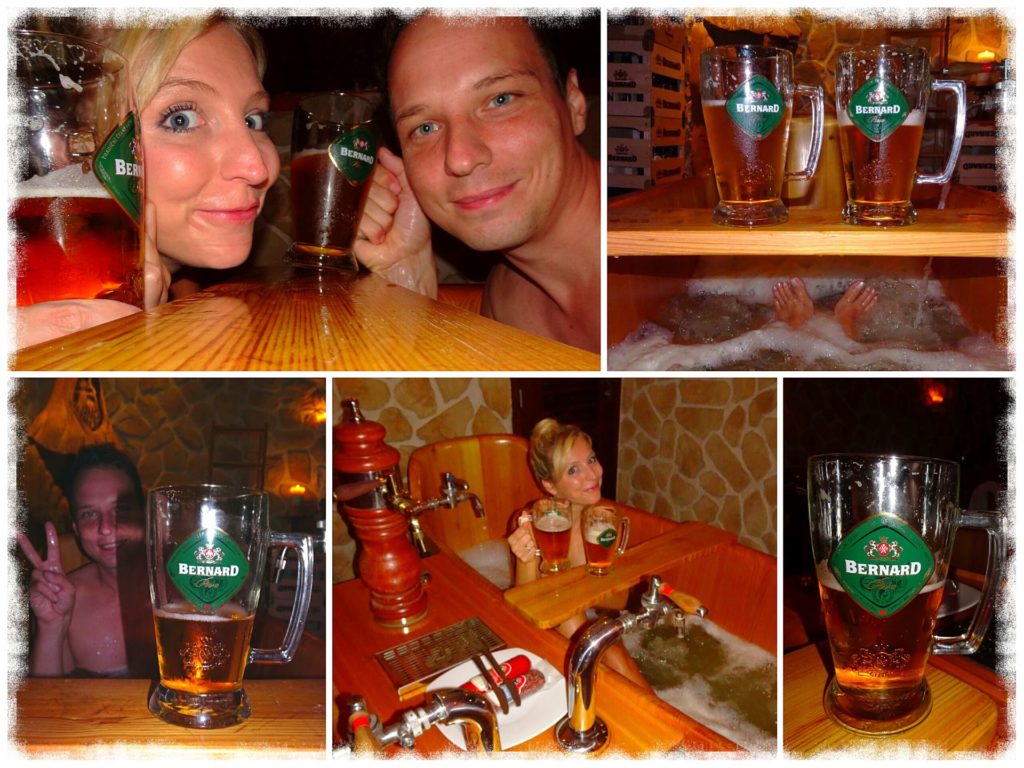 We hopped into our tub, cut us some pieces of sausage and guzzled down our beer – what a jolly good time! Usually I'm a shower person and get easily bored while sitting and soaking in a bathtub but the 30 minutes of our Czech beer spa session passed by WAAAAY to quickly!!! I could have stayed here for hours!!!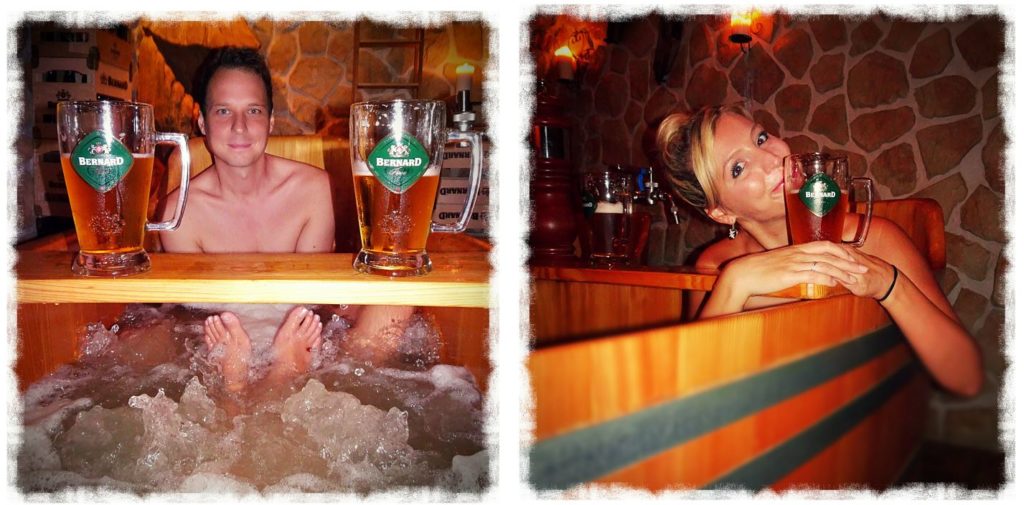 RELAX AND UNWIND
After that we and our freshly filled beer mugs were taken to the relaxation room where we could relax on a heated bed in sheep blankets in order for our bodies to absorb all the healing effects of the beer spa.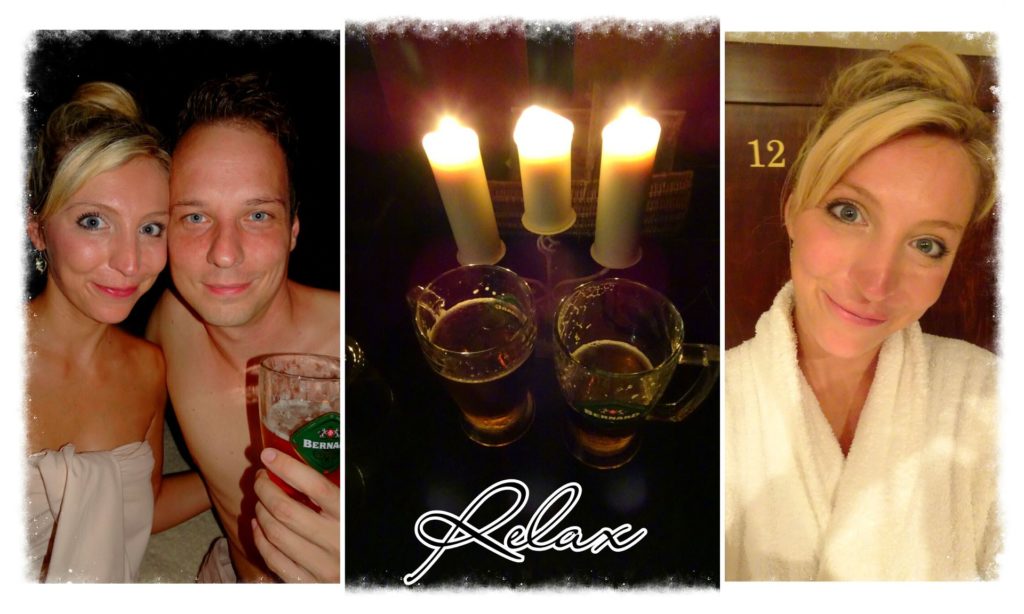 There was even a sauna but after drinking all the beer we felt too tired and just dozed off on our warm beds until it was time for our message. We both got a 30-minute relaxing back, neck and shoulder message where they use specific oils that have the same health benefits as the beer spa. It felt absolutely heavenly and with our experience coming to an end we really felt like reborn (and a little drunk 😊)
What an amazing experience!
After a total of around 2 hours we left the Czech Beer Spa at the Grand Relax & Spa with big smiles, glowing eyes, soft skin and even a little souvenir gift ready to take on the world! Or better said the next round of beers as we were meeting our Czech friend at a nearby beer-garden. No chance for a (beer-)break as we want to stay true to our ultimate travel commandment "do as the locals do" and with all those health benefits who can really say no to another round of this rejuvenating drink? Cheers Prague! 😊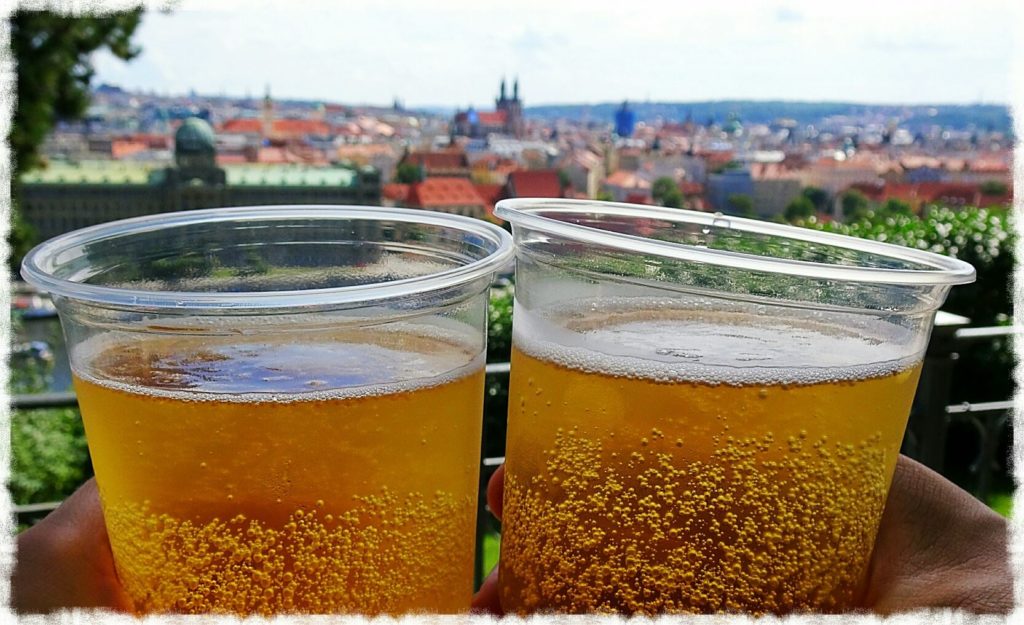 ---
IF YOU LIKE IT, PIN IT! 🙂