The best street art in Porto & where to find them
Join us as we wander around Porto exploring it's vibrant street art scene and hunting down our favourite artworks including pieces by Portugal's popular street artists Costah, Hazul, Chei Krew and Godmess.
If you think art can only be found in galleries and museums than think again. In Porto art is everywhere!
In the last few years Porto's walls, shop fronts and abandoned buildings have come to life as they are being decorated with amazing street art by some of the best street artists in Portugal.
Wondering around the city and hunting down these stunning pieces was one of our favourite things to do when staying in Porto and we've made a list for you of Porto's best and most iconic street art designs and where to find them – all pieces that we've fallen madly in love and that helped us to get a better understanding of the development of the city and it's acceptance and support of it's amazing street artists in recent years.
If you want to dive deeper than we highly recommend joining a walking tour with a focus on street art where you'll not only explore hidden street art gems and learn more about it's creators and Porto's vibrant street art scene but also about Porto itself, local life and it's proud residents.
Development of Porto's street art scene
Although Porto's street art scene is still fairly young it has grown a lot in the past few years – mainly due to changes in government and how the city changed it's approach to street art.
Whereas most graffiti and street art used to be erased as part of the "anti-graffiti brigade" just a few years back, street art today is flourishing, celebrated and encouraged.
There is a much bigger support of the local government with assisting the development of a vibrant street art scene. Popular street artists such as Costah, Vhils, Mr. Dheo and Hazul had even been invited by local authorities to change and enhance the image of the city which resulted in empty concrete parking garage walls, neglected buildings and dull storefronts being changed tremendously.
Today, giant, colourful artworks are being created all over the city using methods like painting, stencilling, paste-up and even sculpturing.
Below we will show you some of our favourite street art designs that have popped up in the last few years demonstrating the power these pieces had in transforming Porto's city wall to a public art gallery where – as mentioned earlier – you'll find ART EVERYWHERE.
Guide: Porto's 8 best street art designs
1. D. QUIXOTE by Mesk, Fedor & Mots
Rua de Diogo Brandão/Rua de Miguel Bombarda
Also found when strolling along Rua de Miguel Bombarda is this amazing mural portraying the three main characters of the Spanish novel "D. Quixote de la Mancha" which was done in 2014 and was actually the very first LEGAL mural in Porto! (Hence why it deserved it's own mention in this post 😊)
It was done by three great local artists: Mesk, Fedor and Mots as an initiative to promote street revitalization through art and was a stepping stone for the further development of the street art scene in Porto.
2. Half Rabbit by Bordalo II
R. Guilherme Gomes Fernandes 42 (Vila Nova de Gaia)
Probably one of our favourite artworks we've found is the "Half Rabbit" by Portuguese artist Bordalo II that sits on a street corner in Vila Nova da Gaia.
In his large-scale installation Bordalo II created a giant Rabbit made entirely from trash and found materials such as old car parts and construction junk from around the city.
He painted half of the rabbit and left the other half of the piece unpainted showing the materials original colours.
Tip: Brunch-Lover? One of our favourite Brunch spots and hipster café "7 Groasters" is just a few minutes' walk away. Make sure to check it out if you are in the area.
3. Trindade – by Hazul and Mr Dheo
Rua Alferes Malheiro/Rua do Bonjardim
By far one of the most impressive wall paintings in Porto was a collaboration of Mr. Dheo and Hazul, two of the most important artists of Porto's street art scene.
Covering the wall of a parking garage right next to Trindade station you can see the two large-scale artworks side by side with Hazul (on the left) going for a very abstract approach while Mr. Dheo created a more natural looking piece portraying his father who is holding a miniature model of the famous Clérigos Tower in his hand.
The project was commissioned in 2014 after a long period of covering most of Porto's wall paintings. With the city council now showing that they were more supportive of local street art it signified another important step to move Porto's street art scene forward.
4. PERSPÉNTICO by Liqen
Rua Afonso Martins Alho/Rua das Flores
Hidden in a narrow side street just off the popular and busy Rua das Flores near the São Bento train station you'll find this giant painting of a blue cat covering the whole wall of a five-story building.
It was done by a Spanish artist named Liqen and is probably one of our favourite murals in Porto.
5. MIRA by Daniel Eime
Largo de Artur Arcos along Rua Nova da Alfândega
If you pass by the square along Rua Nova da Alfândega in the Miragaia neighbourhood, you can't miss this beautiful mural. Covering the whole wall this impressive piece portrays an old lady and was created by the talented stencil artist Daniel Eime in 2015.
TIP: If you want to soak up the views there is a beautiful rooftop bar nearby which we can highly recommend called: Mirajazz Rooftop Bar
6. Virtus (Cooperativa Artística Árvore) – by Hazul
R. De Azevedo De Albuquerque 1/Passeo das Virtudes
This long-stretched mural of the faceless Madonna was created in 2015 by the famous street artist Hazul for the art school "Escola Artística e Profissional Árvore".
You'll find this stunning piece right across Parque de los Virtudes with stunning views over Porto and the Duoro River.
7. AN.FI.TRI.ÃO. by Frederico Draw
Av. Vimara Peres 23 – best seen from Luís I Bridge
This gigantic art piece called "AN.FI.TRI.ÃO" (meaning "Host") is portraying a friendly old man who seems to be welcoming visitors to the city was done by Frederico Draw in 2015.
It can be found on the side of a building at the entrance of Luís I Bridge and is best spotted coming from Gaia using the upper level of the bridge.
You can check out more of Draw's amazing artwork here: https://www.fredericodraw.com/
8. Look at Porto by Vhils
Located in the Miragaia district on the wall of a Movie Theatre "Look at Porto" you'll find this stunning piece by Alexandre Farto – better known as "Vhils", one of the most famous urban artists in Portugal. It was commissioned in 2016 and was the first public piece by the Lisbon-based artist in Porto.
This stunning piece portraying a face is featuring Vhils signature style where the piece is sculpted out of a building's façade, a unique technique where he instead of painting over a wall he is chipping away directly from the wall.
Best streets in Porto where you'll find more amazing street art
1. Rua de Miguel Bombarda
If you're interested in (street) art than we highly recommend taking a stroll down Rua de Miguel Bombarda – Porto's art gallery district.
Art here is everywhere and you'll find various works (including Graffiti, stickers and mosaics) of different popular artists such as Hazul, Costah and Tina Siuda.
TIP: If you want to rest for a little while make sure to check out Rota do Chá! This cozy tea room is a local favourite where you can not only enjoy a nice cup of tea in their beautiful green chill out garden but also stop by for indulging some delicious breakfast / Lunch / dinner in a magical tranquil setting.
2. Rua das Flores
Leading down from Sao Bento Station to the Ribiera District you'll find Rua das Flores, a buzzling and lively street packed with cosy restaurants, beautifully restored historic buildings, cute little shops, fantastic wine bars and charming hotels.
In addition to the giant cat mural painted by the Spanish artist Liqen at the beginning of the street you should also watch out for the many colourful electrical boxes.
We've counted 15 boxes in total and among many others, some of these box designs were painted by Porto's popular street artists such as Hazul, Costah and God Mess.
3. Rue da Madeira – (BEHIND SAO BENTO)
There is also plenty of colourful street art hidden in Rue da Madeira – a narrow and steep street just behind Sao Bento Train Station leading all the way up to Batalha Square (Praça da Batalha).
Here you'll find designs by various popular street artists of Porto including well-known names such as Costah and Hazul.
4. Escadas do Codeçal
Stairs leading you down to the Duoro riverfront under Luis I Bridge
If you want to find some more hidden street art pieces in Porto along with some stunning viewpoints of the city and Luis I Bridge than make sure to walk down Escadas do Codecal (Codecal Stairs), a narrow street with several stairs leading from the upper level of the Dom Luis I Bridge down to the Duoro Riverfront and the Ribiera district.
You'll also be walking under Dom Luis I Bridge giving you a totally unique perspective of this architectural masterpiece.
Take your time exploring the small and big street art designs along the way with pieces from Costah, Hazul and Chei Krew.
There are also some absolutely picture-worthy views of Portos riverfront so snap away!
TIP: If you need to get back up again you can avoid climbing the stairs by simply taking the Funicular dos Guindais which runs from Ribiera (entrance is right next to the stairs of Escadas do Codecal at Luis I Bridge) all the way up to Batalha.
Additional Street Art Goodies we stumbled upon – and where to find them
Here are some additonal cool street art designs we found when walking aimlessly around Porto as well as where you can find these gems! So make sure to keep your eyes open on your next tour around the city and let us know if we've missed anything!!!!
The following links are affiliate links as well, which means that if you book a stay through these links, we'll get a small commission. Don't worry–the price is still the same for you.
Where to stay in Porto?
Gallery Hostel
Set in a 19th-century building Gallery Hostel* is the ideal place to stay for all art lovers.
In addition to it's ideal location in Rua Miguel Bombarda – Porto's art gallery district and street art hot spot – the rooms at this cozy place are beautifully furnished with an artsy touch and offer scenic views. You can choose between private and shared rooms depending on your budget. Gallery Hostel also has a 24-hour front desk and a communal kitchen and bar.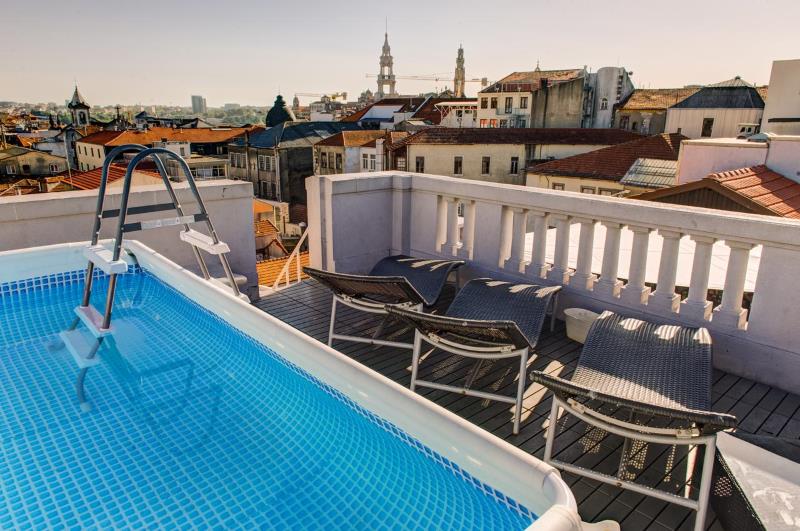 This hostel is located in a restored 1930's Art Deco building close to Aliados MTR station. It is also just 300 m from Sao Bento Train Station and features a spacious rooftop terrace (an absolute highlight, even for non-guests!!) which even comes with an inflatable swimming pool that hostel guests can use in the summer. The shared lounge area has a Wii console as well as a DVD library.
Prices per night start at 60 EUR for a double room and 24 EUR for a bed in the dorm.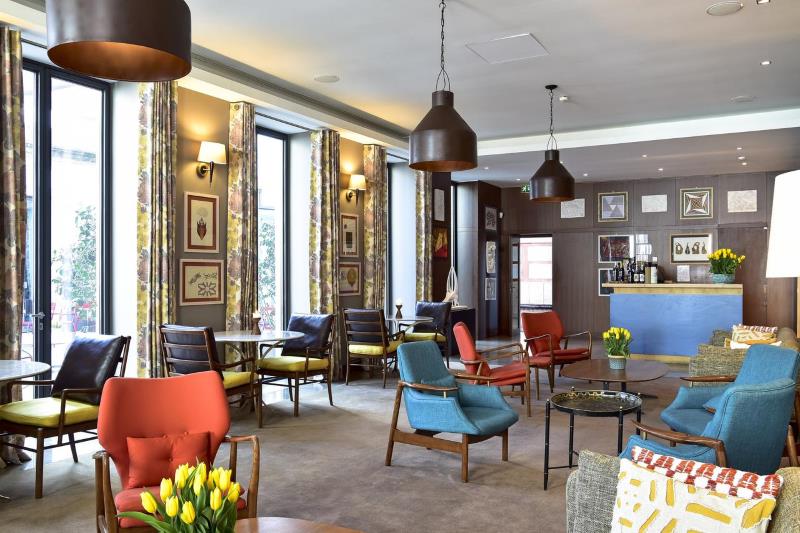 The Artist Porto Hotel & Bistro's 17 guest rooms, bistro, and bar are decorated and maintained by students at Porto's Hospitality and Tourism School. It's a vibrantly colorful hotel where the rooms are filled with classic furniture and an array of artwork and photography, ideal for all art lovers. It's in walking distance from the traditional Bolhão Market and just a few minutes from Rua de Santa Catarina – where you can find our favorite Nata Shop in Town: Fábrica da Nata!
Prices per room start from 150 EUR/night.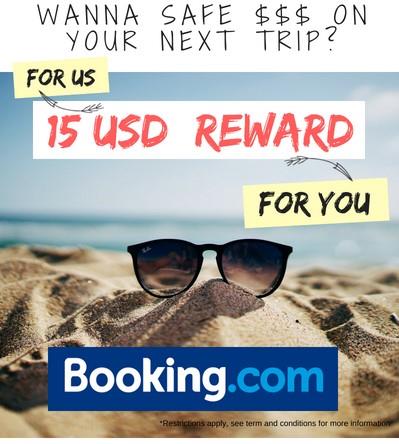 Where to stay in Porto
If you are an art lover we can highly recommend the Gallery Hostel* because it's located in Rua Miguel Bombarda – the art district of Porto with lots of street art to explore.
* = Affiliate links.
Guided Tours by Viator
Porto Street Art Tour
Join this tour to discover the coolest works in town! Learn all about the local scene and take you to explore some hidden places. Visit galleries dedicated to urban art and illustration. Get your walking shoes and your camera ready, what are you waiting for?
* = Affiliate links.