Steep roads and hot pools that will make you sweat – scooter trip to the secret hot springs in Pai
As we mentioned before, in Pai there's always a choice when it comes to things to do and places to see. 🙂 We've already talked a bit about the waterfalls in Pai but that's not where the water fun stops. No-No! Pai is also very well known for its super cool…or ehm….super warm: HOT SPRINGS and of course there is not just one but two! :-).
The closer and more touristy one, THA PAI HOT SPRINGS, are easy to get to and have a series of pools with different water temperatures. However this one will set you back a juicy 300THB per Person – ridiculously overpriced for Thai standards!
The second one, SAI NGAM HOT SPRINGS are a little bit more hidden, less famous and therefore much less crowded (hence the name "secret hot springs). They are located 15 km north of Pai (about a 30 minute scooter ride) and only costs you 40THB p.P.! What a difference!
You will have to pay 20 THB at the checkpoint to the Sai Ngam hot springs just off the main road plus a scooter fee of 20THB to access the Wildlife Sanctuary in which the springs are located and 20THB once you actually arrive at the hot springs to enter the pools.
Being budget-conscious as usual we opted for the secret hot springs. Little did we know how much we would actually NEED a relaxing and soothing bath after passing the check point and taking on the super steep and hilly road to get there.
The road to the hot springs was full of height differences, with one hill steeper than the other. Of course this didn't went too well for us. 🙂
I won't go into much detail – it basically involved me having to walk most of the time while Martin cruised off alone up the hill into the jungle. No, we didn't fight nor was I in a particularly "hiky" mood that day. The steep almost 80 degree hills were simply too much to handle for our poor 125cc scooter so that one of us – me! – had to get of the bike and walk. (Mental reminder, go for the 150cc next time!! 🙂 )
I panicked with every road we went down thinking about that I would probably have to walk them aaaaaaaaall up again when we came back. This time no springs would be waiting for me at the end of the road. Also the more I walked, sweating and completely out of breath, the less "taking a super warm bath" sounded appealing to me. I wanted water…ICE WATER!!!
However, once we finally got to the parking lot (parking is for free) and paid the entrance to the hot springs (20THB p.P.) I was happy with any kind of water, even if it was 35 degrees warm.
Also you cool down quickly as the springs are surrounded by trees so most of it is in the shade. It actually felt super nice sitting in the warm water pool and just listening to the sounds of the jungle.

Unfortunately, not long and a big crowd of noisy tourists arrived putting an end to our jungle SPA session. Make sure to get here as early as possible, we heard from many that it does get very crowded in the afternoon.
There are changing facilities as well as toilets at the springs so bring some spare clothes as there is not much chance to sit in the sun and dry yourself before going back. Of course prepared as usual we forgot to bring a change of clothes as well as a towel so we just walked a bit around in the sun after our bath to dry off a bit before it was time to conquer the hills again.
This time we prepared ourselves mentally and with the right strategy as well as a lot of speed we managed to go all the way back without me having to get off once, even if that meant switching to turtle speed. 🙂 As long as we were still moving FORWARD everything was good! (Luckily nobody saw us! It must have been quite a picture. Two tall Germans on a little scooter, leaning forward in almost horizontal position going at a "speedy" 2mph 🙂 )
In general we can definitely recommend a trip to the relaxing Sai Ngam Hot Springs as we think that at a total of 50THB p.P. this was great value for money and with the road leading to the springs definitely also had it's fair share of adventure.
However maybe try to go with a 150cc scooter if you are two or ensure that you have enough power to get up the hill if you don't want to end up walking like me! 🙂
---
YOU MIGHT ALSO BE INTERESTED IN: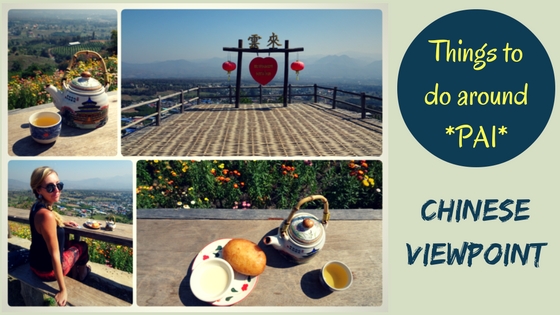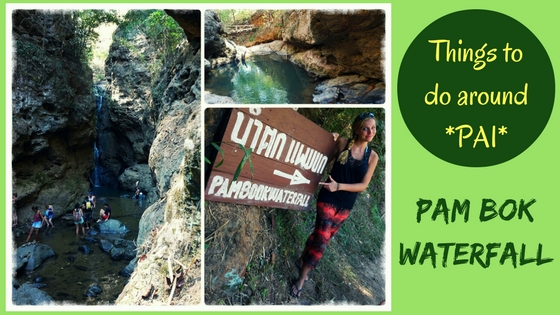 ---
If you like it – Pin it! 🙂