Refreshing waterfall and a countryside café with scenic views
Once again, when in lovely Pai you of course have the choice – also when it comes to visiting a waterfall! 🙂 To be precise there are 3 main waterfalls worth exploring around Pai.
1) Mae Yen Waterfall
This waterfall is easily accessible on foot from Pai however it's quite a hike to get there! (Around 3 hours in one direction!) Be aware that it's not possible to go there on scooter! You will have to walk the last 6 km to get to the waterfall so make sure you have enough time, breath and a good fitness level! 🙂 (way too exhausting for us!)
2) Mo Paeng Waterfall
Mo Paeng waterfall is located about 8km out of town and is probably the most accessible waterfall Pai has to offer. Therefore it's also the most popular and the most crowded one. It's probably however also the most fun if you plan on getting wet as this multi-tiered waterfall with its smooth rocks offers a natural waterslide so you can slide your way down just like the locals do. 🙂 (way to risky for us 🙂 )
3) Pam Bok Waterfall
A nice secluded waterfall with high cliffs about 12 km from Pai which is easily accessible by scooter and can be reached after only a short walk. It's the perfect place for a little refreshing dip in the water to cool off on a warm summer day. (perfect for us! 🙂 )
So as we wanted to avoid the big crowds and with only limited time we decided to explore PAM BOK WATERFALL.
Getting to the waterfall on a scooter is easy. Just take the main road (1095) out of town towards Chiang Mai and Pai Canyon. A clear sign shortly after you passed Coffee in Love on the right will direct you to the waterfall. You'll be continuing on a small and slightly bumpy road for about 5 km (10 minutes).
You will also pass the Land split on your way to the Pam Bok Waterfall which is a giant chasm that was caused by in earth quake in 2008. It is actually located on the private land of a farmer however he has opened it up for tourists and you can have a little walk around to explore the crack as well as refresh and refuel on some delicious fruits fresh from the garden before continuing to the waterfall.
There is a parking lot for visitors of the Pam Bok Waterfall right after you crossed the bridge before the road gets super steep. Surprisingly the road in general leading to the waterfall was not such a challenge as the ones leading to the SECRET SPRINGS and the CHINESE VIEWPOINT and our scooter made it without any problems this time and lucky me, for once I DID NOT have to get off and walk up the hill! 🙂
From the little parking lot it is only about a 5 – 10 min walk to the Pam Bok Waterfall. The closer you get however the trickier becomes the little path. Climbing down was especially challenging as there were no real steps or anything. It CAN be done in flip flops but definitely NOT recommended. 🙂 Also the rocks you need to cross to get to the waterfall are very slippery so you better take off your shoes.
The waterfall itself is probably not the most impressive waterfall you've ever seen but as it is surrounded by large cliffs it still looks pretty amazing. If you feel adventurous enough there is a small dirt path which leads to a cove from where you can jump down into the pool. However as it was dry season with much lesser water than usual we didn't dare! It looked too risky. Instead we were happy just to cool down on this hot sunny day while sitting in the shade with our feet in the icy water. Perfect!
Once we got back to our scooter we decided to keep driving the road a bit further up as there were some signs and posters pointing to a nice looking café with some amazing countryside views as well as a bamboo bridge which looked like as if it was winding its way through the rice paddies to a temple. Looked super pretty on the poster and sounded awesome! 🙂
However, we quickly realized that February was definitely the wrong time for lush green rice paddy views as most fields were already harvested and as the road got really worse and narrow the further up we went with too many potholes for our scooter to handle we decided to abandon the plan to go all the way to the bamboo bridge and only make a short pit stop at the café – which did not disappoint. Ice tea and Ice coffee with a view it was then!
All in all Pam Bok waterfalls is definitely worth a visit – especially if you are here BEFORE the fields are harvestedso that you can go all the way to the bamboo bridge for some even more spectacular views.
This trip to the waterfall can easily be combined with a visit to Pai Canyon or the Chinese viewpoint.
---
YOU MIGHT ALSO BE INTERESTED IN: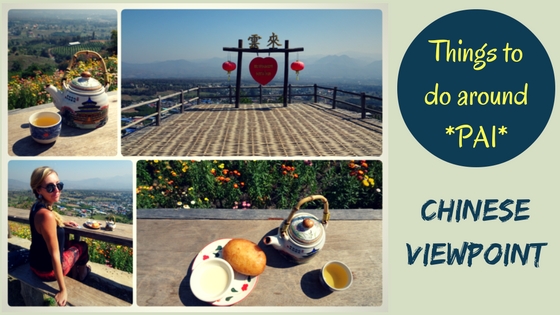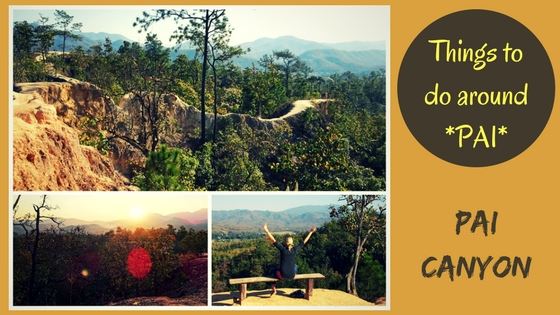 ---
If you like it – Pin it! 🙂