GILI TRAWANGAN ONE YEAR AFTER THE EARTHQUAKE – A PHOTO GUIDE
The daily hustle to rebuilding paradise – Gili T. bounces back!
In July and August 2018 Lombok and the Gili Islands were shocked by two large earthquakes that cost many lives, destroyed thousands of homes and left the island struggling to survive.
What about today? Have the islands recovered after this disastrous event, what has changed and is it safe to travel to the Gilis again?
In this photo guide we want to show you around the largest and most popular of the Gili Islands – Gili Trawangan (short "Gili T.") one year after the horrific earthquake and tell you, why you should come to the Gilis now more than ever!
What had happened on Lombok and the Gilis in August 2018?
In July and August 2018, Lombok and the Gili Islands suffered two heavy and destructive earthquakes only a few days apart from each other. The second earthquake on 5th August 2018 which had its epicentre in Northern Lombok and measuring 6.9 in magnitude caused the most damage to these islands leaving more than 300 people dead, 1000 injured at more than 200,000 homeless.
It was the largest and the strongest earthquake that had hit Lombok in recorded history.
With several aftershocks hitting the islands and more buildings collapsing the numbers increased even further in the following days and weeks.
If you want to read more about the horrific 2018 Lombok earthquake you can check out this detailed Wikipedia post: https://en.wikipedia.org/wiki/5_August_2018_Lombok_earthquake
What about the Gili Islands?
Despite "only" seven people being killed on the Gilis, many of the locals were heavily affected by the earthquake which destroyed the majority of the island's buildings, homes and infrastructure. Many also had family or friends living on Lombok which has had the highest number in victims. To check on family and friends many locals left the islands on private boats shortly after the earthquakes leaving behind destruction and chaos.
The wide-spread destruction and damage in infrastructure also forced tourists to flee the islands and the future for these once so booming tourist hot spots was uncertain. Would and could they recover?
Miles and miles away
When these devastating earthquakes happened, we were safe and sound back home in Germany spending some months with family and friends. Although there was some coverage on the media about these earthquakes in Indonesia – it felt like a world away and very quickly the stories dried up and as sad as it sounds – you'd simply forget about it again.
Until we were back on Bali in May 2019. A friend who's never been to Indonesia before was planning to come for a visit and we were planning a nice and fun little itinerary for our time together.
Seminyak, Canggu, Ubud and hey, it wouldn't be a proper Bali trip without a bit of island hopping!
Having already been to Nusa Penida and Nusa Lembongan several times our minds quickly shifted to the Gilis – those tropical islands off the coast of Lombok known for their laid-back vibe, white sandy beaches, crystal clear waters, a fun party scene and of course the water swings and the stunning sunsets. Surely this would be the icing on the cake for our trip!
The Gilis – a paradise for backpackers, holidaymakers and honeymooners
It wasn't until I had already booked the tickets that I remembered that we had seen those horrific news about the earthquakes on telly just a few months back and it dawned on us that maybe, just maaaaybe, a trip to the Gilis – aka the beautiful backpacker Paradise – was not (anymore) what we had pictured.
Is Gili T. safe to travel to???
A quick Google search didn't give us much information about the current situation on Gili T. where we were heading and also a scroll through IG didn't help much to get a clearer picture of what was going on. As per usual IG's main hits for #GiliT and #Gilis were beautifully photoshoped pictures showing an island that – as by the looks of it – was still the tropical paradise and dream holiday destination like before! Almost as if nothing had ever happened!
Now although we are not big fans of those "let's-only-show-the-good"- posts on Social Media, maybe sometimes it's for the better. For the Gilis, showcasing these islands for what they were known for, probably helped a lot in attracting tourists to the islands at a time when they most needed that business bringing money that helped rebuild the island's infrastructure.
However, from the first moment we set foot on the island several months after the devastating earthquake from August 2018 you cannot pretend that nothing has happened. Too much had been destroyed!
From where the boats dock you'll still see piles of debris left from the earthquake on the beach, on the way to our guesthouse we passed another massive square which was filled with debris of collapsed buildings and we crossed several smaller streets running parallel to the beach promenade (that mostly has been restored) that were in extremely bad shape.
Cracks in the walls of many buildings, a mosque with a leaning tower, damaged roads and many completely destroyed and deserted resorts further outside of town were more things we noticed when exploring the island the next days.
It looked absolutely surreal seeing these "ghost resorts" built along the coastline with their deserted beach chairs, empty pools and abandoned buildings.
The Gilis – a lost paradise???
Although a lot has been distroyed in the earthquake and you can still see a lot of the damage when walking around the island the people here are working hard to rebuild this little paradise and tourist numbers are picking up again.
When visiting Gili T we've mainly noticed the extremely friendliness of the locals, the many workers busy rebuilding restaurants and guesthouses, new businesses opening their doors and a general "let's-make-Gili-T.-even-more-beautiful"-vibe all around.
Exploring Gili T. on a bike tour around the island to see how Gili T. looks today a year after the earthquake
And looking at the main features the Gili's are known for – white sandy beaches to chill, stunningly beautiful sunsets and crystal clear water to swim, snorkel and dive your heart out – well, these are still as gorgeous as ever!
The overall message: THE GILIS ARE OPEN FOR BUSINESS!
So should you think about travelling to the Gili's and wonder whether you might be disappointed than we say GO FOR IT!
EXPLORE THE GILIS!
A trip to the Gilis should definitely be included in your Bali itinerary if you're looking for some fun and relaxing times by the beach or plan on including a little diving or snorkel adventure. The Gilis might have a little crack in their "postcard-image" but if you come with an open mind and prepared that these islands are still a "work-in-progress" you'll be absolutely amazed by all the beauty you'll find here all around – above and under water! 🙂
Here are some more pictures of Gili T.'s beautiful beaches and scenery post-earthquake to show you what we've also found on our trip around this gorgeous island – who wouldn't want to spend some days here?
After the first initial shock we ended up having the best time on Gili T. and have made already plans to return to the Gilis next year to stay for a full month!!! What about you, will we see you here too? 😊
The following links are affiliate links as well, which means that if you book a stay through these links, we'll get a small commission. Don't worry–the price is still the same for you.
Where to stay on Gili T.
While visiting Gili Trawangan in May we stayed at the Little Coco Hotel* and the Rumah Cahaya* and can recommend both. The owners are super friendly and both places are located in a quiet back alley in easy walking distance to the bustling beach promenade.
Rumah Cahaya
Budget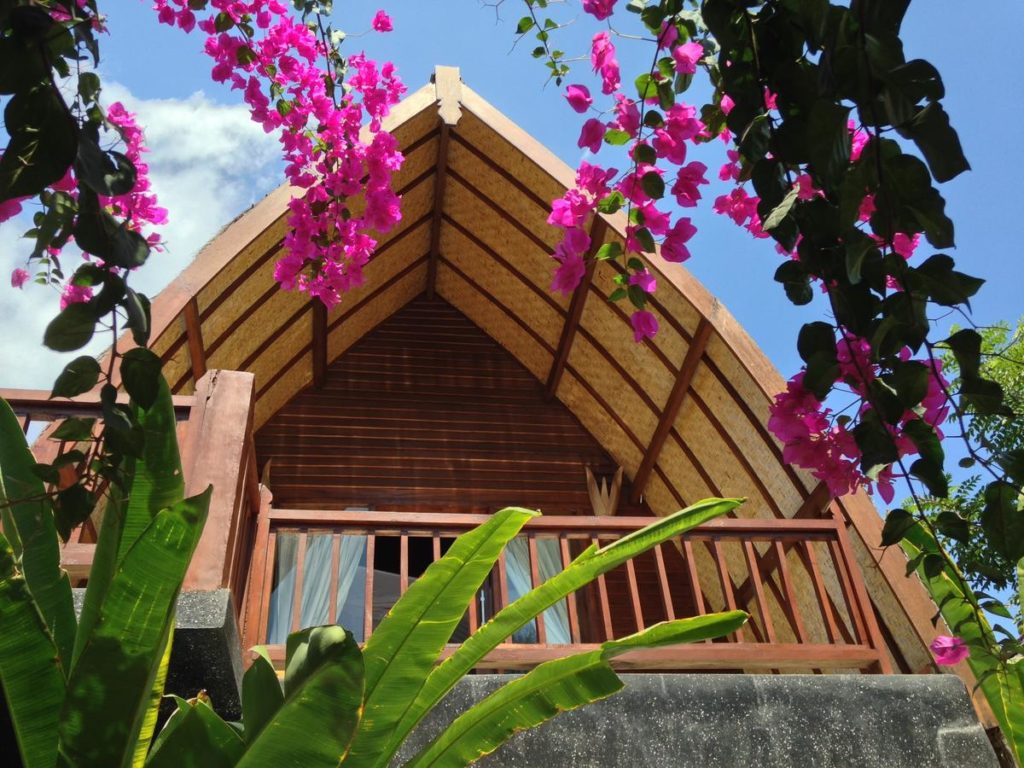 Rumah Cahaya is a very affordable yet stylish accommodation on Gili T. located just a short walk to the beach promenade. The cosy bungalow styled rooms are equipped with AC and a delicious breakfast is served directly on your terrace – featuring some of the best banana pancakes we've ever had 🙂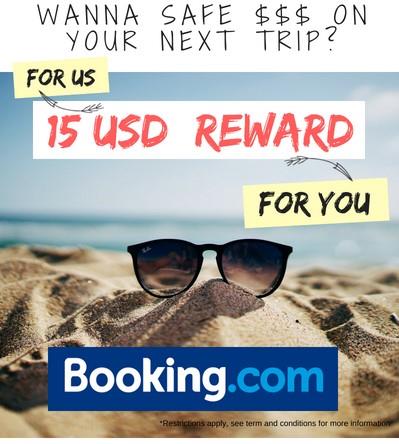 Where to stay on Gili T.
We stayed in a little bungalow hotel with pool called Little Coco* which is located in a quiet side alley away from the crowds but still in walking distance to town, the ferry port and the beach.
* = Affiliate links.