GUIDE TO VISITING DAMBULLA, SRI LANKA
Dambulla as a base for visiting Sigiriya, Pidurangala Rock and the Dambulla Cave Temples
Dambulla is the ideal base for exploring Sigiriya, hiking up Pidurangala Rock and visiting the beautiful Dambulla Cave Temples before heading on to explore other highlights of the cultural triangle such as Anuradhapura, Kandy or Polonnaruwa.
The town of Dambulla itself is rather underwhelming with not much to see and do in the city itself. You'll find a few shops, some basic restaurants and a few banks but that's pretty much it.
However, due to crappy weather with constant rain for more than three days we actually ended up staying here longer than in any other place in Sri Lanka. 🙂
We originally planned on staying in Dambulla for just two days to climb Pidurangala Rock and visit the famous Dambulla Cave Temple before continuing our journey back to Kandy and Colombo. However as the path up to Pidurangala Rock was simply too slippery after all the rain we had to postpone our hike and find alternative things to do in Dambulla to keep us entertained until the weather gods would show some mercy.
After a while this town started growing on us which was mainly due our amazing guesthouse which offered the best value for money in all of Sri Lanka (see below on places to stay) and the delicious "Short Eats" we stocked up on every day from the shop right at the Dambulla bus stop. See, it doesn't take much to make us happy 🙂
Here is a little list of the best things to do in and around Dambulla which we can recommend. Don't worry if you just have one or two days here as you'll still be able to do most of them.
Visiting Dambulla
How to get to Dambulla from Kandy
Although Dambulla doesn't have a train station which is a bit of a bummer as train journeys simply rock in Sri Lanka, it is still easily accessible from Kandy by bus and the journey to Dambulla takes roughly two hours.
Simply head to the main bus stop in Kandy which you can find behind the train station, stock up on some snacks for the road (you can buy all kinds of fruits, rotis, cakes and other snacks here) and keep repeating "Dambulla, Dambulla" until someone points you to the right bus. Don't question the system – It ALWAYS works 😊
On our way to Dambulla we somehow ended up on the express bus which was a bit more expensive (200 LKR per Person, 1.20 USD, 1 EUR) compared to the standard bus but skipped a few of the smaller towns along the way.
Note of warning: You might want to hold on EXTRA tight if you end up in this bus as the driver pretty much had his foot clued to the gas pedal and his hand on the horn for the entire journey from Kandy to Dambulla. After several near-death-experiences we somehow magically arrived in Dambulla in one piece.
Celebrating the gift of life we treated us to a big serving of fish rotis and vegetable rolls from the shop right at the bus stops (which would become our go-to place for stocking up on short eats every day) before looking for a tuk-tuk to get us to our guesthouse a bit outside of town.
The thing is, YOU never look for a tuk-tuk, THEY somehow always find you and after a little negotiation and agreeing on 200 LKR we were taken to our Dambulla home.
Things to do in Dambulla – Exploring Temples and Rocks
We originally planned only on staying for a night, quickly check out Sigirya or Pidurangala Rock, maybe a short stop by the Cave Temples and then head on to Anuradhapura. However, as mentioned earlier the weather gods had some other agenda and right at the time we checked-in into our guesthouse it started pouring down non-stop forcing us stay put for three days.
During that time we did a bit more research about Dambulla, talked to locals what they recommended and ended up skipping Sigiriya altogether which you can read about in our upcoming blog post – WHY CLIMBING SIGIRIYA IS COMPLETELY OVERRATED AND WHAT YOU SHOULD DO INSTEAD (stay tuned 🙂 )
However, who are we to tell you what to do and what not to do? 😉 So here's a full list of ALL the things you can do in Dambulla, depending on your budget, time and preferences so that you can make an informed decision about what to see and what to skip! 😊
Explore Sigiriya – Home to the Lion Fortress.
As soon as you start preparing for your trip to Sri Lanka and checking out the world wide web for itinerary inspiration a picture of the famous Lion Rock, also known as Sigiriya will be one of the first images that will pop up on your screen. Leaving you with the seed in your head that you simply HAVE TO SEE this gigantic rock located right in the middle of the jungle. It looks just so damn beautiful!
Sigiriya used to be the capital of Sri Lanka and guess where the king built his palace! OH YES! On top of this 200m high rock! If you decide to climb up there you can still see the ruins of this palace.
But a word of warning, visiting Sigiriya doesn't come cheap. You most likely will be joined by crowds of other tourists and climbing up the hundreds and hundreds of stairs to get to the top of Sigiriya might not be for everyone.
Tip: If you want to climb up Sigiriya then head their first thing in the morning as it won't be so hot then and you might be lucky and beat at least a few of the big tourist groups arriving later in the day.
Cost of visiting Sirgiriya: 30 USD
TIP FOR A SPECIAL OCCASION: If money is not an issue or you're celebrating a special occasion, why not go ballooning and enjoy a romantic hot air balloon flight over Sigiriya? We talked to a couple who absolutely loved it. However, this will set you back at least 200+ USD per person and can only be done during ballooning season from November to April.
Climbing Pidurangala Rock – The overlooked gem
Now if you couldn't care less about some old ruins on top of a giant rock and just want to get a good look of Sigiriya itself from the distance plus are happy to pay waaaay less money than we got a much better option for you: Climbing Pidurangala Rock, the overlooked gem just a few minutes from Sigiriya.
We came across Pidurangala Rock while reading through a brochure in our guesthouse. After doing a bit more research we knew we rather wanted to climb Pidurangala Rock than Sigirya Rock for exactly three reasons:
Fun Factor: The climb itself is much more fun and there are much less tourist
Budget-Friendly: Climbing Pidurangala only costs 10 USD compared to the 30 USD you have to pay to climb up Sigiriya Rock
Picture Wow-Factor: With Pidurangala being 2 kilometers away from Sigiriya you can take much better panoramic shots of the Lion Rock which is the whole point, isn't it? 😊
Cost of visiting Pidurangala Rock: 500 LKR per Person (3-4 USD)
Visit the famous Dambulla Cave Temples
The impressive Dambulla Cave Temple is an impressive UNESCO heritage site and sometimes also referred to the "Golden Temple of Dambulla". It basically harbours five caves on top of a hill each of them displaying beautiful artwork in the form of decorative wall paintings and stuffed with numerous Buddha statues (at least 100+) in all possible shapes, colours, forms and sizes.
The Rock temples were built around 89 BC by King Valagamba who was exiled from Anuradhapura during the South Indian invasion and took refugee on the rock hiding in the caves for more than 15 years.
After finally reclaiming the kingdom of Anuradhapura and becoming King again he converted those caves into Buddhist temples as a way of thanking the gods and to show his gratefulness. They later became known as the famous Dambulla Cave Temples.
Despite being hundreds and hundreds of years old the temples are still very well maintained and are definitely worth a visit if you pass through Dambulla on your way to visit Sigiriya.
The temples are located not far from the town centre and depending on the location of your accommodation you can either walk there or hop on a tuk-tuk which won't take longer than a few minutes (cost: 150 – 200 LKR).
Some guesthouses might also rent bikes (ours even offered the bikes for free for visiting the Dambulla Cave Temples).
Plan at least 1-2 hours for visiting the Dambulla Cave temples. You'll need to climb up the 160m high rock which can take some time and effort.
After that you can stroll on your own through each of the 5 separate caves before heading back down.
Don't forget that you'll have to leave your shoes outside. Since we had bad weather when visiting the temple we had no choice but to dance barefoot through the rain and the caves 🙂 – the shower took a bit longer that evening 😉
If you feel thirsty or hungry then you'll find some vendors on your way up selling fruits, snacks and drinks. However, watch out for those cheeky monkeys who'll be HIGHLY interested in your mango and water bottle! 😊
Tip: Due to the heat we recommend visiting the Cave Temples in the late afternoon. This will not only make the climb much more bearable, but you'll also be rewarded with some stunning scenic views of the surroundings around sunset. On a clear day you might even see Sigiriya in the distance.
Cost for visiting: 1500 LKR (10 USD) + 25 LKR/Pair of shoes
How to get around Dambulla?
As Dambulla is not that big you can either walk around, take a tuk-tuk (approx. 150 – 200 LKR per trip) or rent a motorbike.
As both Pidurangala and the Cave Temple were not within walking distance of our accommodation we decided to rent a motorbike for one day (cost: 1200 LKR). This was a lot of fun however, you'll probably be better off using local buses and tuk-tuks if you're on a budget.
You can also rent bikes at most guesthouses which shouldn't cost more than 200 – 300 LKR per day.
If you plan on renting a tuk-tuk + driver for the day to see Sigiriya Rock and the Cave Temples in comfort and style you'll have to pay around 2000 – 2500 LKR (excluding entrance fees and tip).
CONCLUSION
Dambulla is the perfect base if you're planning on seeing Sigiriya, the Dambulla Cave Temple or climb Pidurangala Rock however it's probably enough to schedule maximum 2-3 days here as there is much more to see and explore in Sri Lanka.
The following links are affiliate links as well, which means that if you book a stay through these links, we'll get a small commission. Don't worry–the price is still the same for you.
Where to stay in Dambulla
Dambulla has a lot of budget friendly options where you can stay in a comfy room and be well fed for breakfast for no more than 15 – 20 USD.
We were super lucky with the place we had picked on booking.com: The A.I.O. Guesthouse* just a few minutes' drive from the town center.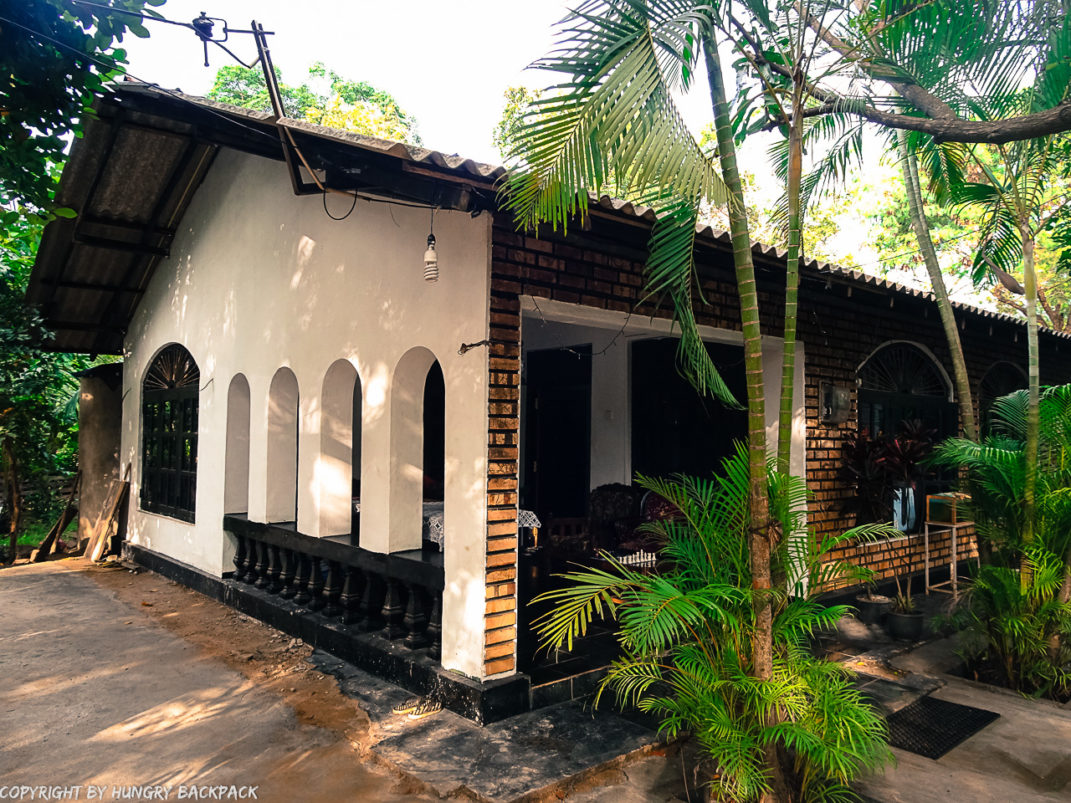 They offer rooms with AC (20 USD) as well as fan (14 USD) including breakfast. We had the fan room and were totally fine, no AC needed!
And while our room itself was nothing special (basic, clean, big bathroom) we especially liked the friendly hosts who always helped whenever we needed anything as well as the super delicious breakfast feast in the morning which we got served on the outside terrace in the garden.
They would also offer dinner and we usually ended up having the fried noodles which came with a side salad and a big plate of fresh fruits for no more than 2 USD! What a bargain!!!
Overall, this guesthouse offered the best value for money on our entire trip!
Other places to stay in Dambulla
Do you prefer a more hassle-free option?
If you're not a fan of DIY tours and rather want to simply relax and have someone else take care of everything (you're on holidays after all 😉 ) then you can simply book all inklusive trips to Sigiriya and the Dambulla Cave Temples through sites like Viator*.
Full-Day Tour of Sigiriya Rock Fortress and Dambulla Cave Temples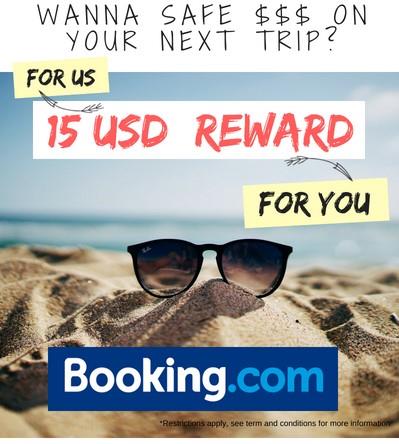 Where to stay in Dambulla?
We were super lucky with the place we had picked on booking.com: The A.I.O. Guesthouse* just a few minutes' drive from the town center.
* = Affiliate links.