10 UNIQUE THINGS TO DO IN PRAGUE – AS RECOMMENDED BY A LOCAL
So this guide about Prague is for all the ones who have been to Prague before and have seen aaaall the mighty tourist hot spots already such as the beautiful Astronomical Clock, the famous Charles Bridge and of course the Prague Castle as well as the ones who simply have no interest in following the crowds and rather prefer getting to know a city from another perspective exploring the hidden gems and unique things the city has to offer.
Either way, if you're ready to experience this great city like a local than keep on reading as we'll tell you about our top 10 unique and cool things to see and do when visiting Prague!
So how come that we've suddenly become an expert on the Czech capital? Well we haven't! 😊 But we've teamed up with a local – a Czech friend I know back from my days at university who is now living in Prague and hosted us for the weekend. Thanks to her we got the insiders perspective and got shown all the awesome (and not-so-touristy) places that you simply cannot miss and that made us fall in love with this city right on our first day.
Check out our short video about our trip to Prague
PRAGUE - unique things to do as recommended by a local
So let's get started, shall we? 😊 Here are our 10 city secrets when visiting Prague:
1. Climb the Petrín Hill with the Petrín Tower
Petrín Hill can be found on the left bank of the Vlatava River. It's a steep but pleasant 30-minute hike to get to the top and you'll be rewarded with great panoramic views of the city along the way.
However, if walking is not your thing you can always ride the funicular which departs from the Lesser Quarter and takes you all the way to the top of Petrín Hill. To be honest, we also wanted to go with the funicular as it was included in our Metro ticket and looked like a lot of fun. However, when we arrived at the station there was a massive line so we decided to walk instead. Definitely worth it as we had more time to admire the views which were absolutely fantastic!
At the summit you'll find a big park to relax and have a little rest as well as the Petrín Tower which looks a bit like a miniature version of the Eiffel Tower. You can climb all the 299 steps to the top (or cheat and take the elevator 😊 ) for even more spectacular views of Prague from the observation deck.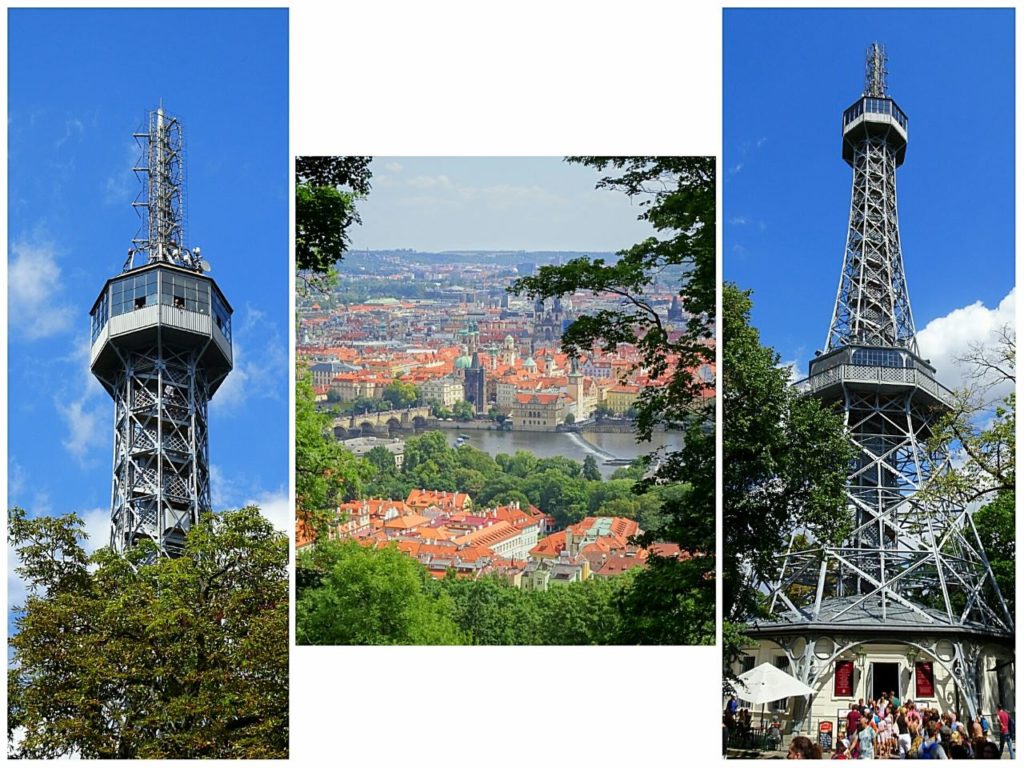 If you feel like exploring more you can easily walk from Petrín Hill to the Prague Castle in around 30 minutes. Just follow the signs for Pražský hrad.
2. Selfie-time at the colourful John Lennon Wall
If the Beatles are your thing than you simply can't miss the graffiti-laden wall dedicated to John Lennon which is just a short stroll from the famous Charles Bridge.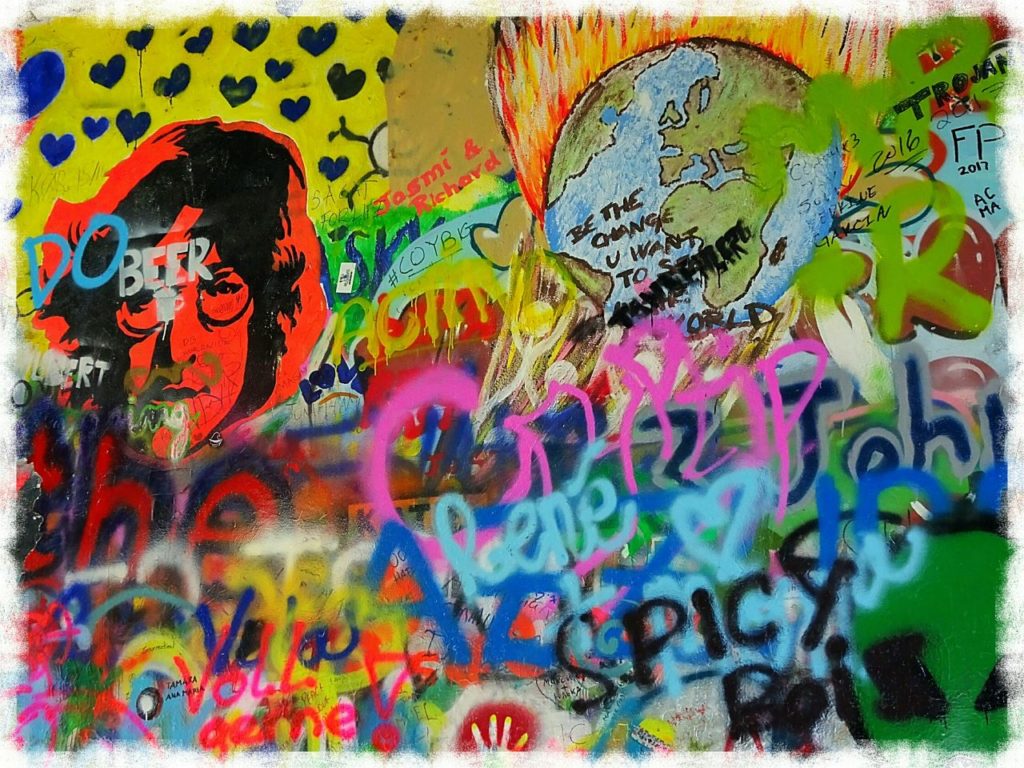 Since the 1980s Czechs as well as visitors have left Beatles-inspired drawings and writings on this wall, some say these were symbols for the fight against the communist regime that ruled the Czech Republic for so many years.
Today it's not all about the Beatles or political issues anymore, but rather a place for everyone wanting to leave a message or his or her mark on the wall. Therefore, the wall is continuously changing as new graffities are added daily by visitors from all over the world making it one crazy, colourful and inspiring place to see in Prague.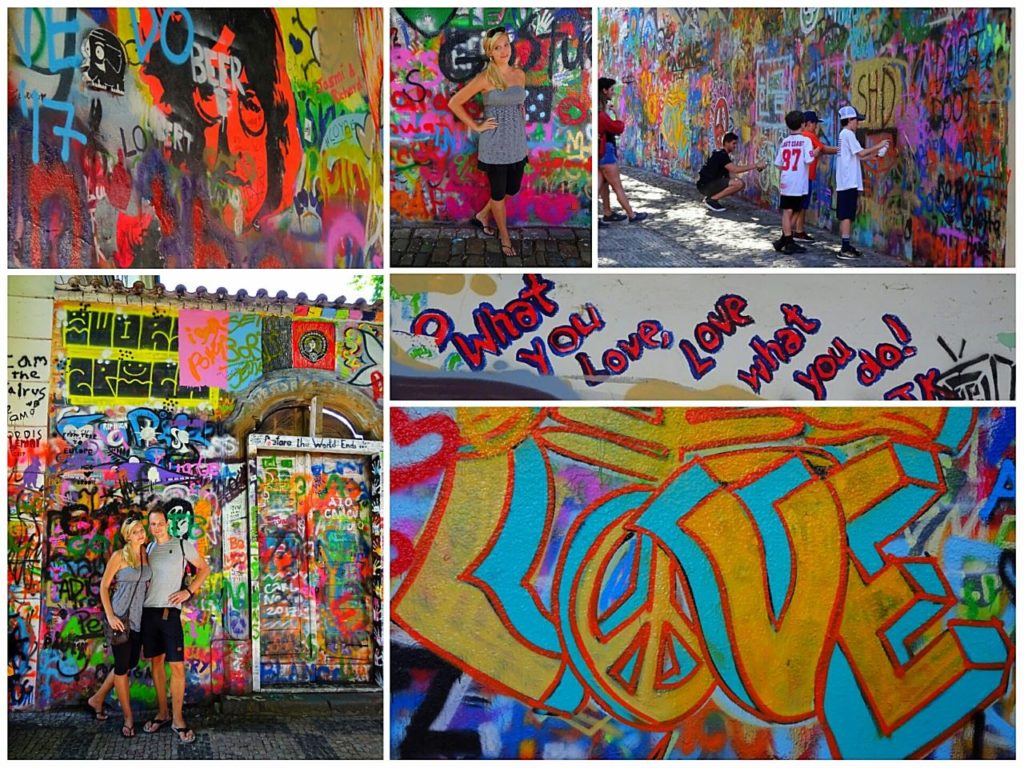 The colourful background with its funky drawings and inspiring lyrics is also a great place to take a selfie but be prepared to wait in line as this place has become a tourist magnet!
3. Getting lost in the cobblestone maze
One of the best ways to really get to know a city is to get lost in it!
So simply start wondering around the tiny cobblestoned streets of Prague's Old Town and see where they take you. Admire the amazing architecture, browse through the cute little shops for souvenirs and treat yourself to a traditional Czech lunch or some pastries in a cosy little café where you can do some people watching.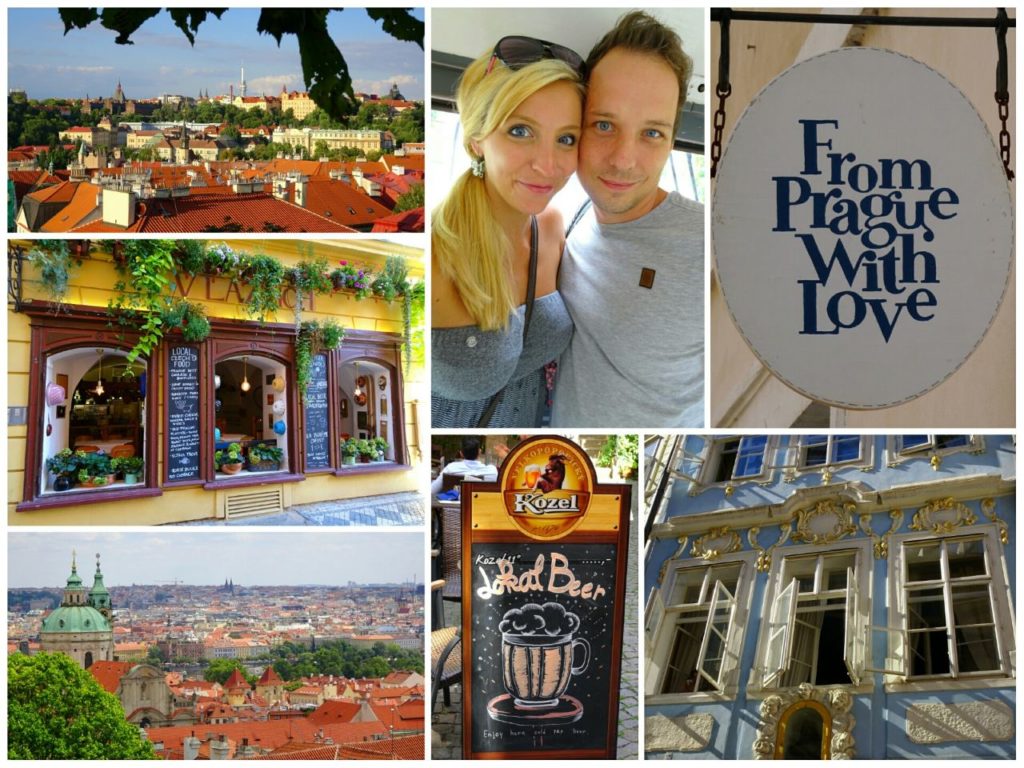 4. Enjoy the panoramic view with an ice-cold brew
For some spectacular panoramic views of Prague you can either walk up to the castle and join millions of other tourists fighting over a spot along the prospect of Hradcany Square to get a glimpse of the stunning views of the city ooooor you do it as the locals and find yourself a lovely beer garden to chill, meet friends, have a beer (obviously 😊 ) AND enjoy the stunning panoramic views – totally up to you! 😊
Our friend took us to Letná Beer Garden which is located right at the end of Letná Gardens in the North of central Prague across the Moldau river. It's just a short walk up the hill from Letenský tunnel and you'll find this massive beer garden providing a lot of shade, snacks and drinks AND some lovely views.
5. Dig into the fantastic Czech cuisine
The Czech cuisine is probably one of our favourites with its delicious soups, hearty meat dishes and fluffy dumplings.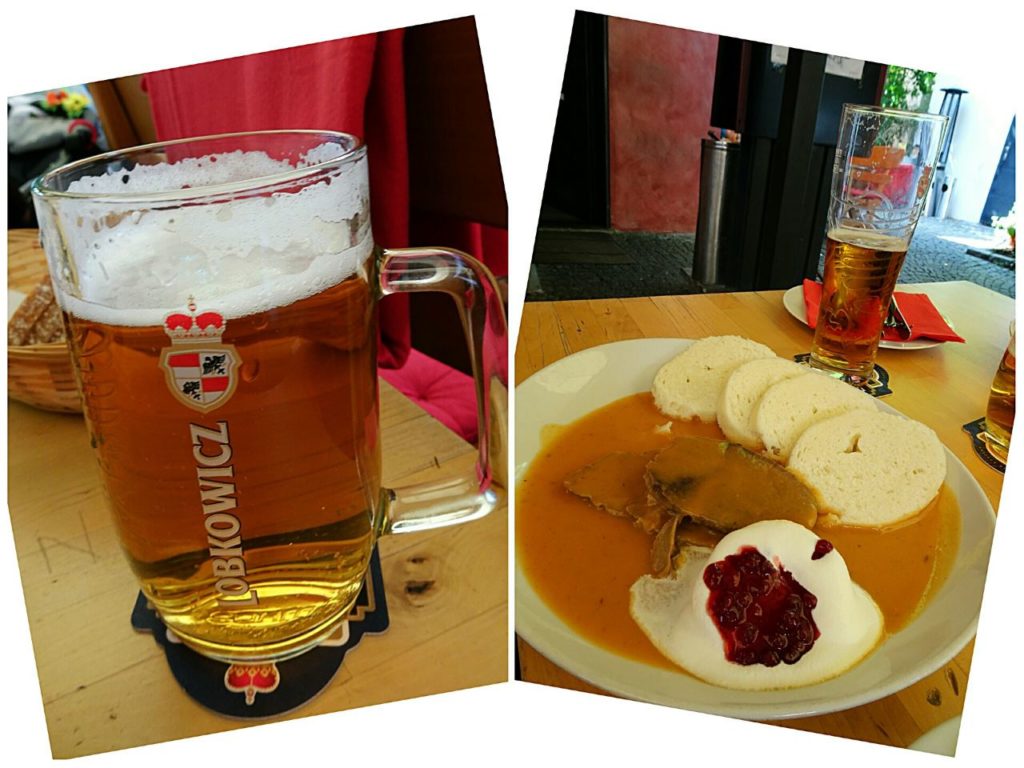 Therefore when visiting Prague you simply must check-out one of the traditional Local Inns that you can find all around the city to enjoy some of these a mouth-watering Czech dishes such as our all-time favourite dish: Gulash and Knedlik (essentially a filling beef stew with a thick, smooth sauce and several slices bread dumplings) – the ultimate comfort food! YUM!
Afterwards you should check out one of the many cosy beer pubs or small breweries to try some of the local beer and make some new friends! Cheers or Na zdraví, as the Czech would say! 😊
6. HAVE A TRDELNIK
After your filling Czech meal it's time for a dessert. After all there is ALWAYS room for dessert, right? 😊 So, hit the road as you'll find one of the most delicious sweet treats outside on the streets of Prague!
The treat we are referring to is the popular and hardly pronounceable: TRDELNIK!
You've probably already seen those deliciously looking calorie bombs of cone shaped sugary dough filled with ice-cream in your Instagram feed. If not than you will see them in the hands of hundreds of tourists (especially on a sunny day) as soon as you get close to the city centre which is filled with tons of street vendors selling this unique Czech pastry.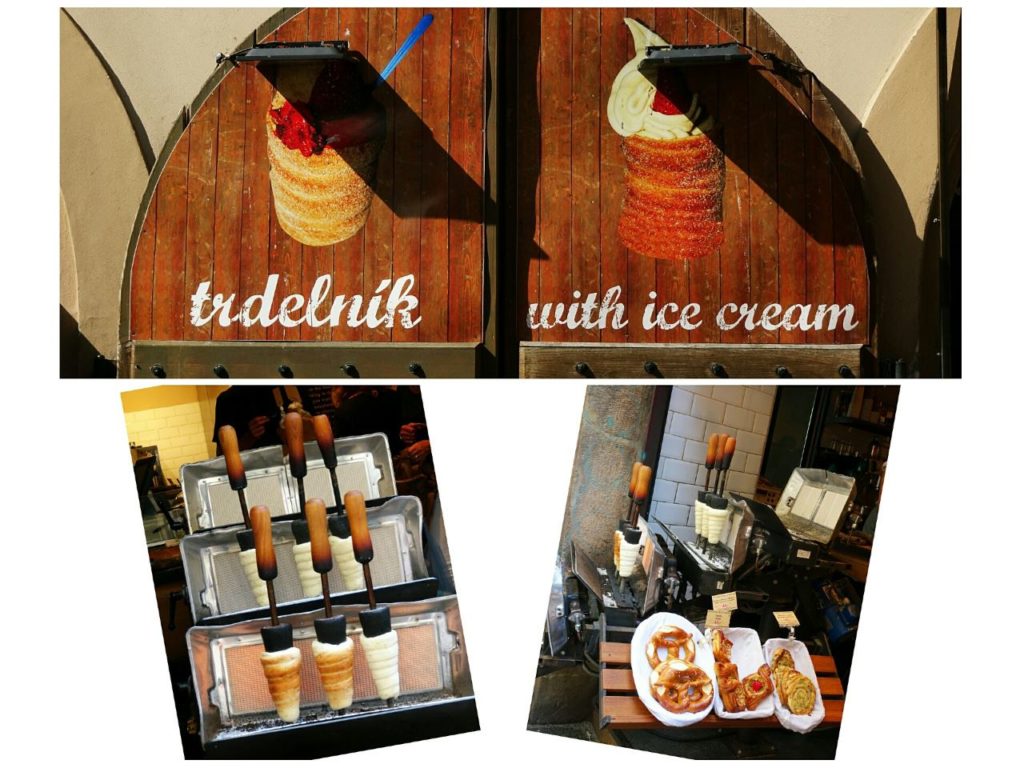 It appears that this dessert has been around for ages due to the shops looking like they've been doing this for 100 years or more. However, our friend told us that although the Trdelník itself (the sugary cone that is made from rolled yeast dough that is wrapped around a stick, then grilled and topped with cinnamon sugar or some nuts) is a traditional Czech treat, but the idea to fill it up with ice-cream has just started recently.
Whoever had that idea was a freaking GENIUS!!! It's like a crisp donut filled with ice-cream – what a great combo!!!! Definitely one of our favourite desserts/ street-food snacks we've ever had!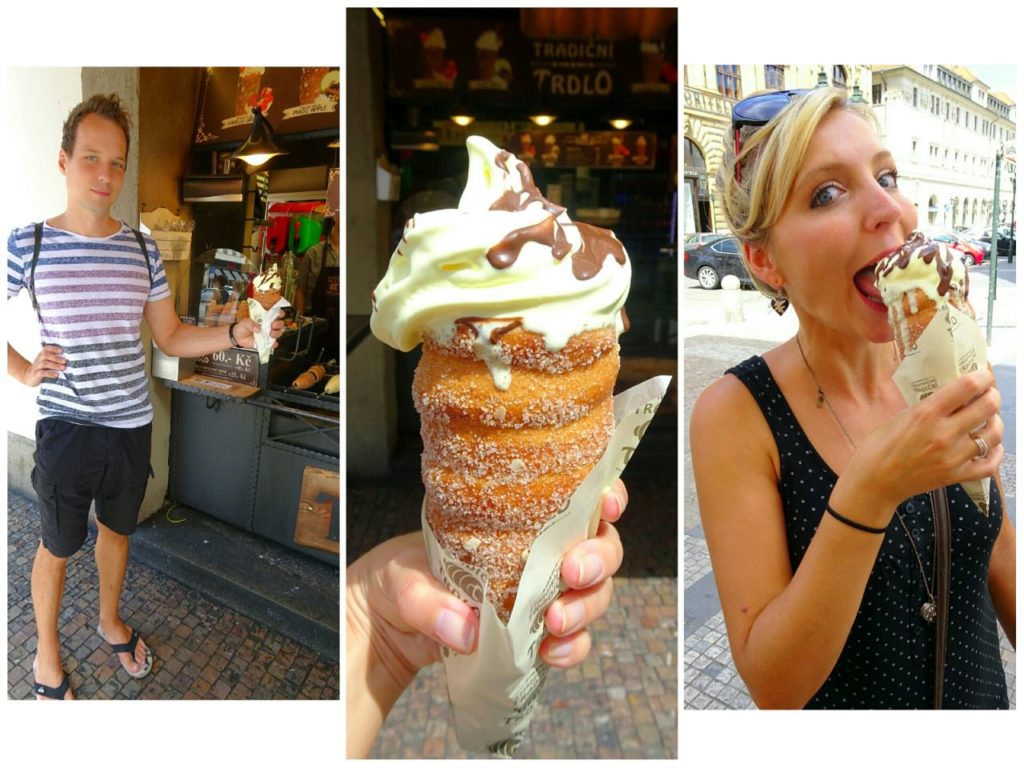 So no matter if you just go for a traditional Trdelník coated in sugar and rolled in cinnamon sugar, have it filled with chocolate, fruits or cream oooooor have it loaded and stuffed with soft vanilla ice-cream, you won't be disappointed with this Czech delicacy!
One of the best Trdelník is apparently served at "Creperie U Kajetána" (Nerudova 278/17, 118 00 Praha 1)
7. Cruisin on the Vltava River
To take a cruise on the Moldau is a great way to see Prague and its many historical buildings and monuments along the river from another perspective. There are various operators, some cruises even offer lunch or dinner making your tour not just a feast for the eyes.
What we however liked the most was to simply rent a pedal-boat or rowing boat for a bit of exercise on the Vltava River and some amazing views of the Charles Bridge and the Castle. Cruising in your own little pedal boat along the Vltava River is a lot of fun and the perfect activity if you want to take a break from walking around the city but at the same time want to see more of what the city has the offer.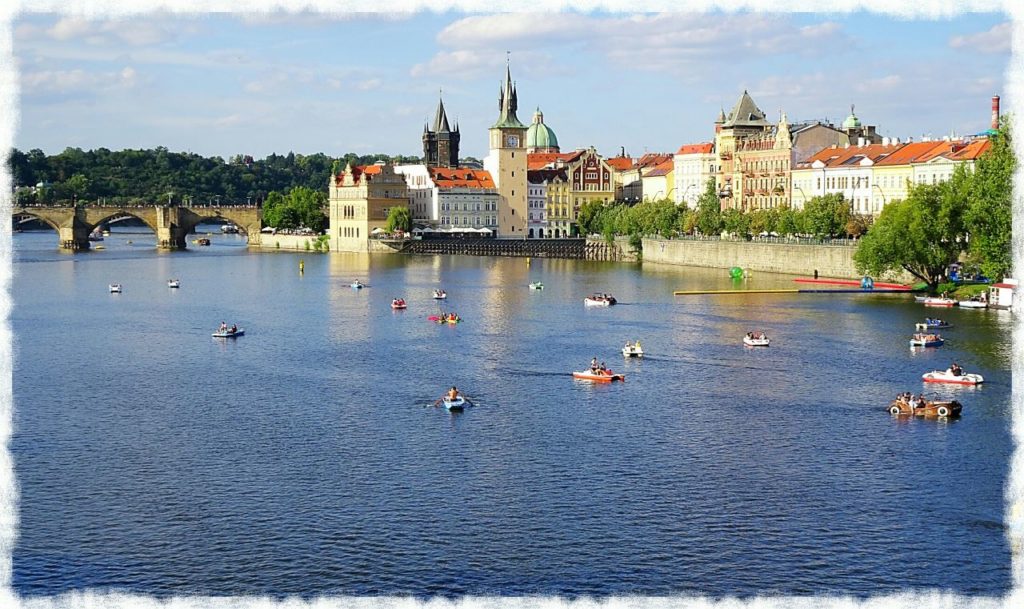 You can rent a boat on the island Zofin near the National Theatre or by the Charles Bridge. (Prices are starting from around 200 CZK / hour)
8. SEE THE ICONIC CHARLES BRIDGE – IN ALL IT'S GLORY
Okay seeing the famous and absolutely gorgeous Charles Bridge, which was built during the 14th and 15th century and connects Prague Castle and the Old town, is definitely a non-negotiable when visiting Prague.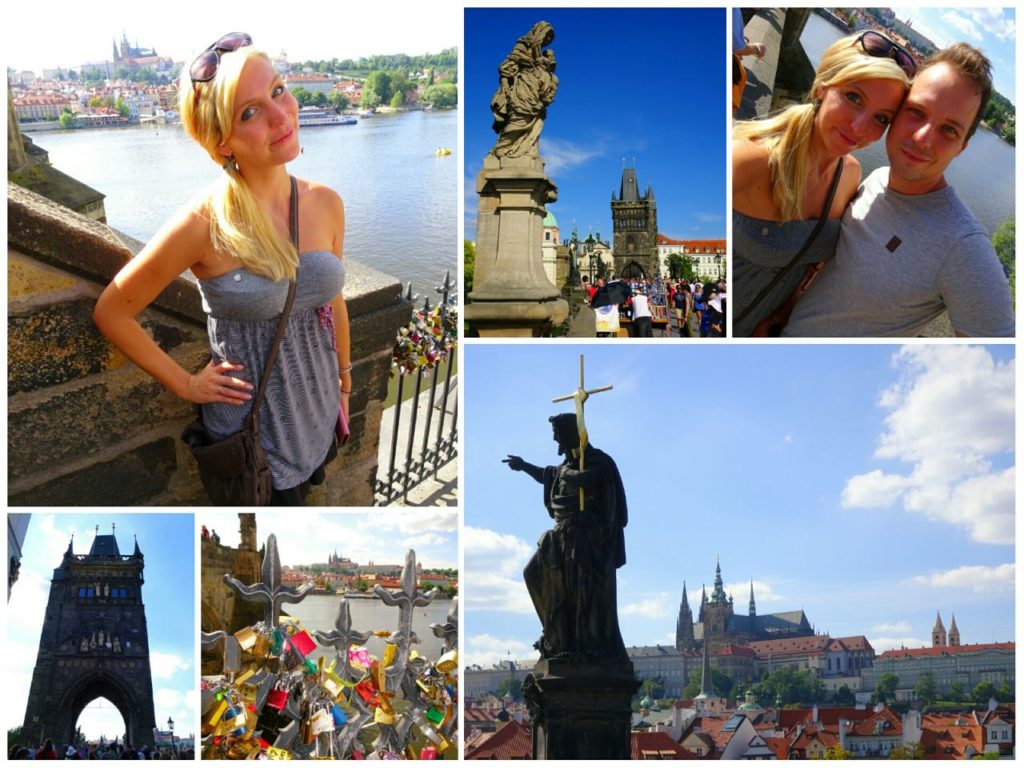 However, we urge you to not just cross it take a selfie and tick it off your Prague bucket list, as we found that simply crossing the bridge with thousands of other tourists wasn't doing this famous landmark justice and you could hardly enjoy it.
So unless you want to get up at 5am in the morning to avoid the tourist crowds we recommend to find a quiet spot a bit further away that offers you some unobstructed views from where you can admire the Charles Bridge in all its glory and take the perfect shot to keep this memory forever.
For some nice views of the Charles Bridge we can recommend you the following:
Go to the end of the Bridge and take the side walk on the left towards the hotel "Archibald at the Charles Bridge". Right past the hotel there is small road leading down to the Pier – there were ZERO tourists and the views where amazing.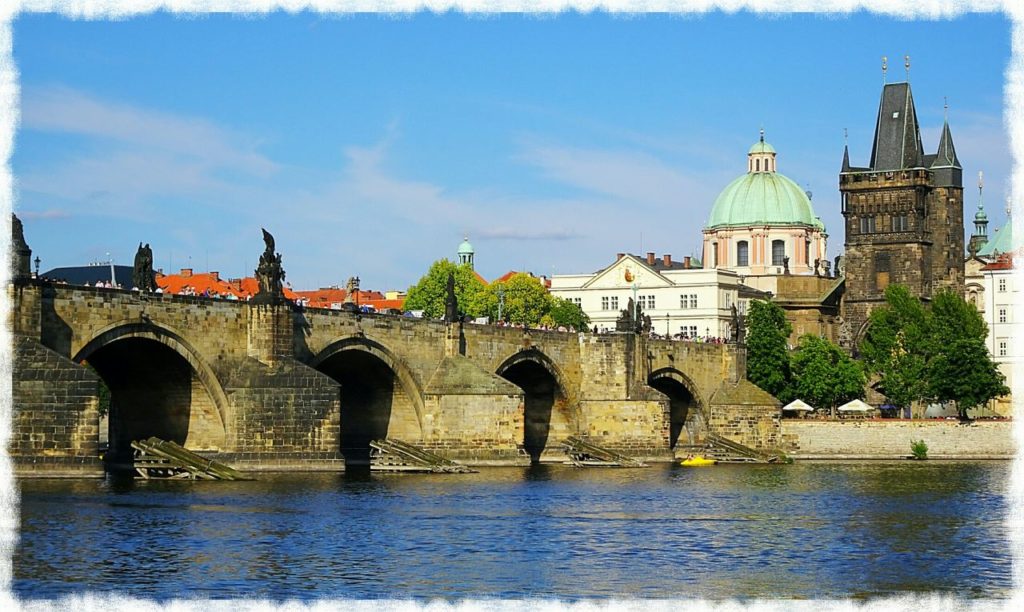 Also, if you continue further and walk to "Kampa Park" you not only have a great place to rest and relax or a chance to visit the popular Kampa Museum of modern art but you'll also have fantastic views of the Charles Bridge from here.
If you want you can even do a loop walk back to the Old Town. Simply cross the Vlatava River again by taking the Most Legií (the bridge you get to right after leaving the Kampa Park) and walk back along the river to your starting point. (approx. 2 km / 30 min walking)
9. Enjoy the views from Vyšehrad at sunset
Vyšehrad is one of the most important historical places in Prague and sometimes referred to as "Prague's second castle". It was built in the 10th century on a high cliff above the Vltava river making it the perfect place to escape the hustle and bustle of the city and enjoy the incredible panoramic views of the Vltava river and parts of the city.

Situated within the castle complex you can find a park, the church of St. Paul and St. Peter as well as the famous Vyšehrad Cemetery which is more than just an ordinary, quiet and rather boring cemetery. It is the final resting place for the most honoured and famous people from Czech history such as composers, artists, sculptors, writers, scientists and politicians.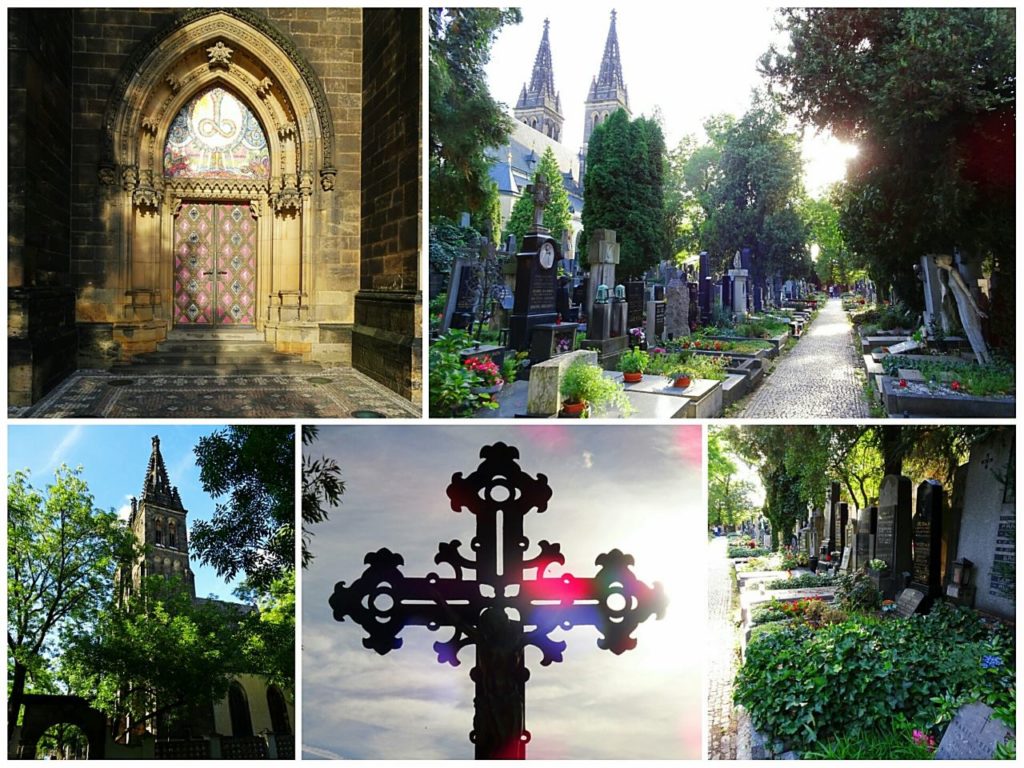 If you plan a visit simply take the metro line C to Vyšehrad station. From here it's about a 10-minute walk to Vyšehrad's main gate. We recommend to come here early evening to enjoy the wonderful sunset views of Prague.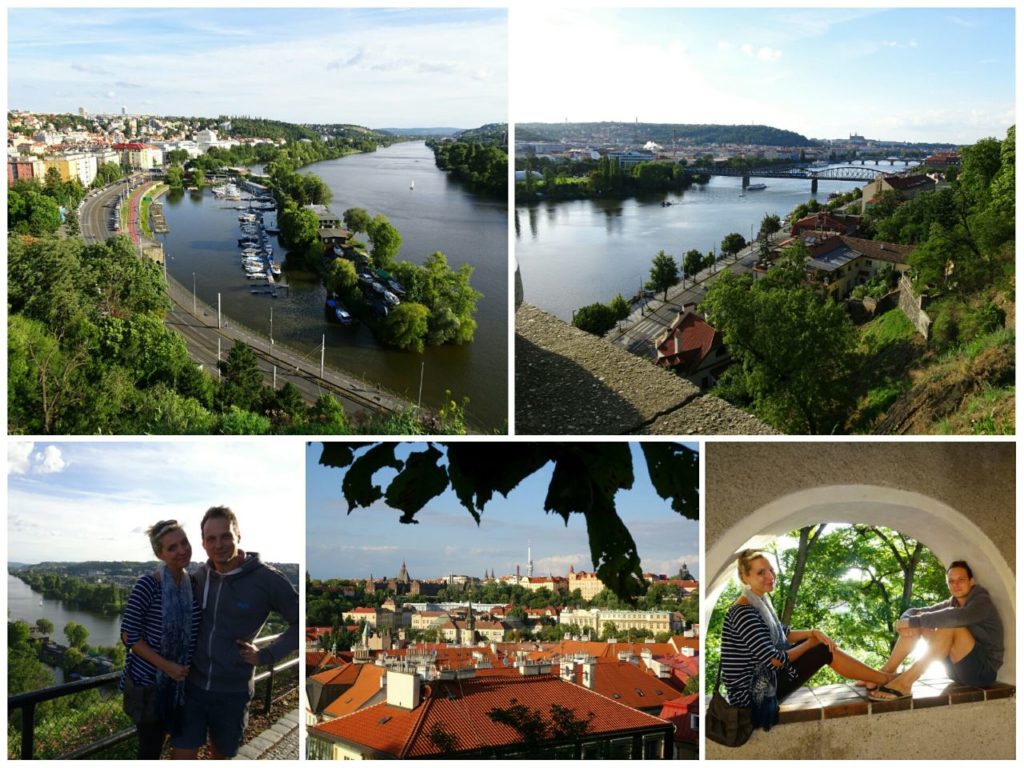 10. RELAX IN A CZECH BEER SPA
We've saved the best for last! 😊
You might have heard already that Prague is the beer capital of the world. However, as I'm not such a passionate beer drinker to justify going on an extensive pub tour through Prague, which you should totally consider if you ARE a beer lover, we decided to look for alternative ways to enjoy this golden water and found something absolutely AMAZING! 😊
Did you know that you can have a Czech beer feast as well as a relaxing and rejuvenating Spa session AT THE SAME TIME?
I'm talking about the popular CZECH BEER SPA which easily killed two birds with one stone. Martin could have as much Czech lager as he wanted and I would get my romantic spa date for two! SCORE!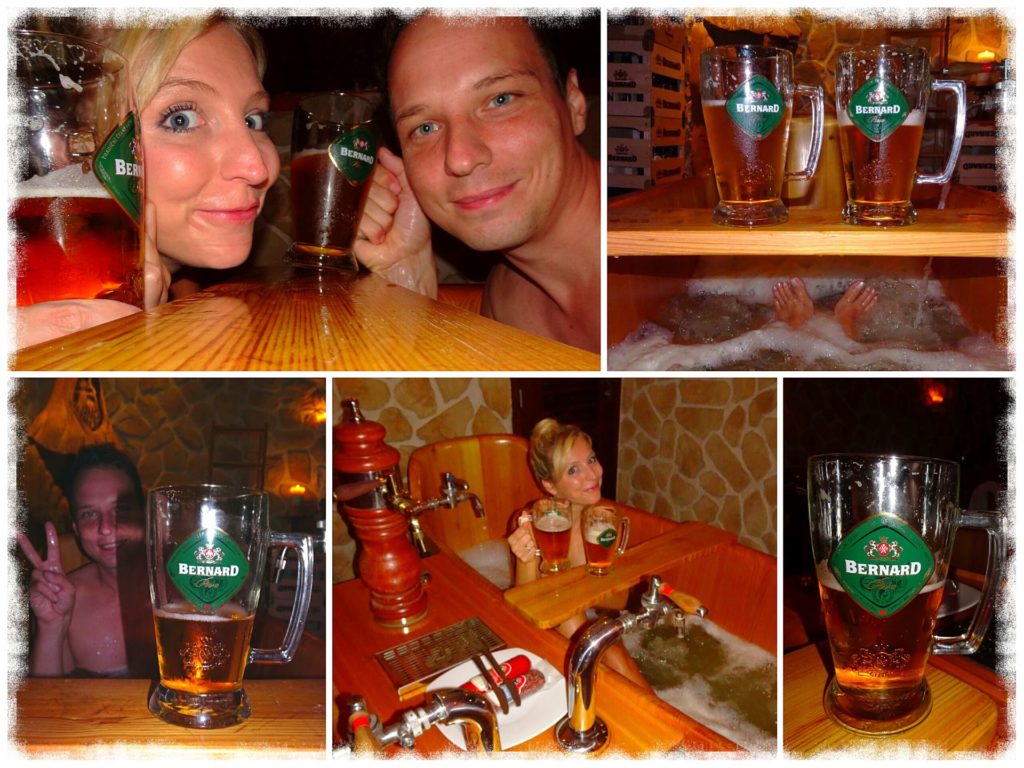 Basically, a Czech beer spa experience consists of taking a private 30-minute bubble (beer) bath in traditional wooden tubs that has a lot of health benefits for your skin with free-flowing Bernard beer running from the tab. Usually you also get some savoury snacks with that and can upgrade your session with a relaxing message afterwards.
We loved this experience so much that we dedicated a whole post about our experience which you can check out by clicking the below picture! WHAT A FUN THING TO DO IN PRAGUE!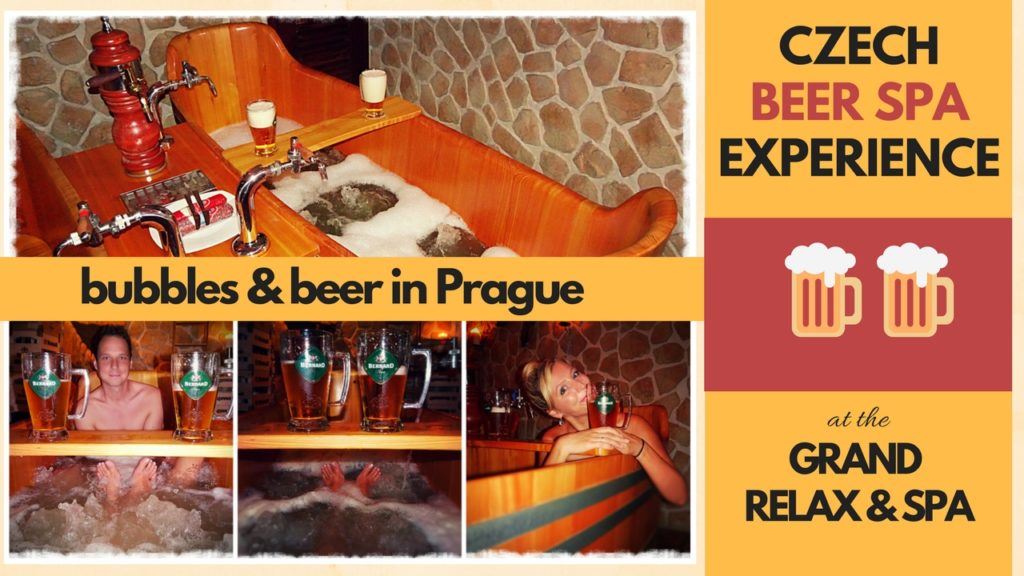 ---
We hope you enjoyed our insider's guide to Prague which hopefully helps you plan your time in the czech capital – especially if you're tired of the same old sightseeing spots and want to experience and see some other unique and fun things in the city. Let us know in the comments below if you liked it or if you have any additional tips of what fellow travellers should definitely CZECH out on their next visit to Prague. THANKS!
If you like it – pin it! 🙂