STEP BY STEP GUIDE ON HOW TO GET YOUR TRAVEL BLOG WEBSITE UP AND RUNNING
If you think about starting your own travel blog you're not alone. Currently there are already millions of them out there and they are getting more every day.

However the sad part is, that most of these fail within the first 6 months due to a lack of consistency and commitment to regularly publish good quality content.
So YES, there is A LOT of work involved in running a blog no matter what niche you pick and you should be aware that this "hobby" will consume basically all of your free time especially in the beginning. So check whether you really have the time and passion to commit to your blog. If you do, then come aboard the blogger community and get this ship sailing!! 🙂
But before you even get to post your first article you need to go through all the technical stuff to have your own blog website up and running. URGH – I know! But this guide we put together below will help you getting through this process as quickly as possible so that your rocking new blog is ready as soon as possible.
In order to have a successful blog setting it up correctly in the first place is key. There are a few decisions to make which can be a bit overwhelming if you have never dealt with setting up a blog before so I will share with you how to exactly set up your own webiste for your travel blog in an efficient and easy to follow manner.
1.FIND A NAME FOR YOUR BLOG

2.REGISTER YOUR DOMAIN NAME FOR YOUR BLOG

3.HOSTING OPTIONS FOR YOUR BLOG WEBSITE

4.BRING YOUR WEBSITE ONLINE – WEBSITE BUILDER VS. CPANEL

5.CREATE SOME AWESOME BLOG CONTENT
So let's get started! 🙂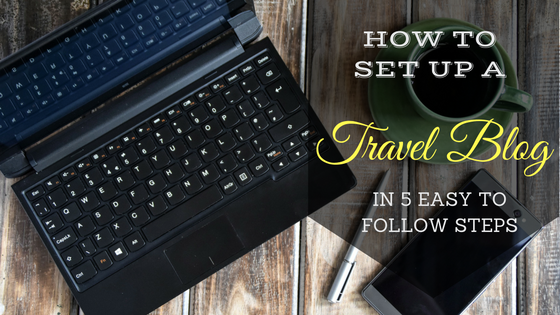 1. Find a name for your blog.
The first thing you need to do, is to find your identity and niche. It's all about what exactly you want to tell the people which should be something you are passionate about – obviously. Otherwise you will soon lose the motivation and inspiration to come up with new content for your blog.

What do you love to do? Are you maybe a passionate hiker? Awesome, give advice on the best hiking spots, equipment to use and routes to take. Or are you more into luxery travel and love to spend your days sipping cocktails at a fancy beach resort bar? Brilliant, tell the people how you find the best luxery travel deals without breaking the bank and review the places you've been and advice, if these places were worth it.

You see where I am going with this, think what you know best that makes you smile and put your own spin to it and you got your blog niche which could potentially be a great hit.
Once you got your niche you need to think about a good name for your brand that represents your blog. This will be your domain name. Even if it's "just" a blog, a catchy name will go a million miles when it comes to building a loyal follower base. Try to avoid any hyphen if possible and keep it short, sweet and memorable and you are off to a damn good start!
HOW TO CHECK FOR A DOMAIN NAME? You can check whether the domain name you picked simply with your domain registrar. If you want to make sure that not just the domain name itself is available but also the other social media handles you can use a site like https://namechk.com. It gives you a quick summary if your name is also available for potential Social Media Platforms you might want to use. (For Travel Blogs we suggest having at least Facebook, Instagram and maybe Youtube if you want to do also some Vlogs. We have a post on how to start creating videos for your YouTube channel that might help you getting started with this.
2. Register your domain for your blog.
When you found a catchy name for your blog it's time to get real and secure a domain name. There are plenty of registrars out there just waiting for your order. The process to register your domain name is pretty straight forward: You check if your name is still available and if yes you can buy the domain right away. It usually costs just a few dollars, usually the first year is only a few cents if you sign up for two years with the second year costing somewhere around 10 – 20 USD. So you won't spend all your savings on this.

The registrar will then reserve this web address in your name and park it for your convenience.
We've used GoDaddy for registering all our domain names so far and we are very happy with the service they provide. It's almost too easy to buy a domain there and you can quickly get addicted 🙂
Note that so far you only have bought the domain but you still cannot do anything with it. The only thing a domain does, is pointing towards an IP address of your choice. That means, if someone types in you web address in his/her browser, the domain name server will translate this address to an IP and connect them to your site. What you need to do now is finding a hosting service.
3. Hosting your services for your blog.
Note that if you're buying a hosting plan, no matter with which company, you most probably get one domain name for free with it. So you could technically start with buying a hosting plan and just select the domain name you want in the process without having to registrar your domain prior.
We however decided to split the provider because we bought our first domain way back from GoDaddy and started our search for a hosting company one year later. Also there are companies that are specilized in registering domains and other companies specialized in hosting websites. Most companies do both but if you want to go with the PRO in both fields you will most likely have to split the providers.

For beginners however, it's much easier to have everything in one place because then you don't need to make the connection between your domain on side and your server on the other, which could be a bit of a very dry and technical endevour. But we will of course tell you how to do it and how we did it 🙂
So let's say you have your domain registered with one company and plan on hosting your website with another provider. There are two options for you:
1. DIY – HOSTING YOUR WEBSITE YOURSELF

There is the possibility that you could host your own website from home with you very own computer, but there are a lot of downsides to this option. First off all you'd need a static IP address in order for your readers to be able to find your side on the web. Secondly, you will need a fast (like super fast) upload speed, to ensure your content on your blog is uploaded quickly when a reader clicks on it. And last but not least, you need to make sure that your service is running the whole time round meaning your PC needs to be constantly online – every minute, every day.
2. CHOOSE A HOSTING PROVIDERS

There are countless of hosting services out there. Depending on the provider you pick you can buy different plans which gives you the possibility and flexibility to adjust the services offered exactly to your needs. It's brilliant and by far the better option than hosting your own website. 🙂
After doing a lot of resaerch we decided to go with eHost.
eHost is in that business for a very long time and it seems their technical setup is one of the most advanced in the market. So far we didn't experience any problems with our site, everything runs perfectly the way it should. We can highly recommend using their service.
4. Bring your website online – simple website builder vs. cPanel option.
If you went with one of the bigger hosting providers such as eHost you'll probably get to choose between a simple website builder where you can create your website through drag and drop items onto your page and a c-panel application which gives you full control over your server.
Although the website builder generates quick results, it doesn't quite give you the flexibility you might want for your online presence. With the c-panel in place you can decide whether you like to install WordPress, another CMS or even an online shop.

Of course you could also pick neither of these two options and just program your site offline on your computer and upload it once down to your server but we doubt you want to do that. 🙂
We for our part choose WordPress as our CMS for our travel blog webpage. The installation is really quick and easy and after it's done, you'll receive your login details to access your WordPress page and design it just the way you want. For example you can choose between countless templates which lay the foundation of your site. A lot of them are free of charge for the basic version, but offering additional paid content such as more functionalities. If you are just starting your blog than a free template should be totally fine.
5. Create some awesome content.
From here on it's back to you my dear. Now that your website is up and running you have to create some kick ass content 🙂 ! This is the best way to attract readers to your blog and make them loyal readers and fans of your site. You can write blog posts, create videos or share some nice pictures, but whatever you do make the best of it.
If there are any questions you'd like to ask feel free to leave us a note in the comment section below.
Good luck!