Usually we liked to sleep in and take our time when having breakfast (I mean after all it's the most important meal of the day, right??!! 🙂 ) but today we set the alarm clocks early and even skipped breakfast because we wanted to start our CAMPUHAN RIDGE WALK as early in the morning as possible.  (which you should do too if you plan on doing the walk as well….or any walk in Bali for that matter)
As our villa is located a bit outside of Ubud we took the scooters to get  to start of the walk which is close to the Pura Gunung Lebah Temple and the Warwick IBAH villas and spa.
So if you are coming from the centre of Ubud head along the Jl. Raya Ubud towards the bridge (don't cross the bridge, that means you have gone too far!)  until you see the signs for the "WARWICK IBAH Villas and Spa" on your right shortly before the bridge. Turn into the driveway and follow it until you get to a fork in the road with a path to the left leading down to the temple. If you arrive by scooter there is parking right at the start of the walk so you can actually drive down that steep hill – this saves you from walking it up again when you return 🙂 
We however parked our scooters on the side of the road before the bridge as I wanted to get some water from the little supermarket ( tip: if you didn't bring any water, get something before starting the walk as it can get very hot and there is no chance of buying anything to drink along the way until you reach the little village at the end)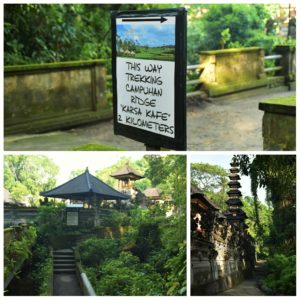 Once you are at the little bridge leading to the temple you cannot get lost – just follow the signs "This Way Trekking Campuhan Ridge 'Karsa Kafe' 2 Kilometres" . Once you walked down the stairs keep following the paved walkway along the Campuhan ridge and you will be treated with beautiful jungle views along your way. So pretty! 🙂 You will notice that it is really quiet and peaceful, no scooters, no cars…..perfect if you want to get away from the hustle and bustle of town.
If you start the walk early in the morning you will meet a lot of locals on the walk doing their morning exercise. Everyone was super friendly, greeting us with a big Balinese smile and a happy "gut moooorniiiing". ( We are used to grim faces on the London tube in the mornings….where no one, and I mean NO ONE is smiling! nice change 🙂 )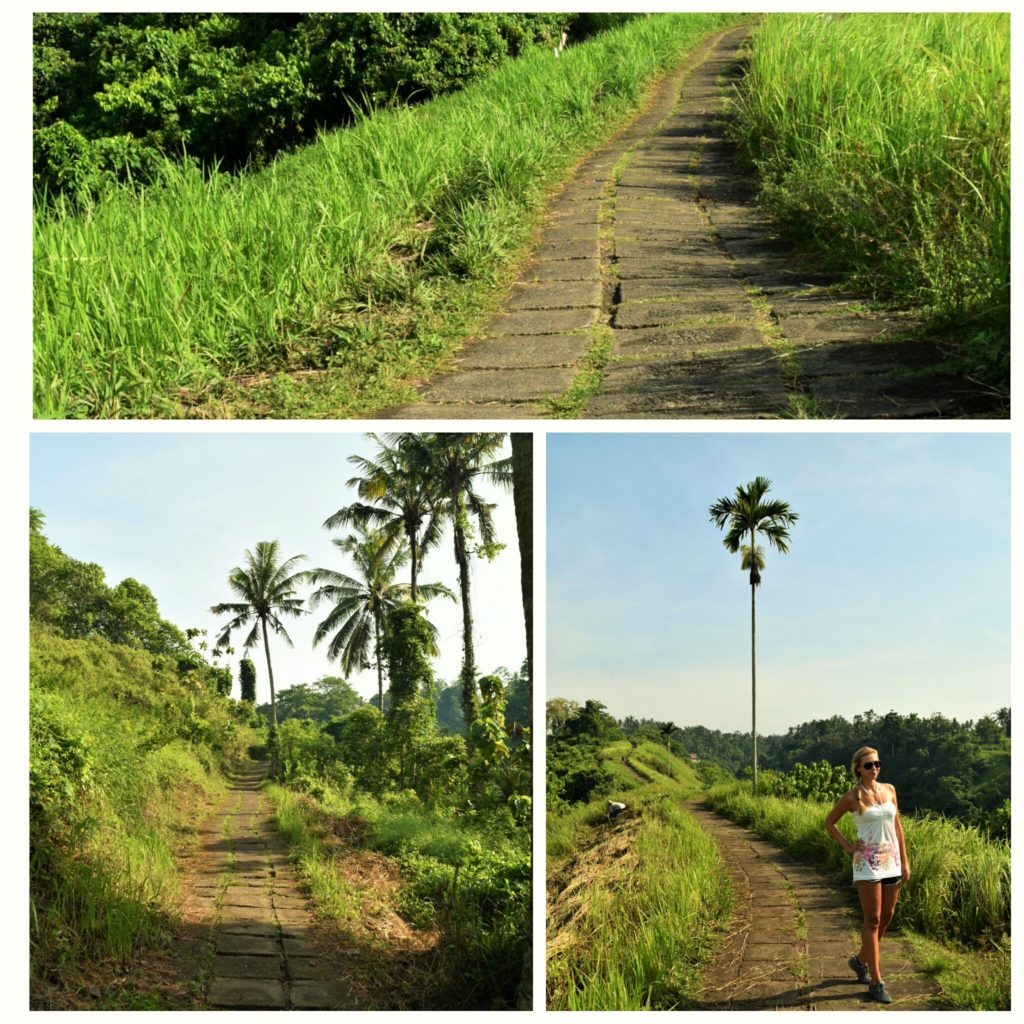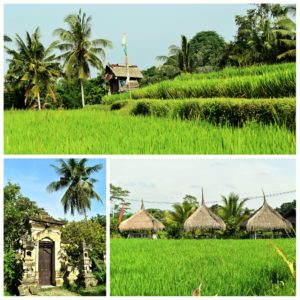 The walk takes around 25 – 35 minutes one way (from the Temple to Karsa Kafe) however add some extra time for taking pictures and stopping to enjoy the views. So picture-perfect! 🙂
There are some little cafes before Karsa Kafe where you can rest before heading back to Ubud however we walked all the way through the village to Karsa Kafe and did not regret it. The café is overlooking a beautiful pond and garden however if you are lucky you can aim for one of the 3 little huts (hopefully one is still empty when you arrive) which is by far THE BEST way to relax and refresh before walking back.
The huts are surrounded by water with lotus flowers and a lot of fish that you are even allowed to feed. A bag of fish food was 5K IDR and it was a lot of fun!
They also provide free WiFi and good food & drinks at reasonable prices (maybe not as cheap as in some other places however we had expected this place to be much more expensive). So we enjoyed our coffee and mango smoothie (30K for a smoothie) and chilled a bit before it was time to head back to Ubud.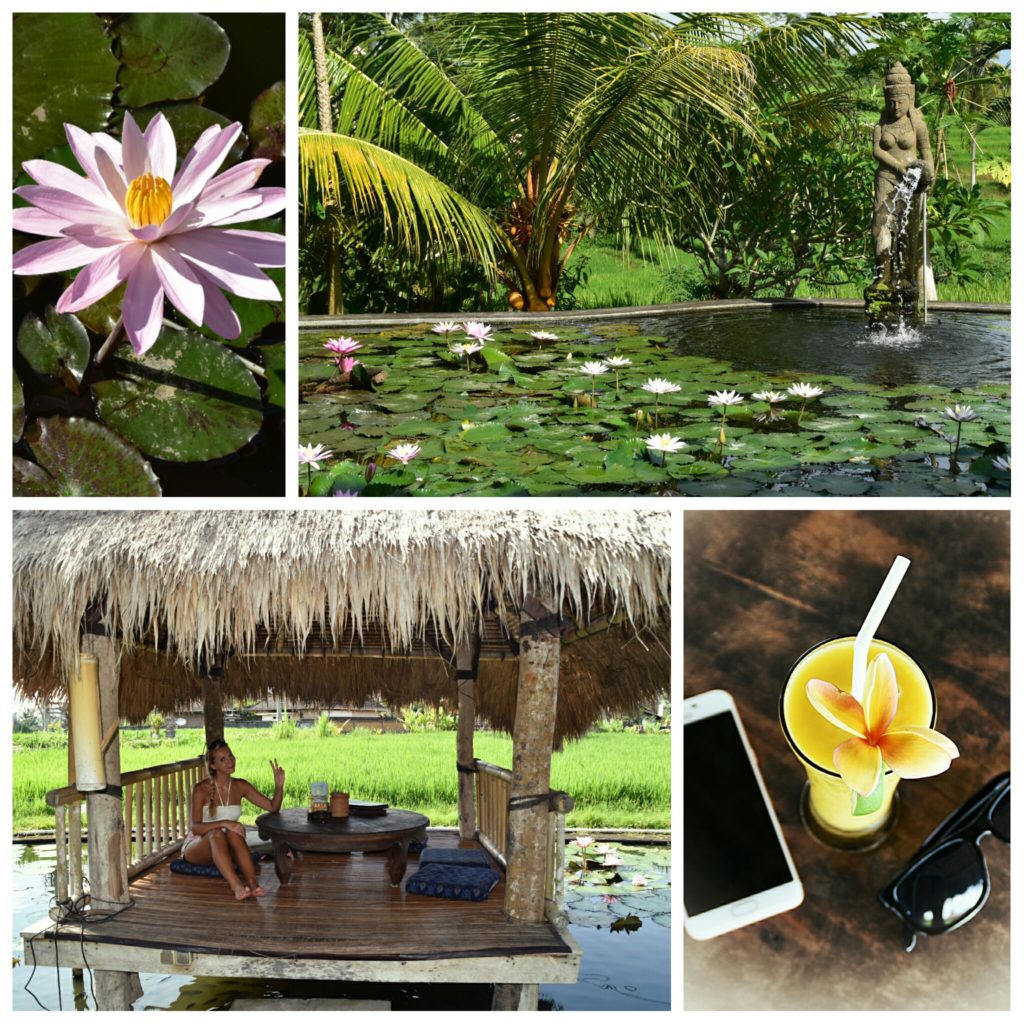 I am sure there are other great walks around Ubud but we really liked this one as it is not too long and not too short, offers some stunning views and is easy accessible from Ubud town. Just perfect! 🙂
Did you do the walk or have done any other great walks around Ubud that you can recommend???