When you decide to quit your job, pack your bags and leave your home to go on a trip around the world, you probably want to share your experiences of your travels and pictures of your adventures. It may be just the occasional e-mail with some pictures attached you want to send home to friends and family to let them know you are still okay.
Sometimes an e-mail is not enough and you need to call via Skype or WhatsApp. Or you are a social media junkie like we are and you like to upload your photos to Instagram, write a post on your travel blog or Facebook page, or even produce videos on your YouTube channel. So obviously you will need to pack laptops, smartphones and cameras as well as all the additional equipment that comes with these such as power banks, selfie stick, tripod as well as sd cards and external hard drives to store all your pictures and video shots.
However, on the contrary we were pretty limited in regards to our luggage capacities and had to pack as light as possible. Tricky situation that's for sure but 8 months in we know we packed the right equipment as we have used everything we packed several times on our trip so far. Check below for the tech we packed for our backpacking trip around the world.
If you want to get more detailed information on the products we list and prices we included the link to the respective Amazon UK website for you within the text. For our German readers you will find all the links to Amazon DE at the end of the post.
Here is our technical setup:
Berit's tech goodie bag:
LAPTOP: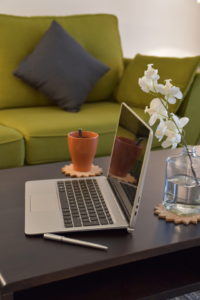 Since her old Sony laptop was a little bit too chunky to go on a trip with us, Berit got herself a new HP Pavilion x2 12″ Convertible shortly before leaving (Note: Only available on Amazon.de at the moment).
With its modern Core m3 CPU and 4GB of RAM it's very powerful for its compact size. Although I was a bit sceptic at first, I'm now convinced that this thing is worth its money. Running on Windows 10 you can use it as laptop if you want to do get some work done or as a tablet for browsing the web and watching YouTube videos. It's even powerful enough to do video editing e.g. for your Youtube channel.
However, as it only came with 128GB internal storage we upgraded to a total of 256 GB of storage by inserting another 128 GB micro SD card from SanDisk.
---